Today, we'll catch you up on last year's weather storylines in North Carolina, and discuss just how extreme the past year was for our state.
For much of 2017, we were engaged in a race for a record — North Carolina's warmest year on record, that is. Entering December, we were on pace for the 2nd-warmest year on record and within reach of 1990, the current record-holder.
However, Old Man Winter arose in December, dropping us out of the top five warmest years in the rankings. In the end, our preliminary statewide average temperature of 60.34°F ranked as the 6th-warmest year since 1895.
Boosted by a wet spring, the preliminary statewide average precipitation of 51.07 inches last year was 1.8 inches above the 1981 to 2010 average, ranking as the 44th-wettest out of the past 123 years.
Not everywhere was wetter than normal, though. As the wet spring turned into a dry fall, parts of the central Piedmont received one-third of their normal seasonal precipitation.
Such transitions from one prevailing weather pattern to another were the story of 2017 in North Carolina. Here's a closer look at how the past 12 months played out across the state.
| Ranking | Year | Statewide Average Temperature |
| --- | --- | --- |
| 1st | 1990 | 61.01°F |
| 2nd-tie | 1921 | 60.63°F |
| 2nd-tie | 1933 | 60.63°F |
| 4th | 1998 | 60.56°F |
| 5th | 1949 | 60.38°F |
| 6th | 2017 | 60.34°F |
| 7th | 2012 | 60.31°F |
| 8th | 2016 | 60.22°F |
| 9th | 1991 | 60.15°F |
| 10th | 1932 | 60.13°F |
North Carolina's warmest years on record (based on statewide data since 1895)
Winter: From Cold to Warm
Within the first week of the year, snow was covering the ground in the northern and western parts of the state while a mix of snow, sleet, freezing rain, and rain fell elsewhere. Shortly after that, temperatures hit their coldest levels of the year, bottoming out at -11°F in Waynesville on January 8.
However, after that episode of wintry weather — the only one of the season in most places — temperatures began to increase. February was the 4th-warmest on record and the warmest since 1990, as well as the 4th-driest in the past 123 years.
Despite the lack of precipitation, observed drought impacts were limited in the Mountains, which led to a month-long disparity between North Carolina's official drought boundaries and those set by the US Drought Monitor.
Spring: From Dry to Wet
February's warmth and March's near-normal temperatures invited early planting, but an early April freeze event damaged about 43% of the state's winter wheat crop. After that, the warmth returned. In fact, April was the warmest on record.
Although March was slightly on the dry side, April kicked off two straight months of wet weather that erased all drought and abnormal dryness. Some of those showers were accompanied by severe thunderstorms, and as a whole, 2017 was a moderately active year for severe weather.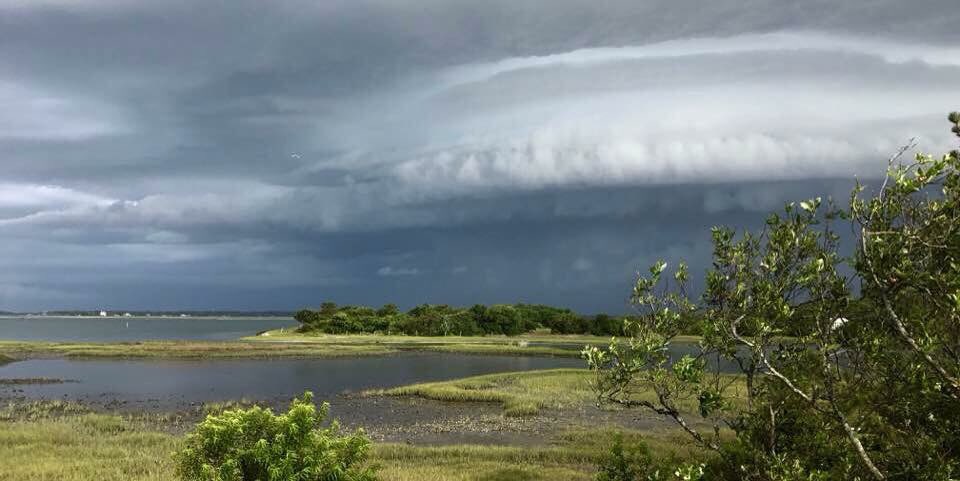 According to preliminary statistics from the NWS Storm Prediction Center, there were 34 tornadoes in North Carolina last year. While that number may shrink slightly if some reports were determined to come from the same tornado, it is still likely to be the most tornadoes since 2014, when 35 tornadoes touched down in North Carolina.
Among the 2017 tornadoes, the National Weather Service has confirmed 5 EF-2s: in Iredell County, Davie and Yadkin counties, and Stokes County on May 24, and one each in Cleveland County and Burke County on October 23.
Summer: From Sun to (Briefly) No Sun
Hot weather stayed at bay in June but finally arrived by mid-July, as temperatures approached or eclipsed the 100 degree mark between the 20th and 23rd. The Raleigh-Durham Airport and the Fayetteville Airport recorded the highest temperature in the state last year, each hitting 102°F on July 23.
Speaking of an eclipse, August 21 brought a rare and exciting sight across North Carolina, as a total solar eclipse was visible in part of the state for the first time in 47 years. As the moon passed between the earth and the sun, our ECONet recorded solar radiation values dropping to zero and temperatures dropping as much as 8 degrees.
That remarkable sight wrapped up an otherwise unremarkable summer in which the statewide average temperature was just 0.01°F warmer than the 1981 to 2010 average. A stretch of dry days across the central Piedmont did see the return of Abnormally Dry conditions to the state.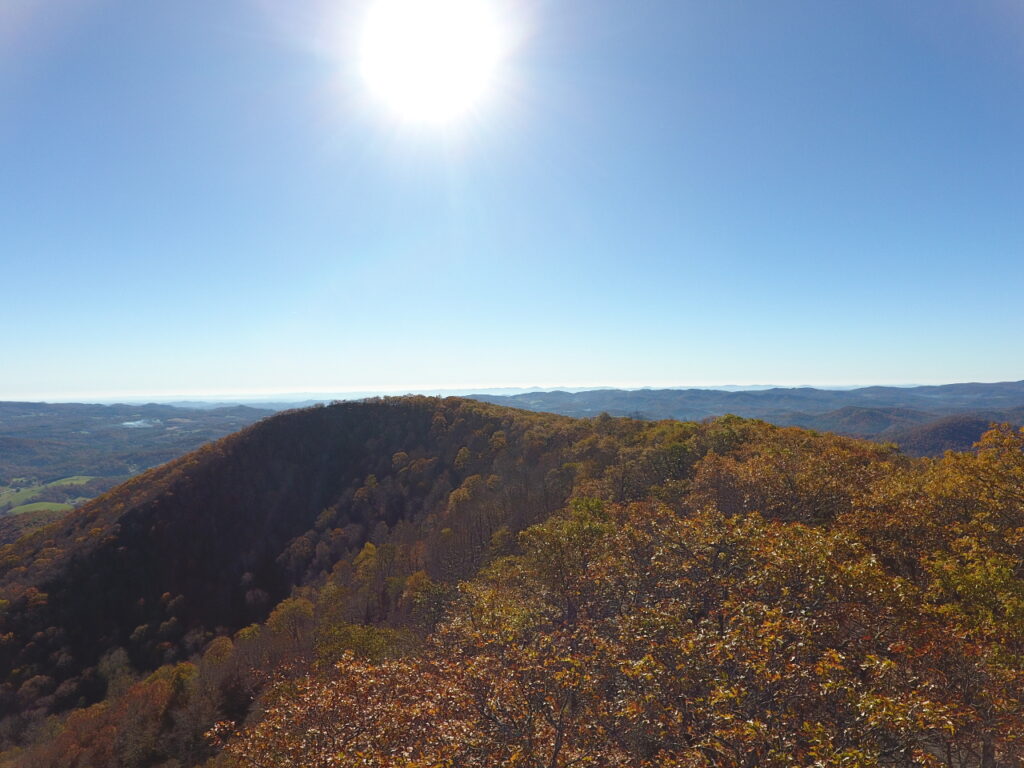 Fall: From Little Rain to a Little Snow
The Mountains received some locally heavy rainfall as the remnants of Hurricane Irma passed by in mid-September, but elsewhere, dry weather was the story of the season. Three months with just 6 to 7 inches of precipitation — or two-thirds of the normal seasonal rainfall — in parts of the Piedmont led to the introduction and expansion of Moderate Drought across the region.
Overall, 2017 was an active season in the tropics, with 17 named storms in the Atlantic. However, North Carolina escaped largely unscathed. While rain and gusty winds from Irma's remnants in the western part of the state led to the death of a Henderson County man using a generator in his home, no tropical storms or hurricanes made landfall or passed directly through North Carolina.
An ocean away in the Pacific, the emerging La Niña seemed to portend a warm, dry weather pattern. But the onset of winter offered a surprise in the form of an early December snowfall and a late-month cold snap that persisted into the start of 2018.
By the Numbers: Statewide Extremes of 2017
Click an icon on the map below to view more information about a statewide extreme
How Extreme was 2017?
Given the topsy-turvy nature of our seasons in mind, was 2017 an extreme year in North Carolina?
In terms of weather events, not really. With no landfalling tropical storms or hurricanes, severe weather mostly limited to a few events in May and October, and winter storms only on the bookends of the year, it was relatively lacking in significant weather events.
Although we did see drought across the state in 2017, the worst conditions were on the way out in the Mountains as we started the year. By the fall, Moderate Drought emerged across the Piedmont but never got any worse than that, largely thanks to the wet spring that helped top off reservoirs and groundwater storage.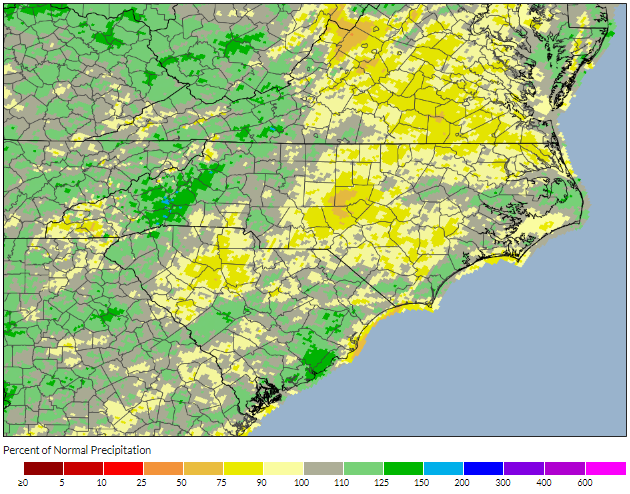 While our annual average temperature ranked high on the all-time list, it wasn't because of a stretch of oppressive heat. Rather, it was a slow burn, so to speak, in which even our coolest months were within a degree of normal, and seven months had above-normal average temperatures.
Compared to past years like 2011 — which included a record-breaking tornado outbreak, spring drought across the Piedmont, a prolonged summertime heat wave, and Hurricane Irene's landfall — our conditions over the past year were much more tame.
It's tough to tell how 2018 might shape up, but with two winter storms already and a still-present drought with forecasts suggesting more dry weather on the way, we're likely to have a more impactful winter and spring than last year.