It sounds like a familiar story: a mid-January blast of cold air was followed by a winter storm, bringing snowfall across North Carolina. However, the setup for our latest wintry event, which brought up to a foot of snow in some areas, was far from typical.
In this case, there was no high pressure in place to our north to funnel cold air southward, as in many of our classic cold air damming events. Instead, the cold air came from off to our west, where an Arctic high pressure system had settled in across the central Plains.
And there was no coastal low to pull moisture directly off the Atlantic Ocean. Instead, a cold front approached from over the Mountains and had to bring in moisture from the Gulf of Mexico.
It may sound like a low-percentage event in terms of snow chances, but in the winter that has so far defied our expectations of warmth and limited wintry weather, this was the latest storm to beat the odds.
Primed for Precipitation
In fact, plenty of atmospheric factors worked in this storm's favor from the ground up. Despite the flirtation with highs in the 60s late last week, cooler air began to arrive earlier this week, dropping soil temperatures into the 30s by the outset of snow yesterday morning.
Ground temperatures as measured by the infrared thermometer at our Lake Wheeler ECONet station in Raleigh dropped to freezing shortly after snow started falling, so it started sticking to the surface almost immediately.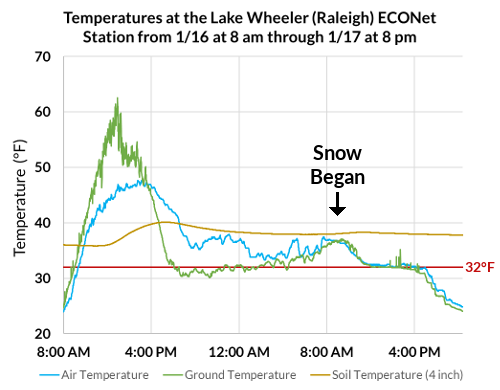 The lower levels of the atmosphere were saturated thanks to an influx of Gulf moisture, especially in the critical dendritic growth zone — a layer of the atmosphere where temperatures range from -18 to -10°C, or 0 to 14°F. With a steady supply of moisture, that atmospheric factory pumped out plenty of snowflakes throughout the day yesterday.
In addition, energy associated with an upper-level low supported strong lifting to further saturate the mid-levels and support heavier snow rates. Precipitation rates at times ranged from 0.10 to 0.25 inches per hour, or given a 10-to-1 liquid-to-snow ratio, 1 to 2.5 inches of snow per hour in some spots.
Another upper-level feature known as a jet streak — a pocket of strong winds more than 6 miles above the surface — provided support for snowfall, but as with the rest of this event, not in the way we often see.
In our winter storm in December, we were in the right entrance region of a jet streak over the eastern US. The strong lifting from the surface to the upper levels produced heavy snowfall across parts of the Coastal Plain.
In yesterday's event, though, we were on the opposite side of a jet streak, in the left exit region. However, that's also an area with rising air, so we still saw strong lift that yielded some substantial snow totals across the Piedmont.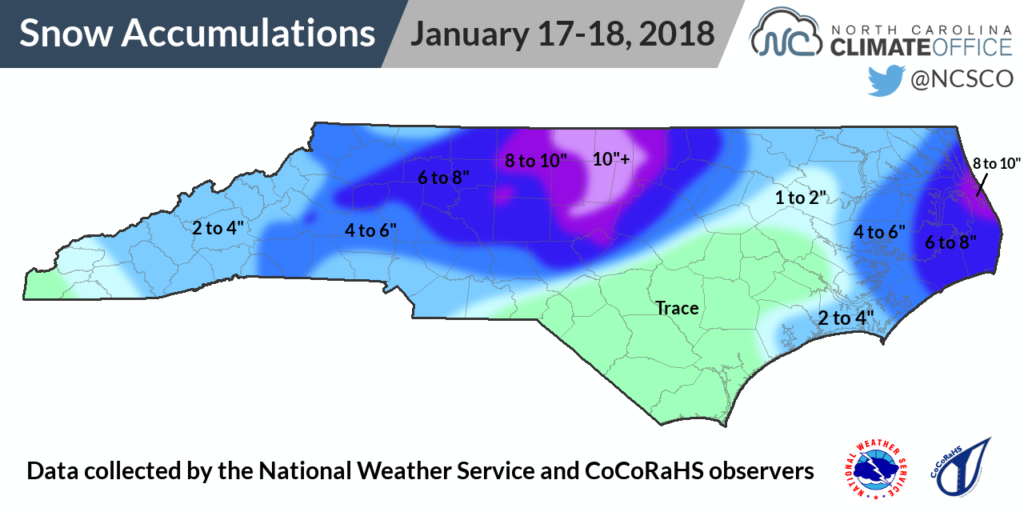 Significant Snow from West to East
The band of heaviest snow set up along a line through Chatham, Orange, Durham, and Person counties. Totals in that region topped 10 inches, including reports of 12 inches south of Teer in Chatham County and near Bahama in Durham County.
Elsewhere, six inches of snow or more blanketed areas as far west as Morganton and as far east as Rodanthe. Just up Highway 12 along the Outer Banks, Southern Shores near Kitty Hawk received 9.5 inches, and 9.9 inches fell on Roanoke Island.
For areas in between, the 3.5 inches in Charlotte and the 7 inches reported at the Greensboro Airport were the most snow in a single day at both sites since February 12, 2014. Greensboro has now received 9.2 inches of snow so far this winter — above the annual average of 7.6 inches — and Charlotte's 3.6 inches total is just shy of the normal snowfall of 4.3 inches.
Raleigh snapped an even more extensive stretch without a big snowfall. The 5.9 inches at the RDU Airport was the greatest single-day snow total since 6.7 inches fell on December 26, 2010. That 5.9 inches also matches the annual average snowfall in Raleigh, and counting accumulations from the other events so far this season, this winter will finish with above-normal snowfall in the capital city for the first time 2014-15.
All told, it was the most significant snowstorm of the season so far for most of the Piedmont, with accumulations generally exceeding those from the early December event and the coastal storm two weeks ago. While it didn't follow the template for a major North Carolina snow, this storm did things its own way and still wound up being a classic in many places.