After a warm, dry February, our temperatures and precipitation rebounded to near-normal levels in March.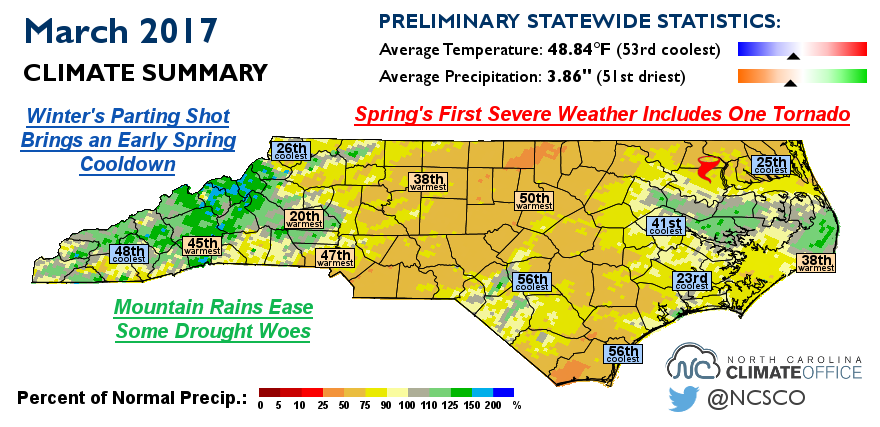 Winter's Parting Shot Brings an Early Spring Cooldown
February's warm pattern spilled over into the beginning of March, and above-normal temperatures were also in place for the final week of the month. However, that warmer weather was balanced out by unseasonably cool temperatures in the middle of the month.
The result was a statewide average temperature of 48.84°F — about one degree below the 1981 to 2010 average — and our 53rd-coolest March out of the past 123 years. Notably, that average temperature is a fraction of a degree cooler than our average from February, which shows just how warm we were to finish the winter!
We finally broke the nearly two-month-long grip of warmer weather once we entered a more active weather pattern in the second week of the month. An amplified jet stream ushered in cooler air from the north as well as moisture from the south and east.
When those two ingredients converged, parts of the state even saw light snow on March 12, bringing rare early-spring accumulations of up to 1.5 inches in Lumberton and 1.1 inches in Wilmington. The Mountains also saw totals of 2 to 4 inches during the event.
That snow event and the accompanying freezing temperatures caused some damage to the crops planted during the preceding warm spell. Agronomists and county extension agents reported damage of varying degrees to grains, berries, and peaches. In the wake of that freeze, corn and tobacco planting are now beginning.
Mountain Rains Ease Some Drought Woes
On the heels of a dry winter, we saw more regular rainfall in March, although conditions were still slightly on the dry side overall. We had our 51st-driest March since 1895 with an average statewide precipitation total of 3.86 inches, which is about a half-inch below normal for March.
Much of the Piedmont and Coastal Plain received just 50 to 75% of their normal monthly precipitation, which led to the introduction of Moderate Drought (D1) conditions on the US Drought Monitor's map across the northern Piedmont and far southeastern coast.

Above-normal precipitation in the Mountains — including widespread totals of more than 4 inches — did help stem the tide of expanding drought, although Moderate and Severe (D2) Drought conditions remain. That being said, it was still much-needed rainfall, especially across southern Mountains. In particular, Coweeta and Highlands in Macon County reported 6.35 inches and 6.83 inches of precipitation last month, respectively.
The drought status of that region was a source of debate for much of the past month. As we covered in a blog post earlier in the month, the meteorological indicators used heavily by the US Drought Monitor suggested that at least Extreme Drought (D3) conditions were present, but the lack of impacts to agriculture and water supplies were not consistent with such a drought status.
Because of that, North Carolina's Drought Management Advisory Council took the rare step of issuing its own drought status for the state for four consecutive weeks. Thanks to the late-month precipitation in the Mountains, D3 drought was removed from the US Drought Monitor's assessment last week, so both their map and the official North Carolina map agree once again.
Spring's First Severe Weather Includes One Tornado
On the final day of the month, a line of showers and storms crossing the state brought the season's first bout of severe weather. As one storm cell moved over Bertie County in the northern Coastal Plain, it spawned an EF1 tornado south of Powellsville.
The National Weather Service in Wakefield, VA, surveyed and confirmed that tornado as well as two others in southeastern Virginia. The Powellsville EF1 was on the ground for an estimated 4.8 miles from around 6:15 pm until about 6:24 pm. No fatalities or injuries were reported, and damage was limited to trees, farm buildings, and a few mobile homes.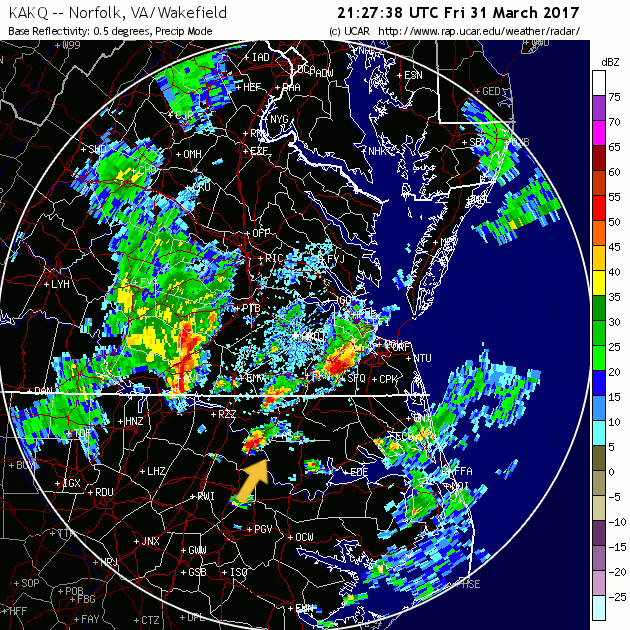 So how does a first tornado occurrence of March 31 compare with other years? From 1950 to 2015, the average date for our first tornado in North Carolina is March 8, with a spread of anywhere from January 5 (in 1971 and 2007) until August 1 (in 1970).
That puts us slightly later than average this year, but not too far off. We just had to get through a mid-month wave of cooler and even wintry weather before returning to spring-like conditions.