Distinctly un-winter-like weather settled in last month, leading to near-record warm and dry conditions.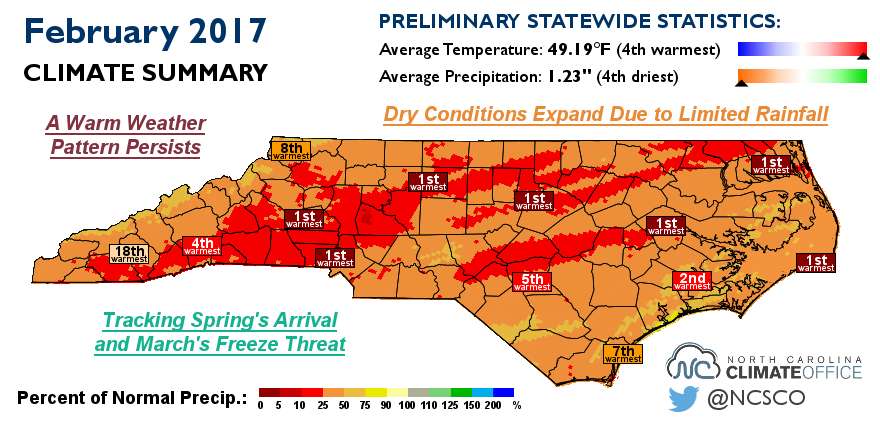 A Warm Weather Pattern Persists
The cold temperatures from earlier in the year are now a distant memory, having been replaced by much milder weather. Last month was the 4th-warmest February since 1895, with a statewide average temperature of 49.19°F, or more than 6 degrees above the average from 1981 to 2010. The only recorded Februarys warmer than this year's were in 1927, 1932, and 1990.
Many stations across the state recorded their warmest February on record, with some even ranking ahead of that recent standard for monthly warmth from 1990. While February 1990 had 21 days with above-normal temperatures, last month had 25 such days. In addition, Raleigh and Lumberton each had three days with high temperatures at or above 80 degrees — the most on record at both sites.
Along with warm days, we also had few cold nights last month. Most Piedmont and Coastal Plain sites reported just 5 to 8 days with low temperatures at or below freezing; the February average is nearly double that amount. North Carolina wasn't the only place experiencing such warm weather, though. The jet stream was positioned well to our north for most of the month, so the eastern half of the country had at or near record warm average temperatures for February.
Dry Conditions Expand Due to Limited Rainfall
That same jet stream pattern prevented many weather systems from reaching us, so it was also a particularly dry month. The statewide average precipitation of 1.23 inches, or just one-third of our normal February total, ranks as the 4th-driest February out of the past 123 years. The only drier Februarys on record were in 1978, 1898, and 1968.
It wasn't just a month without wintry weather, though even Mount Mitchell received only 1 inch of snow all month. Any precipitation was hard to come by. Even our wettest day on February 15 saw just a quarter to half-inch of precipitation across most of the state, and accumulations on the few remaining rainy days were generally limited to a tenth of an inch or less.
While a wet start to the year helped alleviate last fall's expanding drought, the recent warm, dry weather has again made drought a threat as we head into the spring. The latest US Drought Monitor map shows Moderate or Severe drought across the southern Mountains, and Abnormally Dry conditions covering more than 70% of the rest of the state.

For the year-to-date, precipitation deficits are nearing 6 inches in the Mountains and 2 to 3 inches elsewhere in the state. If that dry pattern continues into the spring, it's likely to affect agriculture, water supplies, and even your backyard garden. Such impacts could justify an expansion of drought conditions across more of the state.
Tracking Spring's Arrival and March's Freeze Threat
Along with feeling like spring outside, the landscape is beginning to look like it as well, and some impressive maps from the National Phenology Network show just how ahead-of-schedule this year's seasonal progression has been.
Their Spring Leaf Index maps, which use high-resolution temperature data to indicate the first appearance of leaves on deciduous plants, show that leaves began to emerge two to three weeks earlier than normal this year across the Piedmont and Coastal Plain, and nearly a month earlier than normal in parts of the Mountains.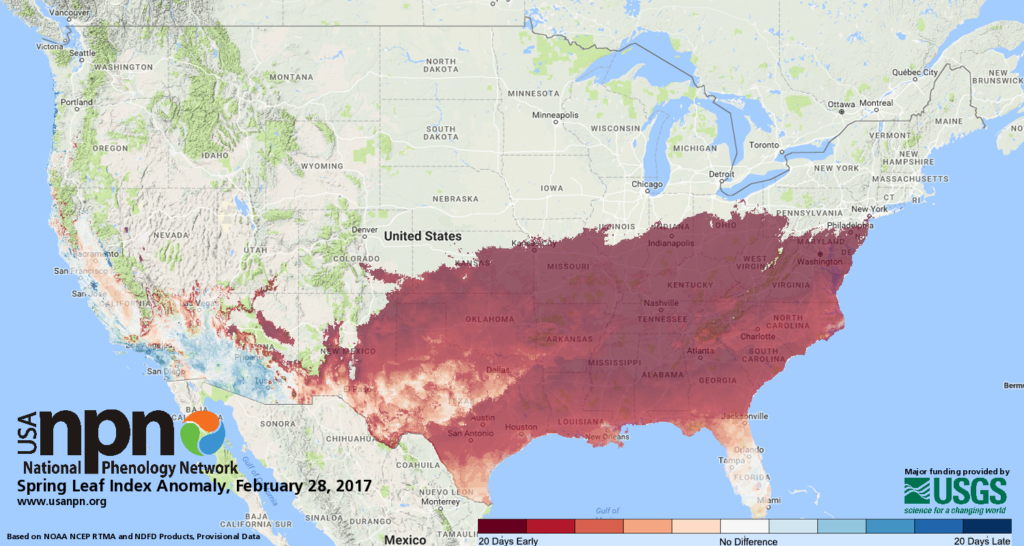 The recent mild weather might seem like an indication that spring-like conditions are here to stay, and NOAA's Climate Prediction Center does expect that a warm March is likely. However, it's important to remember that we're still at least a month away from the typical dates of our last spring freeze.
In fact, it would be unusual if we don't have another freeze event this season. The earliest final spring freeze on record in the Piedmont is in the second week of March, and even across the Coastal Plain, the earliest final freeze in Greenville and Goldsboro is on March 1.
If you will be planting within the next month, be prepared to deal with such an event, because it's certainly possible — and climatologically likely — that we will see at least one more chilly night this season.