Last week, Hurricane Irma crossed the central Atlantic at Category-5 strength with maximum sustained winds of 184 mph — surpassed by only one known storm in this part of the world, Hurricane Allen in 1980.
If that wasn't enough to capture your attention, model forecasts briefly showed the coast of North Carolina right in Irma's crosshairs as it approached the US mainland.
In the end, Irma took a decidedly more westerly track as the subtropical ridge over the Atlantic proved stronger than the models initially expected, holding the storm farther south before it made its turn up the coast.
That gave Irma a track unlike any single storm on record. As a Category 5 approaching Florida, it was reminiscent of Andrew in 1992, but Irma's eye bypassed Miami and approached the Florida Keys from the south. That part of Irma's path was similar to Hurricane Donna in 1960, which eventually crossed Florida before moving back offshore and making a bee-line for North Carolina.
Instead, Irma remained on the Gulf coast of Florida, giving Tampa its closest call from a hurricane since August 1949. As Irma moved farther inland, its remnants passed west of North Carolina similar to Frances, although not as close and not as wet as that memorable 2004 storm.
Irma — or at least a warm front extending eastward from its remnants — was still a decent rainmaker in the western part of the state. High-elevation sites received the most rainfall due to upsloping southerly winds. Our ECONet station on Bearwallow Mountain just south of Asheville reported 7.24 inches of rain from Irma while the Busick station in Yancey County picked up 7.17 inches total.
Outside of the Mountains, rainfall totals were limited due to an influx of dry air from the south during the day yesterday. Parts of the southern Coastal Plain did see up to 3 inches of rain, but the northeastern coast saw no precipitation at all.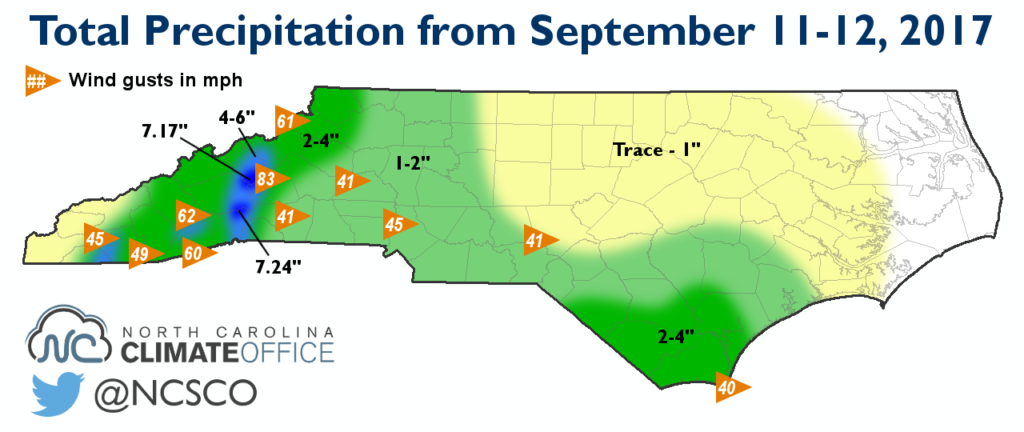 Irma also whipped up winds across the state. On Monday night atop Mount Mitchell, sustained winds reached as high as 64.8 mph with gusts of up to 82.7 mph. Our weather stations on Frying Pan Mountain, Poga Mountain, and Sassafras Mountain, SC, also reported gusts of at least 60 mph.
Tropical storm-force wind gusts exceeding 39 mph were observed in Hickory, Charlotte, Jackson Springs, and Bald Head Island. The wet ground and high winds caused trees to topple, and North Carolina Emergency Management reported more than 77,000 statewide power outages on Tuesday morning.
While Irma left its mark on North Carolina with some rain, wind, and scattered damage, that's a far cry from the potential impacts if the storm had taken an earlier turn and headed straight up the east coast.
Our state has plenty of experience with this part of the tropical alphabet, including Ione, Isabel, and Irene. In this case, Irma will be remembered less for its glancing blow on North Carolina and more for its near-record strength and devastating hit to the Caribbean islands and Florida.