After a hot, wet spring, June was a bit cooler and slightly drier across much of the state.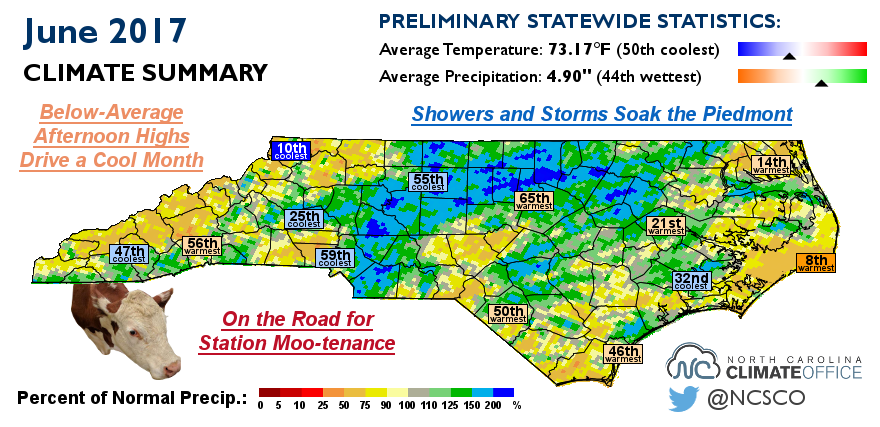 Below-Average Afternoon Highs Drive a Cool Month
In recent years, June has become associated with the inevitable onset of summer heat. However, last month was comparatively tolerable, ranking as the 50th-coolest June since 1895 with a statewide average temperature of 73.17°F. That's 0.8 degrees below the 1981 to 2010 average, and our coolest June since 2012.
| Year | Greensboro | Charlotte | Raleigh | Wilmington |
| --- | --- | --- | --- | --- |
| 2017 | 0 | 5 | 8 | 4 |
| 2016 | 9 | 14 | 11 | 10 |
| 2015 | 15 | 20 | 18 | 16 |
| 2014 | 7 | 10 | 14 | 14 |
| 2013 | 2 | 4 | 5 | 2 |
| Record | 24 (1911) | 23 (1943, 1986) | 24 (2011) | 21 (1952) |
Number of 90°F+ days in June 2017
Only the sun-soaked Outer Banks had a notably warm month, with Hatteras recording its 8th-warmest June on record. Some Mountain locations were on the opposite end of the scale, including Boone's 2nd-coolest June and Mount Mitchell's 3rd-coolest June since 1980.
The 90°+ heat that has become familiar in recent Junes was less abundant last month. Even across the Coastal Plain, most sites had a dozen or fewer days with high temperatures reaching 90°F or higher.
Through the first half of the year, Greensboro has yet to hit the 90 degree mark, which has only happened six other times since 1903, and hasn't happened since 1983.
Showers and Storms Soak the Piedmont
Following a wet and stormy May across the state, a mix of wet and dry periods balanced out in June to yield a statewide average precipitation of 4.90 inches — 0.4 inches above the 1981 to 2010 average — which ranks as our 44th-wettest June out of the past 123 years.
Of course, that average doesn't tell exactly where the rain fell or didn't fall. As is common with summer precipitation, the gap between the haves and have-nots was large. While the Piedmont Triad Airport in Greensboro received 9.94 inches of rain — its 3rd-wettest June since 1903 — much of the northern and central Mountains and Outer Banks received less than three inches all month.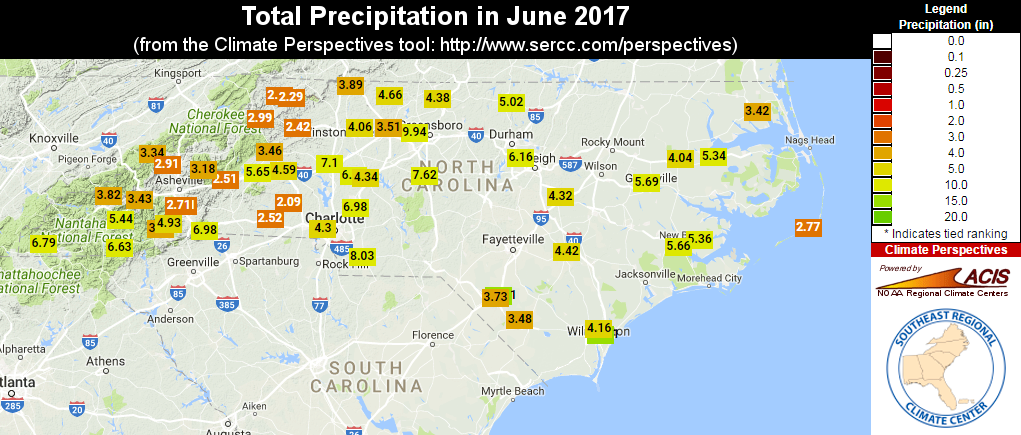 Despite the slightly dry month in those regions, the state remains completely free of any drought or abnormally dry conditions on the US Drought Monitor. The recent mix of wet and dry periods came as a welcome relief to farmers, according to the latest USDA Crop Reports:
Near normal climate for the period, warm and humid to dry and cooler with nearly 1″ widespread rainfall for time period. Overall agriculture conditions and weather are good!

Robert Hawk, Swain County Extension
Most farmers were able to squeeze in wheat harvest between showers/thunderstorms with good yields being reported. Most early and mid-season planted corn is in full tassel/silk stage. Steady rains through June are keeping this crop well supplied with water. A lack of sunshine may reduce yield potential. Late planted corn is doing well as long as the soils are well drained. A significant amount of water damaged corn exists across the county. Soybean planting after wheat has been delayed by steady rains.

Mark Seitz, Pender County Extension
On the Road for Station Moo-tenance
June is one of our busiest months when it comes to ECONet maintenance. We visited 24 of our 40 weather stations throughout last month covering 2,791 miles across the state. These visits are part of our routine maintenance cycle in which we visit every station three times per year, sometimes with some assistance from curious animal onlookers.
Due to the localized nature of summertime precipitation, we want to make sure our sensors are up to the task, so we spent time calibrating our precipitation gauges to ensure high-quality rainfall measurements. We also swapped out some radiation sensors, changed out bearings in the RM Young wind sensors, and replaced a few PTU modules, which measure temperature, humidity, and air pressure.
In an effort to better understand the effects of moisture on blackberries, we set up temporary sensors to monitor leaf wetness, air temperature, dew point, and relative humidity at a blackberry farm in Lawndale, NC.
The goal of this project, which was a joint venture between our office and Dr. Gina Fernandez in NC State's College and Ag and Life Sciences, was to see whether blackberries harvested under more moist nighttime conditions are similar to those harvested during the day. If so, that could provide an option to harvest at night — a time when heat stress is lower and ambient conditions are more favorable for humans to work.
At the end of the month, two of our staff members retrieved the sensors used in the experiment and spent time visiting our stations in the southern Mountains for routine maintenance. The video to the left shows some highlights from this trip, including the incredible views from our high-elevation stations.