Today's climate summary takes a look at some notable weather headlines from the past month, as well what to look for from those storylines as we head into meteorological winter.
Into the Fridge
November saw the fall's first onset of cooler weather and a decided change from October's warm pattern. The statewide average temperature was 49.73°F, ranking as the 61st-warmest (or 63rd-coolest) November on record. Our average temperature was 1 degree below the 1981 to 2010 average.
The pattern change wasn't immediate — on the 2nd and 3rd of the month, Cape Hatteras recorded new daily record high temperatures of 77°F and 78°F, respectively — but by the second week of the month, temperatures took a nosedive, with some daily high temperatures 15 to 20 degrees below normal.
That stretch also saw our first fall freeze on November 11. Outside of the immediate coast, the state dropped to or below freezing, ending the growing season. While this year's first freeze was a few weeks later than normal across the Piedmont, it was right on time across much of the Coastal Plain.
On that same day, temperatures dropped into the teens at several mountain locations. Our weather station on Mount Jefferson in Ashe County bottomed out at 14.7°F, and our stations at Laurel Springs, Mount Mitchell, and Waynesville also saw temperatures below 20°F at some point in the month.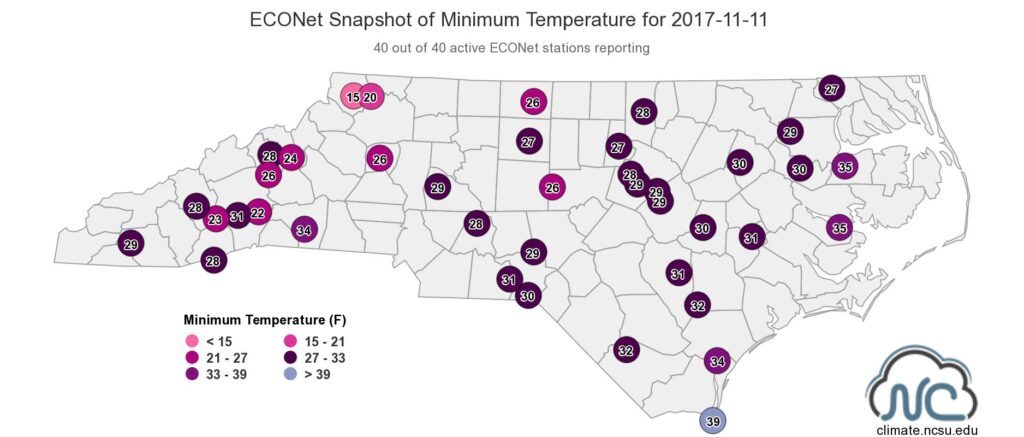 So is November's flirtation with freezing temperatures a sign of things to come for the winter? Probably not for the entire season. As our winter outlook explained, the weak La Niña pattern means we're likely to see near- to above-normal temperatures overall.
However, current forecasts for December look decidedly cooler than we expected. A cold front set to move through later this week should bring a drop in temperatures that will be reinforced by an Arctic airmass moving in this weekend.
Served Up Bone Dry
Whenever cold air arrives in the wintertime, a flurry of rumors involving a certain s-word inevitably begin to circulate. And yes, some model forecasts have shown a chance of light snow as a system moves through on Friday morning, so we can't rule out seeing some flakes fly.
It's certainly not impossible to see frozen precipitation in early December. One of the close analogs to this winter, 2000-01, saw a significant coastal snowstorm on December 3, and one of the state's most damaging ice storms on record came on December 4-5, 2002.
But seeing any flakes of consequence will require a moisture-rich weather system, and we've been lacking those over the past few months. In fact, November was the driest month of our fall. With a statewide average precipitation of only 1.46 inches — more than 2 inches below the recent 30-year average — November ranked as our 18th-driest out of the past 123 years. Most sites saw less than 50 percent of their normal precipitation.
Even the Mountains, which had been reliably wet this fall, fell into drier conditions last month. With 1.30 inches of precipitation, Franklin recorded its 3rd-driest November in the past 71 years, and Tryon's 1.03 inches ranked as its 5th-driest November dating back to 1917.
The dry weather led to an expansion of Abnormally Dry conditions across much of the central and southern Coastal Plain, much of which received less than an inch of rain last month. New Bern reported just 0.42 inches in its 2nd-driest November on record.
Moderate Drought conditions also expanded westward on the US Drought Monitor's latest assessment. Charlotte and Greensboro, which received just 0.94 and 0.95 inches of rain in November, respectively, are now in the D1 region, which covers most of the Piedmont and about 22 percent of the state.

A Glass Half Full?
While there's no doubt that parts of the state are being affected by drought, there are some reasons to be thankful as we exit November. For one, our wet spring and early summer have largely kept groundwater levels near or above normal, even despite the recent dryness.
Also, compared to conditions one year ago, we're in relatively good shape right now. At this time last year, parts of the Mountains were in Extreme or Exceptional Drought with large wildfires burning across the region.
Finally, this year's drought impacts, especially to water supplies, haven't been too widespread thanks to the abundant rainfall in western North Carolina in recent months. Reservoirs in the western Piedmont such as Lake Norman are at or slightly above their target levels because of the abundant upstream precipitation over the late summer and early fall.
But that doesn't mean we can't and won't see further drought expansion without adequate wintertime precipitation, and the outlook isn't exactly promising. Model forecasts for December, January, and February continue to show below-normal precipitation across the southeast US — consistent with La Niña's typical impacts.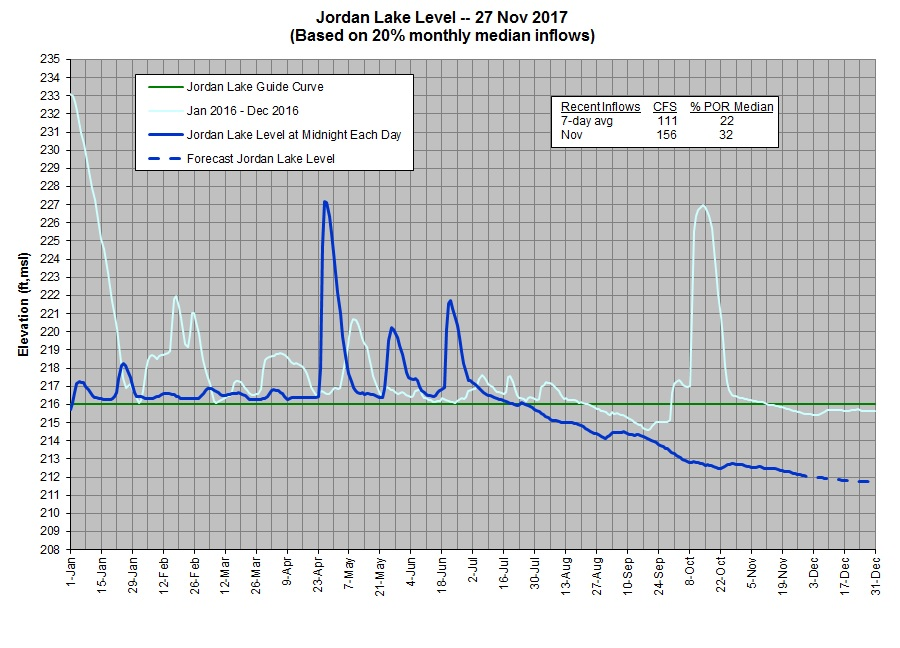 The recent drought expansion has been due to low streamflow and lake levels across the Piedmont, and those will likely remain the main factors driving drought this winter. More months like November with dry weather statewide could cause those western Piedmont lake levels to decline.
In the central and eastern Piedmont, reservoirs including Falls Lake and Jordan Lake (right) have been below their target levels since mid-summer, and while the recent cooler weather has slowed losses due to evaporation, both lakes remain 3 to 4 feet below normal.
While conditions could be worse, they could certainly be better as well, so we'll continue to watch for any potential breaks in the La Niña pattern that might bring us some precipitation. Gadgets and toys may top some wish lists, but this December, we're hoping for some wet weather to alleviate the ongoing drought.