It's tournament time and this year, we're getting in on the action! No, we're not fielding a basketball team or going dancing — apparently last summer's rain dances worked a little too well! Instead, we have set up a four-round tournament to determine North Carolina's most memorable weather event from the past 12 months — March 2015 through February 2016 — and we need your help to determine the winner.
A new round of voting begins each Monday through the rest of March, and the winner will be announced in our March climate summary on Friday, April 1. All you need to vote is a Twitter account, so log in or sign up and make your selections below.
This is just one way that you can get involved in March Madness. All 50 states are competing to see who can sign up the most new CoCoRaHS observers this month, and North Carolina is a four-time and defending winner! For more information on this backyard rainfall observing program, check out last year's blog post or visit CoCoRaHS.org.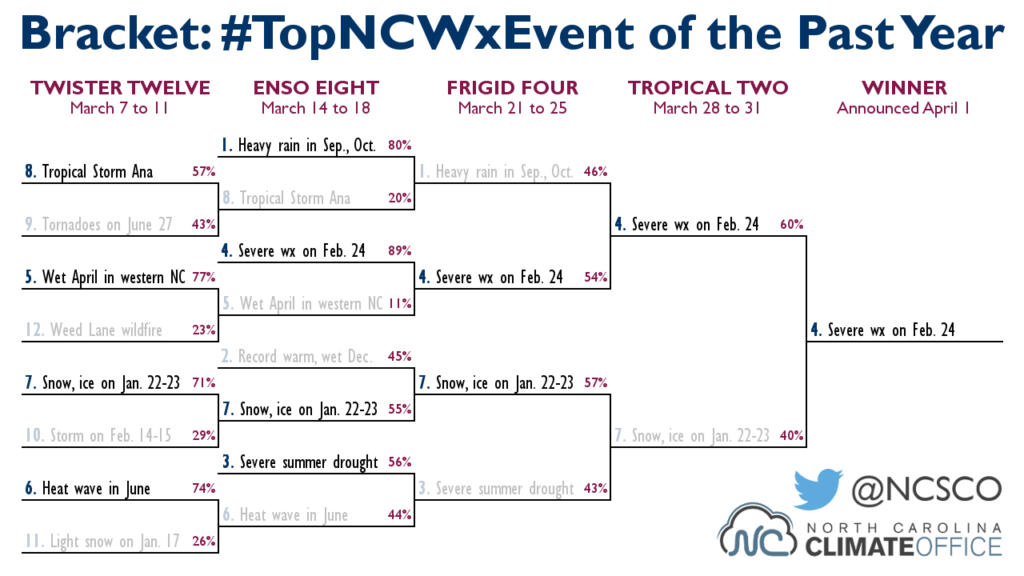 Event Rundown
1. Heavy rain in Sep. and Oct.
Over a nearly two-week period last fall, the Carolinas were soaked by persistent rains and flooding. One seven-day stretch during that period ranks among North Carolina's top ten wettest weeks on record, and several sites broke or tied records for the most consecutive days with measurable precipitation.
2. Record warm, wet December
The first half of last winter was a tale of two months. Thanks to a strong southerly jet stream fueled by a peaking El Nino, December saw record wet weather — with more than twice the normal monthly precipitation at many sites — and record warmth all across the state.
3. Severe drought last summer
Warm, dry weather last summer meant the return of drought conditions to North Carolina for the first time in more than two years. The southwestern Piedmont reached Severe Drought, or D2 levels, and at least Moderate Drought (D1) conditions covered more than 40% of the state by the end of the summer.
4. Severe weather on Feb. 24
In late February, a potent severe weather setup saw a line of thunderstorms cross the state and spawn six confirmed tornadoes, the strongest of which was an EF2 in Granville and Vance counties. The event ranks as one of North Carolina's largest February tornado outbreaks.
5. Wet April in western NC
Amid an otherwise dry spring, last April was particularly wet for the western half of the state, with monthly rainfall totals of more than 6 inches across much of the region. Along with flooding from those heavy rains near Charlotte and Boone, thunderstorms brought hail and damaging winds.
6. Heat wave in June
The hottest part of last summer was a simmering stretch of 95°+ heat beginning in mid-June that lasted for nearly two weeks. Temperatures peaked at 104°F in Lumberton on June 15 and 18, and Charlotte topped 100°F on five days in June.
7. Snow, ice on Jan. 22-23
On January 22 and 23, a mixed bag of precipitation fell across the state, with more than a foot of snow in parts of the Mountains, more than half an inch of ice just east of the Triangle, and plain rain falling across much of the Coastal Plain. Five deaths in North Carolina were attributed to the storm.
8. Tropical Storm Ana
A rare May tropical storm paid a visit to North Carolina last year. Ana formed over the warm waters of the Gulf Stream and made landfall near Myrtle Beach on May 10. North Carolina's southeastern coast saw gusty winds and more than 4 inches of rain.
9. Tornadoes on June 27
Eastern North Carolina received a round of storms late last June, including four tornadoes on June 27. An EF0 near Wilmington, an EF1 in Lee County, an EF1 in Robeson County, and an EF1 near Lumberton all caused minor damage but no injuries.
10. Storm system on Feb. 14-15
On February 14, the coldest temperatures of the winter set the stage for another round of wintry weather, but this system didn't show us much Valentine's Day love. Snow totals were limited by a transition to sleet and freezing rain. The next day, temperatures warmed and storms crossed the Coastal Plain, spawning an EF1 tornado in Carteret County.
11. Light snow on Jan. 17
This year's first taste of wintry weather came on January 17, when a quick-hitting band of showers associated with an offshore low brought a dusting of snow across the Mountains and Piedmont.
12. Weed Lane wildfire in April
Last April, the Weed Lane wildfire just east of Asheville near Black Mountain burned 740 acres over the course of a week. Gusty winds helped the fire spread, but rain and efforts from the NC Forest Service got it fully contained by April 8.