This is the first of two blog posts highlighting how CoCoRaHS data is used and the value of the reports. First, we explore some of the meteorological applications of CoCoRaHS data.
Whether you are a current CoCoRaHS volunteer or are interested in joining this network of rainfall observers, you should know that your data is valuable to scientists, researchers, teachers, and maybe even your neighbor down the street!
Scientists in our office utilize CoCoRaHS observations for research as well as for writing some of our blog posts. In particular, Applied Climatologist Corey Davis says, "it's not a stretch to say that we use that data pretty heavily in our event recaps". The CoCoRaHS snowfall data has been extremely useful for writing Rapid Reaction posts, including the first major storm event this winter on January 22-23, which just so happens to be one of our Twister Twelve in the voting for North Carolina's top weather event.

David Glenn, a meteorologist with the National Weather Service (NWS) in Morehead City, says these extra observations are used directly in the forecast and warning process. Particularly during heavy rain events, NWS scientists consult CoCoRaHS data that are submitted as Significant Weather Reports, which are precipitation measurements not necessarily taken at the standard morning observation time.
Instead, an observer gives details — such as precipitation duration and the extent of any flooding — as the event is taking place or shortly thereafter. For instance, if a CoCoRaHS volunteer were to observe an inch of rain in 30 minutes, they could report that information using this form. Glenn notes that once submitted, "these reports immediately alert forecasters at the NWS which may aid in issuing flood statements/warnings or aid in verification".
These significant weather reports help the NWS assess local conditions, such as when creeks might rise above flood stage.
"In Eastern NC, we have a 'flashy' stream in southern Pitt County called Chicod Creek near Simpson," said Glenn. "It is too far away to be compared to the airport observation at Pitt-Greenville Airport but we have several CoCoRaHS observers near Simpson."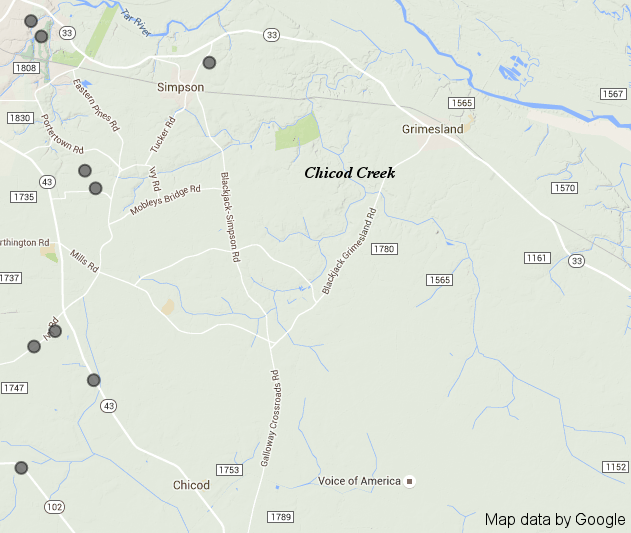 These dedicated CoCoRaHS observers are a crucial part of making a flood forecast possible at Chicod Creek.
Nationally, CoCoRaHS data are also used by NWS to determine precipitation totals from recent weather events. Glenn said CoCoRaHS reports are considered very "official" after significant events like hurricanes, winter storms, and flooding occurrences since the observations become part of the local weather history for the event.
For example, multi-day precipitation totals from CoCoRaHS observers in eastern North Carolina were included in the NWS National Hurricane Center's Tropical Cyclone Report for Hurricane Irene in 2011. Observers in Havelock and Greenville reported more than a foot of rain during the event, and their reports helped document Irene's impacts across the Coastal Plain.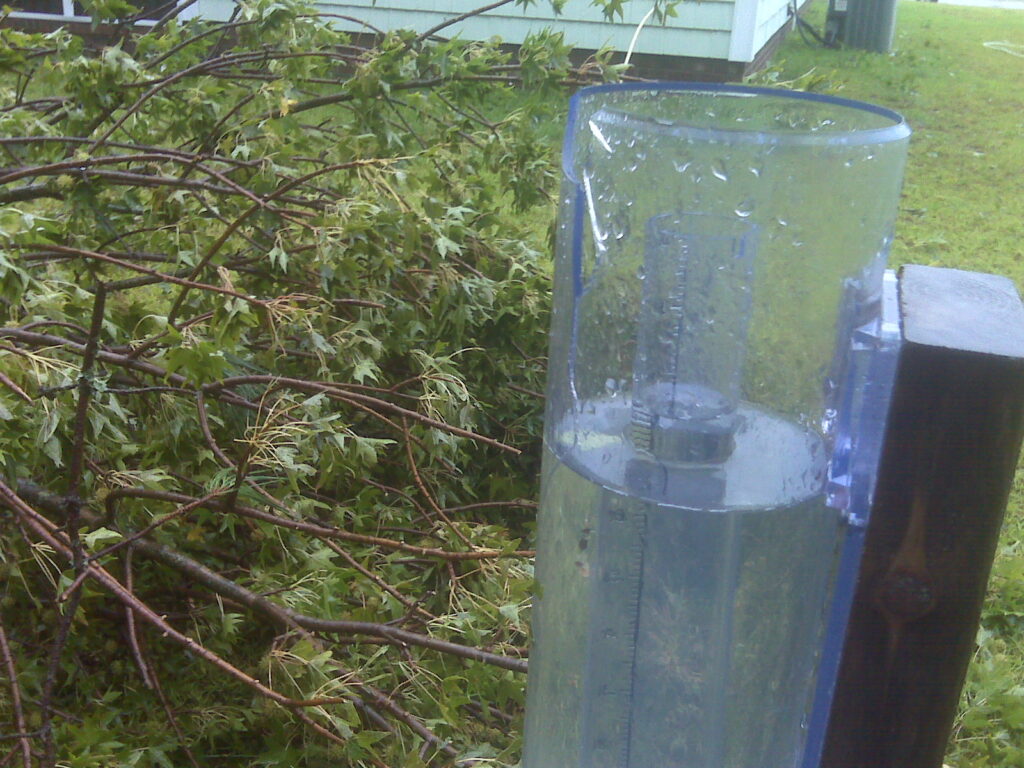 An active CoCoRaHS observer at his home near Bogue, Glenn's most memorable report — an incomplete one — took place during Hurricane Irene.
"During Hurricane Irene (2011) my gauge was hit with a large limb from a sweetgum tree which broke the outer cylinder and displaced the funnel about 50 yards away. I had over six inches of rain in the cracked (and leaking) CoCoRaHS gauge. I was more upset that my gauge was broken and my report would be an estimate, than any tree damage across my property."
Of course, safety is the top priority during any weather event, but when conditions allow for safe reporting, CoCoRaHS observers provide an important local perspective on weather conditions that is invaluable to meteorologists across the country.