Unseasonably warm conditions and more rain were our weather storylines in December.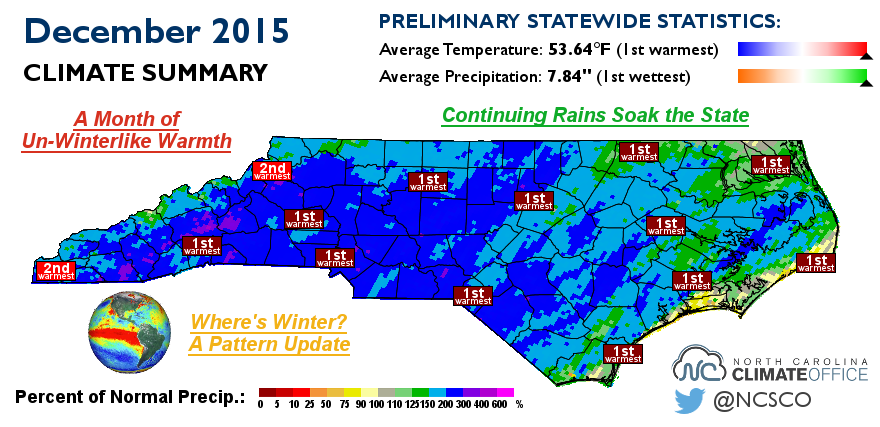 A Month of Un-Winterlike Warmth
By all measures — average high, average low, and average mean temperatures — this December was the warmest on record since 1895 across North Carolina. The average statewide temperature of 53.64°F was a full 3 degrees warmer than the second-warmest December, in 1956.
Our temperatures last month — average highs in the 60s, average lows in the 40s — were similar to what we usually experience in late October or early November. Put another way, those temperatures more closely resemble a typical December along the Gulf Coast rather than in North Carolina.
As the National Weather Service in Raleigh noted, low temperatures in Raleigh, Greensboro, and Fayetteville dropped below normal on just five days while record highs were set or tied on at least four dates at all three sites.
The heat peaked on Christmas Day as highs reached 80°F across the Coastal Plain in Fayetteville, Greenville, Lumberton, New Bern, and Wilmington.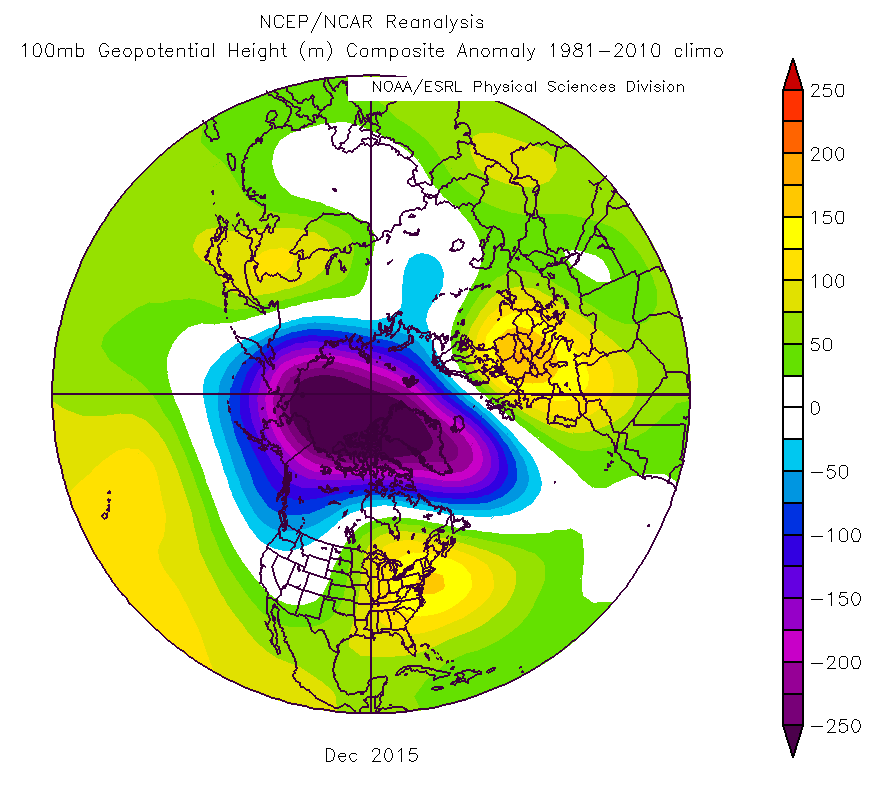 So what caused such warm conditions all month? Was our weather controlled by some miserly presence?
Not exactly, although one culprit may be equally fear-inspiring this time of the year. A strong polar vortex in the upper atmosphere helped bottle up cold air near the North Pole, and even the late-month travels of its most famous resident couldn't deliver the cold southward.
With no cold air to spare and a persistent ridge in the jet stream over the east coast, the eastern half of the United States experienced its warmest December on record. Out west, a trough in the jet stream kept temperatures closer to normal values. However, it was still an unseasonably warm month across North America.
Continuing Rains Soak the State
Extending a wet trend that began in mid-September, December was another soggy month for North Carolina, ranking as the wettest on record with an average statewide precipitation of 7.84 inches. That was a half-inch more than our second-wettest December in 2009, when moderate El Niño conditions were in place.
An ongoing feed of warm, moist air off the Atlantic Ocean and Gulf of Mexico helped fuel our record rainfall. Most Piedmont and Mountain sites were three or more inches, or more than 50%, above their normal December precipitation.
The southern Piedmont and southern Mountains saw the greatest monthly rainfall totals. Charlotte reported 8.70 inches of rain, Asheville had 8.76 inches, Brevard received 15.46 inches, and Lake Toxaway reported 21.43 inches.
Heavy rains on December 30th produced flooding from Charlotte through the Triangle, causing rivers to crest and roads to wash out. Three-day precipitation totals across the southern Piedmont exceeded four inches in many locations.
Where's Winter? A Pattern Update
In our Winter Outlook, we predicted that December wouldn't feel very wintry because of the strong polar vortex playing keep-away with the cold air. However, we expected the polar vortex to weaken in January and give way to a more favorable wintry pattern. So how do things stack up at the moment?
The polar vortex remains relatively strong, but beginning with our cooler spell last weekend, it took on an elongated configuration to help funnel some of that cold air to the south. Current model forecasts continue to show a wavy pattern through mid-January, which should mean that we've broken the December heat.

For ideal snow chances, we'd need to see a continually weakening polar vortex and its after-effects: a weakening polar jet stream and a sustained negative-phase North Atlantic Oscillation (NAO) pattern including a blocking high pressure system to our north. That would help us keep cold air in place for longer, favoring frozen rather than liquid precipitation.
Current forecasts show the NAO dipping into weakly negative territory for the next week or two. That marks a big change from the December pattern and a potentially good sign that the factors like the above-normal Siberian snowfall from last fall are working to weaken the polar vortex.
It appears that moisture availability won't be a problem thanks to the still-strong El Niño: equatorial Pacific sea surface temperatures are currently 2.0°C to 2.5°C above normal. As we've seen in the past few months, one effect of El Niño is a strong, moisture-rich southerly jet stream.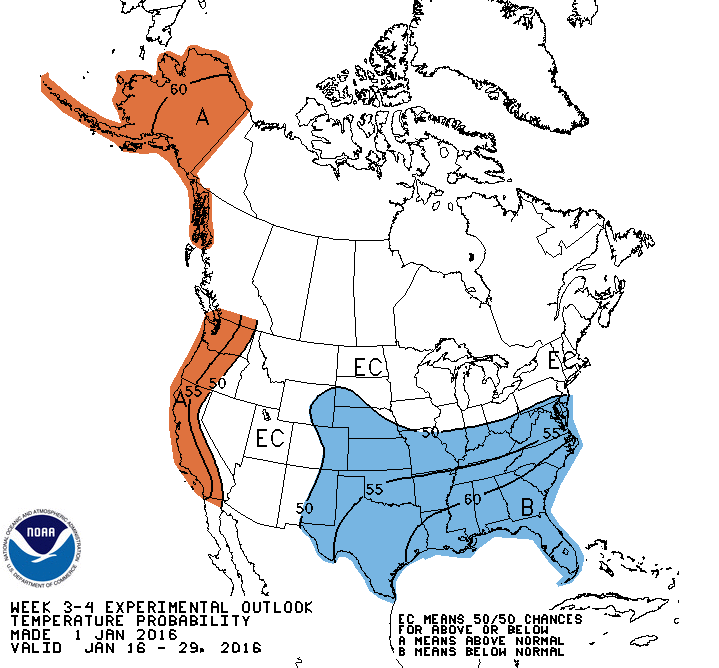 In our outlook, we also noted that the warm Pacific waters near the equator associated with El Niño and off the California coast associated with a positive-phase Pacific Decadal Oscillation pattern should support a positive-phase Pacific-North American (PNA) pattern.
In this pattern, we usually see troughing in the jet stream over the Southeast US, which further helps to deliver cold air to the south and steer storms along our coast. The PNA is currently entering such a positive phase, although it's not forecasted to remain strongly positive for a prolonged period.
All of that means that through mid-January, we're likely to see variable temperatures including some cooler stretches, but with no immediate signs of snow. However, the large-scale patterns are rapidly showing signs of becoming more favorable.
We stick by our forecast that late January through early March will be key times to watch for wintry weather, and a sustained favorable pattern would likely yield above-normal snowfall. But after a warm December, for the snow lovers among us, it seems the old saying is true: the waiting is the hardest part!