From the coldest temperatures of the winter to widespread severe weather, February had a bit of everything.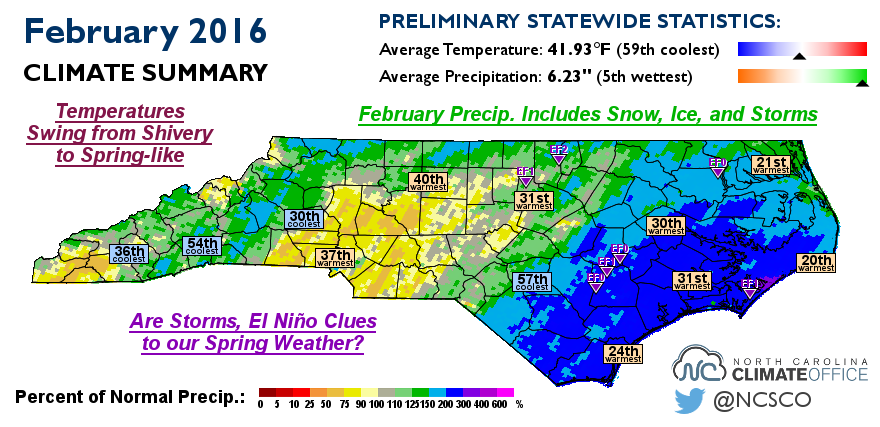 Temperatures Swing from Shivery to Spring-like
The average temperature from statewide reporting stations last month was 41.93°F, which makes it the 59th-coolest February in the past 122 years. However, a statewide average certainly doesn't tell the full story of our up-and-down February temperatures.
The month began with temperatures climbing into the 60s and low 70s. With such warm weather early in the month, it's no wonder that groundhogs across the state, including Sir Walter Wally, predicted an early spring.
However, by the second week of February, we returned to a cool pattern, and on Valentine's Day morning, we felt the coldest air of the winter as temperatures dropped into the teens. After that, though, the weather went from cool and wintry to warm and stormy, and we kept those spring-like temperatures to finish out the month.
February was our most variable month of the three-month meteorological winter, which finished with a statewide average temperature of 41.57°F — 2.71°F above the recent 30-year average — ranking as the 16th-warmest winter on record. That high ranking was driven largely by our warmest-on-record December that had statewide mean temperatures 11.4°F above normal.
February Precip. Includes Snow, Ice, and Storms
Precipitation came often and in a variety of forms last month, so it's no surprise that we recorded one of our wettest Februarys on record. The statewide average precipitation of 6.23 inches ranks as the 5th-wettest since 1895, and the wettest since 1998.
The wettest conditions came along the coast. With 7.62 inches of precipitation, Wilmington had its 3rd-wettest February in the past 142 years. Greenville (7.71 inches, 2nd-wettest), New Bern (7.31 inches, 3rd-wettest), and Smithfield (7.27 inches, 4th-wettest) also had particularly wet months.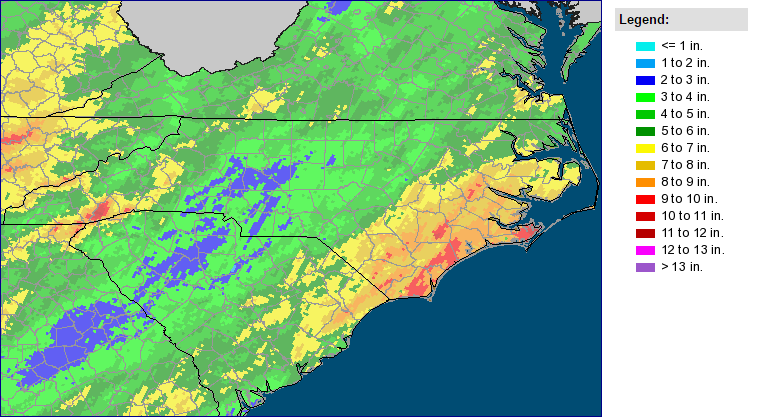 For most of the state, the only bout of wintry weather last month came on February 14 and 15. Precipitation began as snow across the northern Mountains and Piedmont before changing over to sleet and freezing rain. As warm air moved in, precipitation changed over to rain, and the coast saw strong thunderstorms with an EF1 tornado in Carteret County.
That was the precursor to a potent severe weather event the following week. The six tornadoes in this event are the second-most of any February outbreak since February 18, 1976, when seven F1 tornadoes hit the western part of the state.
Driven by wet weather particularly in December and February, the 2015-16 winter finished with a statewide average precipitation of 16.79 inches, or 5.66 inches above the 1981-2010 average, becoming our 4th-wettest winter on record. Such wet conditions are typical of a strong El Niño winter like this one; North Carolina's wettest winter was in 1997-98.
Are Storms, El Niño Clues to our Spring Weather?
After a stormy finish to February and one of our wettest winters on record, it's only natural to wonder whether those conditions will continue through the spring.
One driver of our spring pattern could be the ongoing El Niño event. Sea surface temperatures in the equatorial Pacific remain nearly 2°C above normal. Although current forecasts suggest these temperatures will decrease over the spring and summer, El Niño conditions are still in place for now, so our active weather pattern that began last fall could continue through the spring.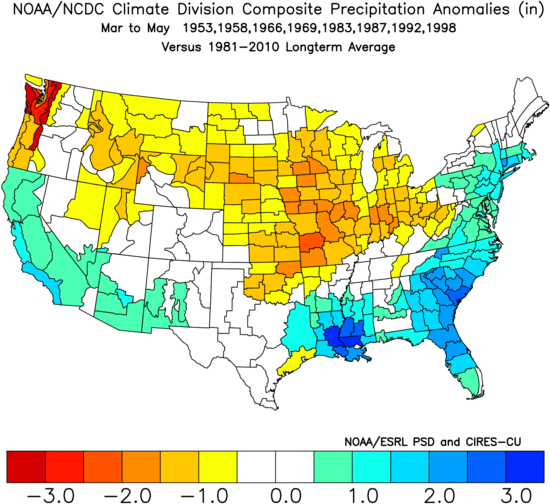 Since 1950, eight years have seen wintertime El Niño conditions linger into the spring. In those years, the springtime weather tended to be wetter than normal up and down the east coast. NOAA's Climate Prediction Center expects similar wet conditions this spring.
The CPC also predicts a slight chance of above-normal spring temperatures for at least the northern part of the state. Current climate model ensemble forecasts show a similar pattern for March with chances of above-normal temperatures increasing as we head into April and May.
That combination of warm and wet weather could also mean more severe weather and storms this spring, and history suggests that could be the case as well. Our most recent El Niño spring in 1998 featured 45 springtime tornadoes — the second-most since 1950, trailing only 2011.
Not all El Niño springs have been that busy, but the recent pattern and current forecast mean the weather this year is likely to be more active than in our quiet springs of 2013 and 2015.
Meteorological spring officially begins today with appropriately warm weather across the state, and the chances for seeing any more wintry weather are quickly dwindling. Stay tuned to the blog and we'll close the book on the winter later this month with a full recap of the past season and a review of the pre-season predictions.