A two-day wintry event last Friday and Saturday was a classic Carolina storm, with a mixed bag of precipitation across the state ranging from heavy snow in the Mountains to sleet and freezing rain in the Piedmont to rain along the coast.
The Storm's Setup
The event took shape earlier in the week as a deepening upper-level low developed east of the Rockies and spawned a surface low pressure system just north the Gulf coast. The counter-clockwise wind flow around the low brought in plenty of Gulf moisture that fueled heavy rain from Mississippi through Georgia.
While the low moved eastward, a high pressure system over the Great Lakes funneled cold air southward, where it was trapped east of the Appalachians in a shallow layer near the ground. This cold air damming setup ensured surface temperatures could support frozen precipitation across much of the state.
With cold air in place and moisture on the way, it seemed that we had all the ingredients needed for a big snowstorm. However, as any seasoned winter veteran in North Carolina can tell you, it's rarely that simple to see statewide snow.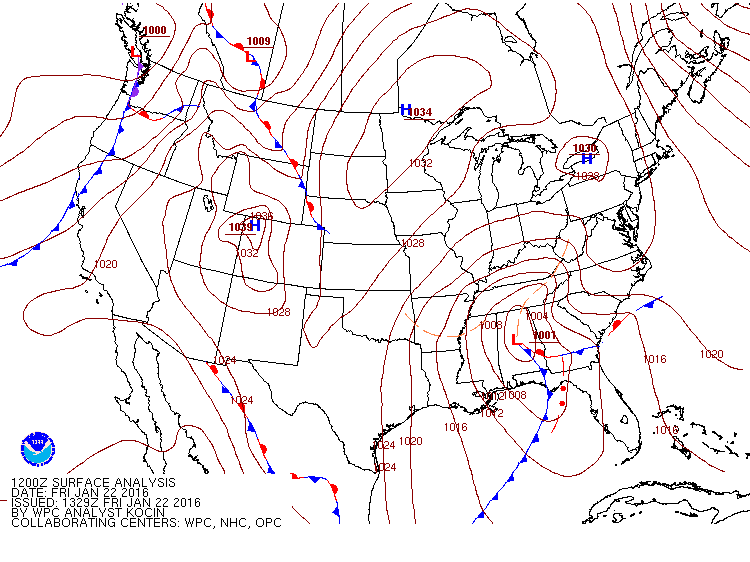 In this case, the winds around the low brought in not only moisture from the south, but also warm air just above the surface cold layer that melted precipitation into sleet or rain as it fell.
That's not unusual during an event like this one in which the initial surface low is farther north and a second low later forms off the coast. These so-called Miller Type B storms are often the source of our major ice storms, and this event was no exception.
Much like the December 2002 ice storm that we covered as part of last year's NC Extremes series, subtle shifts in atmospheric temperatures determined where precipitation fell as snow, sleet, freezing rain, or rain.
A Mixed Bag of Precipitation
In this event, the entire atmosphere was cold enough to support snow in the Mountains for much of Friday. The western Piedmont began with a burst of snow, but warming mid-level temperatures — seen as a warm nose about a mile above the ground in Greensboro's atmospheric temperature profile — meant precipitation changed to sleet by mid-morning. Across the eastern Piedmont and northern Coastal Plain, snow began as sleet before changing to freezing rain.
As the low moved up the coast on Saturday morning, it brought in cold air from the north, which meant precipitation on the backside of the system fell as snow, generally limited to an inch or two of additional accumulation.
For the full two-day event, more than 6 inches of snow and sleet fell in the Mountains and far northern Piedmont. Accumulations quickly decreased to the south and east where more sleet — which has a liquid equivalent of about 3 to 1, compared to snow's liquid equivalent of about 10 to 1 — and freezing rain fell.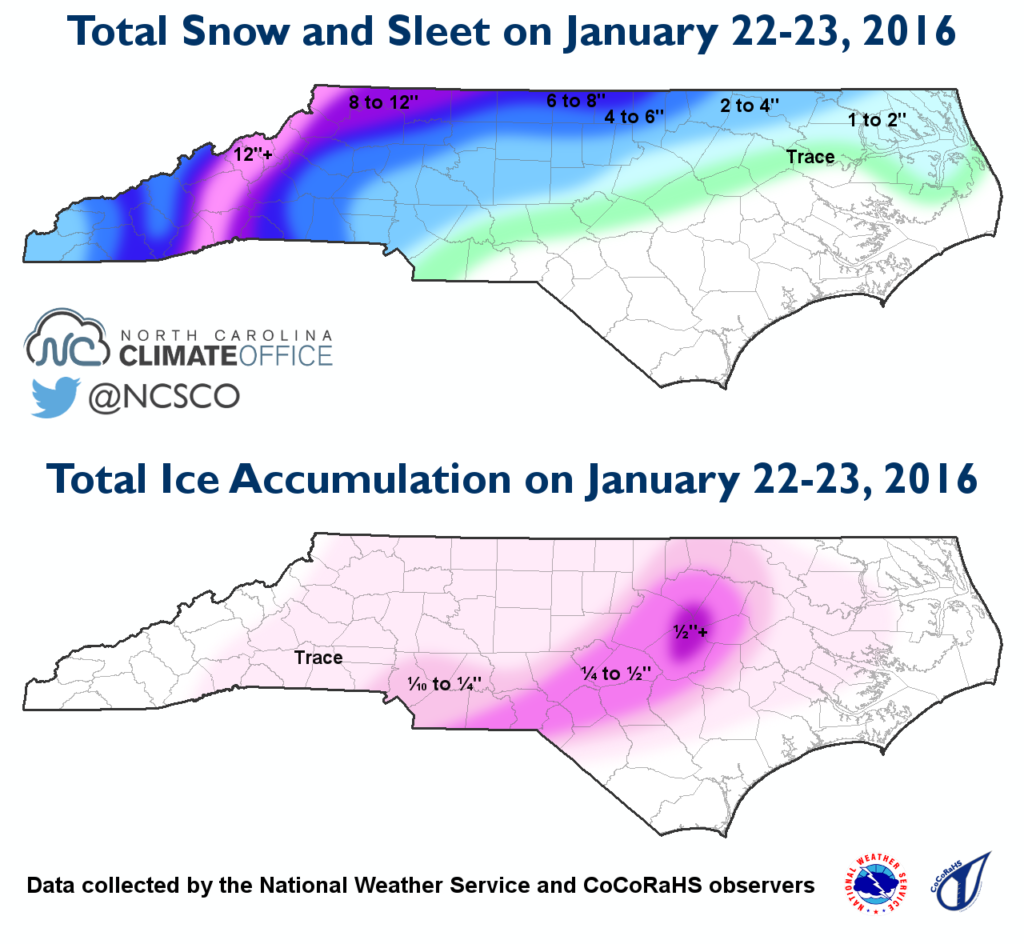 Ice accumulations were greatest in the eastern Piedmont. More than a quarter-inch of glaze covered the Sandhills through the eastern Triangle, with reports as high as 0.65 inches of ice near Selma in Johnston County.
The ice and high winds from the storm resulted in nearly 150,000 power outages across the state, according to Duke Energy. Two-thirds of those came in a three-county region in Wake, Johnston, and Harnett counties.
Event-long liquid precipitation totals were greatest along the southern coast, but with surface temperatures above freezing, only rain fell across that region.
A New Record?
One notable snow total that emerged from the event was a report of 41 inches at Mount Mitchell on Saturday. Measuring snow in blizzard conditions is challenging, so this total (like any extreme observation) is considered preliminary until it's reviewed more thoroughly.
If it's confirmed, though, it would break the statewide record for the most snow in a single day, which is currently a 36-inch accumulation at Mount Mitchell on March 13, 1993. We covered the event behind this record — the so-called "Storm of the Century" — in a blog post last year.
As more updates emerge about this potential new record, we will pass them along on the blog and on our Twitter feed, @ncstate-newswireSCO.