Our winter roller coaster continued this week as high temperatures plummeted below freezing, we rounded a bend of snow and ice-slickened roads, and temperatures quickly rebounded into the 50s with heavy rain and thunderstorms. It was all part of our latest bout of wintry weather amid an active weather pattern.
Arctic Air Settles In
The US east coast saw its coldest weather of the winter over the weekend as a piece of the polar vortex surged southward across southern Canada. To our north, temperatures dropped to -14°F in Toronto and -9°F in Boston — the coldest temperatures there in 22 and 59 years, respectively. On Mount Washington in New Hampshire, the mercury dropped as low as -40°F.
As the Arctic high pressure system over the Midwest moved to the east, northerly winds delivered cold air into North Carolina and locked us into a chilly pattern for the weekend. By Sunday morning, the high sat directly to our north, and the cold air wedged up against the Appalachians.
Sunday saw the coldest temperatures of the season, with low temperatures reaching the single digits in the Mountains and teens across the Piedmont and northern Coastal Plain. On Sunday afternoon, high temperatures stayed below freezing in all but the southernmost and easternmost locations.
Snow and Ice Coat the State
The cold air in place at the surface set the stage for frozen precipitation beginning on Sunday night. Moisture associated with a low pressure system to our west crossed the mountains, which brought several inches of snow to the northern Mountains and Piedmont. Ground temperatures were near freezing on Sunday afternoon, so it didn't take long for the snow to stick and cover the grass and roads, making driving treacherous in the Triad and High Country.
Early on Monday morning, warm, moist air rushed in from the south to fuel more precipitation. Similar to our January wintry event, the warm air just above the surface cold layer transitioned falling precipitation from snow to sleet and freezing rain.
An ice accrual of a quarter inch or more was reported in the western Piedmont, with a glaze up to 0.54 inches thick near Glen Alpine in Burke County. Ice totals decreased to the south and east, where precipitation was lighter and temperatures rose above freezing sooner.
Temperatures Warm Up, Winds Pick Up
Early on Tuesday morning, a warm front along the coast pushed inland, eroding the surface cold dome from east to west and raising temperatures from the 30s into the 50s. At the same time, a low pressure system approached from the southwest, and an associated squall line brought high winds, isolated severe weather, and heavy rain.
Wind gusts hit 40 mph in Greensboro, 52 mph near Fayetteville, and 60 mph in Swan Quarter. In Carteret County, a mesolow — a small area of low pressure and strong circulation — moved through, with reported gusts of 71 mph on Cedar Island and 81 mph at Fort Macon. A tornado — confirmed as an EF-1 by the National Weather Service in Morehead City — touched down near Davis a little before 9 am.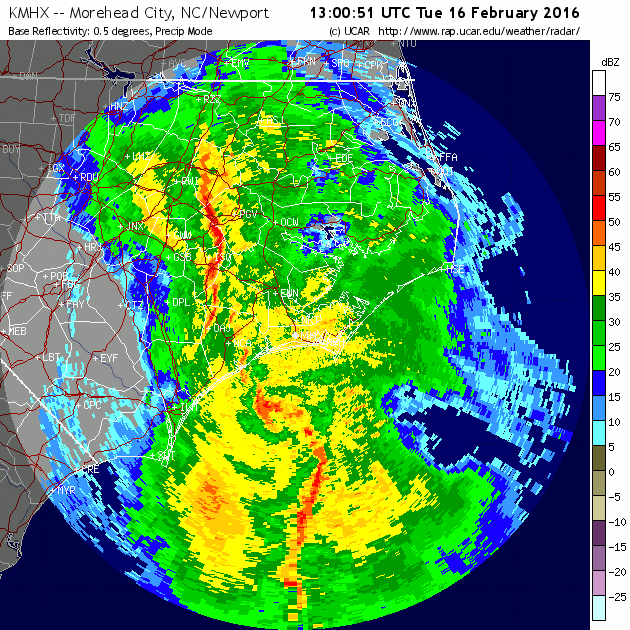 Raleigh, Burlington, and Fayetteville all received an inch or more of rain over just a three-hour period, and Roanoke Rapids reported 2.12 inches between 7 and 10 am. Total precipitation during the two-day event amounted to 1 to 2 inches, the vast majority of which fell as rain on Tuesday.
Weather conditions from ice to thunderstorms left a variety of impacts across the state. Ice accumulations caused more than 2,600 power outages in Asheville. Slick roads on Monday morning resulted in more than 1,000 traffic accidents statewide, according to the Highway Patrol. And Tuesday morning's storms knocked out power to more than 30,000 Duke Energy customers across the state.
Although this event didn't bring significant snowfall or crippling ice accumulations over a large region, the variety of its impacts — from cold, wintry weather to thunderstorms in less than 24 hours — make it a unique wintertime event for North Carolina.