This post is the first in a series focusing on the CoCoRaHS network and the 2015 March Madness campaign.
More rain is on the way for North Carolina this week, and the return of warmer temperatures as winter gives way to spring will yield greater variability in precipitation amounts as the potential for thunderstorm activity increases. Which begs the question – how can YOU help measure precipitation variability across NC? By joining CoCoRaHS, of course!
This month marks the CoCoRaHS March Madness campaign, in which all 50 states compete to recruit the most new observers before the month is up. CoCoRaHS – or the Community Collaborative Rain, Hail and Snow network – is a community-based network of volunteers both young and old who work together taking daily measurements of rain, hail and snow in their own backyards. These measurements are then made available online via maps and reports for anyone to view. Below is a map of precipitation observations from the most recent rain event late last week: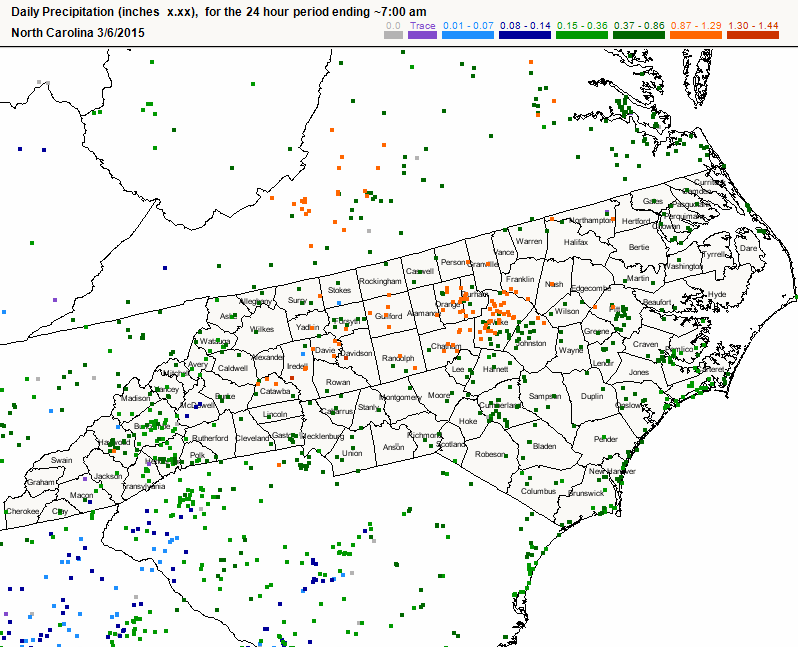 The CoCoRaHS network first originated back in 1998 with the Colorado Climate Center at Colorado State University after a massive flood in Fort Collins the year prior. Since then, the network has expanded to all 50 states and includes thousands of volunteers nationwide.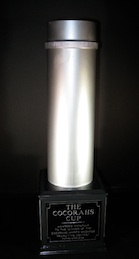 North Carolina joined the CoCoRaHS effort back in 2007 and has recruited over 2,200 volunteers since. Roughly 900 of those observers are still actively measuring today, but we need your help to recruit more! Every CoCoRaHS measurement helps paint a clearer picture of precipitation patterns across the state, as observations from CoCoRaHS volunteers help to supplement data from automated weather station networks and fill in gaps where no nearby stations exist.
Scientists, decision makers, and weather enthusiasts alike are among the many who find these data valuable. Even National Weather Service forecasters use CoCoRaHS observations when issuing and verifying warnings for severe thunderstorms.
In 2011, 2012 and 2014, NC recruited the most new volunteers during the March Madness campaign and won the coveted CoCoRaHS Cup (pictured at right). You can help us win it again by becoming a volunteer! Before March ends, navigate to the CoCoRaHS website and click on the yellow "Join CoCoRaHS" image located toward the top right of the main page. After registering, simply order your 4 inch rain gauge, take the online training, and start reporting!
And be sure to check back throughout this month to see how North Carolina's recruitment efforts are fairing in comparison to other states in the March Madness weekly standings!