Our recent spell of drenching rainfall is finally winding down, leaving flooding in parts of North Carolina and an historical watermark as one of the wettest weeks and most prolonged rainiest periods in our state's history.
Event Setup
The rain began on September 24 when an offshore low drifted northwestward and delivered more than an inch of rain across most of the state. On the 28th and 29th, a lingering stationary front offshore brought showers fueled by Atlantic moisture to eastern North Carolina, while moisture from the Gulf of Mexico made for wet weather in the western part of the state.
On the 30th, a cold front moved in from the west, causing continuing light rains across the state. The front stalled just offshore, and over the warm Gulf Stream, thunderstorms developed that caused heavy rains along the immediate coast.
Meanwhile, a strong upper-level low pressure system strengthened over the Southeast US. The circulation acted like a water wheel — or, given the intensity of the rain, perhaps it was more like a fire hose — feeding in moisture from the Atlantic and depositing it across the Carolinas.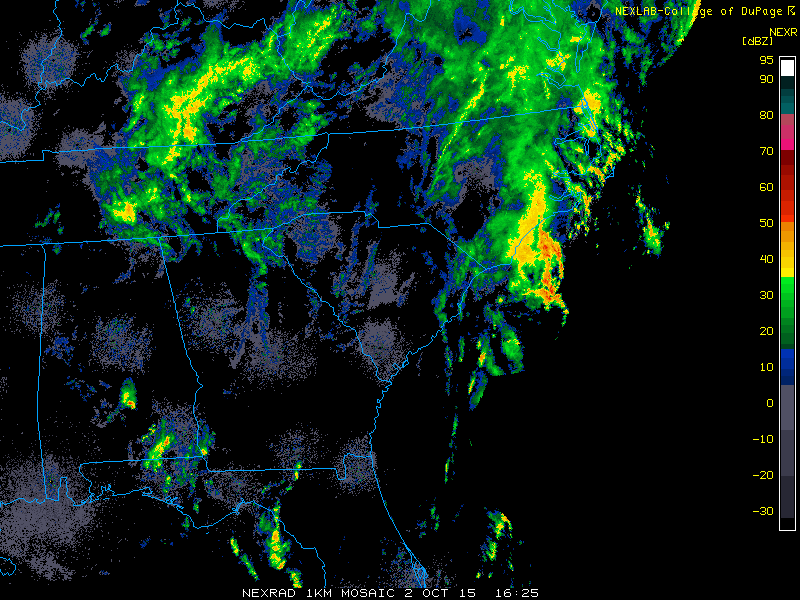 Rainfall Totals
South Carolina received the heaviest rain, with 7-day precipitation totals exceeding 15 inches in some spots, including 20.45 inches in Andrews and 17.73 inches in Charleston. Much of that rain came in just three to four days, which caused rivers to reach major flood levels.
In North Carolina, the greatest rainfall totals were in the southern coast. In Brunswick County, Longwood picked up 18.23 inches in just seven days, and our new ECONet station on Bald Head Island was christened with a 14.65-inch total.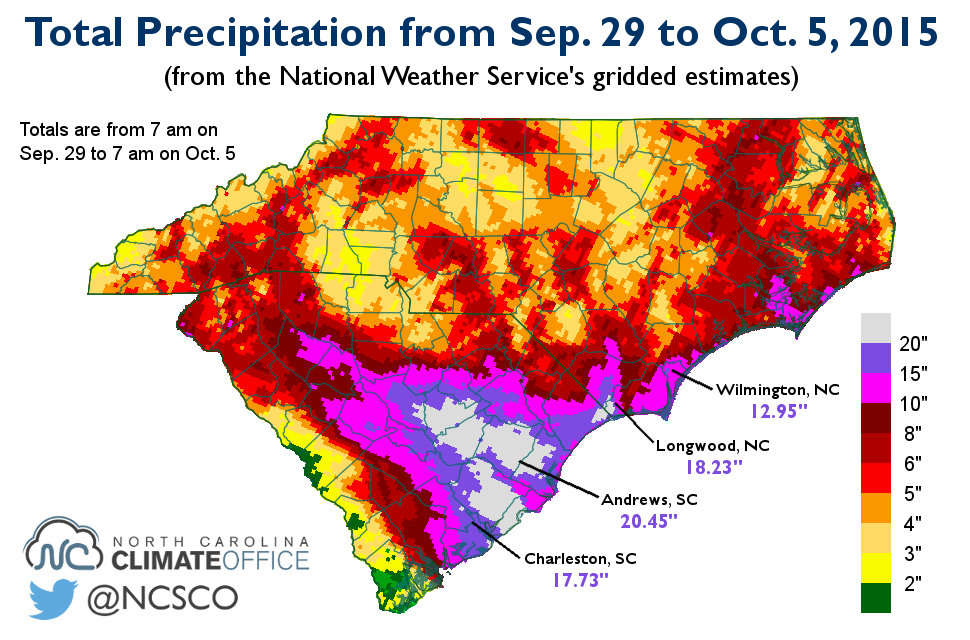 The primary impacts from the rains were flooding and, thanks to gusty winds, fallen trees. In Wilmington, 5.19 inches of rain fell on a soggy Sunday and 12.95 inches fell in a week, which resulted in widespread street flooding. Similar reports came in up the coast in Morehead City, and Highway 12 was closed on Ocracoke, Cedar Island, and north of Kitty Hawk due to flooding and overwash.
The mountains also had numerous reports of flooding, particularly near Hendersonville and Brevard. The Blue Ridge Parkway in the southern mountains was closed due to the threat of flooding and landslides, of which there were a couple notable reports. Weekly rainfall totals topped 10 inches throughout the southern mountains, including 14.47 inches on Mount Mitchell and 10.45 inches at Flat Rock.
Challenging the Records
The long-lasting rains from the mountains to the coast meant the entire state saw plenty of precipitation. During the one-week period from September 28 through October 4, the statewide average rainfall was 5.95 inches based on observations from more than 40 long-term weather stations. That ranks as the 7th-wettest week on record in North Carolina.
| Rank | Week | Avg. Precip. |
| --- | --- | --- |
| 1. | Sep. 29 – Oct. 5, 1964 | 7.07 in. |
| 2. | Sep. 11 – 18, 1945 | 6.86 in. |
| 3. | Aug. 21 – 27, 1908 | 6.68 in. |
| 4. | Sep. 25 – Oct. 1, 2010 | 6.49 in. |
| 5. | Sep. 26 – Oct. 2, 1929 | 6.47 in. |
| 6. | Aug. 11 – 17, 1940 | 6.21 in. |
| 7. | Sep. 28 – Oct. 4, 2015 | 5.95 in. |
| 8. | Sep. 25 – Oct. 1, 1924 | 5.90 in. |
| 9. | Jul. 17 – 23, 1919 | 5.46 in. |
| 10. | Aug. 31 – Sep. 6, 1928 | 5.26 in. |
Wettest unique 7-day periods in NC
Climatologically speaking, this is the most common time of year to get these widespread rainy weeks. Most of the other wet weeks topping the list on the left resulted from a similar combination of stalled fronts, moist onshore flow, and tropical systems or their remnants.
That includes the record holder from 1964 that concluded 51 years ago yesterday. In that event, a stalled cold front followed by the remnants of Hurricane Hilda produced heavy rains across the state, including more than 25 inches at Lake Toxaway and Highlands in the southern mountains.
In our recent climate summary post, we mentioned several stations that were approaching their all-time records for consecutive days with measured precipitation. The recent rains helped a few of those sites tie or break their records.
Fayetteville recorded 12 straight days of precipitation and Greensboro had 11 in a row, which broke the old records of 10 consecutive wet days at both locations. Raleigh reported 12 consecutive days with rain, which broke the current airport station's record of 11 and tied the long-term Raleigh record set in 1887. Hickory (11 days), Lumberton (12 days), and Greenville (12 days) each tied their all-time records.
That's a well-deserved place in the record books for one of the wettest widespread weeks in recent history.