Mother Nature turned up the thermostat last month, giving us a particularly steamy start to the summer. Our latest climate summary takes a look at the past month's weather, including our warm temperatures, areas of increasing dryness, and tropical activity — or lack thereof.
Hot Weather from Summits to Sounds
High pressure systems taking a prolonged stay to our south helped funnel in warm air during much of June, and the rankings reflect that. The preliminary statewide average temperature of 76.0°F made it our 14th-warmest June on record dating back to 1895.
Last month's warmth was most pronounced in the Mountains and along the coast. In the western part of the state, Murphy recorded its 4th-warmest June in the past 50 years and Asheville had its 3rd-warmest June out of a 126-year period of record. Hatteras also had its 3rd-warmest June dating back to 1893.
In the Piedmont, fewer sites reported a monthly mean temperature ranking among the top five warmest on record, but it was still the 6th-warmest June in Concord dating back to 1933 and the 12th-warmest in both Charlotte and Greensboro. Both maximum and minimum temperatures for many stations across the state ranked among the top ten warmest on record, so the heat was hanging around morning, afternoon, and night.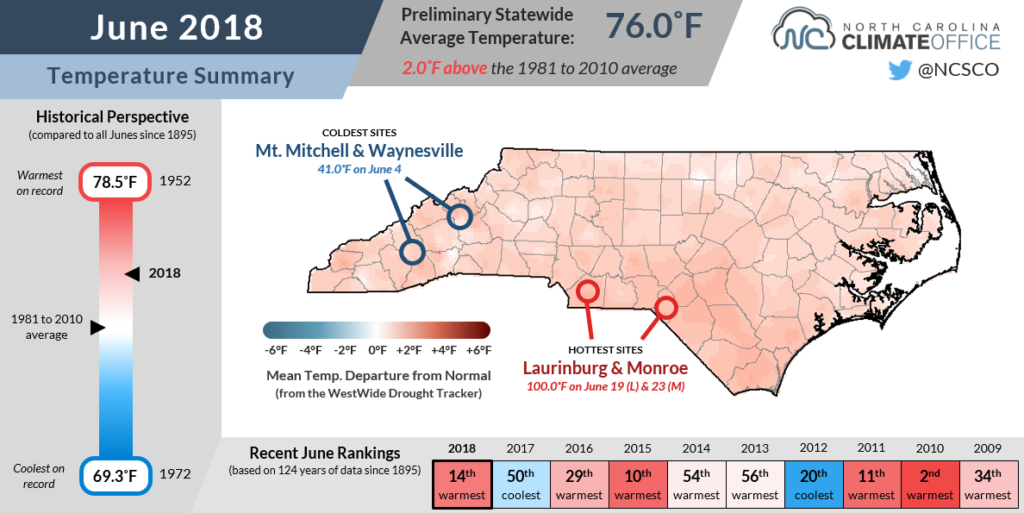 With such warm ambient conditions, it may be surprising that only two sites hit the hundred degree mark last month. Laurinburg had a high of 100°F on June 19 and Monroe equaled that triple-digit temperature reading on June 23.
Highs in the 90s have been much more common. Outside of the climatologically cooler Mountains, northwestern Piedmont, and Outer Banks, most areas saw at least a dozen days with highs hitting 90°F last month. Those aren't record numbers — in 2011, we had 24 such days in Raleigh and 20 in Wilmington compared to 15 and 16 this June, respectively. However, our 90 degree day counts did exceed the long-term average at most locations.
Drying Out, But Without a Drought
In May, we were tapped into a steady stream of moisture from the Gulf of Mexico. In June, that firehose was dialed back a bit, yielding a month with near-normal rainfall overall. Our statewide average precipitation of 4.27 inches ranked as our 61st-driest — or 64th-wettest — June on record out of the past 124 years.
The central part of the state, from the Foothills to the interior Coastal Plain, was on the dry side of normal. Two weather stations in Goldsboro reported 0.62 inches and 0.78 inches of precipitation in June. The southwestern Piedmont was also particularly dry. Concord received just 0.96 inches of rain all month, and Charlotte had 1.51 inches and its 15th-driest June out of the past 140 years.
On the other hand, sites closer to the coast were slightly wetter than normal. Our ECONet station in Aurora reported an even 10.00 inches of rain, making it the wettest spot in the state. With 8.52 inches of rain, Elizabeth City had its 4th-wettest June since 1934. Farther south, Wilmington reported 8.41 inches of rain and Bayboro had 7.51 inches.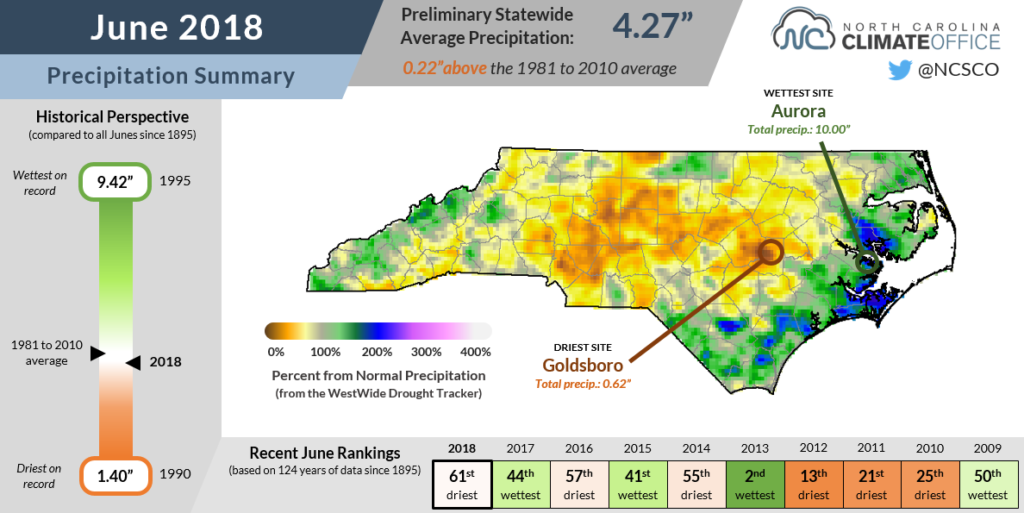 Despite the warm weather and patchy dryness in parts of the state, the US Drought Monitor map for North Carolina remained completely blank — a sign of no drought or abnormal dryness — over the past month. We have our wet May to thank for that since it left us with a surplus in streamflow and reservoir levels, which provided a nice buffer in June.
However, in recent weeks, streamflows near Charlotte began to drop into the below-normal range, and agricultural reports indicate growers are transitioning from assessing flood damage to dealing with the summer heat.
May's heavy rains had another key impact on agriculture: since near-surface soil moisture was so abundant then, some crops developed shallow root systems that left them ill-prepared to handle June's dry weather. Because of that, "[c]rops are getting ready to enter a stress period," noted Charles Mitchell, a Franklin County extension agent.
While we haven't yet seen widespread impacts to agriculture, water resources, or other sectors, another week or two of dry weather especially in the southern and western Piedmont would likely justify the return of an Abnormally Dry classification on the US Drought Monitor.
A Tropical Lull
June marked the official beginning of Atlantic hurricane season, but as we've seen in the past four consecutive years, the tropics didn't wait until June 1 to produce a named storm. This year, Subtropical Storm Alberto formed in late May and made landfall along the US Gulf coast. Its remnants contributed to record-setting monthly precipitation totals in North Carolina's southern Mountains.
The tropics have been quiet since then, and there are a few reasons why. For one, a massive plume of dust from the Sahara Desert was blown off the African coast and over the Atlantic. This dust saps moisture from the air, robbing potential storms of the water vapor they need to drive condensation and cloud development.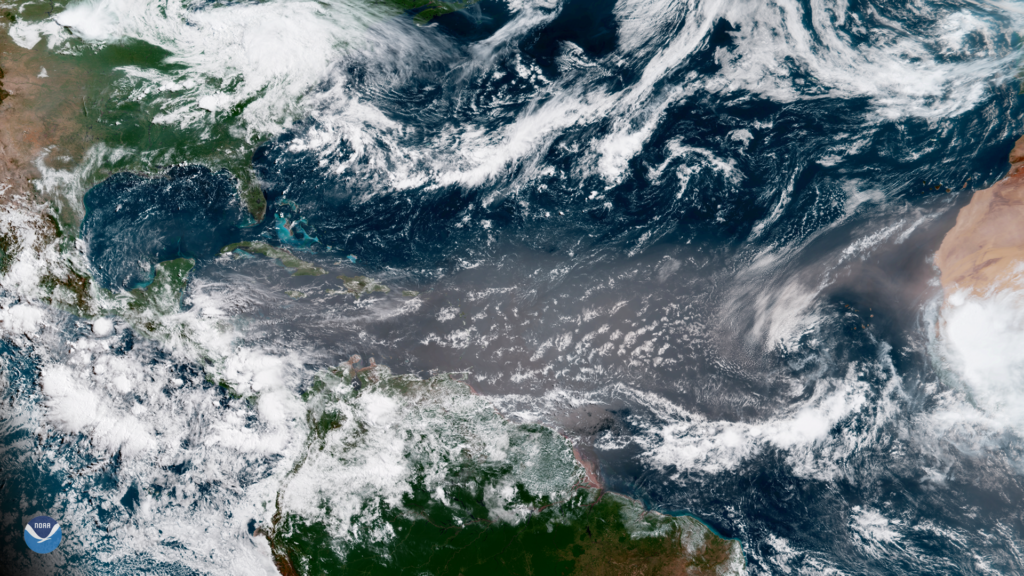 The presence of that Saharan dust as far west as the Caribbean Sea is a sign of another detriment to storm development. Strong upper-level winds have generated a vertical wind shear of up to 60 knots, or 69 miles per hour, which is more than enough to tear apart any potential storms.
Finally, much of the eastern Atlantic still has sea surface temperatures slightly below normal. Although historically, we don't often see many June tropical storms form that far east, they become more common in July and August. If the current atmospheric and oceanic features hold steady as we head through the rest of the summer, it could be tougher for storms to form.
| Source | # of named storms | # of hurricanes | # of major hurricanes |
| --- | --- | --- | --- |
| Long-term avg. (1981-2010) | 12.1 | 6.4 | 2.7 |
| NC State Univ. (issued Apr. 16) | 14 to 18 | 7 to 11 | 3 to 5 |
| NOAA (issued May 24) | 10 to 16 | 5 to 9 | 1 to 4 |
| UK Met Office (issued May 25) | 11 | 6 | (no prediction) |
| TropicalStormRisk.com (issued May 30) | 9 | 4 | 1 |
| Colorado State Univ. (issued May 31) | 14 | 6 | 2 |
Pre-season 2018 Atlantic hurricane season forecasts
Most forecasts made in the spring called for near- to above-normal tropical activity in the Atlantic this year, generally citing warmer water in the Gulf of Mexico as a driver in storm development as we already saw with Alberto.
However, the UK-based TropicalStormRisk.com forecast group predicted a quiet hurricane season in its May outlook, noting those cooler sea surface temperatures and stronger trade winds as factors that could limit activity.
Their forecast does still call for 9 named storms and 4 hurricanes, which is a good reminder that even in an inactive year, it only takes one storm affecting you to make it a memorable and impactful one. So don't let some dust in the wind drop your readiness level, especially with the climatological peak of activity and the best — or worst — of hurricane season yet to come.