Although three weeks remain until the traditional start of hurricane season, some recent activity in the Atlantic gave us the first named storm — Tropical Storm Ana — a bit earlier than usual.
Ana's life began as a disorganized collection of showers and thunderstorms associated with a weak low pressure system over the Bahamas. As it sat over the southern Gulf Stream, where sea surface temperatures approached 28°C (82°F), or nearly two degrees above normal in some spots, it became better organized and was officially named as Ana early on Friday, May 8th.
However, it was only a subtropical storm at this point, since the strongest winds and the majority of the convection, or thunderstorm activity, was located away from the center of rotation, as seen in the satellite image on the right.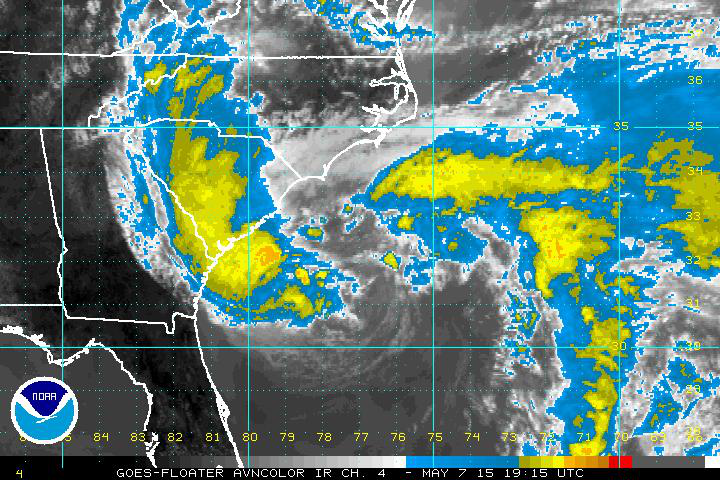 By Saturday morning, the storm took on a decidedly more tropical look with convection surrounding the center and wind speeds approaching 60 mph. The lack of major large-scale steering winds in the atmosphere meant the storm was expected to move slowly toward the Carolina coast.
Around 6 am on Sunday, Ana made landfall near Myrtle Beach, SC, with maximum sustained winds of 45 mph. As it moved inland, the winds weakened and it was reclassified as a tropical depression — and later as an extratropical low — on Sunday afternoon. Despite weakening, the storm remained a rainmaker for much of the state as it continued its slow north-northeastward track.
The storm total rainfall amounted to more than 4 inches along a corridor from Myrtle Beach north through Jacksonville and Kinston. The Nature Conservancy weather station in Brunswick County reported a total of 6.68 inches. Across a broader region, areas south and east of Raleigh received at least an inch of rain from the storm before Ana's remnants moved out of the state on Monday afternoon.
Along with heavy rains, Ana brought a few other hazards along the coast. Overwash resulted in flooded streets, including at Ocean Isle Beach. A 60 mph wind gust was observed on Oak Island, and strong straight-line winds associated with the inland rain bands resulted in downed trees west of Wilson. A tornado warning was also issued briefly for parts of Greene and Lenoir counties.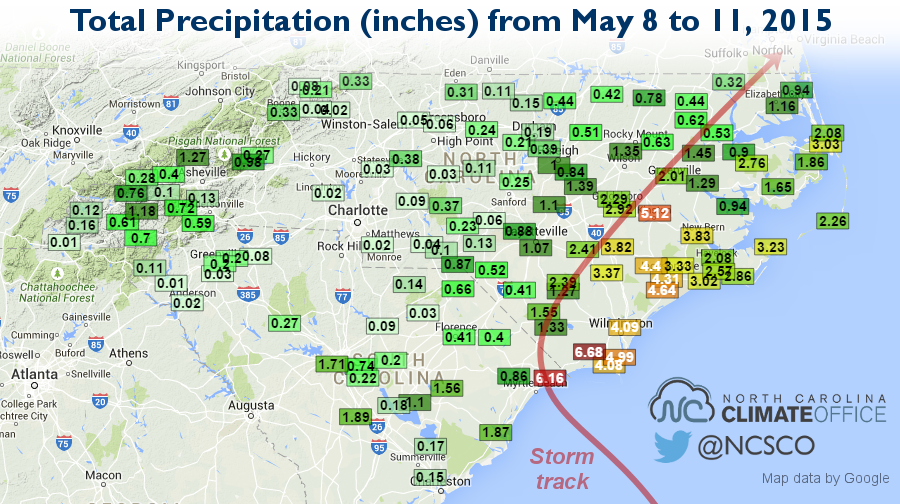 Ana was an early riser in the 2015 tropical season, but did its formation come unusually early? Not necessarily, at least when compared to recent years. Six times since 2003, a named tropical storm has formed prior to June 1st. Like Ana, many of them formed from weak lows or stalled frontal boundaries off the coast. A few of them, including 2007's Subtropical Storm Andrea and 2012's Tropical Storm Beryl, have affected North Carolina with rain, wind, and high surf.
However, landfalling storms this early in the season are much rarer. Records suggest that tropical or subtropical storms have made landfall just ten times in the United States over the past 100 years, and only four of those storms, including Ana, have made landfall in the Carolinas.
Coincidentally, this was also the third straight year in which the first named storm of the season affected North Carolina. In 2013, the extratropical remnants of Tropical Storm Andrea crossed over the eastern part of the state in early June, and last year, Hurricane Arthur made landfall along the central coast in early July.
Fortunately, in both years, those were the only storms to have a major impact on the state. It's too early to tell whether that will be the case in 2015, but Ana's early arrival should certainly be a reminder that tropical systems can affect us even on the fringes of hurricane season.