If you caught the news this morning, you may have heard about the appearance of drought in North Carolina for the first time in over two years! With other notable droughts also in the news — like the one that's impacting California, Oregon, and Washington — you also might be concerned about whether NC is going to be experiencing horrible impacts any time soon. To shed some light, we've written up the answers to a few common questions.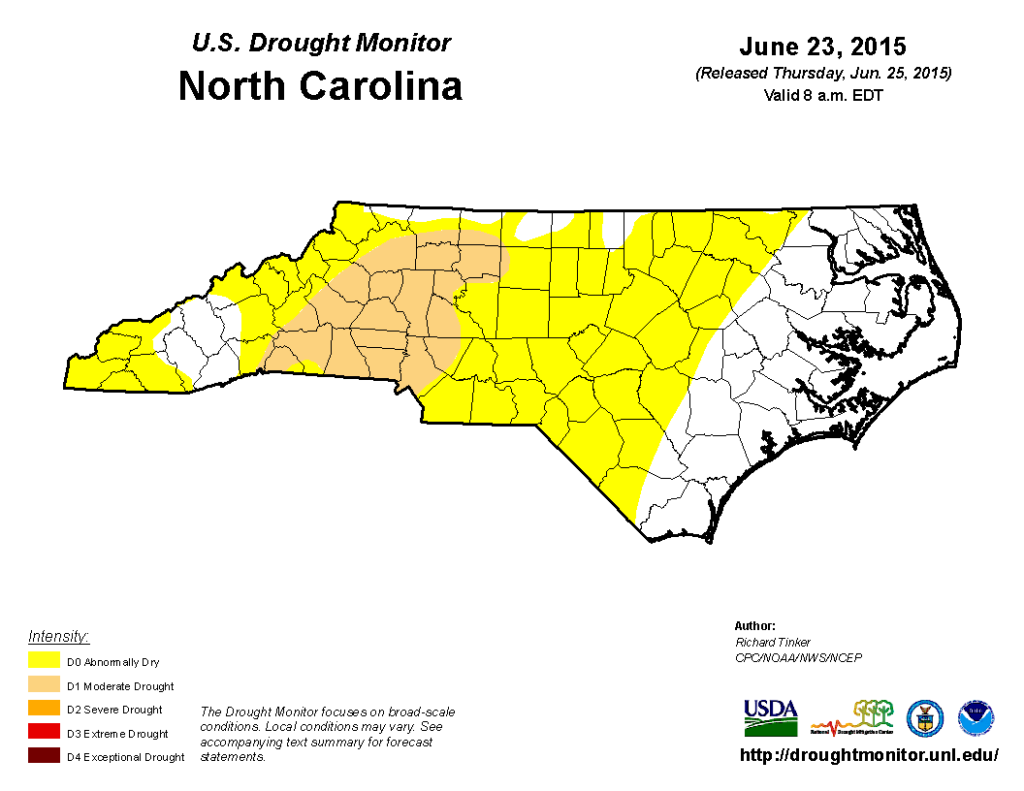 Why are we in a drought?
Precipitation over the western Piedmont has been below normal since, well, last fall. So why hasn't this part of the state been in a drought before now? Several times during winter and spring, drought seemed on the horizon, but the impact of less precipitation never quite reached the threshold of drought before a storm system would move across the state and allay any concerns about dryness. Recently, however, this has changed.
For the past month, many sites across the state have received an inch or more below what they would normally expect for this same time of year. And in the western Piedmont, several sites are 2 inches or more below their usual for the past month. Combine this with recent heat, and it's no surprise we're starting to see impacts. In fact, the two-week period ending June 23 is the warmest on record for many sites across the state, with sites seeing mean temperatures as much as 7 degrees above normal for this period!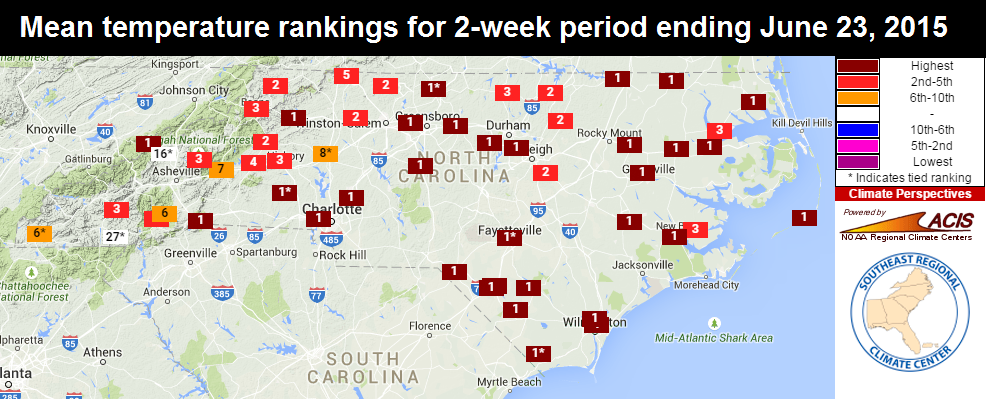 So what's been causing these dry, hot conditions?
For the past few weeks, NC has been underneath several high pressure systems, which tend to suppress convection (think evening thunderstorms) while driving in hot air from the west or southwest. The warmer temperatures also mean more water is evaporated, and when there isn't a lot falling in the first place, that leads to drought impacts.
Streamflow, groundwater, soil moisture levels, agricultural reports, condition-monitoring reports from CoCoRaHS, and numerous other drought indices and indicators are all suggesting drought is present in this part of the state, with abnormal dryness present elsewhere. This convergence of evidence has led to the designation of drought in the western Piedmont.
When will this end?
Unfortunately, we don't know. Many factors determine what happens with the weather on a day-to-day basis, so predicting exactly how much rain will fall over the next few months or seasons is next to impossible. Some good news is that we're only seeing moderate drought conditions instead of severe or extreme ones, so less precipitation is needed to alleviate those conditions. That said, we'll still need to see normal to above normal precipitation for improvements to occur.
You may also be wondering about the El Niño in the Pacific and whether it will have an influence on our weather over the next couple of months. Since much of our summertime rainfall is driven by small-scale storms (those afternoon showers) rather than large-scale frontal systems, El Niño's influence on our rainfall this time of year is small. However, it is known to suppress tropical activity due to increased wind shear over the Atlantic and Caribbean. Given that North Carolina often receives rainfall from tropical systems at least once a year (and typically in the late summer to early fall), this could mean fewer storms make it up the coast to deliver drought-alleviating rains. Of course, storms can still form, and all it takes is one storm to make a huge impact. In case you missed it, we have a recent blog post summarizing El Niño and it's potential impacts in NC this summer.
The next week or so is predicted to be a bit on the cooler and wetter side for NC, but we don't know how long this pattern will last. The CPC seasonal outlook for July through September is calling for a higher probability of below-normal precipitation and above-normal temperatures.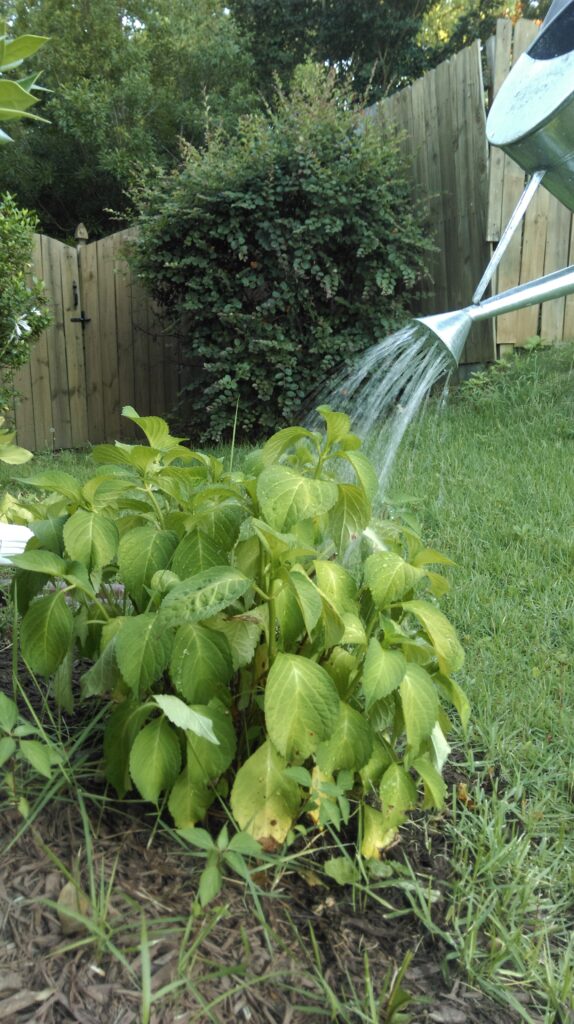 What should I do?
Whether you're in the area of drought or not, it's good to stay informed about the current conditions. It's also important for everyone to know where their water comes from and their sensitivity to drought. If your water comes from a deep well, you may not be as sensitive. If it comes from a local municipality, you should pay attention to local water use plans and restrictions.
Keep in mind too that drought is a natural part of North Carolina's climate. Just as we've experienced droughts and wet spells in the past, so too can we expect to experience them again in the future. We're all in this together, so take a deep breath, relax, and maybe wait to water your plants until sunset.
Some useful resources:
US Drought Monitor
NC Drought Management Advisory Council
National Drought Mitigation Center
Tips on How to Save Water
Check Water Restrictions