Amid a record-breaking hurricane season that has run up the score by repeatedly slam-dunking on the US coastline, it poured buckets in North Carolina yet again this week. Tropical Storm Eta dealt an atmospheric alley-oop to an approaching cold front in the form of ample Atlantic moisture, soaking the state and raising rivers to flood levels.
In the week after devastating Nicaragua as a Category-4 hurricane, Eta zig-zagged through the Caribbean and Gulf of Mexico on its way to the Florida coastline. It was the ninth storm to make landfall along the US Gulf coast this year, and the fifth in the past two months following Sally, Beta, Delta, and Zeta.
For North Carolina, Eta's effects did not include the standard fare from a tropical storm of high winds and storm surge, as we saw during Hurricane Isaias this summer. Instead, it helped arm and aim a full-force blast of water vapor straight at our state.
Event Setup
While the center of Eta remained well to our south, the circulation around the slow-moving storm brought a steady stream of moisture off the Atlantic.
That inbound moisture received an assist from a cold front approaching from the west and high pressure over the western Atlantic. Combined, the southeasterly flow between those systems helped funnel the moisture across North Carolina, and rising air along the front converted it into heavy rainfall.
On Thursday morning, the precipitable water — the total amount of condensable water vapor in the atmosphere over a given location — measured by the Greensboro weather balloon launch totaled 1.94 inches.
That was both a record for this day of the year and more than three times the average mid-November precipitable water level. And with moisture in no short supply to our south, that water vapor was readily replaced throughout the event, yielding some impressive rainfall totals.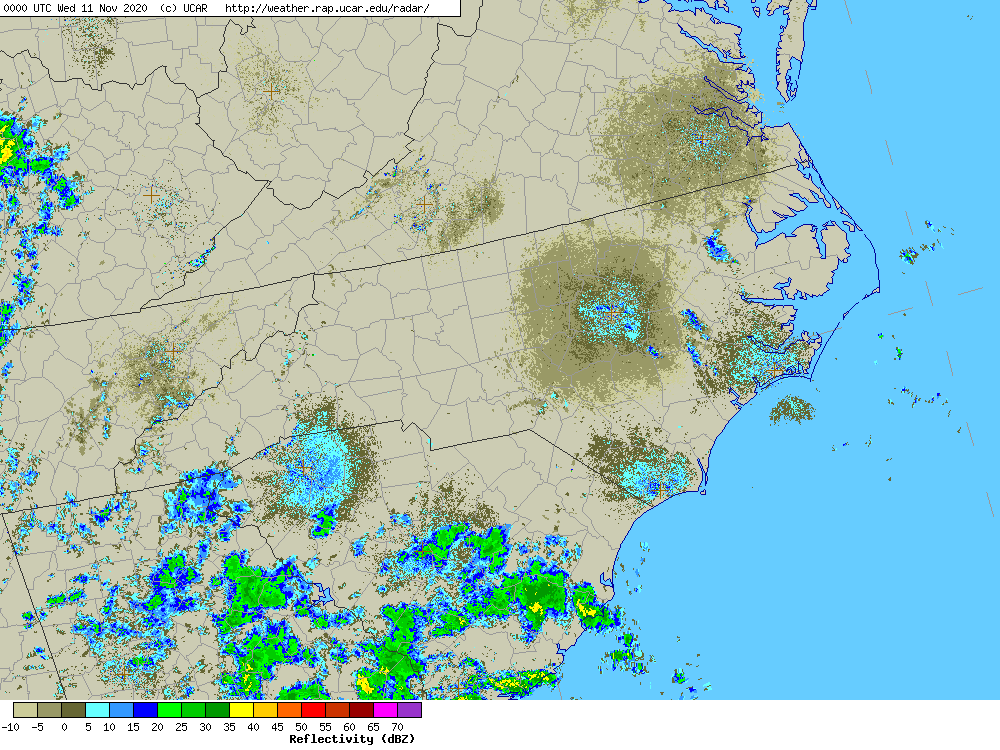 Heavy Rain Over Three Days
The rain fell in two waves. The first, which began on Tuesday night and lasted through the day on Wednesday, saw two main bullseyes with the greatest rainfall totals. In the northern Mountains, more than 4 inches fell in Ashe, Wilkes, and Surry counties. In the northern Coastal Plain, parts of Nash, Edgecombe, Bertie, and Hertford counties also had 4 inches or more.
Among the highest amounts observed on November 11 was the 5.46 inches at the Rocky Mount airport, which is the 2nd-highest daily rainfall total at that site dating back to 2000, trailing only the 7.24 inches on October 8, 2016, during Hurricane Matthew.
More rain came down on Thursday, and this time, it was locally heaviest in Alexander County. Our Taylorsville ECONet station had a daily total of 6.61 inches. Such heavy rain flooded low-lying areas including the campground in Hiddenite, where 3 people died and at least 31 have been rescued.
Automobile accidents due to high water or hydroplaning are blamed for another death in Alexander County and two more in Iredell County. A Wake County child also drowned during the storm, bringing its death toll to 7 in North Carolina.
Over the three-day rain event, most of the state received at least 2 inches of precipitation. Taylorsville reported 8.91 inches and much of the coast had at least 5 inches, including 8.04 inches at our ECONet station in Lewiston.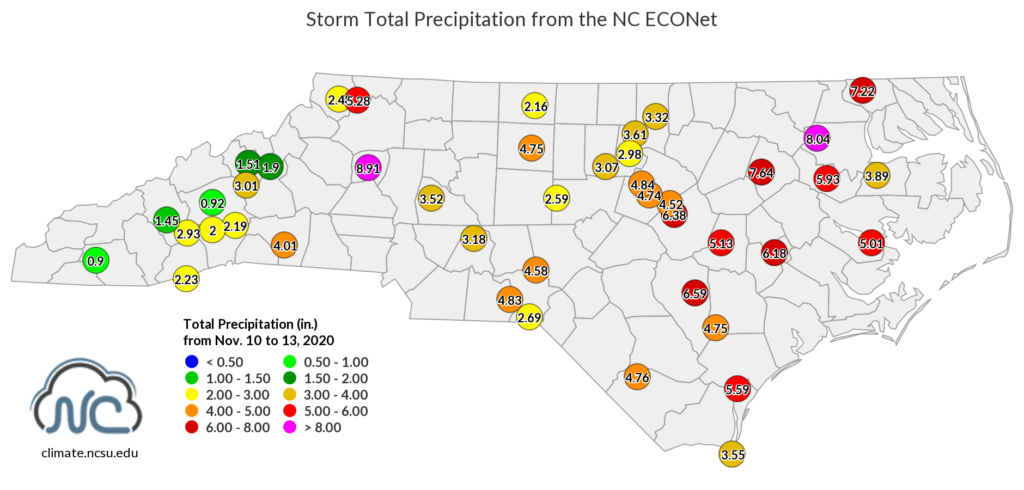 Rising Rivers
Such heavy rain falling over such a short period of time, and in already-full streams across the state, meant the water rose quickly and has crested rivers to major flood stage, with more increases expected over the weekend as that water works its way downstream.
Where the heaviest rain fell in Rocky Mount, the Tar River crested at moderate flood stage on Thursday night. It's not the first high-water mark there this year, as that gauge reached major flood stage on June 18 with a crest of 27.25 feet. In Greenville, the Tar is expected to approach major flood stage at 18.9 feet on Sunday morning. That would be the 6th-highest crest on record there, and the highest since a 22.46-inch crest following Matthew in 2016.
The Neuse River in Smithfield is currently in major flood stage, and downstream in Kinston, the peak river levels may not occur until next Tuesday. If major flood stage is reached there as predicted, it will be only the eighth time the Neuse has risen that high in Kinston in more than a century.
Across the Piedmont, the Yadkin River near Mocksville has already crested in moderate flood stage at 25.31 feet — the highest levels there since October 1929 — and the Haw River in Alamance County peaked at moderate flood stage on Thursday night.
In the western Piedmont and northern Coastal Plain, parts of interstates 85 and 95 were flooded, while at least 230 roads across the state were closed during and after the storm, according to NC DOT.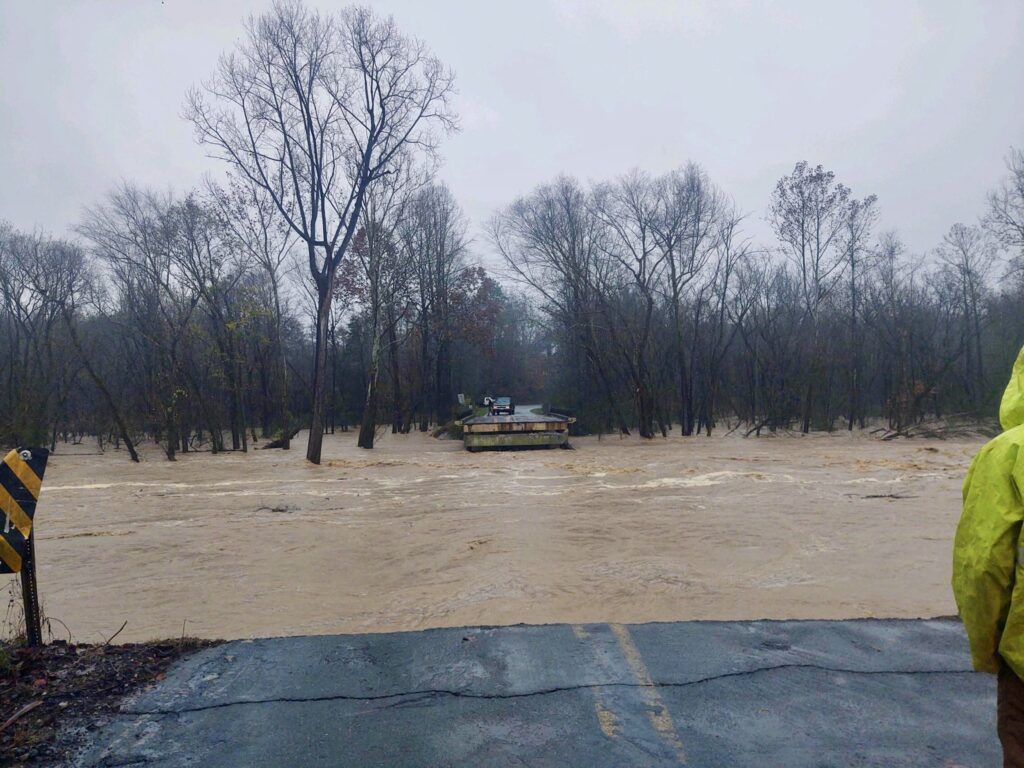 Records Within Reach
At our Taylorsville station, which was installed in 2008, the 6.61 inches on November 12 is the most precipitation it has ever received on a single day, beating the 5.55 inches set on February 6 of this year. Among our ECONet, 18 of our 43 stations recorded their single wettest November day on record during the storm this week.
Through the end of October, we were on pace for our 2nd-wettest year on record based on the statewide average precipitation of 55.82 inches — more than 13 inches above normal. That was about half an inch behind 2003, which was the pace-setter at that point in the year. (Our overall wettest year in 2018 didn't take the lead until an 11th-hour — or 12th-month — push to the top in December.)
The state record for the wettest calendar year at any individual station is also in sight. As we mentioned in our October climate summary, the Highlands station in Macon County began this month about 16 inches behind Mount Mitchell's record precipitation of 139.94 inches, also set in 2018.
During this event, Highlands picked up 4.67 inches, putting it at 125.58 inches for the year to date. That has already set a new record for the wettest year at that station, overtaking the 125.46 inches in 2018. It's now just 14.36 inches from setting the state record. To get there, it will need about 18% more than its normal precipitation over the next month and a half.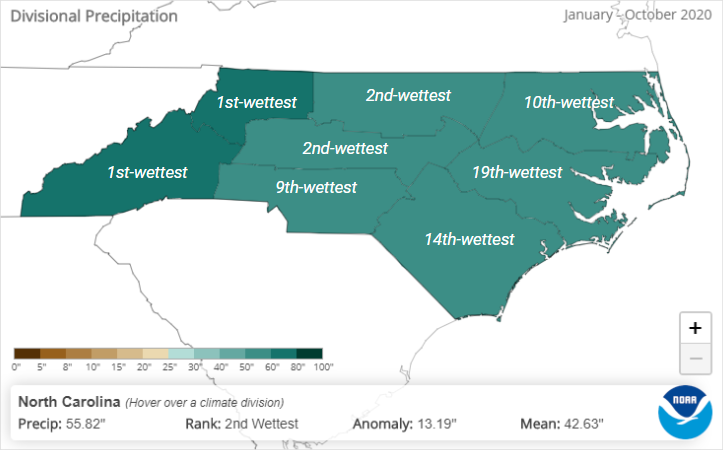 The Latest Soaking Fall Storm
While the amount of credit — or blame — given to Tropical Storm Eta for its role in this may vary depending on who you ask, it's not the first time we've seen a tropical system undeniably amplify a rain event during this time of the year. Features like cold fronts, which take a more active role in our weather pattern beginning in the fall, can be supercharged with moisture from a well-placed, slow-moving tropical storm.
Memorably, parts of the Carolinas received up to 20 inches of rain during a week-long event in early October 2015. That deluge was fueled by Hurricane Joaquin sitting nearly stationary over the Bahamas and providing a firehose of moisture to an upper-level low pressure system.
Another similar event happened 35 years ago next week. In November 1985, Hurricane Kate made landfall along the Florida panhandle and an approaching cold front directed a stream of moisture across central North Carolina. Rainfall totals exceeded 5 inches in parts of the Piedmont, and minor flooding was observed.
This year's event stands out because of both the locally extreme rainfall and its impacts — especially the tragic ones in Alexander, Iredell, and Wake counties — and the widespread heavy rain across the coast that has raised rivers to levels largely unseen except in our worst flood-producing hurricanes.