The most extreme site in North Carolina has added another item to its resume. After a recent review by a committee of statewide scientists, Mount Mitchell's annual precipitation total of 139.94 inches in 2018 has been confirmed as the wettest calendar year on record anywhere in the state.
Mount Mitchell is already a record-holder for its altitude — at 6,684 feet, it's the highest point east of the Mississippi River — and its extreme weather, including the state's record low temperature (-34°F on January 21, 1985) and one-day snowfall (36 inches on March 13, 1993).
Now, it has also earned a spot in the record books for its more than 11 feet of total precipitation last year, standing out as the wettest spot in our state's wettest year.
While 2018 in North Carolina was notable for the two tropical systems — Florence and Michael — that passed through, it was a wet year even well before those storms hit, especially high atop Mount Mitchell.

All but two months (March and June) had above-normal precipitation, and by early August, Mitchell had already exceeded its normal annual precipitation of 74.16 inches. The final observed total of 139.94 inches was nearly double that, but as with all potential state records — including a single-event snowfall total from Mitchell that was rejected in 2016 — this value was subject to further review.
That process took place earlier this year. A State Climate Extremes Committee composed of scientists from our office; the Southeast Regional Climate Center; the National Centers for Environmental Information; the National Weather Service in Greenville-Spartanburg, SC; and the NWS Eastern Region's Cooperative Observer Program was formed to assess the validity of the total. The state's previous annual precipitation record was 137.37 inches, measured at Lake Toxaway in the southern Mountains in 2003.
The committee's official report details the full review process, but in summary, they looked at the weather station and its equipment inspection reports, nearby observations, and the overall weather pattern to verify the total as accurate.
The hefty total was measured at the Mount Mitchell Cooperative Observer (COOP) weather station, which is located at a maintenance facility about 400 feet in elevation below the summit. Rangers from the North Carolina State Parks Service make daily temperature, precipitation, and (if needed) snowfall observations each morning.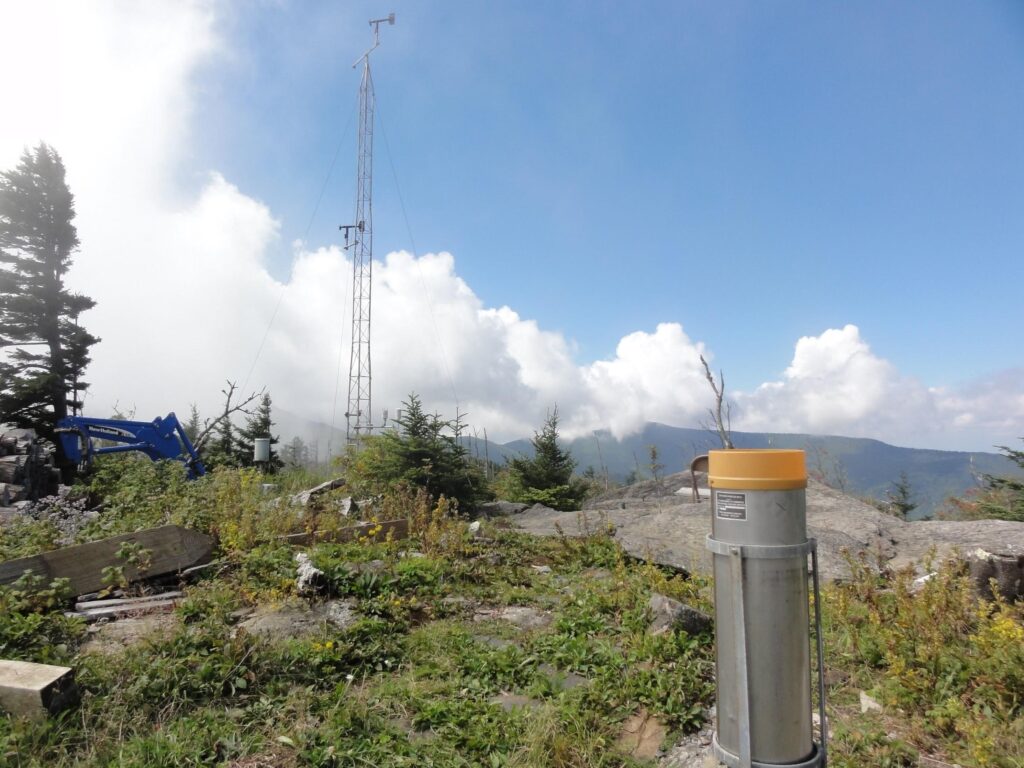 Our Mount Mitchell ECONet station is located just a few feet away from the COOP site, so the Committee also reviewed its precipitation totals. Last year, our tipping bucket rain gauge measured 132.24 inches while the impact sensor — which estimates precipitation amounts by counting water droplet impacts — recorded 131.05 inches.
While those values weren't as high as at the COOP station, the harsh conditions atop Mount Mitchell meant that our sensors may have under-reported some precipitation, especially blowing snow that missed the gauge or wasn't detected by the impact sensor. Our station is also slightly more sheltered by nearby trees, which could have reduced its precipitation totals.
Mount Mitchell wasn't the only site with an extreme precipitation total last year. Twenty-five miles to the northeast, a CoCoRaHS observer near Jonas Ridge in Burke County reported 136.98 inches for the year. Other mountain stations at Highlands (125.46 inches), Grandfather Mountain (110.67 inches) and Marion (103.51 inches) all reported new record high annual precipitation totals.
The large-scale weather patterns last year were certainly supportive of such extreme totals. Low pressure systems frequently tracked along the coast, and the counterclockwise circulation around those lows generated southeasterly winds that funneled moist air straight up the mountain slopes of the Blue Ridge.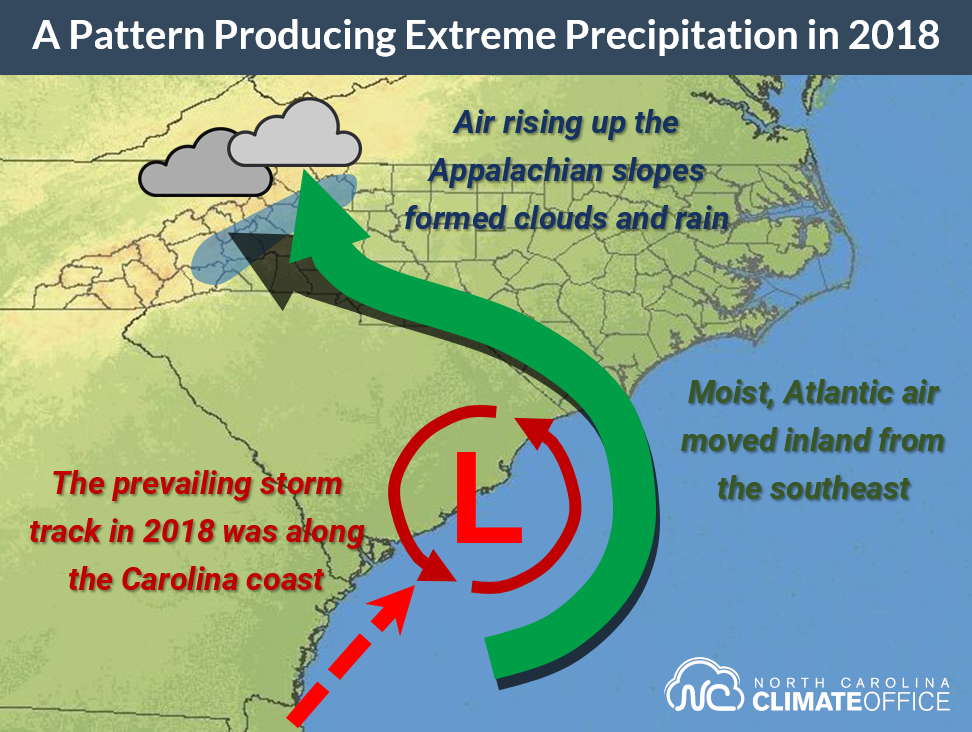 It's the same sort of upsloping pattern that tends to make Lake Toxaway the perennial wettest site in the state as Gulf moisture moves in from the southwest. But while 2018 was still a wet year at Lake Toxaway with 129.99 inches of precipitation, that site couldn't match or exceed its old record.
Meanwhile, Mount Mitchell made steady progress toward a new record all year. From January through April, it received 62.3 inches of snow, including 36 inches in March alone. May was a particularly wet month with 20.42 inches of precipitation observed.
Mitchell was also doused by the fall's hurricanes. September was its wettest month with 20.70 inches total, nearly half of which (10.16 inches) fell in a single day on September 17. The remnants of Hurricane Michael in October added another 8.58 inches.
The year also ended on a wet note, with 12.57 inches of precipitation and 52 inches of snow in December.
After one of our state's most extreme years in terms of precipitation, our highest, coldest, and snowiest ever location is now also the wettest. Mount Mitchell continues to accumulate records — just not quite as quickly as it accumulated precipitation last year.