Precipitation continued to be the main story in North Carolina's weather, including a record wet December that — despite a substantial wintry event early in the month — was also a bit warmer than normal. December's rainfall wrapped up a wet year that also set records across the state.
Snowy to Start, Rainy for the Rest
We didn't have a white Christmas, but it most certainly was a wet December. The preliminary statewide average precipitation of 7.98 inches was more than double the 1981 to 2010 average of 3.62 inches, and it became our new wettest December on record since 1895, topping the amount recorded in 2015.
Many weather stations set local records for their wettest December as well. Just to name a few, Asheville (10.87 inches), Cape Hatteras (10.92 inches), Marion (13.80 inches), and Morganton (10.97 inches) all had their wettest December out of more than 100 years of record at each site.
The El Niño-driven active storm track to our south was in full force last month, regularly bringing low pressure systems laden with Gulf and Atlantic moisture across the Southeast US. One such storm in the second week of the month brought more than a foot of snow to the western part of the state and a wintry mix in the central Piedmont.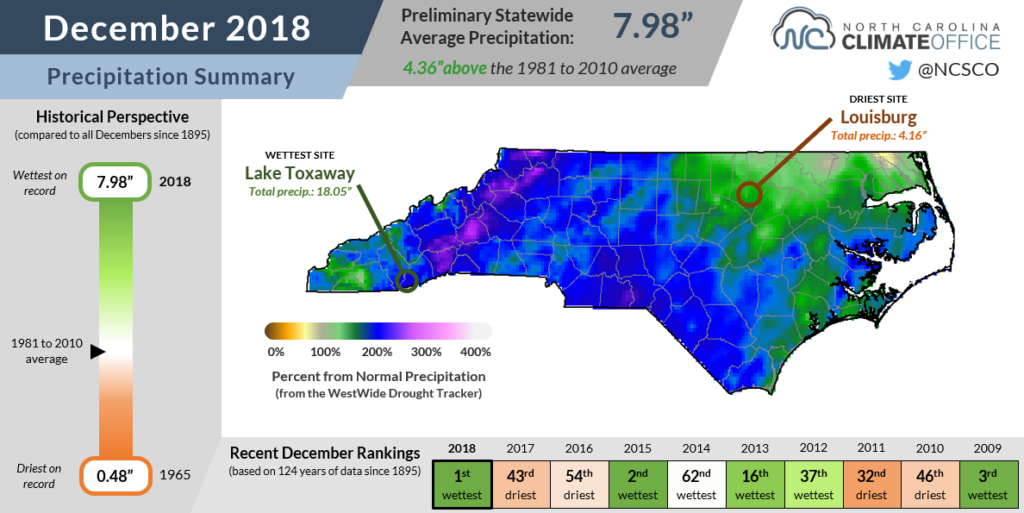 While snowfall was limited to the higher elevations of the Mountains for the rest of the month, rainfall was widespread across the state as systems moved through every 3 to 5 days.
One of the wettest dates was December 28, when more than 4 inches of rain fell across the southern Mountains. That included a daily total of 7.80 inches at Lake Toxaway — the wettest site in the state last month with 18.05 inches overall.
Needless to say, the abundance of recent rainfall has left us with soggy ground and full streams. In fact, average streamflow conditions were the highest on record for the month of December at a number of sites across the state.
Cold Weather Gives Way to Warmth
While last month's precipitation exceeded that of December 2015, we couldn't match the record warm conditions from that same month three years ago. However, it was still a relatively warm month overall, with the preliminary statewide average temperature of 43.8°F ranking as our 41st-warmest December in the past 124 years.
Of course, the month didn't start that way. An an Arctic air mass in place brought downright frigid temperatures — the mercury dropped as low as 7°F at Mount Mitchell on December 5.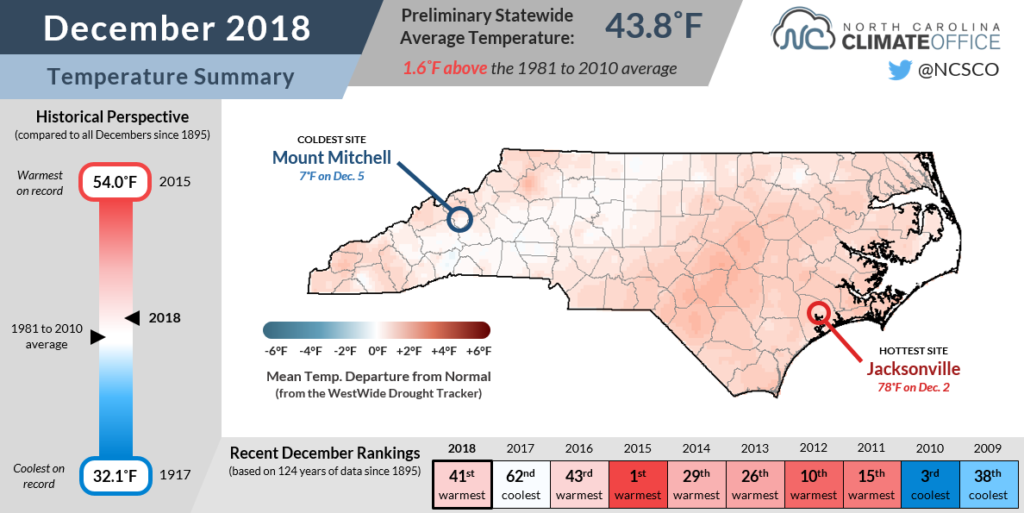 Those cold temperatures and high winds caused rime ice buildup on our Frying Pan Mountain ECONet station, which broke the propeller on an anemometer and blew one of our all-weather sensors entirely off its mount. It's a good example of the sometimes-brutal conditions that our stations have to withstand.
The cold air stuck around long enough to fuel our wintry event, but then it largely disappeared, transitioning us into a milder pattern. A combination of persistent cloud cover elevating our overnight low temperatures and the warm, moist air moving in from the southwest were behind those above-normal temperatures in the final three weeks of the month.
Even atop Mount Mitchell, where average low temperatures in late December are in the upper teens, temperatures remained above freezing for the final four and a half days of the month.
Full Rain Gauges Break Annual Records
We're likely to remember 2018 as the year that the rain just wouldn't go away, and the totals across the state show that it was indeed North Carolina's wettest year on record.
The preliminary statewide average precipitation in 2018 was 71.77 inches. That easily topped the previous record of 64.46 inches from 2003, and it was 22.5 inches more than our 1981 to 2010 average precipitation.
Many individual stations also reported a record wet year. Wilmington, which broke its previous annual rainfall record after Florence in mid-September, finished 2018 with 102.40 inches. Greensboro (64.11 inches) and Asheville (79.49 inches) also broke their old records from 2003 and 2013, respectively.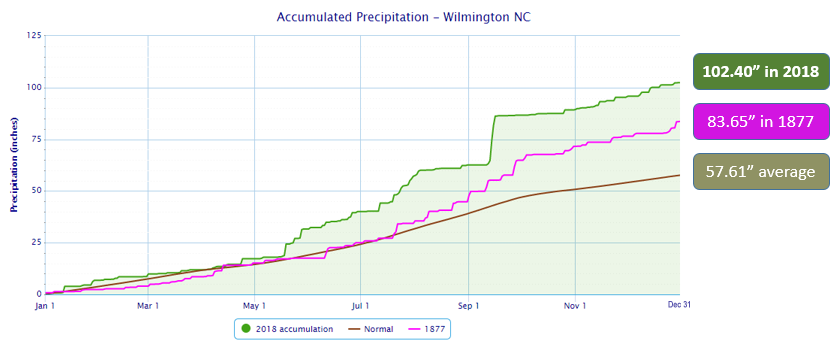 Mount Mitchell was the wettest spot in the state last year with 139.94 inches of precipitation, easily besting its 2013 total of 101.25 inches and its annual average of 74.16 inches. It's also more than the previous statewide annual record of 137.37 inches, which was recorded at Lake Toxaway in 2013.
While it's not officially a new state record yet — it will undergo the same rigorous review from the State Climate Extremes Committee as Mount Mitchell's snowfall observation from January 2016 that was eventually discarded — barring any unexpected issues with the data, it appears the highest point in the state may have also set a new high water mark for annual precipitation.
Although it's easy to point to Hurricane Florence, which brought more than 3 feet of rain in parts of southeastern North Carolina and 14 inches of rain atop Mount Mitchell, as the event that put us into record-setting territory, the fact is that it was an incredibly wet year overall.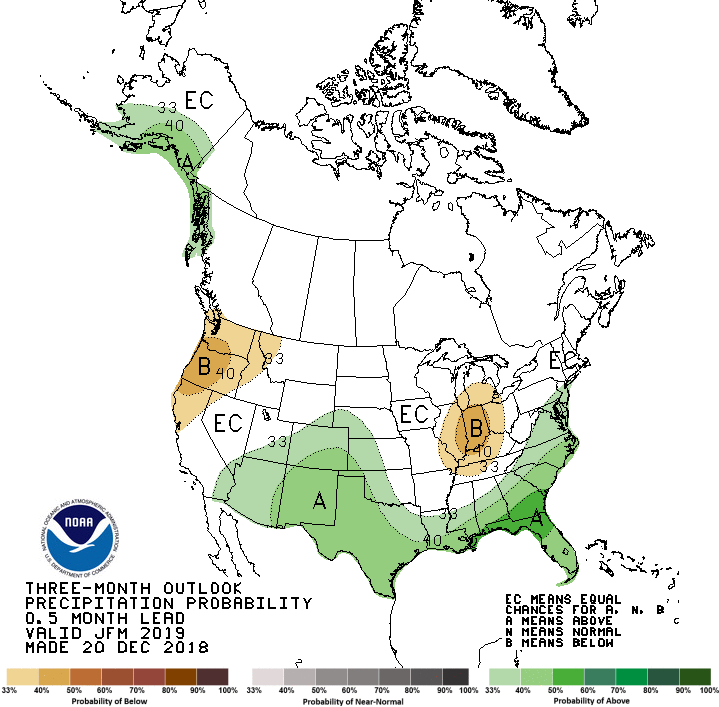 Even in a weak La Niña pattern, last winter finished with a slightly wetter-than-normal January and February. After that, the spring included our 10th-wettest April and our wettest May on record.
The summer featured few sustained stretches of hot, dry weather, instead seeing humid conditions and regular rainfall everywhere except the southern Piedmont, which slipped into Abnormally Dry and Moderate Drought conditions by early September.
Those drought concerns were quickly washed away by Florence, which was the first of two soaking tropical systems to move through within a month. Tropical Storm Michael followed in mid-October, and it ushered in a pattern shift from our warm summer to a cool, wet fall.
As anticipated, El Niño's impacts then emerged and were particularly evident in our wet December weather. And while much of the state could use a chance to dry out, that pattern shows no signs of letting up.
Above-normal precipitation is likely over the next three-month period, signaling that 2019 may begin like 2018 ended: with rain that couldn't wait to come again another day.