It was a stealthy storm arriving overnight, but there was no mistaking the damage from Hurricane Isaias. Before it ever made it here, it had already broken a record as the ninth named storm to form in the Atlantic before the end of July. Once it reached North Carolina, Isaias came onshore late on August 3 and swept across the Coastal Plain under the cover of darkness.
With a forward speed of up to 28 mph, the storm made only a quick stay in North Carolina. However, it was still an impactful event for the eastern part of the state, which was battered by high winds, heavy rain, storm surge and flooding, and other hazards including isolated tornadoes.
As it crossed the Bahamas over the weekend, Isaias weakened to a tropical storm. But over the warm, open ocean to our south, it gained strength in the hours leading up to landfall, and it was a Category-1 hurricane with maximum sustained winds of 86 mph when its eye came ashore along our southern coast last night.
Isaias became the 36th storm to make landfall as a hurricane in North Carolina since 1851, and the third in a two-year period, following Florence in September 2018 and Dorian in September 2019.
The last time three hurricanes made landfall in the state within two years was in the mid-1980s, when Diana (September 1984), Gloria (September 1985), and Charley (August 1986) all reached the coast at hurricane strength.
High Winds
While Isaias was a more compact storm compared to the likes of Florence or Dorian, it had a broad eye 35 miles across, which put hurricane-force winds at the Brunswick County beaches in the direct path of the eye.
An unofficial sensor on Oak Island reported an 87 mph-gust just before landfall, and at the Wilmington Airport, winds gusted up to 74 mph.
Along the storm's south-to-north track paralleling Interstate 95, tropical storm-force winds were felt as far inland as Rocky Mount, which recorded a 43 mph gust at 4:37 am as the center of Isaias — by then, downgraded to a tropical storm — moved through.
Among our ECONet, our station on Bald Head Island near the eastern edge of the eye recorded gusts of up to 70 mph. Our station in Castle Hayne near Wilmington recorded a maximum gust of 59 mph, and our Plymouth station had gusts reaching 57 mph.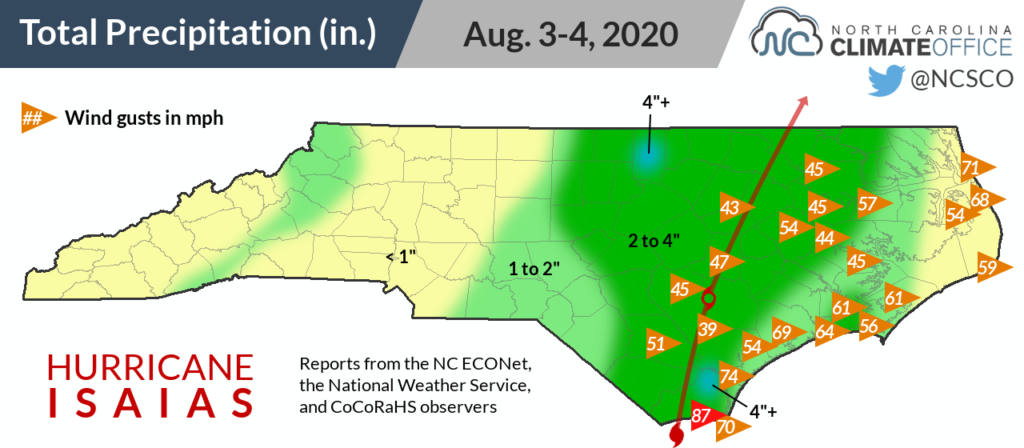 Heavy Rain
Due to Isaias's small size, the heaviest rain was confined to a roughly 70-mile-wide swath surrounding the center of the storm. In those areas, though, the rain came down hard and heavily.
A pair of CoCoRaHS observers in northern Brunswick County reported storm totals of 5.05 and 4.89 inches, respectively. An observer near Oxford in Granville County measured 5.06 inches of rain after the storm.
Our nearby ECONet station in Oxford recorded 4.78 inches during a 24-hour period. Many of our other stations picked up 3 to 4 inches, including 3.40 inches in Buckland and 3.08 inches in Lewiston — an area that has recently been Abnormally Dry.
Western North Carolina saw little to no rain directly from Isaias, but a stalled frontal boundary across the region meant they still picked up some precipitation, albeit much less than in the eastern part of the state.
Storm Surge and Flooding
The wind-driven surge of water on the eastern side of the eye arrived just after high tide, which increased the overall depth of the water rushing onshore.
The storm tide — the overall water level height — reached 4.96 feet above sea level at Wrightsville Beach and 6.44 feet in Wilmington at the US 17 bridge on the Cape Fear River.
That was enough to inundate low-lying areas and make roads impassable due to the standing water, downed trees, and even washed-out pavement as far north as Beaufort County.
While the storm was a fast-mover, several inches of rain falling in less than 24 hours still caused flash flooding, especially along creeks and streams. As that excess water makes its way downstream, parts of the Neuse and Tar rivers are expected to rise into minor or moderate flood stage later this week.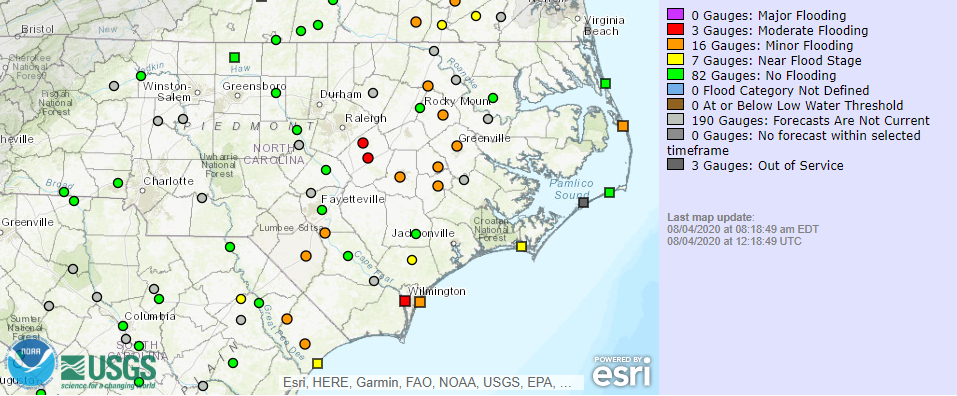 Other Hazards
The outer bands of Isaias brought the threat of isolated tornadoes, and early reports suggest that at least three tornadoes may have occurred in North Carolina.
A roof was torn off a home on Bald Head Island, several trees and structures were damaged by an apparent tornado in Hertford County, and a tornado near Windsor in Bertie County killed at least one person and injured several others at a mobile home park.
Surveys by the National Weather Service in the days to come will more fully assess the impacts of the storm.
High winds and downed trees also caused power outages across eastern North Carolina, with 369,978 reported statewide by NC Emergency Management on Tuesday morning. Many of those were in Brunswick County, including on Oak Island, which reported "significant damage along the beachfront".
While Isaias may have been a small, fast-moving storm, it was far from a fly-by-night operation. From the southern coast battered by its high winds and surge, to isolated stream and river flooding, to the sadly fatal toll of its tornadoes — its impacts are enough to stand out even among an otherwise storm-ridden two-year span in North Carolina.