It has been a long and active winter in North Carolina, and it appears it is finally coming to an end. In this blog post, we recap our eventful winter, revisit the seasonal predictions made last fall, and look ahead to the spring.
Event Recap
In our previous post, we quantified just how variable this winter was. In December, we had many 20°+ day-to-day temperature swings but no wintry events. After the new year started, the roller coaster ride truly began.
The calendar below shows some of these variations during January, February, and March. Notice how quickly conditions tended to change: Just four days after dipping into the single digits in early January, much of the state had highs in the 70s! Also, early in March, we went from highs in the 70s to frozen precipitation and an ice storm, then back to the 60s and 70s a few days later.
Here's a look back at the wintry events we had across the state this year: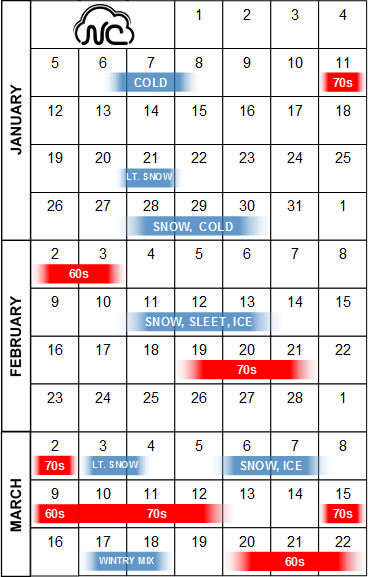 Prediction Review
Back in December, our winter outlook featured forecasts from our office and a few bits of popular winter folklore. How did those forecasts fare?
Among the folklore we explored, the Old Farmer's Almanac did the best, as it called for above-normal snowfall in February. However, its predictions of overall dry conditions and below-normal February temperatures didn't pan out. The Farmers' Almanac expected "Chilly & Wet" conditions, which was true for parts of the winter but not for the entire season. On the other hand, the woolly worms we featured called for mostly warm winters, but as we saw, there was plenty of cool weather and snow to go around.
Our forecast was based largely on the neutral ENSO phase and early-autumn buildup of snowfall over Siberia, which we speculated could force the Arctic Oscillation (AO) into the negative phase and result in a more favorable winter weather jet stream configuration.

While we can't decidedly say that Siberian snowfall was the sole catalyst that forced the AO to turn negative, we can say that the negative AO was largely responsible for the cold and snowy weather we received from mid-January onward this winter.
How? Through mid-December, the polar vortex was strong at high latitudes, keeping the cold air in Canada bottled up. Just before Christmas, high pressure began to develop near the North Pole (the origins of a negative AO), which caused the now-infamous polar vortex to begin to split. As the AO plunged into the negative phase, it pushed a big piece of the polar vortex (and the polar jet stream) southward towards the eastern U.S. on multiple occasions, sending some very cold air and eventually, several bouts of winter weather to North Carolina.
Our winter prediction called for "a mix of cooler and milder periods throughout the season along with regular precipitation and at least one or two chances of seeing measurable snow for most of the state".
We did indeed see temperatures swing back and forth between cool and mild, as well as near-normal precipitation, with a few more snow events than we expected. We also predicted "our best opportunities to see a cold, wintry pattern from mid-January to mid-February". As we have seen, we had three snow events during that timeframe.
Spring Outlook
Current forecasts are largely in agreement about warming sea surface temperatures in the equatorial Pacific Ocean this spring and summer. Earlier this month, the NOAA Climate Prediction Center issued an "El Niño watch", noting that ENSO-neutral conditions are likely to persist during the spring, with about a 50% chance of entering an El Niño phase later this year.
As we discussed last year, El Niño events tend to emerge during the spring or early summer, so the next month or two will be important to watch for warming in the western Pacific.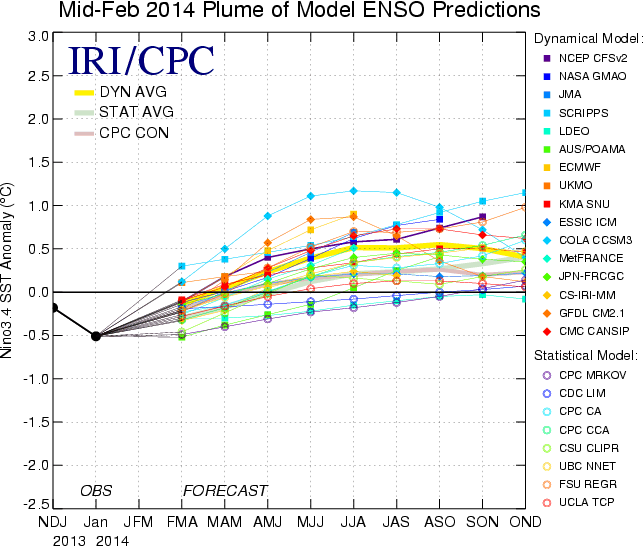 In North Carolina, we're likely to continue seeing variable conditions, which has been the case since last fall. That may mean a continuing cool start to the spring, eventually becoming quite seasonal with regular precipitation and the famed April showers. Severe weather occurrence is extremely difficult to predict this far in advance, but if we have regular frontal passages, those could bring thunderstorms and possibly severe weather.
Keep watching the Climate Blog throughout the spring as we monitor conditions and update you on the latest developments.