Just a week after a quick round of snow dusted much of North Carolina, last night's event brought an even heartier helping of winter weather to the state. Here are three observations we made about this event:
1. The most snow — and most liquid — fell in the eastern part of the state.
As the snow accumulations collected by the National Weather Service office in Raleigh show, much of the Piedmont saw at least an inch, with the heaviest accumulations of more than four inches occurring northeast of the Triangle. A more interesting set of numbers to look at may be the liquid precipitation totals from this event:
Locations from Goldsboro to Rocky Mount to Elizabeth City saw more than 0.2 inches of liquid. That much moisture, aided by snow-to-liquid ratios of greater than 10-to-1, produced 4 to 8 inches of snow in this region. Reports from the Wakefield, VA, NWS office even show that nine inches fell in Chowan County along the northern coast.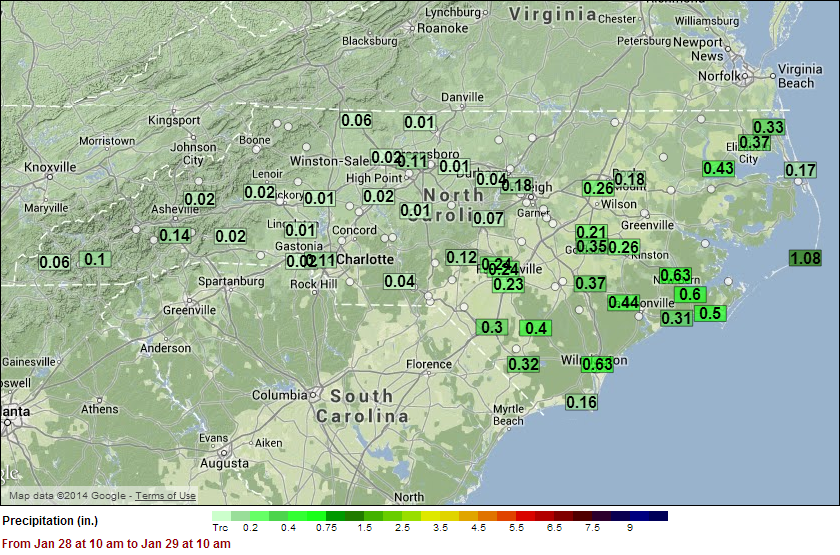 The southern coast and central coast received more than a half inch of liquid, but most of it fell as sleet or freezing rain. In some spots, that produced more than half an inch of ice, according to the National Weather Service office in Wilmington. Fortunately, despite those typically impactful ice accumulations, few power outages were reported this morning.
Raleigh and points west saw less than 0.2 inches of total precipitation, and while it all fell as snow, totals were obviously lower. Although some computer models throughout the day on Tuesday forecasted more than 0.5 inches of liquid precipitation falling over Raleigh, this heaviest precipitation wound up falling farther east, which cut down on potential snow totals for the Triangle.
2. We largely had all the necessary ingredients in place for snow.
Unlike last week's event in which a fast-moving, moisture-starved system gave a rain-to-snow transition for northern NC counties, last night's event was just about the right recipe for a decent snow. An Arctic front moved through early Tuesday morning, putting cold air in place that ensured much of the state outside the southeastern counties would see precipitation start and end as snow. Despite air temperatures in the 60s on Monday, soil temperatures remained in the 30s across most of the state on Tuesday, which meant snow was likely to stick shortly after it started.
As the front moved through, it stalled off the coast, and as a bit of upper-level energy swept down from Canada, a low-pressure system formed along that stalled front. In addition, a flow of moisture northeastward from the Gulf of Mexico ensured a favorable environment in North Carolina for snow to develop. If more moisture was present, and if the front had stalled slightly closer to the coast, inland locations would have likely seen more snowfall.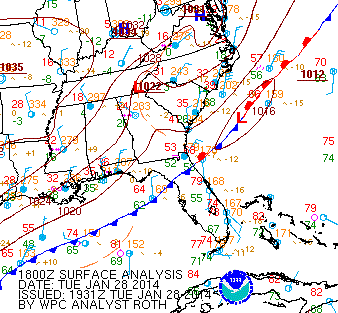 3. It was the biggest snow in more than three years for parts of the state.
For the northeastern Piedmont and northern coast, including cities like Raleigh, Durham, and Rocky Mount, last night's snow was the most since the memorable storm on December 25-26, 2010. As we mentioned in our winter outlook, North Carolina wasn't necessarily due for a major snow or ice event this year, but climatologically speaking, we tend to average one somewhere in the state about every other year.
While this wasn't a historic storm, the presence of snow across the state should be a welcome relief from two nearly flake-free winters in a row.