This is the third part in our four-part 2013-14 winter outlook series. Our previous posts looked at the causes and impacts and climatology of major snow and ice events.
Our breakdown of this winter's forecast begins with a look at some popular pieces of winter weather folklore. We will begin by shedding some light on a frequently cited wintertime adage.
Does Thunder Signal a Coming Snow?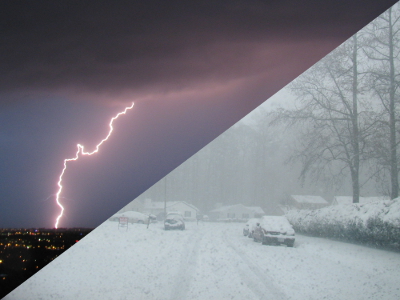 Along with a diverse variety of frozen precipitation, it's not unusual to see a thunderstorm during the winter in North Carolina. At some point, that gave rise to the proverb that if you hear thunder during the winter, it will snow in 7 to 10 days. It makes some sense considering that weather systems generally take about a week to move across the country, so a strong cold front that produces thunderstorms is likely to be followed by another system within the next 10 days. But here in North Carolina, where snow is never a guarantee, how often is thunder followed by flakes?
To find out, we first looked up all reports of thunderstorms or lightning between December and March from six long-term weather stations (in Asheville, Greensboro, Charlotte, Raleigh, Wilmington, and Hatteras) with hourly records. Since their records began in the late 1940s, there have been 642 wintertime days on which thunderstorms or lightning were observed. In 85 of those cases, or about 13% of the time, snow was observed 7 to 10 days later. This amounts to about a 1 in 7 chance, which is far from a sure thing.
Farmers' Almanacs
Some of the oldest weather predictions in America were made in farmers' almanacs such as the one published by Benjamin Franklin. Today, two long-running publications — the similarly named Old Farmer's Almanac and Farmers' Almanac — continue to produce seasonal forecasts for the entire country. We introduced these almanacs last year and described their forecast process, which uses well-guarded formulas apparently based on past astronomical and climatological observations.
For the Southeast US, which includes most of North Carolina, the Old Farmer's Almanac is calling for generally cool and dry conditions, but with above-normal snowfall, especially in February. The Farmers' Almanac is forecasting "Chilly & Wet" conditions for the Southeast. They gave the same forecast for last winter, which ended up being wet but was relatively warm in North Carolina.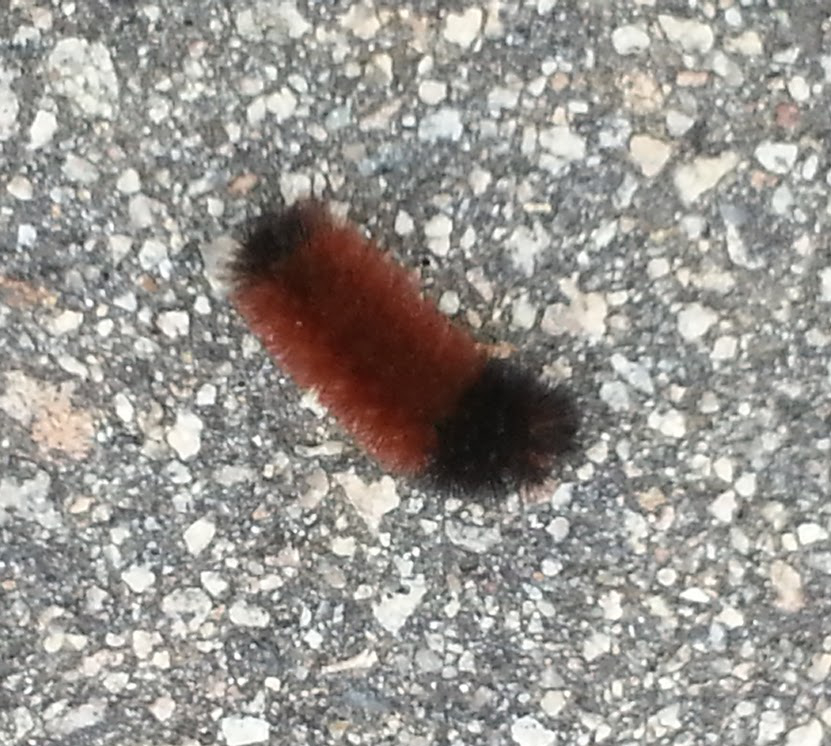 Woolly Worm Predictions
Last year, we also told the story of the woolly worm, which can supposedly predict the weather in the coming winter based on its colored bands. Black bands are said to predict cold conditions while brown bands are said to foretell milder periods. It's worth noting that there is not much science to support the woolly worm forecast idea. If anything, the bands should be a better indicator of the conditions during the previous winter since brown bands tend to emerge as the worms molt, and they may begin molting earlier during mild winters. Of course, it's still fun to speculate with the worms and see whether their predictions pan out.
At this year's Woolly Worm Festival in Banner Elk, NC, the winning worm, Fuzz, was said to be the brownest in the 36-year history of the event, which would signal a very warm winter. Our State Climate Office woolly worm was also decidedly brown but with a black tail, which would mean a mild winter with a cooler finish. Will these critters be correct, or are they pulling the wool over our eyes? We'll keep you posted as the winter continues.