Hot weather arrived on schedule last month, while rain soaked some spots and missed others. That was the story of our spring in North Carolina.
The Heat Hustles In
Spring finished with a summer-like feeling as hot weather arrived last month. According to the National Centers for Environmental Information (NCEI), the preliminary statewide average temperature of 68.5°F ranks as the 26th-warmest May since 1895.
Following a few frosty nights in late April, we had our final cool mornings of the season on May 10 and 11, as temperatures dropped to freezing in the northern Mountains and into the upper 30s across the northwest Piedmont.
After that, our temperatures were on the rise, including the first 90-degree days of the year for most of the state. Raleigh finished the month with six days at or above 90°F, while Lumberton had 14 days that warm – the 2nd-most in any May there, behind only 1953.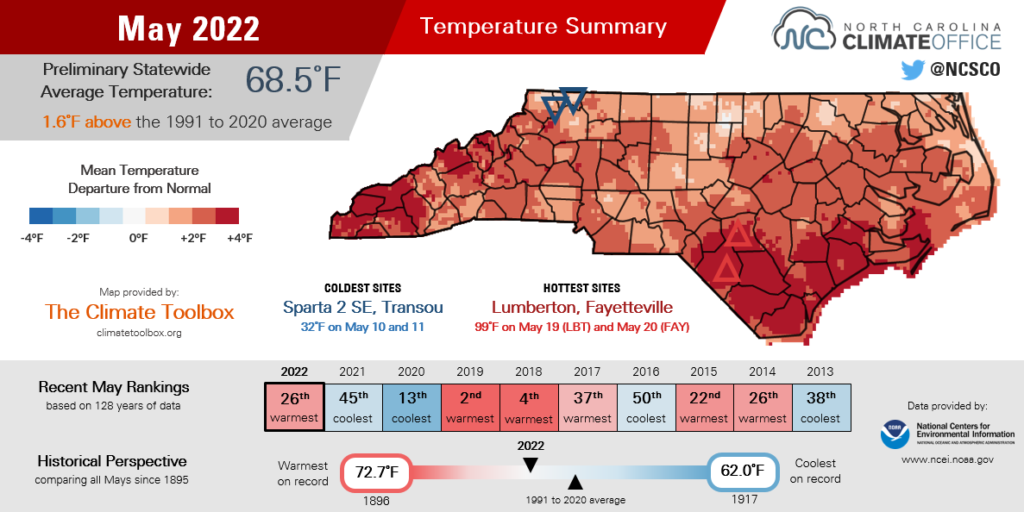 In terms of timing, that heat hit pretty much on par with what climatology suggests. The first of four 90-degree days in Charlotte came on May 19, compared to a long-term average of May 21. Greensboro also first reached 90°F on May 19, or one day later than average.
It was slightly delayed for some coastal sites, including in Kinston, which reached 90°F on May 20, eight days later than the historical average first occurrence.
In southeastern North Carolina, ample sunshine and limited rainfall helped make it one of the top five warmest Mays on record. Wilmington had its 3rd-warmest May – behind only 2019 and 1953 – dating back to 1874, while Lumberton had its 5th-warmest May out of 110 years of observations.
While moisture remains elusive in those areas, one bit of good news for farmers and gardeners is that the accumulated growing degree days – a temperature-based indicator of plant development – have now climbed above the climatological average for this point in the year.
That's confirmed by the latest USDA Crop Progress and Condition Report, which shows both corn and soybean emergence ahead of the five-year average as they enter a critical growth phase this summer.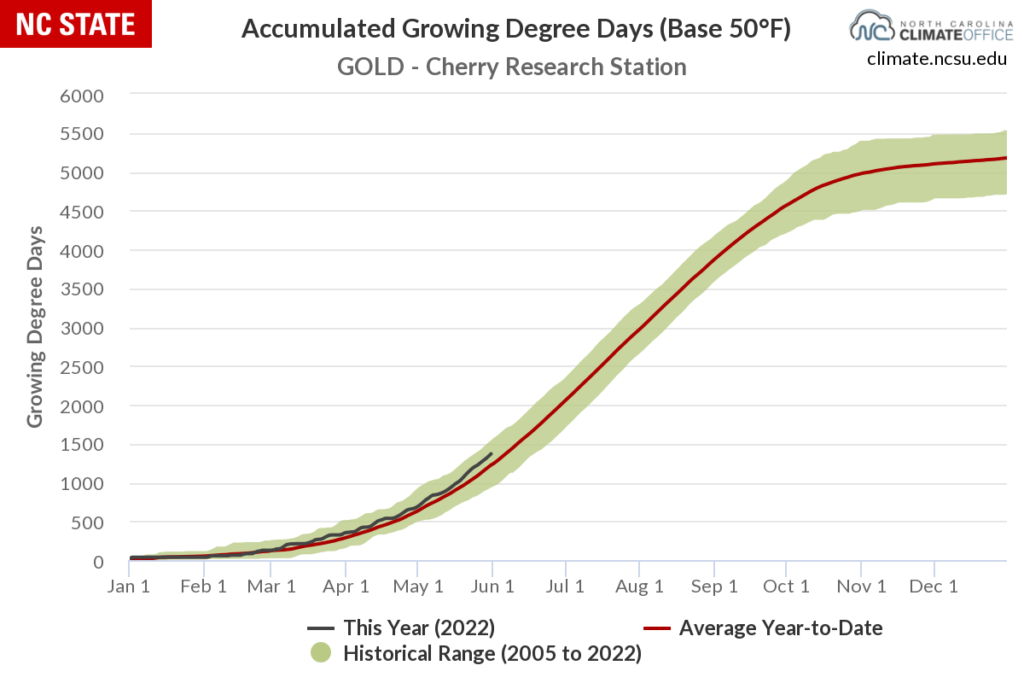 Late-Month Rains Wet the West
After a dry start, soaking rains near the end of the month helped those May flowers bloom after all. NCEI notes the preliminary statewide average precipitation was 4.08 inches, slightly above the recent 30-year average and our 55th-wettest May in the past 128 years.
The predominant pattern in our May rainfall was a decreasing gradient from west to east, which meant some Mountain areas were well above normal while many coastal sites were on the dry side.
One of our perennial wettest locales at Highlands, located at more than 4,000 feet of elevation in southern Macon County, recorded its 4th-wettest May on record with 14.85 inches of total precipitation. Asheville had its 11th-wettest May with 7.32 inches, or 3.2 inches above normal.
Two rain events in a one-week period helped make it such a wet month in those areas. First, a slow-moving low pressure system crossing the state on May 22-24 left behind three-day totals of more than 3 inches at some western sites, and scattered totals of 2 inches or more in the northern Piedmont and central Coastal Plain.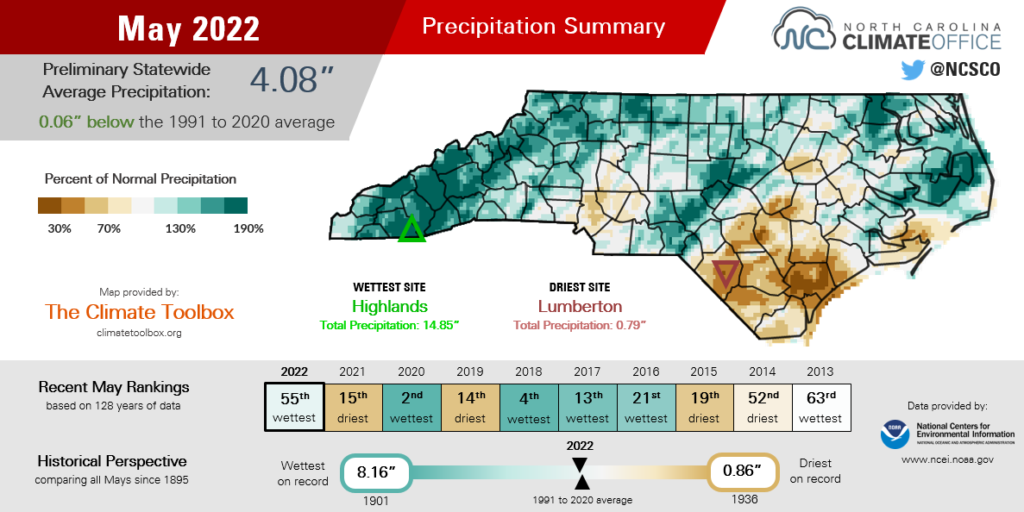 Later that week, a cold front brought an additional 2 to 6 inches in the Mountains. With such heavy rain falling in such a short time period, parts of Haywood County were under a flash flood warning, and the Pigeon River at Canton reached its flood stage for the first time since Tropical Storm Fred last August.
That late-month rain washed away Abnormally Dry (D0) conditions that briefly emerged in the Mountains during May, but the drought map remains active in the east, with Moderate (D1) and Severe Drought (D2) persisting across parts of the Coastal Plain. In Wilmington, it was the 11th-driest May on record with only 1.12 inches of rain.
The heat and lack of rainfall have collectively taken a toll on the southeastern part of the state. A CoCoRaHS Condition Monitoring observer noted wetlands in Carolina Beach State Park are drying up, including a puddle "barely big enough for… a turtle trying to swim in it". Streamflows have also fallen below the historical 10th percentile across the southern Coastal Plain.
While drought fortunately isn't expanding outside of eastern North Carolina, it also isn't going away there, making for the second year in a row with drought conditions in place entering the summer.

Wrapping Up a Warm, Dry Spring
May marks the end of climatological spring, and this year's was deceivingly warm with mixed precipitation across the state.
The preliminary stats from NCEI note an average temperature of 60.3°F for March, April, and May, or our 14th-warmest spring on record.
Considering those cool April nights and the timely arrival of 90-degree temperatures last month, it may be surprising to see our springtime average temperatures ranked so highly. But don't forget that the season started the same way our La Niña-affected winter ended: with above-normal temperatures in March.
The overall warmth is also seen in our daytime highs. Based on the average maximum temperature, this ranked as our 10th-warmest spring. Notably, Raleigh had 36 days and Charlotte had 37 days with high temperatures at or above 80°F, which was tied for the 4th-most on record at both locations.
Our nights were also warm, with the average minimum temperature ranking as the 20th-warmest of all springs since 1895. This marked the eighth spring in a row with above-average low temperatures.
The preliminary average statewide precipitation was 10.97 inches, or 1.01 inches below the 1991 to 2020 average. That was our 49th-driest spring in the past 128 years.
Of course, that one number doesn't capture the rainfall variability across the state, and there were some drastic differences over small distances.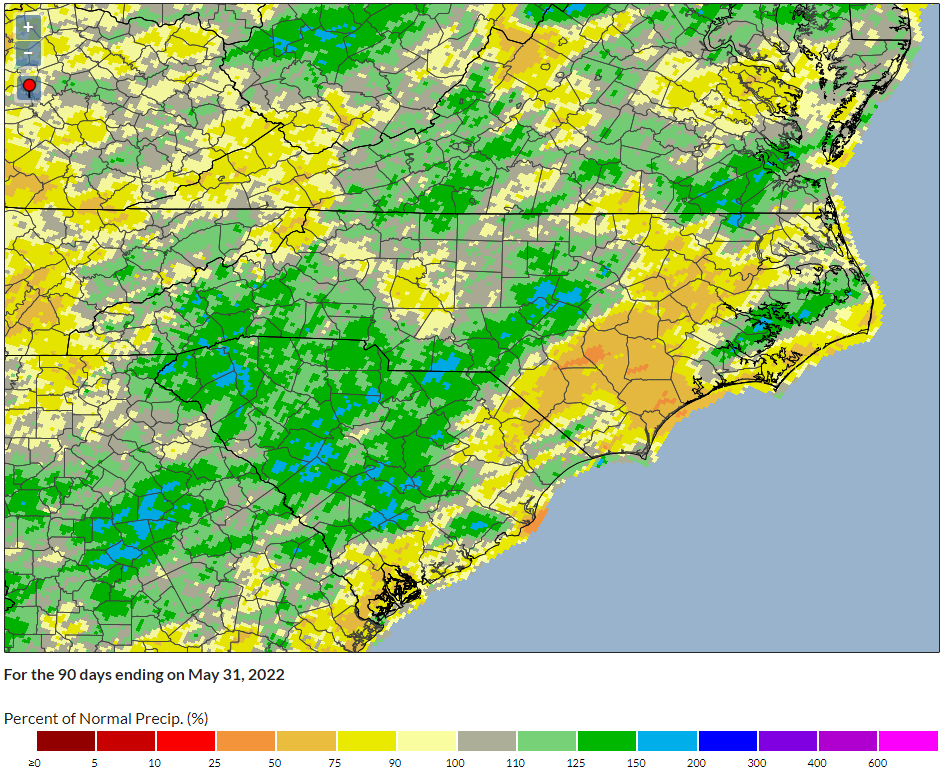 Our ECONet station in Jackson Springs had its 2nd-wettest spring in the past 20 years, with 15.77 inches of rain. Just 40 miles to the east, Fayetteville tied for its 16th-driest spring in the past 116 years, with only 7.59 inches total.
In general, the southern Mountains, southern Piedmont, and eastern Piedmont finished the spring with above-normal precipitation, while the Coastal Plain along and southeast of Interstate 95 had less than 75% of their normal seasonal rainfall.
Following a rare April with no tornadoes in North Carolina, severe weather was more common in May, including 9 confirmed tornadoes. Those included an EF1 on May 6 in Swain County – only the third known tornado there since 1950 – as well as an EF0 in Durham County on May 23 and an EF2 in Iredell County on May 26.
Adding in the two tornadoes from our January 3 storms-to-snow event and another on March 23 near Taylorsville, we're now up to a dozen total tornadoes so far this year. That's slightly above the historical average of 9.9 tornadoes from January through May.
In terms of weather hazards, our attention turns to the tropics now that Atlantic hurricane season has officially begun. For the first time since 2014, we did not have a named storm form before June 1. However, this year's first storm may not be far away.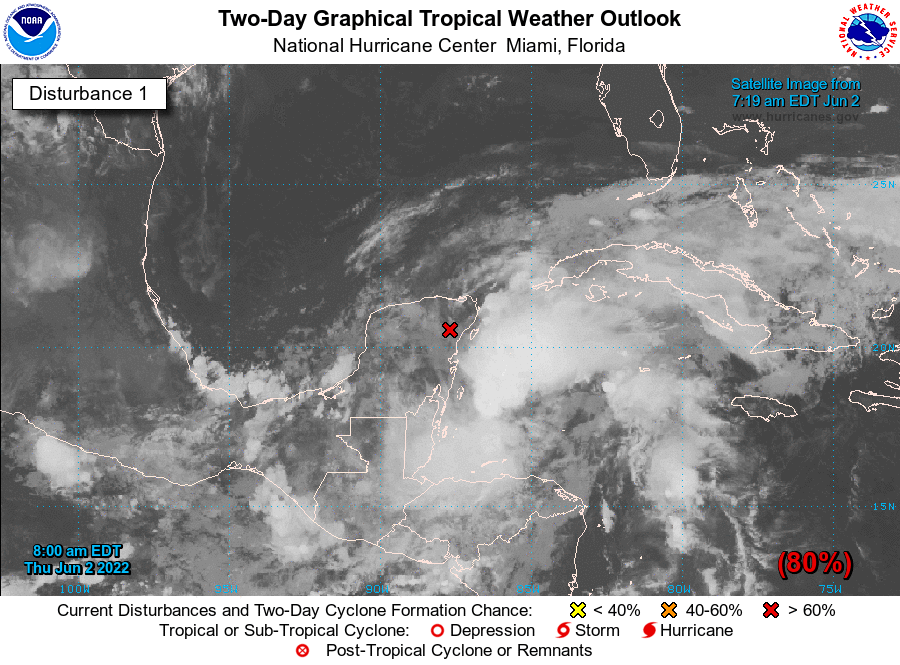 The remnants of Tropical Storm Agatha from the Pacific have crossed into the Gulf of Mexico and may soon be reborn as Tropical Storm Alex. Current forecasts show the storm staying offshore, although depending on its strength, it could produce high surf and even gusty winds along our coastline early next week.
While we may narrowly miss an encounter with Alex, pre-season predictions favor another active hurricane season this year, so it may just be a matter of time before we get the beneficial rains – or damaging winds, storm surge, and flooding – associated with these events.
Last year showed that tropical storms aren't just coastal phenomena. Tropical Storm Elsa brought heavy rain and high winds to the Piedmont, while Fred produced disastrous flooding in the Mountains.
So no matter where you live, be sure you and your family are prepared by getting supply kits ready, securing your home, and knowing what you'll do and where you'll go if and when a storm hits.