Rain events last month targeted the Piedmont and southern Mountains while missing the coast, which helped drought expand there. Warmer weather – and a few cool nights – were also signs of the spring season.
Amid the Rain, Dry Areas Linger
Spring showers soaked some areas but missed others, making for an overall drier-than-normal month in North Carolina. The National Centers for Environmental Information (NCEI) reports a preliminary statewide average precipitation of 3.85 inches, or our 55th-driest March in the past 128 years.
Compared to February, when incoming cold fronts from the west brought little rain east of the Mountains, the pattern shifted in March and shared the precipitation wealth with more areas.
On March 8 and 9, a stationary front parked over the Carolinas drenched the western Piedmont, including a two-day total of 2.43 inches in Charlotte. Its March 8 daily total of 1.31 inches was the first time Charlotte had more than an inch of rain in a single day since January 3.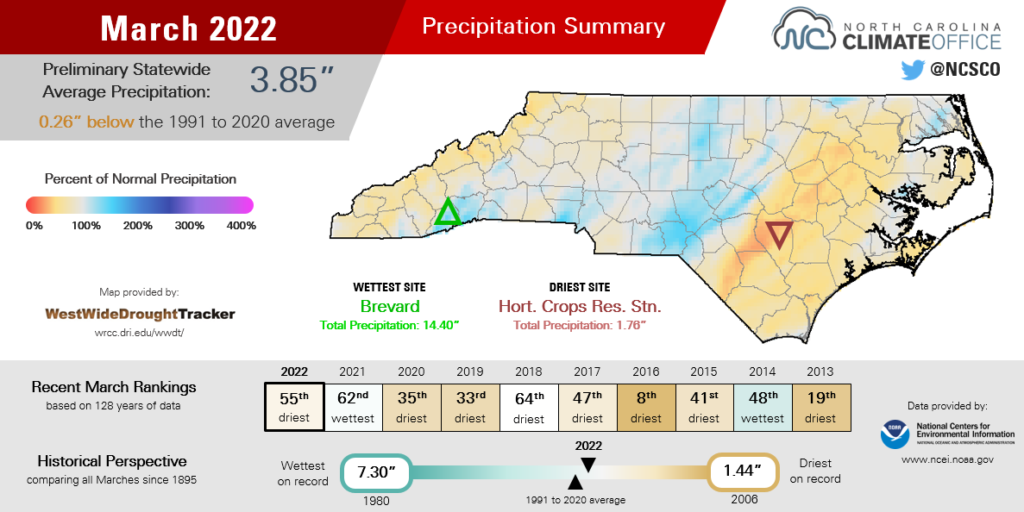 Another round of rainfall came a week later from an inland low pressure system. Our ECONet site at the Sandhills Research Station in Montgomery County recorded 3.56 inches on March 16 and 17, and more than 2 inches fell in surrounding parts of the Sandhills and eastern Piedmont.
The Mountains also got in on the precipitation, including a soaking along our southern slopes from a passing low pressure system on March 23 and 24. Brevard had 7.30 inches during that event en route to a monthly total of 14.40 inches, or its 2nd-wettest March dating back to 1902.
The month ended with another batch of rain that was also punctuated by severe weather. On the afternoon of March 31, a line of storms spawned an EF2 tornado in Anson and Stanly counties and an EF1 tornado in Durham County. Those joined an EF1 in Alexander County from March 23 to round out a trio of tornadic events last month.
Despite some locally heavy rains and even severe storms, few of these events were widespread from west to east. That deepened the divide between wet and dry areas, and it was the Coastal Plain that mostly missed out. Along and east of Interstate 95, dry weather dominated in March, and drought is now present in these areas on the US Drought Monitor.

Drought Deepens in Eastern NC
March marked an inauspicious anniversary for our recent dry spell. Drought first emerged on October 26 last year, and it has now been present in parts of the state for five consecutive months and counting.
Since the US Drought Monitor began assessing conditions in 2000, North Carolina has had eight periods in which drought has persisted for at least 23 weeks – the length of our current streak.
Among those other seven droughts, three lasted a year or more, including the memorable 1999 to 2002 and 2007 to 2009 droughts that each reduced reservoirs to a trickle and made water conservation a necessity.
Three others have been shorter-lived, lasting less than eight months. Coincidentally, two of them share an almost identical timing with our current drought, first emerging in the fall and lasting through the winter before they eventually ended in the spring.
| Consecutive Weeks with Drought in NC | Drought Started | Drought Ended |
| --- | --- | --- |
| 155† | Jan. 4, 2000 | Dec. 17, 2002 |
| 117 | Feb. 13, 2007 | May 5, 2009 |
| 100 | Jul. 6, 2010 | May 29, 2012 |
| 53 | May 3, 2016 | May 2, 2017 |
| 31 | Feb. 21, 2006 | Sep. 19, 2006 |
| 25 | Nov. 6, 2012 | Apr. 23, 2013 |
| 23 | Oct. 26, 2021 | in progress |
| 23 | Oct. 10, 2017 | Mar. 13, 2018 |
†: This drought lasted longer since it started in 1999, but the US Drought Monitor's official archive began in January 2000
Most recently, Moderate Drought (D1) affected the Piedmont throughout fall 2017 and winter 2018 before a cool and snowy March helped eliminate any seasonal precipitation deficits.
A 25-week drought also confined mostly to the Piedmont emerged in November 2012. By April 2013, locally heavy rains across the last remaining dry areas of the Sandhills ended that drought.
Along with its timing, our current drought shares a few other similarities with those two past events. First, none reached worse than the Severe Drought (D2) classification. Of course, that's partially due to the time of year in which they emerged, since droughts are usually slower to degrade during the wintertime.
In addition, they share a geographical similarity in being largely confined to one region of the state. Thanks to our March rainfall, the current drought is limited to the Coastal Plain. While that's little consolation for folks down east, it's still an encouraging sign that we haven't seen drought envelope the entire state this spring.
By way of comparison, drought currently covers 30.66% of the state. At the 23-week mark of the 2007 drought, that coverage stood at 76.67%.
Dating back to the beginning of the current dry spell last fall, precipitation deficits over the past six months are most pronounced at the southern coast, where Severe Drought (D2) is present at the moment. Wilmington is 10.8 inches below its normal precipitation over that period while other coastal sites such as Greenville, Kinston, and Plymouth are 6 to 8 inches below normal.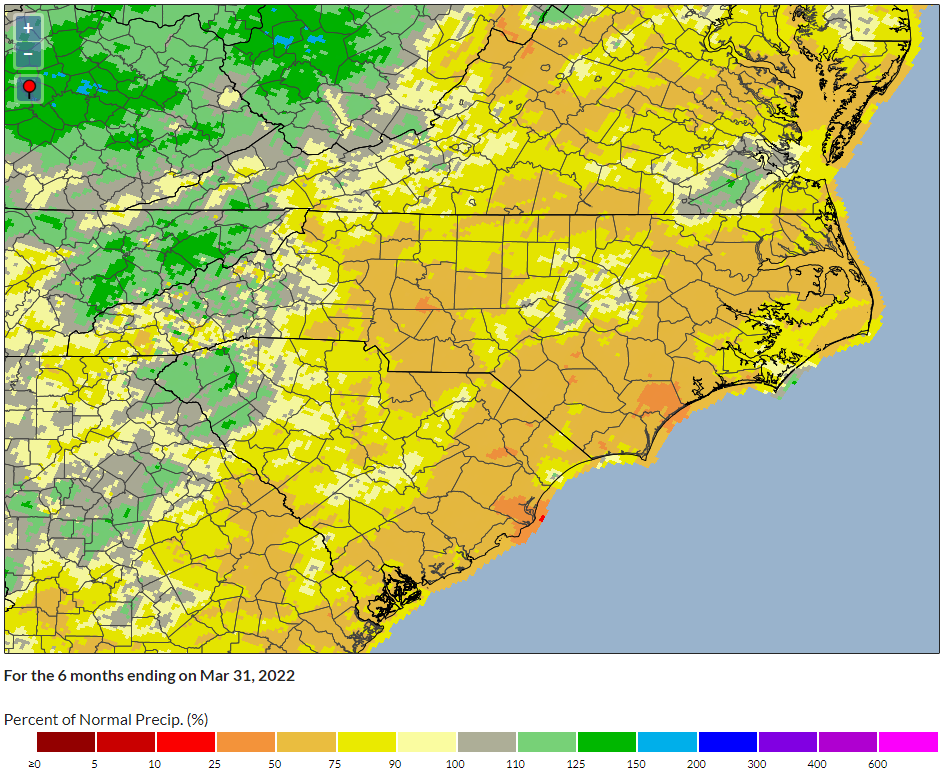 In addition, streamflows are much below normal along the Trent, New, and lower Cape Fear rivers, and groundwater wells across the central Coastal Plain finished March below normal or even at monthly minimum levels.
While those deficits and impacts will need more than one event – and require a longer reign of regular rain – to fully disappear, we can take some hope from similar past droughts that a wet month would go a long way in improving conditions. Since our recent events have brought rain to some parts of the state, with a bit of luck, another shift in the precipitation pattern would target those dry spots at the coast.
Warm Days, Sprinkled with Chilly Nights
We can say that spring has sprung, at least based on our average temperature last month. NCEI reports a preliminary statewide average temperature of 53.4°F, which ranked as our 19th-warmest March since 1895.
Locally, it ranked as one of the top ten warmest Marches in eastern North Carolina. The average temperature in Elizabeth City was 5 degrees above normal, ranking as its 10th-warmest March since 1934. Greenville tied for its 9th-warmest March on record, and Hatteras tied for its 4th-warmest March.
After February featured warmer weather that suggested winter was on its way out, early March left no doubt. On March 3 under a southeastern high pressure system, our temperatures soared into the 80s. As far west as Hickory and Lincolnton, highs hit 80°F that day, which was the earliest occurrence of such warmth there since February 16, 2018.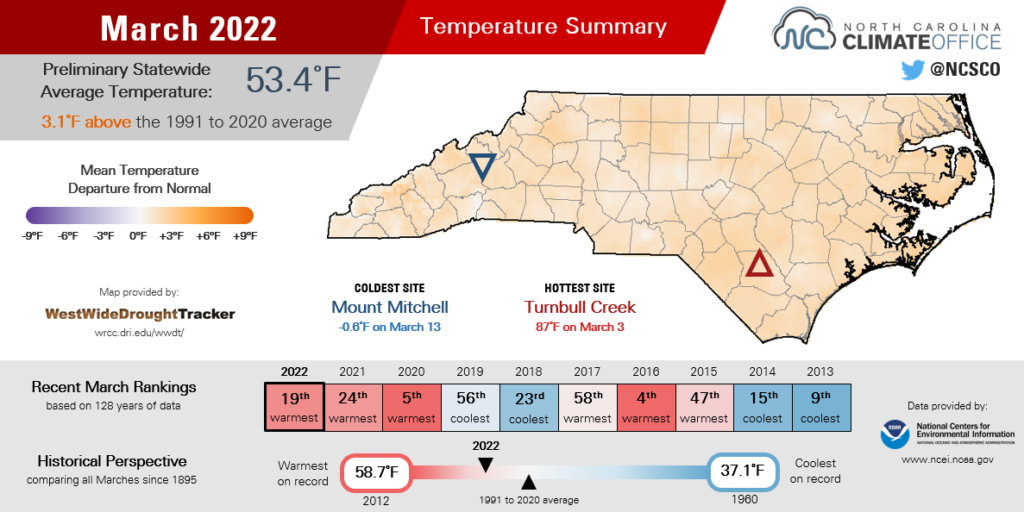 Temperatures for the rest of the month were rarely sweltering but mostly spring-like and a few degrees above normal. In Raleigh, where the average March high temperature is 63.3°F, highs reached at least 70°F on 17 days last month. That tied for the 4th-most days that warm in any March, and the most since 21 such days in 2012.
Between those warmer days, though, we had a few untimely cool nights as springtime planting was getting underway.
On March 13, temperatures dropped into the teens and 20s statewide, damaging some strawberry and blueberry crops that had already bloomed.
Sub-freezing temperatures were also widespread on March 28, which warranted a Frost Advisory for parts of the Outer Banks.
Those events were good reminders that even in a warm spring, our last freeze typically doesn't happen until early to mid-April, so it may be smart to keep sensitive plants indoors or avoid planting altogether for a few more weeks.