Summer heat remained scarce in North Carolina last month, while Elsa headlined a wet pattern across the Coastal Plain. Following Elsa, we look at where the tropics stand entering August.
Cooler Temperatures Continue
Our seasonable summer in North Carolina extended through much of July. The National Centers for Environmental Information (NCEI) reports a preliminary statewide average temperature of 76.8°F, or our 60th-coolest July out of the past 127 years.
With average temperatures about a degree below the 1991 to 2020 normal, it was only our second cooler-than-normal July since 2010. During that twelve-year stretch, we have recorded five of our top ten warmest Julys on record, including the 6th-warmest last year.
The summertime pattern typically at play this time of year sees the Bermuda high pressure system building offshore and stoking hot, humid weather locally. However, since mid-June this year, the prevailing pattern has instead seen jet stream ridging and extreme heat over the western US, while troughing in the east has kept our temperatures in check.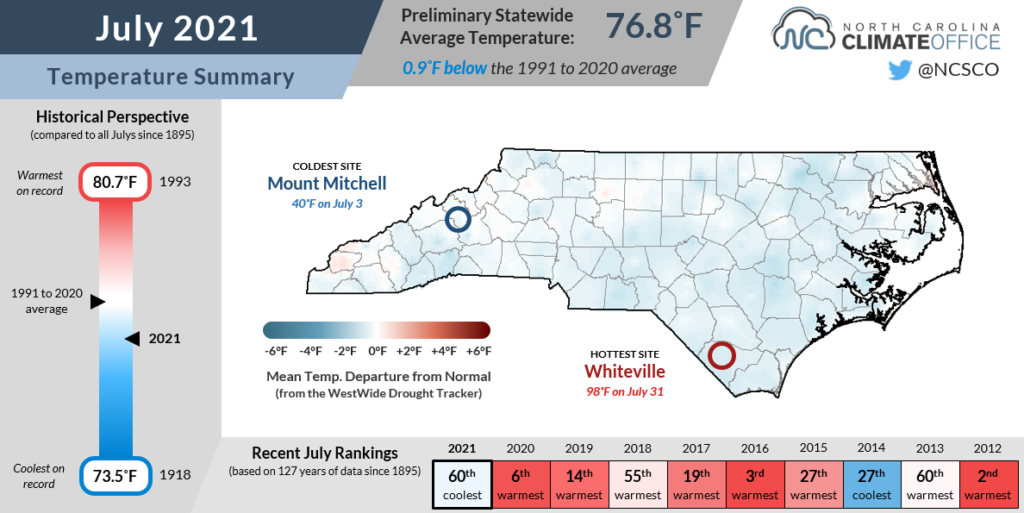 In the Mountains, Murphy's monthly average temperature was 1.5°F below normal, tying for its 36th-coolest July in the past 76 years. Greensboro was 0.9°F below normal, recording its coolest July since 2014. And at the coast, Bayboro had an average temperature 1.7°F below normal for its 6th-coolest July since 1969.
Regular cold frontal passages this summer have also delayed the onset of any particularly hot weather. Raleigh didn't hit 95°F until July 28 — the latest first occurrence of such warm temperatures since 2001.
When the heat has arrived, it hasn't been very long-lived either. Elizabeth City has only reached the 90°F mark 19 times so far this year. That's compared to 33 days that warm through the end of July last year, and 40 days that warm at this point in 2019.
The only downside of those cold fronts was that the northwesterly winds behind them brought in smoke from wildfires across the western US and central Canada. Much of North Carolina was in a Code Orange air quality forecast on July 22 due to fine particulate matter in the smoke that made for some hazy skies and respiratory irritation.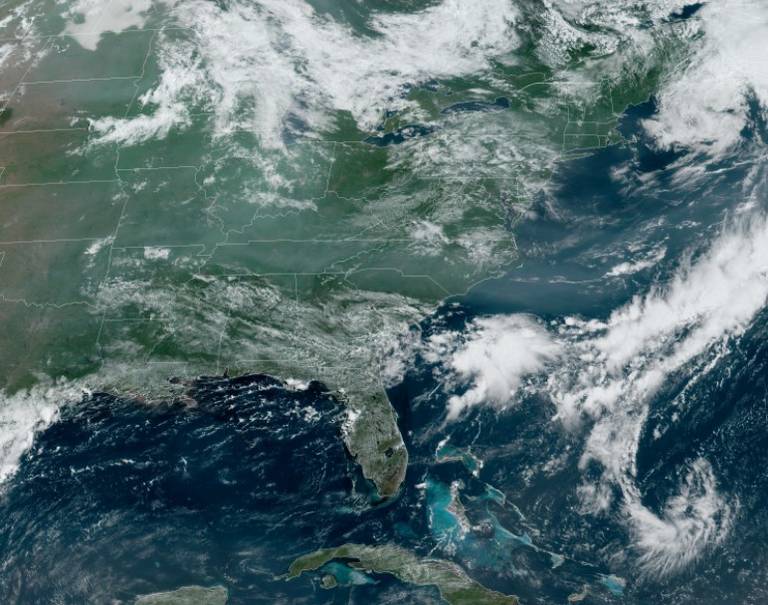 Elsa Eliminates Drought Conditions
After an early-month dousing from Tropical Storm Elsa, the rest of July saw a mostly spotty rainfall pattern that left a mixture of wet and dry spots across the state. NCEI reports a preliminary statewide average precipitation of 5.13 inches, just 0.02 inches below the 1991 to 2020 normal, which ranks as our 50th-driest July since 1895.
Elsa was the most widespread precipitation event of the month. As it tracked northward through the Coastal Plain on July 8, more than 3 inches of rain fell in just 24 hours.
Impressively, Elsa maintained tropical storm strength as it crossed the state, producing wind gusts of 50+ mph along the southern coastline. It also spawned three tornadoes: a pair of EF0s in Camden and Hertford counties, and a tornado of unknown intensity due to the lack of assessable damage in Hyde County.
Elsa's footprint in the northern and central Coastal Plain included the wettest spots in the state last month. Our ECONet station in Clinton measured a monthly total of 12.46 inches and its 2nd-wettest July out of 32 years with observations. Closer to the Virginia border, Henderson reported 8.08 inches of rain and its 17th-wettest July since 1893.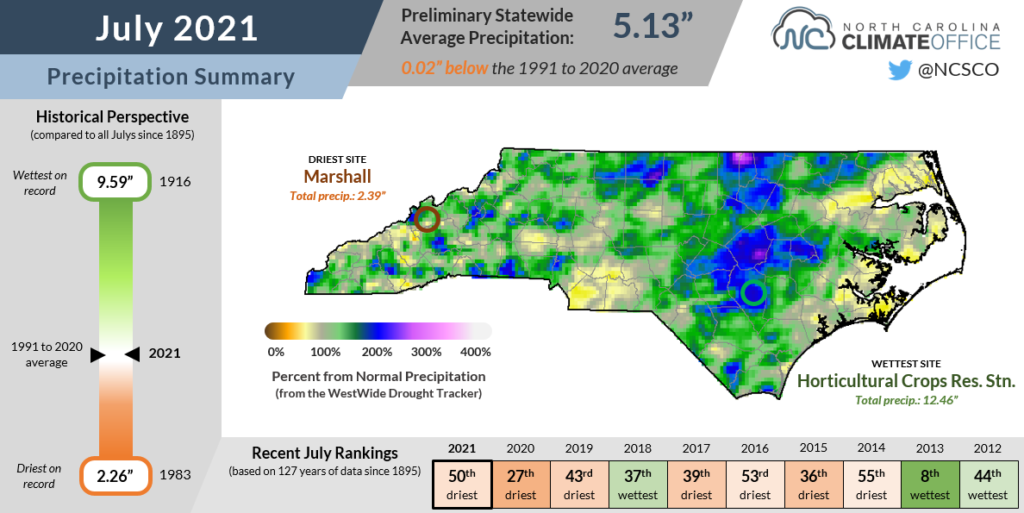 That reversed a dry trend in our northern-tier counties and helped bail them out of the drought that emerged in June. In fact, North Carolina has been drought-free since mid-July.
Abnormally Dry conditions continue to linger across the western Piedmont and Foothills, which included some of the driest parts of the state last month. Hickory received 3.61 inches of rain in July, or 0.7 inches below normal, and following a dry June is on pace for its 12th-driest summer on record.
However, thanks to the cooler temperatures and scattered showers that have popped up across the region, we're not yet seeing drought-like impacts. Monthly average streamflows for July were generally above normal in eastern North Carolina and near normal in the west.

A Post-July Tropical Update
The Atlantic hurricane season wasted little time in ramping up this year. Following a pre-season storm (Ana) in May and three more (including Claudette) in June, Elsa developed on July 1, which was the earliest ever formation of the fifth named storm.
Notably, this is the first year since modern record keeping began in 1851 in which multiple tropical storms have passed through North Carolina prior to July 15.
Other years including 2020 have seen remnant or offshore storms that early in the year, but Claudette and Elsa's tracks across the state as named storms have made a bit of history.
Since Elsa, though, the tropics have gone quiet. Recent sea surface temperatures have been below normal across the central Atlantic, and wind shear has been elevated in the Caribbean and off our southeast coast, which are among the main development regions in July.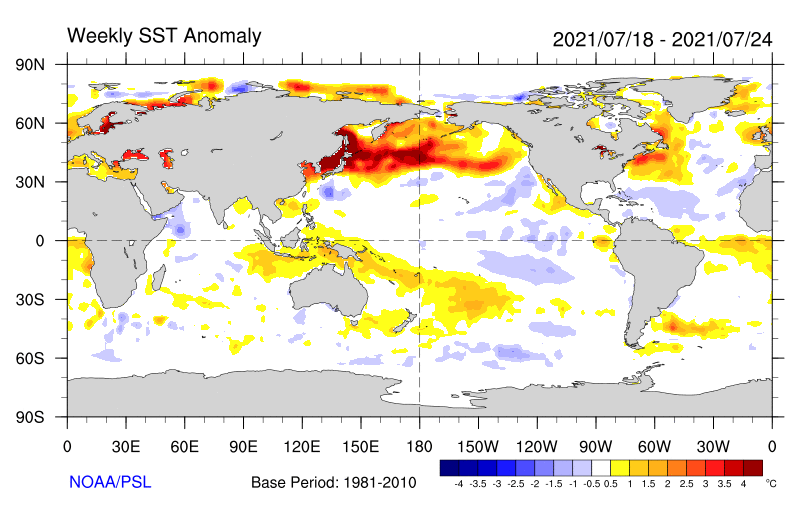 As a result, we're no longer on record pace for Atlantic activity. Last year, Isaias — the ninth named storm — formed on July 29, followed in August by four additional storms.
As we move into August and closer to the typical peak of hurricane season, more storms often begin to develop off the coast of Africa, although whether any reach us depends on how the large-scale pattern evolves.
With the Bermuda high being literally out to sea at the moment, it could curve storms northward before they reach the US east coast, or we could see more storms moving in from the Gulf of Mexico, as was the case with Claudette and Elsa this year and many remnant storms last fall.
In the spirit of this summer's athletic events, the months ahead will show if this hurricane season just jumped the start or if it will recover from a July hurdle with the strength to go the distance.