Temperatures last month were quite variable from day to day, while many areas missed out on rainfall and no tornadoes occurred in NC all month. One abundant feature in April, though, was the pollen.
Warm Days and Cool Nights
Our mid-spring month at times felt like three different seasons, including the warmth of early summer and the chill of winter nights. Those balanced out to a preliminary statewide average temperature of 58.8°F, according to the National Centers for Environmental Information (NCEI), and our 44th-warmest April in the past 128 years.
The intensity of our temperature swings is seen in some of the local rankings, particularly across eastern North Carolina.
The average high temperature in Wilmington was 1 degree above normal and tied for the 26th-warmest for April, while the average low temperature was 1 degree below normal and tied for the 67th-coolest since 1874. Elizabeth City likewise tied for its 36th-warmest April based on the average high, and its 42nd-coolest April based on the average low.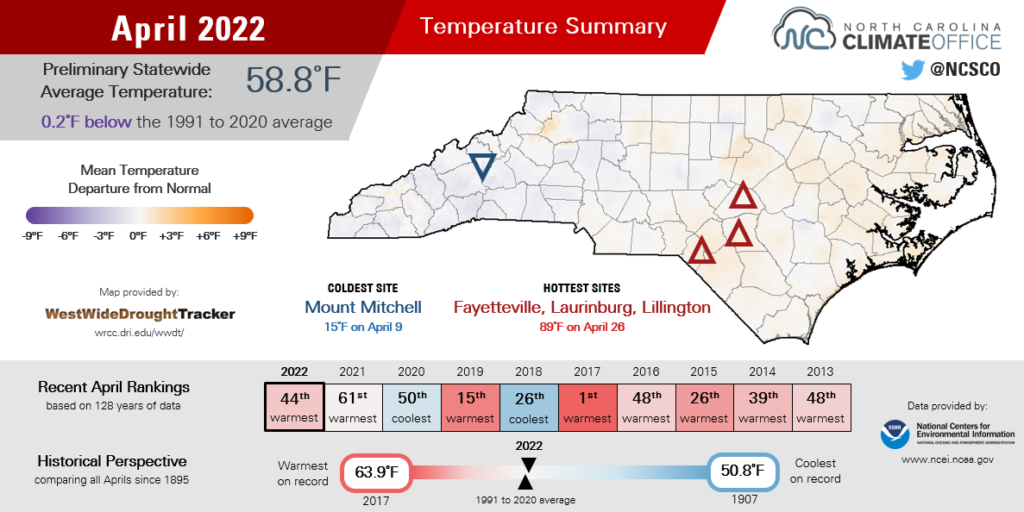 Our temperatures often came down to the whims (and winds) of high pressure systems moving through, and they made a drastic difference from day to day.
For instance, on April 20, high pressure to our north funneled in cool air and produced nighttime lows in the 30s. Just two days later, high pressure to the south moved in behind a warm front on April 22 and boosted our afternoon highs into the 80s.
That back-and-forth pattern continued later in the month, and we again saw temperatures touching both high and low extremes. Five days in a row beginning April 22, temperatures topped 80°F across the state. That stretch ended with our warmest day of the year so far on April 26, as afternoon highs reached the upper 80s.
Just two days later, morning lows dipped back into the 30s on April 28, with light frost observed in parts of western North Carolina.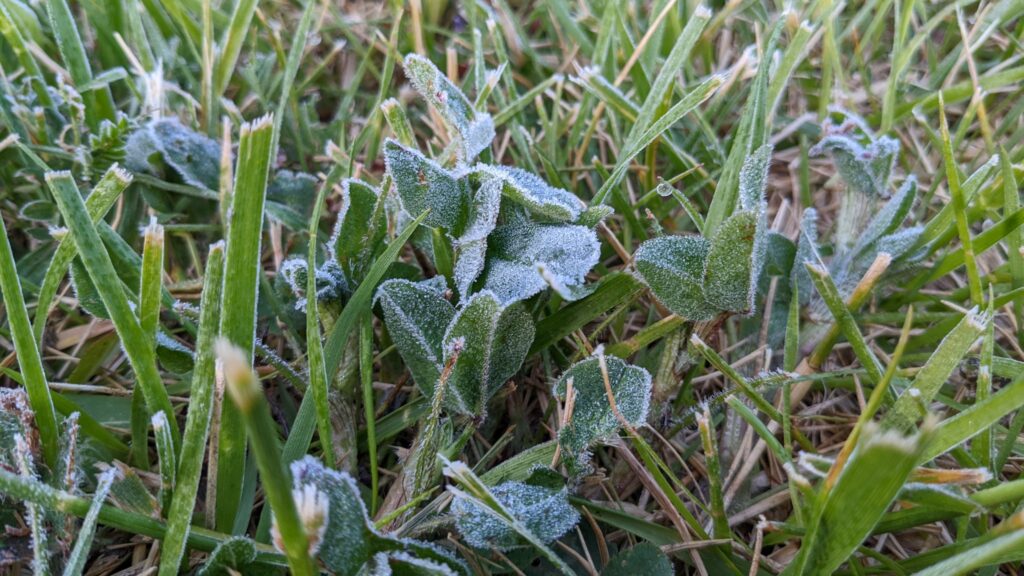 Drought Persists Amid a Dry April
April showers weren't as widespread as we might have hoped, leaving much of the state drier than normal. NCEI reports a preliminary statewide average precipitation of 2.84 inches, an inch below the recent 30-year average and ranked as our 36th-driest April since 1895.
Everywhere in the state saw rain last month, but totals were light in some places. Raleigh recorded 2.05 inches total for its 36th-driest April since 1887, and Greenville tied for its 9th-driest April with only 1.54 inches total.
The few wet areas for the month included the southern Piedmont and a swath of the Coastal Plain from Whiteville through New Bern through Manteo. Those spots each benefited from rain during a pair of locally intense events.
On April 5, low pressure crossing the Carolinas brought a batch of rain totaling up to 2 inches in some of our coastal counties. A similar setup on April 18 brought the heaviest rain across the southern tier, including 24-hour totals of 2.4 inches at both Rutherford County in the Foothills and Bald Head Island along the southern coast.
Fewer rain events last month also meant fewer springtime storms and limited severe weather. In fact, there were no confirmed tornadoes in North Carolina all month, despite April being one of our climatologically most common months for tornado activity.
Our closest call came on April 5, as severe thunderstorms swept to our south and spawned tornadoes across Alabama, Georgia, and South Carolina. Those storms reached North Carolina after sunset, which diminished their severity and tornado-producing potential.
The last April with no tornado touchdowns in North Carolina was in 2017. During that month five years ago, rain was more widespread, pushing the Tar River to Major Flood stage and eliminating drought conditions in the Mountains.
After this April, the drought status is largely unchanged from the beginning of the month. Moderate (D1) and Severe (D2) Drought remains in place across most of the Coastal Plain, with minor improvements where the heavier rains fell along the southern and central coastline, and some late-month degradations farther north.

The good news is that even after an overall dry month, few new areas have slipped into drought. While some below-normal streamflows have now emerged across the northern Piedmont, the driest conditions remain in the east.
Even in those drought-affected spots, soil moisture has generally been sufficient for farmers to begin planting. USDA/NASS reports that 80% of corn and 36% of tobacco have been planted, which are both near or slightly ahead of the five-year average.
More rain this month would certainly help these newly planted crops take root, and despite the lack of April showers, it would help those May flowers bloom as well.
A Prolonged Pollen Season
Now that trees have leafed out in their awakening from winter dormancy, the landscape is green. But at times in April, it was downright yellow thanks to the diffuse dusting of nature's glitter: pollen.
Data from the NC Division of Air Quality shows how pollen counts have spiked so far this spring, beginning with the first surge in tree pollen levels on March 31. At that point, pine trees dominated the pollen producers.
Currently, tree pollen levels are on the decline, with oaks and maples among the final species to give off their grains. That's largely in line with historical trends showing tree pollen peaking during the month of April.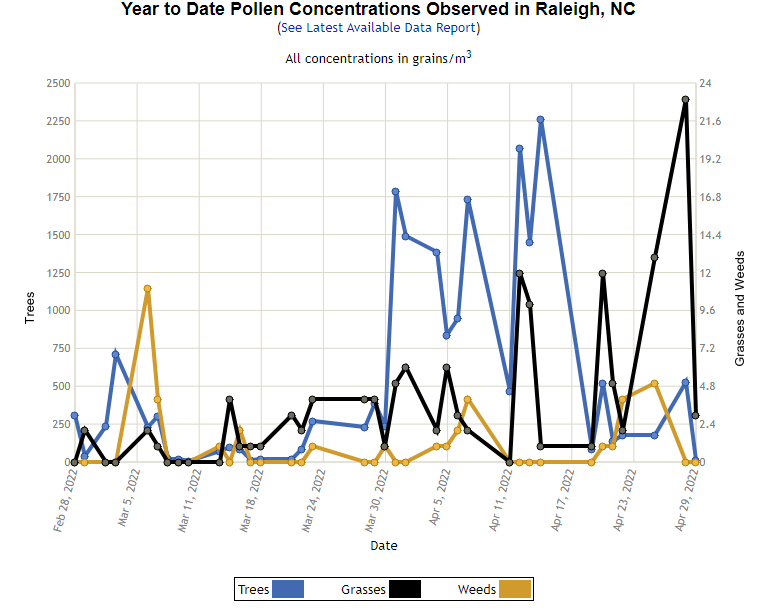 However, in the final few days of the month, grasses kicked into high gear, including a count of 23 grains per cubic meter on April 28. That's the highest grass pollen level of the season – so far, anyway. Historically, grass pollen hits its peak in mid to late May, which means allergy sufferers probably have a few more weeks of itchy eyes, sniffles, and congestion ahead.
While the highest daily tree and grass pollen levels observed so far this year are well below those from a year like 2019, that year's April spikes came less than a week apart. This year, the steady emergence of pollen from different sources over the past month has made pollen season – and our noses – run on and on and on.