Our weather has taken a "new year, new me" approach to 2022, with the warm and dry pattern from late 2021 replaced by a decidedly cooler and wetter one.
That has included three impactful winter storms — on January 3, January 16, and January 21 — that affected all corners of the state in one of our snowiest months in several years.
January 3: Winter Waltzes In
Unseasonable warmth from December spilled over into the new year – with record highs in the 70s on New Year's Day – but it was abruptly replaced by a wintry air mass on the tumultuous first Monday of 2022.
Low pressure developed along a strong cold front that morning, and that tandem produced all four seasons' worth of weather in just 24 hours.
Precipitation began as rain and totaled up to 4 inches in Raleigh. The 2.05 inches in Elizabeth City made January 3 the wettest single day there since August 4 of last year.
As cold air rushed in behind the front, precipitation switched over to snow, accumulating up to 10 inches at Jonas Ridge in northern Burke County, with totals of 1 to 3 inches across the northern Piedmont.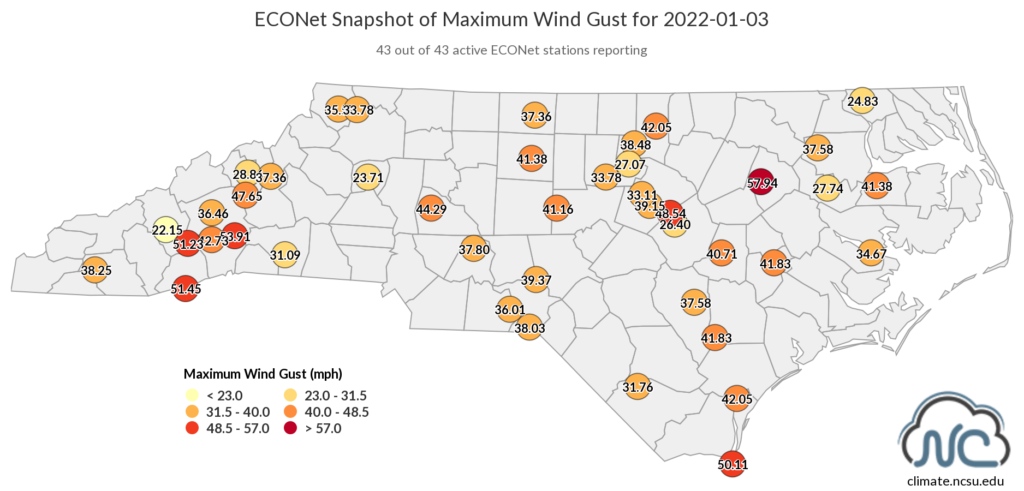 Windy conditions added to the hazards that day as Old Man Winter blew down the doors – and a number of trees and power lines. Among our ECONet, winds gusted to more than 50 mph atop Bearwallow Mountain, Frying Pan Mountain, and Sassafras Mountain.
The highest gust of nearly 58 mph came at our Rocky Mount station. A line of storms moved through that area, even spawning a pair of short-lived tornadoes that morning. An EF0 tornado briefly touched down in Harnett County, and just minutes later, an EF1 hit northern Sampson County.
Along with snow-dusted ground and wind damage, that January 3 system left behind much colder air. In just 24 hours, temperatures plummeted 42 degrees in Wilmington, from 72°F down to 30°F.
Winter's onset may have been delayed, but it started with a bang – and it was only just beginning.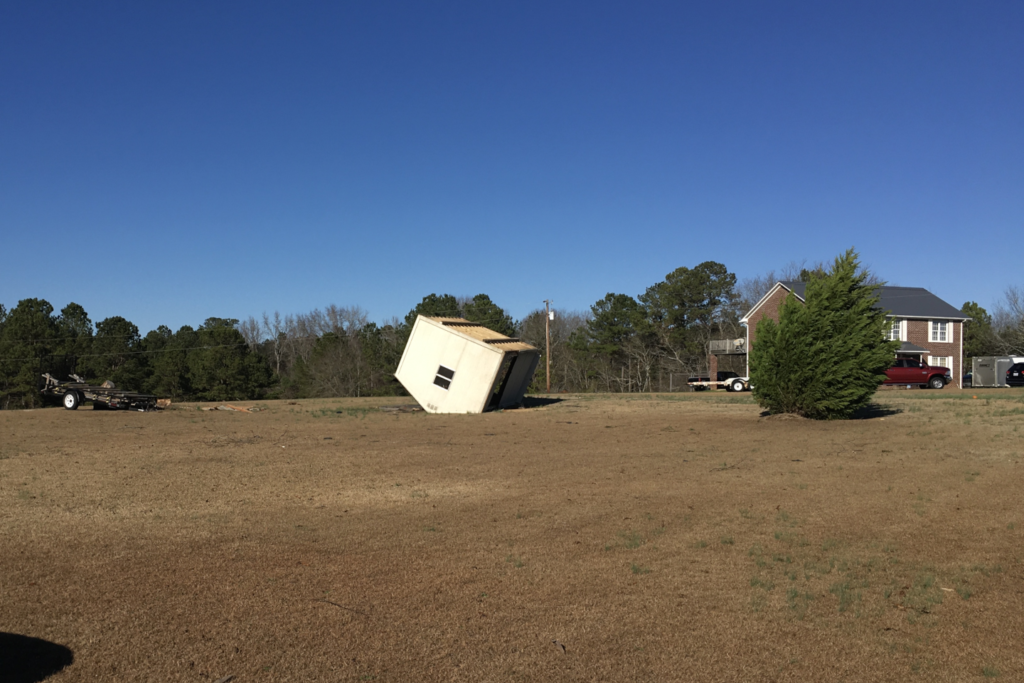 January 16: A Bit of Everything
Our next flirtation with frozen precipitation came almost two weeks later as a Sunday storm produced a mixed bag of snow, sleet, freezing rain, and rain across the state on January 16.
Low pressure moving up the coastline that afternoon brought in plenty of offshore moisture, and the heaviest precipitation fell as rain across eastern North Carolina, totaling more than 2 inches in the central Coastal Plain.
That wealth of moisture was accompanied by an influx of warmer air in the lower atmosphere, which spoiled an all-snow show for the Piedmont. The Triad received a blanket of 3 to 5 inches of snow before switching to sleet, but they avoided a changeover to freezing rain and another ice storm after a pair last February.
The Triangle had a morning of sleet before surface temperatures warmed above freezing and precipitation changed to rain that afternoon.
In the Sandhills, up to a quarter-inch of freezing rain accumulation in Richmond County made for more treacherous conditions. These areas were among the last to have power restored after the peak of 250,000 Duke Energy customers without electricity in the Carolinas.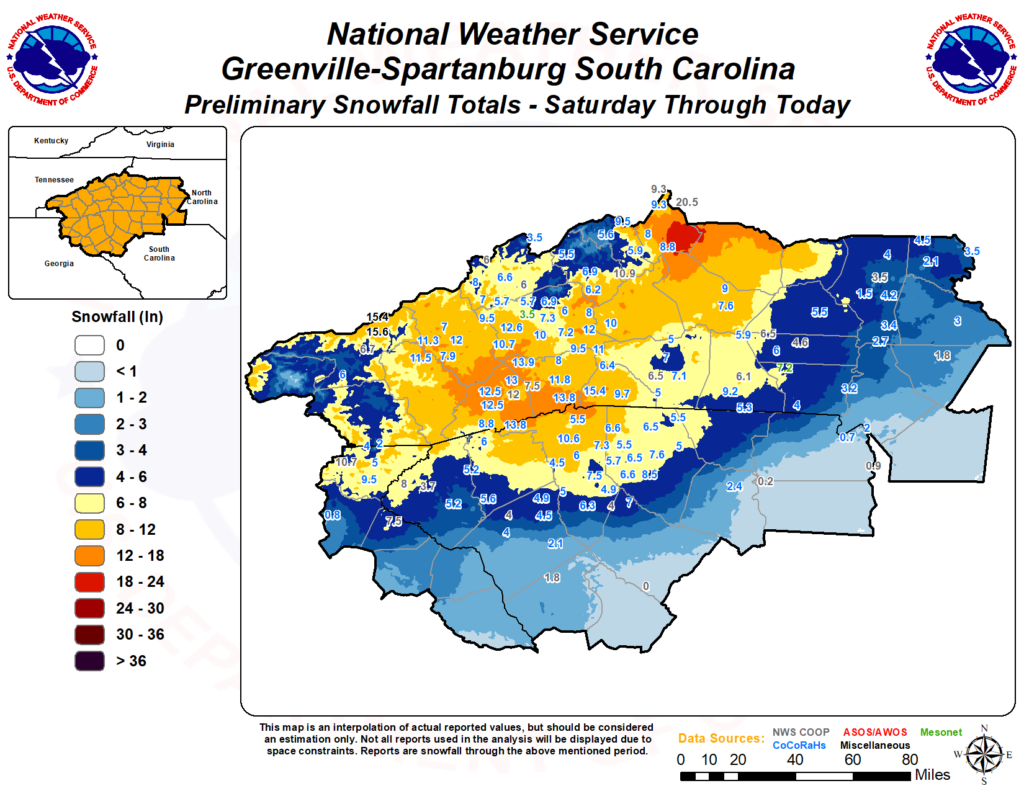 For the first time in more than three years – since the December 2018 storm – Charlotte had at least an inch of snow on the ground, with 2.2 inches topped off by a crunchy coating of sleet there as well.
Precipitation fell as mostly snow in the Mountains, and accumulations there were impressive. Parts of Transylvania and Henderson counties got more than a foot, while the 10.4 inches in Asheville set a new daily record, and single-handedly exceeded the annual average snowfall of 10.3 inches.
The slopes of the northern Mountains also picked up plenty of fresh powder. The 20 inches of snow at Beech Mountain was the most in a single day there since 24 inches on March 21, 2001.
While it wasn't a sizable snow – or snow at all – for some areas, the places that did see the white stuff had one of their most significant events in several years.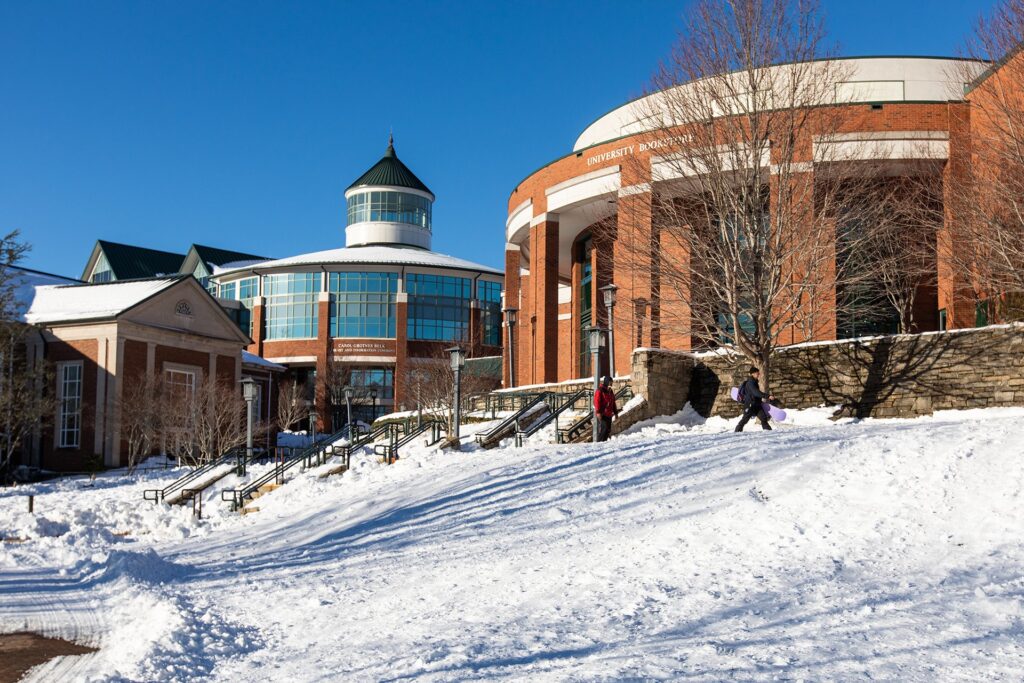 January 21: The Coast with the Most
For places down east that made it through the first two wintry events with only a soaking rain, the third event of our January trio was their opportunity to get in on the act.
With cold air already in place by the time the moisture moved in, and low pressure forming farther offshore, this was set up as a storm primarily for the eastern part of the state.
The highest totals of more than 6 inches came across Pasquotank, Camden, and Currituck counties. CoCoRaHS observers in Pasquotank County measured as much as 8 inches on Saturday morning. For that part of the state, it was their biggest snowfall since the Christmas Day storm in 2010.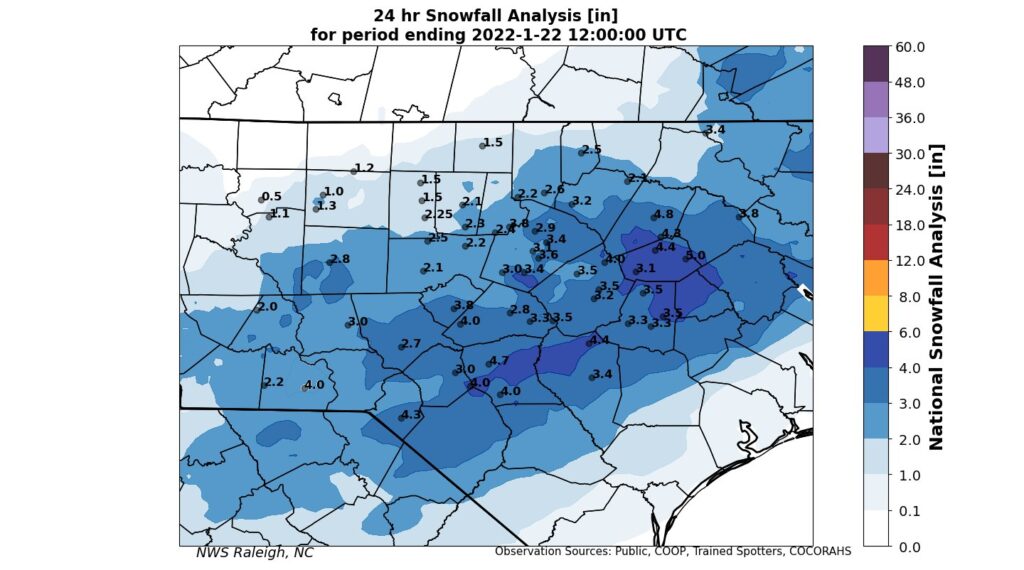 A wide swath of the state, including the southern and eastern Piedmont, picked up more than 2 inches. The 4+ inches in Fayetteville ended their recent "snow drought". The last event there with at least an inch of snow had been more than four years ago, on January 3-4, 2018.
At the Raleigh-Durham Airport, 2.3 inches accumulated, which was enough to create some hazardous travel conditions, and not just for cars. A landing plane slid off a taxiway and into the mud, closing down the main runway and forcing dozen of flights to delay or divert while the errant aircraft was recovered.
True to a North Carolina winter storm, though, it wasn't snow for everyone. The southern and central coast saw mostly freezing rain, with up to half an inch of ice accumulation in Newport and Richlands. The last major ice events in those areas were back-to-back storms in 2014 on February 11 and February 13.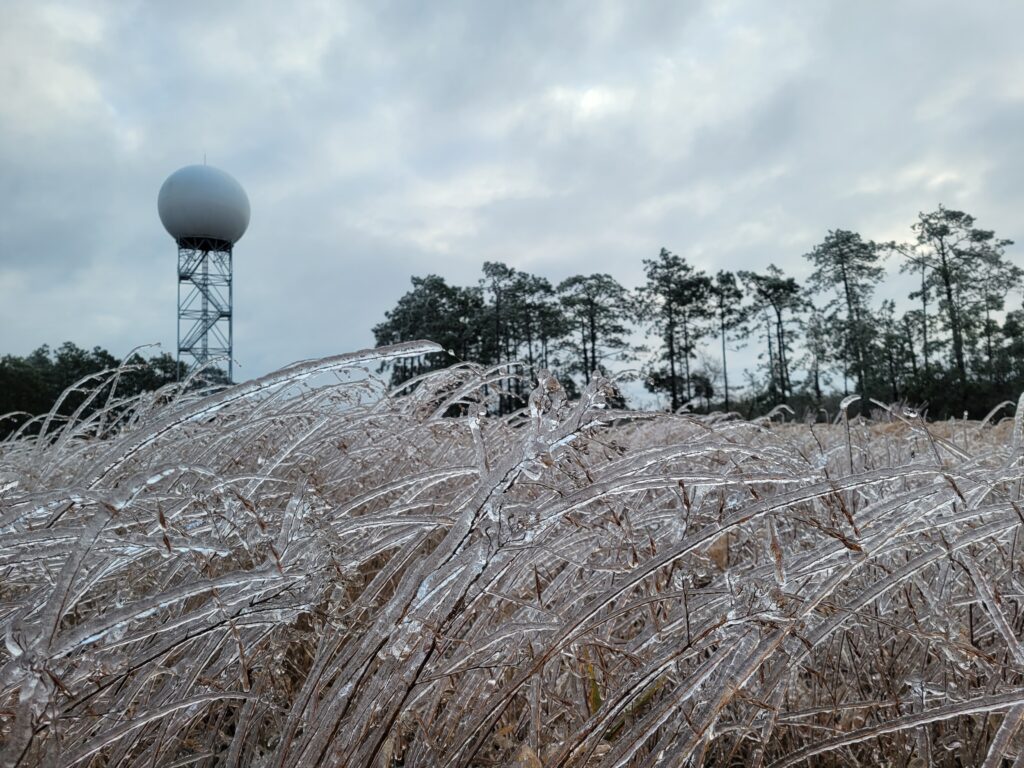 Takeaways from January
These three storms helped make this January one of the snowiest months in recent memory. The 6.4 inches in Greensboro is more than they had in the last two winters combined, and the most since a total of 12.8 inches in December 2018. Elizabeth City's 5.0 inches is the most in a single month since January 2014.
It has even been an unusually snowy month in the Mountains. The Transou site near Laurel Springs in Ashe County has accumulated 17 inches of snow this January, which is the highest monthly total since 22 inches in January 2000 – a similarly wintry month with four storms in a two-week window.
Last fall, we shared maps of the last snow events producing at least 1 inch, 6 inches, and 12 inches across the state. At that time, even our 1-inch map was a patchwork, reflecting a number of minor storms from recent years but few widespread events.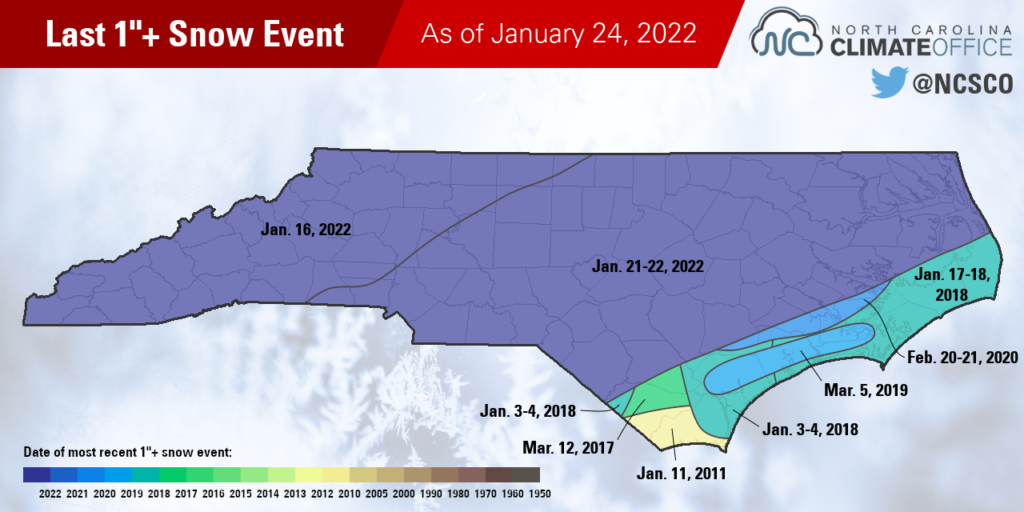 The current map (above) looks much different. The January 16 and 21 events collectively covered almost the entire state with at least an inch of snow, missing only a few spots along the coast.
Notably, parts of Brunswick and Columbus counties that saw just a trace of snow and a quarter-inch of ice from our latest storm have been waiting more than 11 years since their last one-inch event.
Regardless of which form our precipitation has fallen in, it has all made a positive impact on our drought status. January started with more than 86% of the state classified in drought by the US Drought Monitor. In just three weeks, that number has declined to 23%, and the Severe Drought (D2) across the Sandhills has now disappeared due to the recent precipitation.

Moderate Drought (D1) does remain in some areas that are 3 to 6 inches below their normal precipitation dating back to mid-October, and where deeper soil moisture levels have not fully recovered.
However, whether they brought rain, sleet, snow, or all of the above, January's three storms have halted our drying conditions, and in some areas, left a wintry wonderland in their wake.