The early onset of hurricane season included two storms visiting North Carolina in May. They helped make it a wet month, as well as a cool one across the state.
The Tropics Storm to Life
The 2020 Atlantic hurricane season didn't officially begin until last Monday, June 1, but the ocean and tropical atmosphere have operated on their own schedule so far this year.
A pair of named storms formed in May, and both affected North Carolina, from the shoreline to the summits in the Mountains and Foothills.
Tropical Storm Arthur developed from a lingering low pressure system over the Bahamas on May 17, and it continued tracking up the southeast coast and paralleled the North Carolina coast before turning eastward.
While the center of Arthur stayed offshore, its outer bands lashed the southern coast with 3 to 5 inches of rain, including 5.08 inches over three days at the Croatan RAWS station in Newport. The storm also produced high surf and, farther up the coast, overwash and beach erosion along the Outer Banks.
Later in the month, Tropical Storm Bertha formed in a similar location with a similar atmospheric setup as Arthur, but its track took it onshore north of Charleston, SC, on May 27.
As the remnants of Bertha moved inland, the center of the low pressure system crossed North Carolina. Rain from the storm totaled 2 to 4 inches across the southern and western Piedmont.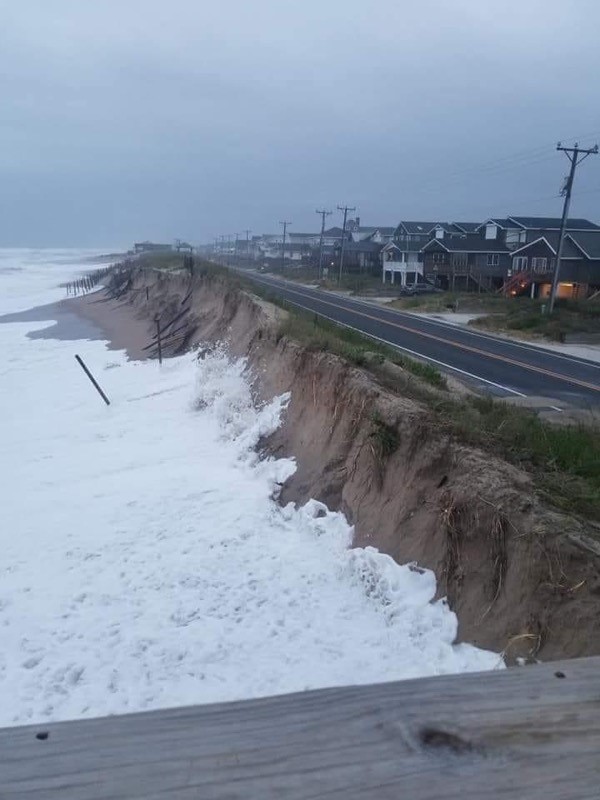 While storms outside the bounds of the traditional June-through-November hurricane season are somewhat unexpected, they haven't been too unusual in recent years. Every year since 2015, at least one named storm has formed before June 1, and 2020 is the ninth year since 1851 with at least two pre-season named storms.
Many of these systems have targeted North Carolina — including six of the ten pre-season storms since 2012 — and that's not a coincidence. Through the late spring and even early summer, some of the warmest water in the Atlantic basin is in the Gulf of Mexico and the Gulf Stream off our east coast.
Disturbances such as stalled frontal boundaries in these areas can more easily develop into tropical characteristics, fueled by the warm ocean water beneath them.
A kick northward by the subtropical steering currents can then bring them near or over land, and when that happens in North Carolina, the result can be some abnormally wet weather well before we usually expect such an influx of tropical moisture.
Water, Water Everywhere
As a landing spot for tropical storms and a moisture dumping ground for a slow-moving low pressure system, North Carolina received plenty of rain in May. The National Centers for Environmental Information (NCEI) reports the statewide average precipitation was 7.45 inches, making it our 3rd-wettest May out of the past 126 years.
It may seem hard to believe given how wet we were in the last two weeks of the month, but prior to Arthur's arrival, May began with several dry weeks and limited precipitation, especially in the Foothills and Piedmont.
In the first 15 days of the month, Marion recorded just 0.14 inches of rain while Greensboro had 0.11 inches. In the second half of the month, though, Marion added an additional 8.23 inches while Greensboro picked up an extra 9.34 inches, becoming the 2nd-wettest May on record there after only 1905.
Several Mountain and coastal sites weren't quite so dry early on, so their monthly accumulations were even greater. The Transou station in Ashe County reported 12.79 inches in its wettest May dating back to 1946. In Ocracoke, the 9.18 inches ranked as the 2nd-wettest May out of 35 years with observations.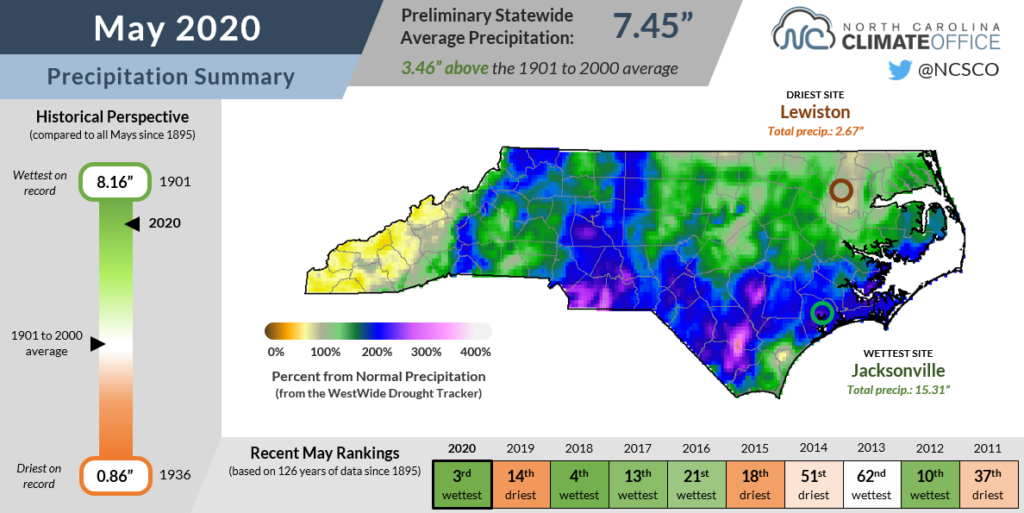 Along with the two tropical storms, one of our biggest rainmakers last month was an upper-level low pressure system that parked just to our west from May 19-21. The counterclockwise circulation around the low meant a steady inflow of Atlantic moisture that precipitated a month's worth of rain in just three days, including totals of more than 8 inches at our ECONet stations in Mount Mitchell (9.25 inches), Spindale (8.75 inches), and Laurel Springs (8.13 inches).
While most areas remain waterlogged after such a wet May, a few isolated parts of the northern Coastal Plain and the far western Mountains missed out on the heaviest rains last month. Williamston received 2.78 inches of rain — an inch below normal — and Murphy was 1.6 inches below normal.
But even these areas finished the climatological spring (March, April, and May) above their normal seasonal precipitation. Entering June, statewide soil moisture levels have been elevated, which has prevented farmers from getting into the fields and caused some planted wheat, corn, and soybean crops to deteriorate.
Cool, Cloudy Weather
In recent years, we've gotten accustomed to summer-like warmth arriving in May, but this year bucked that trend, instead bringing much cooler weather. According to NCEI, the statewide average temperature last month was 63.7°F, which was our 13th-coolest May since 1895.
Average temperatures were up to 4 degrees below normal at sites like Hickory, which had its 2nd-coolest May out of the past 72 years, and Murfreesboro, which recorded its coolest May on record dating back to 1975.
So what was behind these unseasonably cool temperatures? For one, May saw a continuation of our April pattern that featured jet stream troughing over the eastern US, allowing cool air to drop down into the Carolinas, and lacked any prolonged ridging or warm air intrusion from the south.
A few nights were downright wintry as low temperatures on May 9 and 10 fell below freezing in the Mountains and parts of the northern and western Piedmont. In Statesville, the May 10 low of 31°F was the latest occurrence of sub-freezing temperatures since 1977, and the fifth-latest last spring freeze on record there since 1901.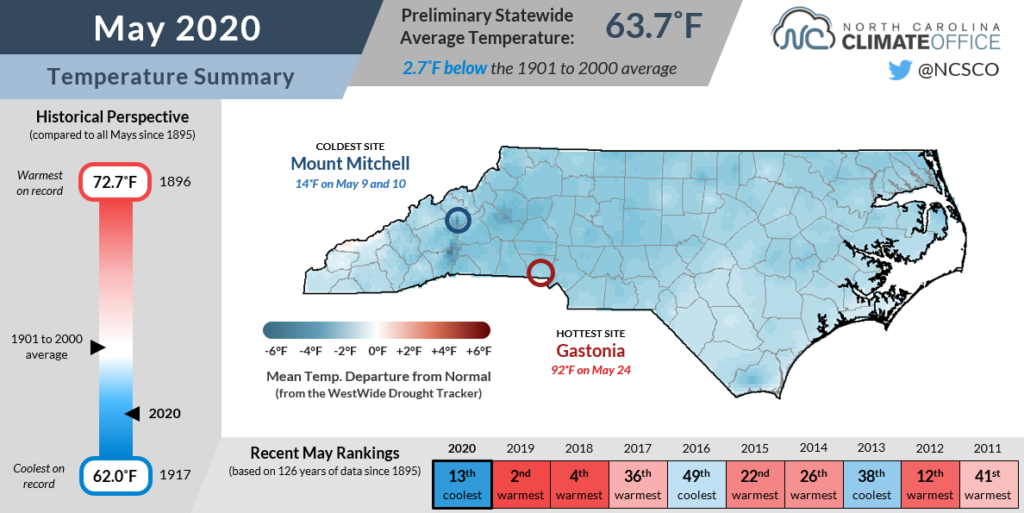 Later in the month, the rain helped temper our temperatures as well. Such frequent showers meant a consistent blanket of cloud cover overhead, and as surface water evaporated, it also cooled the air. Those factors held down our afternoon highs in particular. The average statewide high temperature last month was 74.3°F, which was the 3rd-coolest of any May since 1895.
Most sites never even hit the 90-degree mark this May. Considering Greenville was that warm 13 times last May and Fayetteville hit 90°F a dozen times in May 2019, but neither reached 90 last month, it's clear just what a contrast our recent cooler weather has provided compared to recent years.
Even though June's arrival has kick-started our summer with the season's first 90-degree heat in many areas, we won't soon forget the cool, wet May, punctuated by freezing temperatures one weekend, a tropical storm off the coast days later, all followed by more than our monthly average rainfall in less than a week.