Overall, July in North Carolina was cooler than normal with a mix of dry and wet spots, including parts of the coast that were visited by Hurricane Arthur.
Below-Normal Temps Prevail Across NC
Last month was the 11th-coolest July in 120 years of record in North Carolina based on the preliminary statistics, which made it our coolest July since 2009. That ranking is mostly due to our cooler-than-normal maximum temperatures. While we started the month with highs in the 90s, the heat largely abated by the middle of the month, leaving most of the state with seasonable or slightly below-normal high temperatures in the 80s.
In July, much of the Piedmont and Coast had 10 to 15 days with temperatures at or above 90°F. That's near-normal in July for most of those stations, though the ten 90°+ days at Greenville ranked as the seventh-fewest on record. For the year so far, the western Piedmont has had 15 to 25 days with temperatures reaching 90°, while Raleigh, Fayetteville, and Wilmington have each had a little over 30 days reaching 90. Asheville has yet to hit 90° as of the end of July, which has happened just 26 times in the past 146 years — about 18% of the time.
We have yet to hit 100° in North Carolina this year, and most of the state hasn't felt 100° heat since July 2012 — more than two years ago. Climatologically speaking, 100° days are slightly less common in August than in July. Raleigh and Charlotte each see at least one 100° day about 1 in every 8 Augusts compared to about 1 in 5 Julys.

Triad and Sandhills Stay Dry
The statewide average says July 2014 saw near-normal precipitation, ranking as the 58th-driest (or 63rd-wettest) July on record. However, most of the state was on one precipitation extreme or the other. The Northwest Piedmont including the Triad was one of the driest spots, with less than three inches of rain falling across much of that area.
Greensboro saw nearly half an inch of rain in the final hours of the month, but it still had its 25th-driest July in the last 112 years, and Danbury, Mount Airy, and North Wilkesboro each had one of their 10 driest Julys on record. The Sandhills also saw little rainfall, and Fayetteville had its 13th-driest July in 108 years.
The lack of rainfall in those regions meant an expansion of Abnormally Dry (D0) conditions by the US Drought Monitor. While they're not officially in drought conditions (D1 or worse on the USDM) yet, farmers in those areas have begun seeing dry fields and wilting crops. The cooler weather late in July helped to limit moisture losses due to evapotranspiration, but without rainfall in the next few weeks, conditions could continue to deteriorate.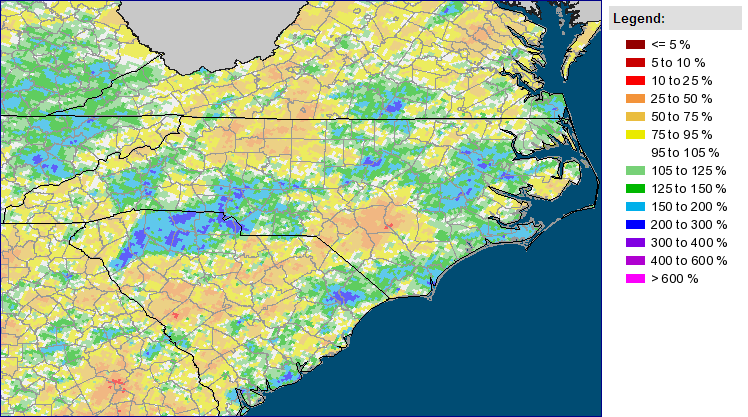 Flash Flooding in Charlotte, Triangle on July 15
The nature of summertime precipitation means some places may stay dry while neighbors in nearby counties have plenty of rain. That was the case in July, as parts of the Triangle and the Charlotte area saw flash flooding from a line of storms on July 15th. The Raleigh-Durham Airport recorded 4.21 inches of rain and there were reports of flooded roads throughout Wake and Durham counties.
Many Triangle-area CoCoRaHS observers also reported more than three inches of rain. That event was a big part of Raleigh's 8.96 inches of rain for the month, which made it the fourth-wettest July on record and the wettest since 1991. The same event also brought more than three inches of rain just east of Charlotte, causing flooding in parts of Mecklenberg and Union counties.
Arthur Impacts the NC Coast
The coast also had its share of rain early in the month when category-two Hurricane Arthur made landfall on July 3rd. We covered many of Arthur's impacts in a blog post last month, but to summarize, there were widespread reports of two or more inches of rain, tropical storm- to hurricane-force wind gusts, and roads flooded with sand and water along the immediate coast. Arthur also spawned at least three tornadoes inland in Hertford, Martin, and Duplin counties.
Elsewhere in the tropics, Tropical Depression #2 formed on July 21st but dissipated less than two days later due to dry air and strong vertical wind shear in the atmosphere. As July ended, another wave nearing the Antilles developed into Tropical Storm Bertha, the second named storm of the year.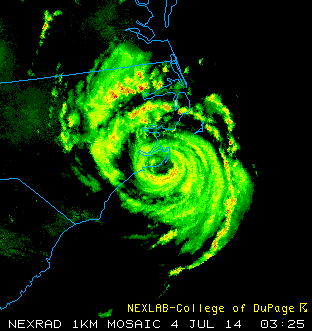 Will Seasonable Weather Continue in August?
Through the first week of August, near- or below-normal temperatures are likely to continue due to an upper-level trough over the east coast. Beyond that, though, some computer model guidance suggests a return of warmer weather for North Carolina.
The Global Ensemble Forecast System (GEFS), which is made up of 20 similar computer model runs with slightly different initial conditions, has several of those runs hinting at troughing over the western US by mid-August. That could spell a return of above-normal temperatures in the southeast. The NOAA Climate Prediction Center also suggests above-normal temperatures are likely in August based on several climate model forecasts. The CPC's precipitation outlook shows little guidance other than below-normal precipitation possible for the southern Mountains.