After a cool June, hot weather arrived in July, while generally limited precipitation saw Abnormally Dry conditions return in North Carolina — but for how long?
A Month of Melting Heat
Our string of three consecutive cooler-than-normal months in April, May, and June came to an abrupt ending last month with the arrival of summer's supreme sizzle. According to the National Centers for Environmental Information (NCEI), the statewide average temperature of 79.7°F made it our 6th-warmest July since 1895.
That continued a recent trend of warm Julys. Since 2010, all but one July (in 2014) has had temperatures above the long-term 1901 to 2000 average. Warmth in our nighttime lows has been a key driver in that trend, and the average minimum temperatures last month ranked as the 5th-warmest of all recorded Julys.
Switching from some downright cool nights in mid-June to some sweltering ones throughout July required a near-reversal of the large-scale weather pattern. In June, jet stream troughing over the eastern US delivered multiple cold fronts and storm systems through the Carolinas.
By early July, though, strong ridging was in place instead, and high pressure to our south acted as a roadblock for any inbound weather systems.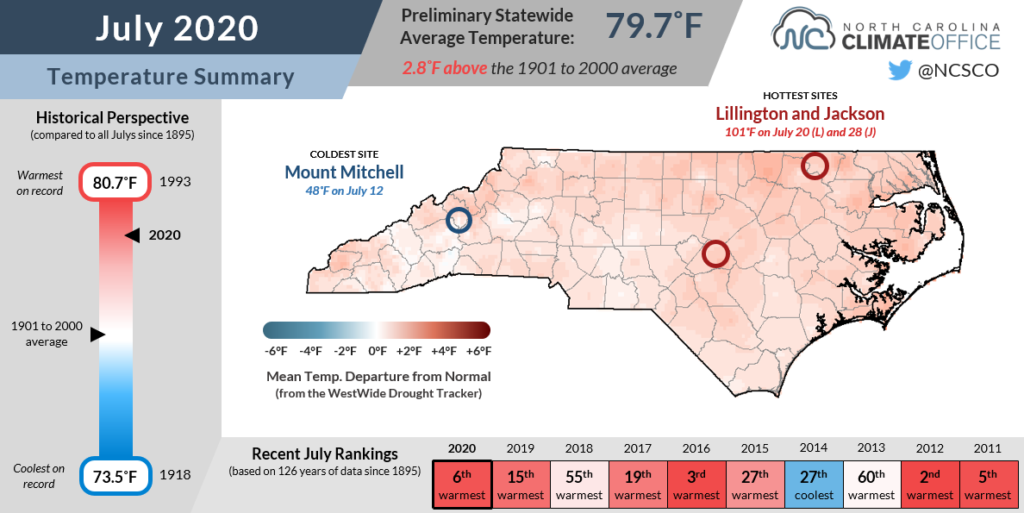 It was a stubborn pattern that refused to move much, which gave us a full month of steamy summer weather. High temperatures reached 90 degrees or greater on 28 days in Raleigh and 24 days at Hatteras — July records for both sites.
And at the Outer Banks, it wasn't just a warm July. It was a record hot month. Hatteras set new records for its all-time warmest month since 1893 based on the average high temperature (averaging 90.5°F), mean temperature (84.7°F), and low temperature (78.8°F). It was also Ocracoke's warmest month based on the average overnight lows dating back to 1957.
Several mountain sites reported one of their top-five warmest Julys on record. Asheville tied for its 2nd-warmest July out of the past 127 years, and high temperatures reached 90°F or above on 10 days there — the most since 2011.
Scattered Showers Leave Some Wet, Others Dry
Amid a hot month, any relief in the form of regular rainfall was tough to come by across much of the state. The statewide average precipitation was 4.23 inches, or our 28th-driest July out of the past 126 years, per NCEI.
The month began with some rain along the southern coast as the low pressure system that eventually became Tropical Storm Fay brought showers and even spawned a waterspout that became a short-lived tornado over Oak Island on July 6.
Toward the end of the month, some storms across the central Piedmont and Coastal Plain turned severe. Among them, a storm on July 28 produced high winds that collapsed the exterior of a building under construction in Rocky Mount.
However, with high pressure overhead and fewer organized weather systems moving through, those pop-up showers and storms were generally isolated, and their scattered nature led to some notable differences between the haves and the have-nots.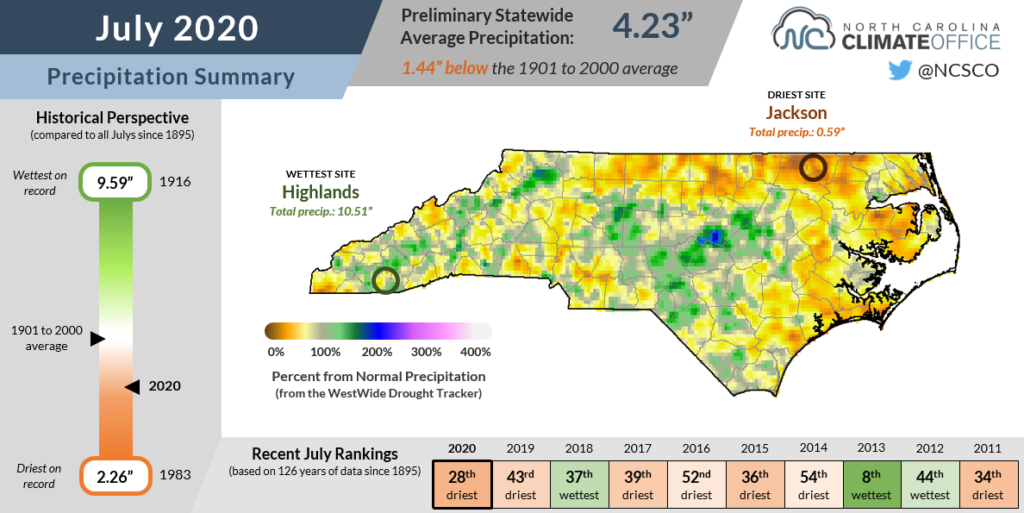 While Concord picked up 7.09 inches during the month — the 16th-wettest July there since 1933 — surrounding sites were much drier. Just 30 miles to the northwest, Statesville received only 2.06 inches for its 13th-driest July since 1901. And 50 miles to the west in Shelby, the 2.33 inches ranked as the 16th-driest July on record.
That pattern held true at the coast as well. Williamston had 6.61 inches of rain, or 1.3 inches above normal, but the driest spots in the entire state were north of there along the Virginia border. Roanoke Rapids reported 1.16 inches for its 2nd-driest July since 1972.
The driest spot in the state was at Jackson in Northampton County, which picked up only 0.59 inches of rain all month, or just 11% of its normal amount.
Developing Drought, or Just Short-Term Dryness?
Based on the statewide average precipitation, the last July this dry was in 2007, which is a somewhat scary statistic since that summer 13 years ago was the beginning of a multi-year extreme drought across the state.
There are some key differences between this year and that one. By this point in 2007, most of the state was already in at least Moderate Drought after the warm spring and summer that preceded it. This year, the cool, wet end to our spring and start of the summer helped us weather a hot, dry July in better shape.
There are some dry spots emerging, though, and for the first time since early February, parts of the state are classified as Abnormally Dry on the US Drought Monitor. Those dozen counties in the northeastern Piedmont and northern Coastal Plain that received the least rainfall last month have seen several indicators of ongoing dryness emerge.

Streamflows have fallen below normal in the upper Tar and Chowan river basins, and agricultural reports suggest corn, soybean, and vegetable crops in the northeastern Piedmont are stressed, especially in non-irrigated fields.
Patchy dryness is popping up in other parts of the state, and your lawn may be looking more brown than green after a few days of baking in the sun without any rainfall. But for several reasons, we're not worried about a repeat of 2007.
For one, even though streamflows and groundwater levels have been on a slow decline over the past month, they remain at or above normal in most areas thanks to our wet spring. Likewise, topsoil moisture was generally moderate to high at the end of July, aside from those dry spots at the coast.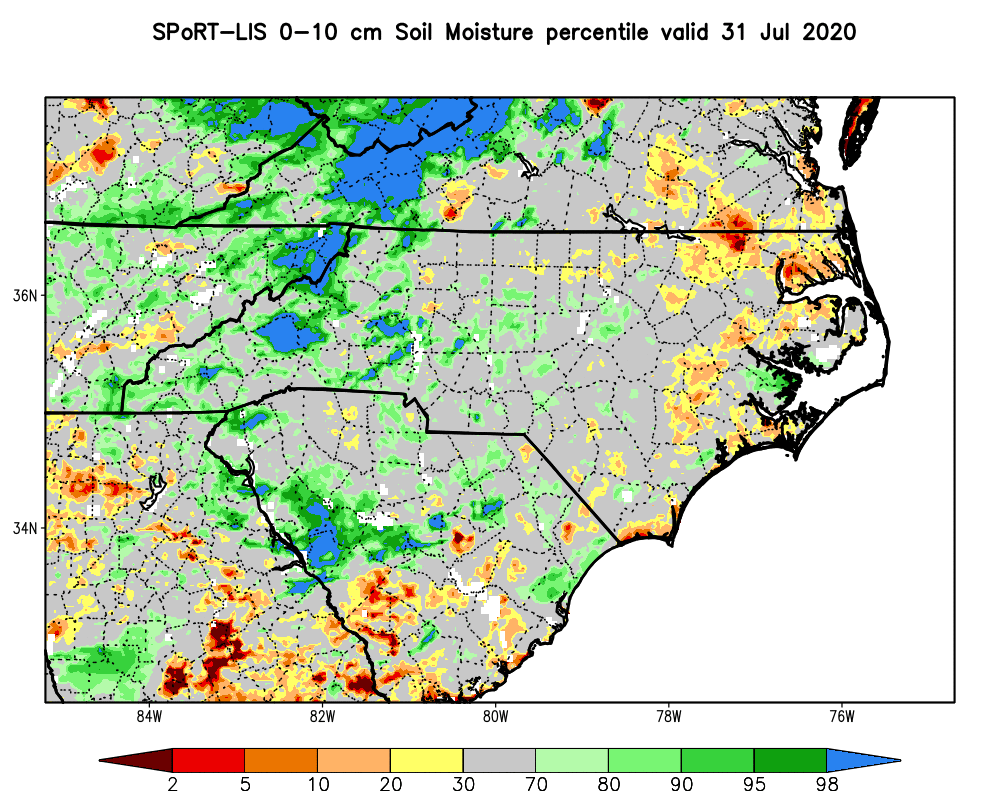 While August can still bring the heat, we're also moving out of the climatological hottest part of the year. Per our newly updated Climate Thresholds tool, Raleigh historically averages 5.2 days reaching at least 95 degrees in July, but that number drops to 2.8 days in August. Coming off a July with 11 days that warm in the capital city, any decrease is a welcome one.
A check of the forecast and the calendar also offers hope for precipitation, even if it's accompanied by high winds or high surf. The tropics have sprung to life, with nine named storms before the end of July — the most ever by that point in the year.
The latest storm, Isaias, is expected to bring up to 6 inches of rain today and tomorrow across eastern North Carolina, including in the areas that saw less than a quarter that much in all of July.
In short, there are no major signs that drought will develop in the weeks ahead, and at least in the short-term, heavy rains and flooding across the Coastal Plain are far more likely impacts as our state braces for another incoming tropical storm.