If the Piedmont of North Carolina is the ice storm capital of the south, then the ruling weather regime had a full docket over the past week, with two damaging storms since last Friday.
These high-impact events locally were part of a larger active weather pattern that has seen snow blanket nearly three-quarters of the continental US, extreme cold temperatures grip the Midwest, and almost unrelenting wet weather across the Southeast.
At the heart of that pattern was a fractured polar vortex that brought Arctic air unusually far south. In North Carolina, we were only on the fringes of that frigid air beneath the southward-sinking jet stream, which shuttled moisture-rich weather systems out of the Gulf of Mexico and across the state in quick succession.
Almost all of North Carolina has received at least 2 inches of precipitation over the past seven days, and more than five inches fell across parts of the southern Coastal Plain.
Temperatures near the surface have been mostly below normal, often hovering in the 30s with cloudy skies, while warmer air remained aloft associated with that surge of tropical moisture from the Gulf. However, across the northern Piedmont, the mercury made it just low enough that falling rain froze when reaching the ground.
It's an atmospheric setup that the region knows all too well, and the recipe for a damaging ice storm — or in the case of the past week, a double dose of them.
February 12-13 Storm
Surface air temperatures were just below freezing from the Triad northward, and an offshore low pressure system brought steady precipitation throughout the day on Saturday, February 13, that fell as mostly freezing rain in those northern Piedmont counties.
Reports aggregated by the National Weather Service in Raleigh indicate a quarter-inch of ice accumulation in the Greensboro area and up to a third of an inch in Person County.
The weight of that ice on power lines and trees, moored in wet, weakened ground, caused numerous outages. By mid-afternoon on Saturday, electrical providers including Duke Energy reported almost 170,000 total outages, mainly concentrated in Forsyth, Guilford, Rockingham, and Stokes counties.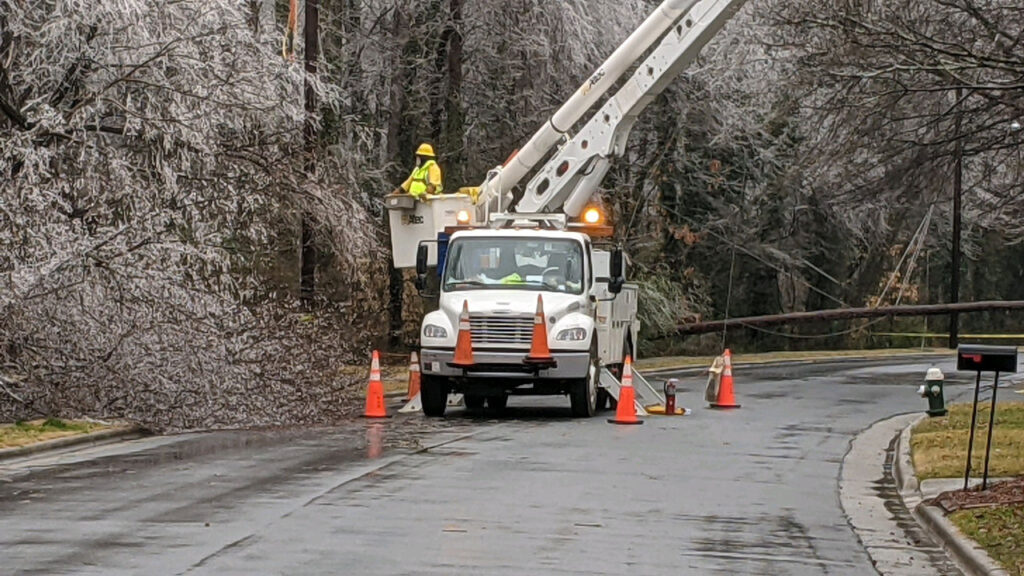 February 18-19 Storm
Five days after the first round of ice, it was time for another with a similar setup. Low pressure again moved up the coastline and spread precipitation across the state.
Surface temperatures were below freezing in the Mountains and the northern Piedmont, but nearly 50°F less than a mile above the ground, so falling precipitation fell as rain that froze in the shallow cold layer near the ground.
In this event, the heaviest icing happened farther west, with including 0.40 inches of ice accumulation in Polk and Alleghany counties. Areas along I-40 and US 421 between Burlington and Boone generally received around a quarter-inch of glaze, with higher totals closer to the Virginia border.
Despite the longer duration of this event, its impacts including power outages were generally not as severe. Statewide, outage totals peaked at just over 26,000 on Thursday afternoon.
A secondary impact of all that additional moisture was rising rivers, especially where the heaviest rains fell during the week. As of Friday morning, multiple sites in eastern North Carolina were already in or forecasted to reach flood stage over the weekend.
The Lumber River in Lumberton was expected to hit major flood stage for only the sixth time in that gauge's history, and the first since Hurricane Florence in 2018. Forecasts showed the Tar River in Greenville approaching major flood stage on Sunday, which would be the seventh-highest crest on record at that gauge.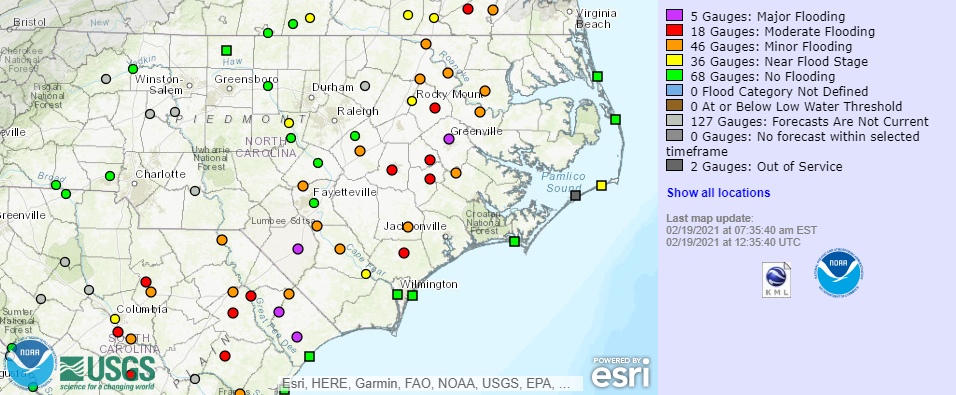 Ice, Ice Lately?
Ice storms are relatively common in North Carolina thanks to our location between the cold-trapping mountains in the west and the bodies of water to our south and east that can provide a feed of warm, moist air in the mid-levels of the atmosphere. A few years ago, we identified 51 ice storms within a 54-year historical period, or almost one per year somewhere in the state, on average.
However, two ice storms hitting within a week of each other and affecting the same part of the state is not very common. Our Winter Storm Database shows only three other occurrences of that since 1959:
January 1968 included a pair of ice events, the first a minor one affecting the western Piedmont and the second a long-lived and more widespread event that knocked out power and phone service for up to five days in areas south and east of Raleigh.
Ten years later, two ice storms a week apart hit the northern and central Piedmont in January 1978. Both were associated with multiple injuries and deaths from automobile accidents, along with power and even water outages, not unlike what Texas has seen this week due to frozen pipes.
In January 1984, two ice storms within a one-week span in western North Carolina created a glaze on roads that made for treacherous travel conditions but otherwise limited damage.
With 37 years having gone by since the last back-to-back ice events, perhaps we were overdue for it to happen again. But even if you've been through them before, nothing can ever quite prepare you for the limb-creaking, power-flickering, slip-sliding anxiety of an ice storm in North Carolina.