We didn't have to wait long this winter to see our first major snow event in North Carolina. The second weekend of December brought significant accumulating snowfall to many areas and a wintry mix across parts of the Piedmont.
While the early-season timing of this event was a bit uncommon, the setup for the storm followed a classic pattern. High pressure to our north funneled cold air southward, ensuring surface temperatures were at or below freezing for at least the western two-thirds of the state.
Meanwhile, a low pressure system developing along the Gulf coast on Saturday morning brought in ample moisture as it tracked off the Atlantic coast. Liquid precipitation totals across the state generally ranged from 1.5 to 3 inches, with 4.16 inches reported at Cape Hatteras.
In the Mountains and Foothills, that liquid fell as almost all snow, yielding widespread accumulations of more than ten inches. Mount Mitchell reported 32 inches, Jefferson received 20 inches, and Boone picked up 15 inches of snow.
Many sites in the northern and western parts of the state received more than a foot of snow, which is at or above their annual average snowfall. Mount Airy, which averages 9.3 inches per year, got 13 inches from this storm. Asheville's 11.4 inches also exceeded its normal annual snowfall of 9.9 inches.
The Greensboro Airport also topped its normal yearly snowfall of 7.6 inches, reporting a two-day total of 12.8 inches with 12 inches falling just on Sunday. To find another single day that snowy in the Triad, you have to go back almost 90 years! On December 17, 1930, 14.3 inches fell in Greensboro, and on March 3, 1927, they received 20 inches.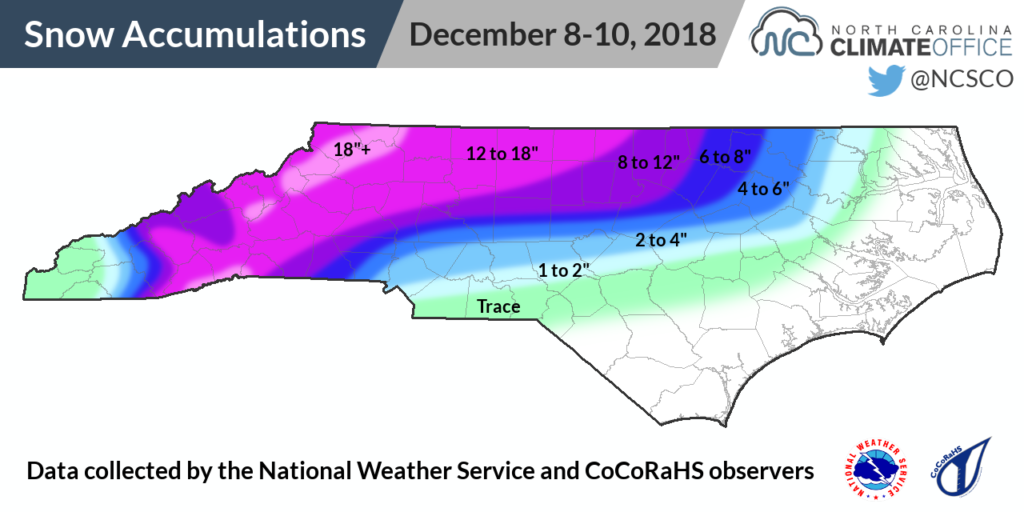 Farther east across the Triangle, accumulations were much more variable because of a transition from snow to sleet, freezing rain, and rain during the day on Sunday. Southern parts of Wake County picked up less than 2 inches while at least one Durham County observer received a foot of snow. Some of that came on Monday, when the back edge of the storm added an extra 1 to 2 inches in parts of the central Piedmont.
The Raleigh-Durham Airport had a storm total of 8.9 inches, which exceeded its yearly average of 5.9 inches. The last time that much snow fell there this early in the season was 60 years ago, when Raleigh received 9.1 inches on December 11, 1958. It was also Raleigh's biggest snow accumulation since early January 2002, even besting the 7.1 inches from the December 25-26, 2010 storm.
This event adds to our short list of early-December snow events in North Carolina. While we had a more minor event on the same weekend last year, the last major winter storm this early in the season was the severe ice storm of December 4-5, 2002.
Fortunately, ice wasn't a widespread problem in this most recent event. While freezing rain did fall briefly across parts of the Piedmont, surface temperatures warmed to above 32°F on Sunday afternoon, allowing precipitation to transition to rain.
Still, due to the weight of the wet snow and wind gusts of more than 25 mph, nearly 250,000 electrical customers across the state were without power at one point on Sunday morning.
Finally, it wasn't snow, sleet, or ice, but more rain falling along the coast. Wilmington picked up 1.92 inches of rain during the storm, adding to its already record-setting annual precipitation total. With 97.75 inches so far in 2018, three weeks remaining in the year, and an ongoing wet weather pattern, the race to 100 inches has its finish line in sight!