Holiday heat headlined our historically warm December, and despite late-month rainfall, it was a dry month overall. We also check in on how La Niña has shaped our weather so far this winter.
Year-End Temperatures Set Records
A winter wonderland, it wasn't. Cool temperatures were scarce last month, yielding one of our warmest Decembers on record. The National Centers for Environmental Information (NCEI) reports a preliminary statewide average temperature of 49.7°F, which was our 4th-warmest December since 1895.
Most sites across the state recorded one of their top five warmest Decembers on record. Greensboro, Wilmington, and Hatteras each had their 2nd-warmest December dating back more than 100 years, trailing only the soaking and steamy December in 2015.
Our average maximum temperatures were downright balmy. In Charlotte, the average high of 64.7°F was nearly 10 degrees above normal, or more typical of December in Savannah, GA. Mountain sites in Marshall and Cullowhee each recorded their warmest December based on maximum temperatures dating back more than a century.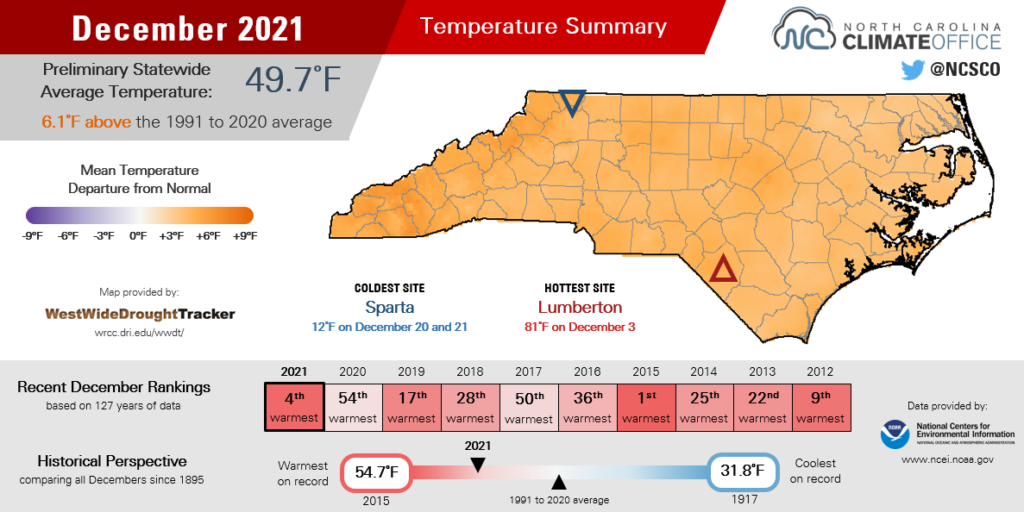 The nighttime lows were notably warm as well, especially late in the month. Raleigh and Greensboro each set new records for warm minimum temperatures on three consecutive days – December 29, 30, and 31 – and in each case, those daily lows were warmer than our typical high temperatures this time of year!
Amid that warm stretch over the holidays, afternoon highs in the 70s on December 25 made this a Christmas to remember: springtime feelings in the middle of December.
New Year's Eve was also particularly warm. The daily high temperatures of 74°F in Raleigh and 73°F in Charlotte were each new record highs for December 31.
Even our high-elevation locations got in on the warm weather. Grandfather Mountain hit 60 degrees on three separate days last month. That had only happened four other times in December in the past two decades.
A Dry Start, then Rain Returns
Dry weather early in the month was tempered by a few wet days late in December, but it was still a drier-than-normal month overall. NCEI reports a preliminary statewide average precipitation of 2.14 inches, or our 15th-driest December out of the past 127 years.
In terms of our ongoing drought, December brought a mix of good news and bad news. First, the bad: the western part of the state, which had avoided drought all year, saw some of the driest weather in the state last month. Boone received only 0.71 inches of precipitation all month, making it the driest December there in the past 42 years. As a result, Moderate Drought (D1) emerged across the northern and central Mountains.
Much of the Piedmont and Coastal Plain finished the month with below-normal precipitation, which added to the deficits we amassed during the fall. For example, with only 0.93 inches of rain last month – its 4th-driest December on record – and 3.21 inches since October 1, Statesville finished the year 7.3 inches below normal over the previous three months, receiving less than a third of its normal precipitation during that time.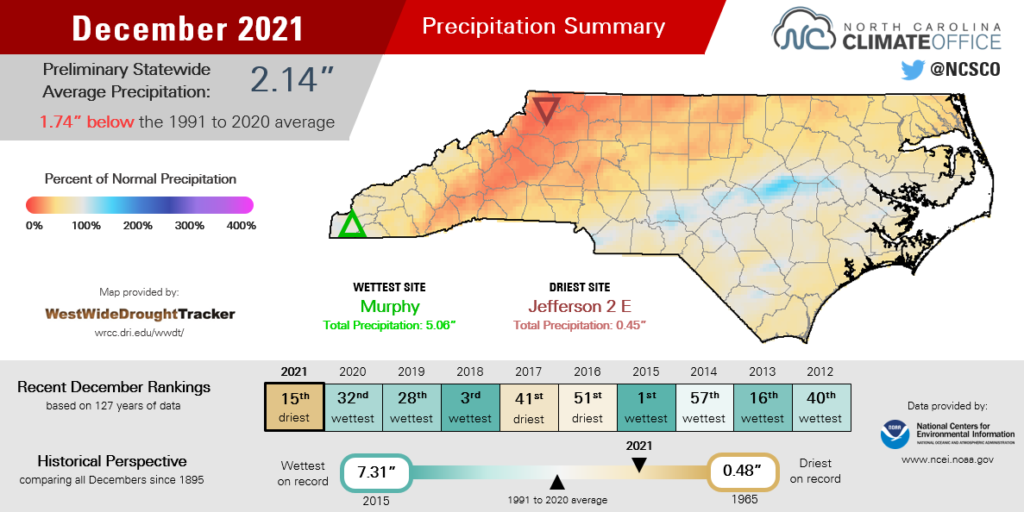 The encouraging news is that the return of more frequent rainfall late in the month has slowed our descent into drought. More than an inch of rain fell in some areas during events on December 19, 21, and 29.
While streamflows remained mostly below normal to end the month, a few gauges in the southern Mountains and along the Neuse River basin improved to near-normal. A statewide burn ban issued in late November was also lifted for all counties by mid-December.
The US Drought Monitor map continues to show Moderate and Severe Drought covering a combined 86.81% of the state, but this week's map should show some improvements following our soggy start to January.
We've even seen snow already this month after it was notably absent in December, including at the state's highest point. For only the third time since 1980, Mount Mitchell did not receive measurable snowfall during the month of December. The last such instance was in 2015 – a December we already noted for its record warmth across the state.
A Weather Pattern Update
The warm, dry start to the climatological winter wasn't particularly surprising given the La Niña pattern in place in the Pacific and its typical impacts on our weather. However, the extent and magnitude of the warmth in December in some ways defied expectations.
Nearly the entire continental United States, with the exception of parts of the northern Rockies and Pacific Northwest, had above-normal temperatures last month, so North Carolina certainly wasn't alone in our extreme warmth. It was the warmest December on record across the Southern Plains, Midwest, and Deep South, with average temperatures 10 to 15 degrees above normal.
During La Niña winters, the jet stream often pushes northward, putting the southern tier of the US into a warmer air mass. Last month, though, latitude was seemingly no limit, as the jet stream crossed the Northern Plains and Northeast, at times reaching remarkable strength.
That supercharged jet stream was part of a potent environmental pattern that produced a severe weather outbreak across the Midwest, including rare and damaging December tornadoes in Kentucky.
And on December 27, wind speeds topped 200 mph more than 6 miles off the ground over Minnesota and Wisconsin, which gave west-to-east flights some impressive tailwinds.
Now in early January, that pattern has finally broken, at least temporarily. The southern branch of the jet stream has returned to our south and a much cooler air mass moved in on Monday, dropping our temperatures from the 70s to the 20s in just 24 hours.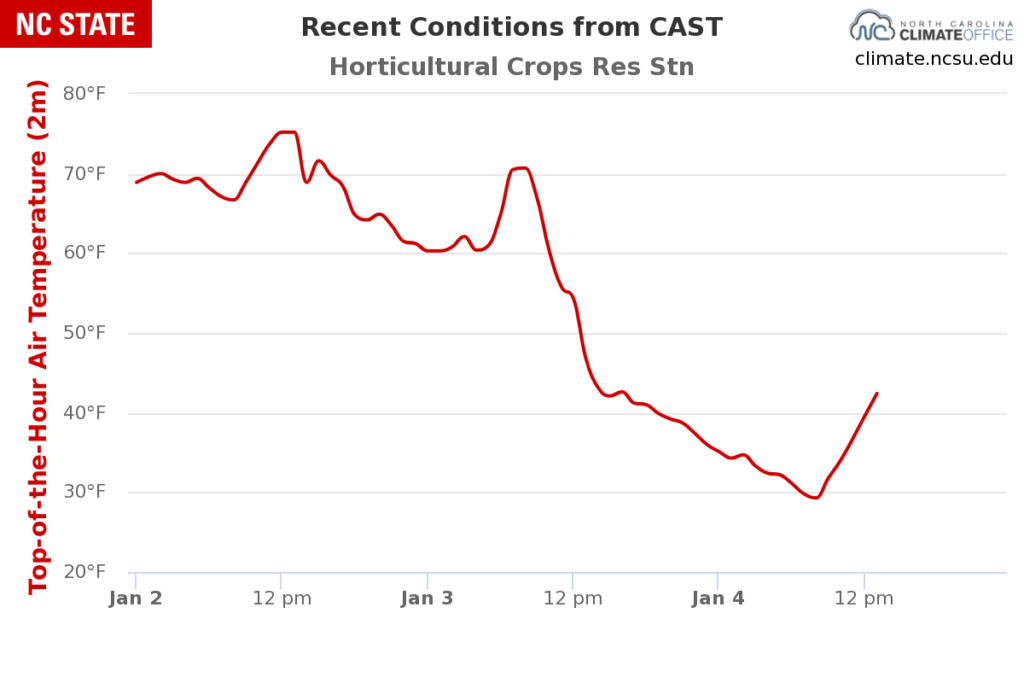 As that jet stream trough shifts eastward, it appears cooler weather may linger through the middle of January. Beyond that, forecasts show the eventual return of La Niña's signature pattern of warmer weather across the Southeast by late January.
Precipitation forecasts are mixed, though, and some models show a potentially wet pattern at the end of January, coinciding with an infusion of moisture from the Gulf of Mexico. That would more closely mirror last winter's prevailing pattern, which was decidedly non-La Niña like.
And what about our snow chances? While it's often tough to nail down wintry events more than a few days – let alone a few weeks – ahead of time, we are moving into the climatologically most common time of the year for snow. (A few years ago, we noted that major snow and ice storms happen more often in January than any other month.)
With that in mind, if the cold air sticks around long enough, and we keep the moisture coming from the south, we can't rule out more flakes flying before the end of January. If nothing else, we've got a better shot this month than in our abnormally warm December.