Steamy summer weather settled in during August, while Fred's heavy rain made for a wet month. That wrapped up a summer notable for its tropical rainfall and drought disappearance.
Hot Weather Blankets the State
The warmest weather of the year so far waited until August to arrive. The National Centers for Environmental Information (NCEI) reports a preliminary statewide average temperature of 77.8°F, or our 12th-warmest August since 1895.
While in June and July, we enjoyed more seasonable temperatures thanks to regular cold frontal passages, the large-scale pattern shifted in August, with the return of the Bermuda high pressure system off our east coast.
That familiar summertime foe tends to bring in hot, humid weather from the south, and its stubborn nature offers little relief aside from scattered evening showers and thunderstorms.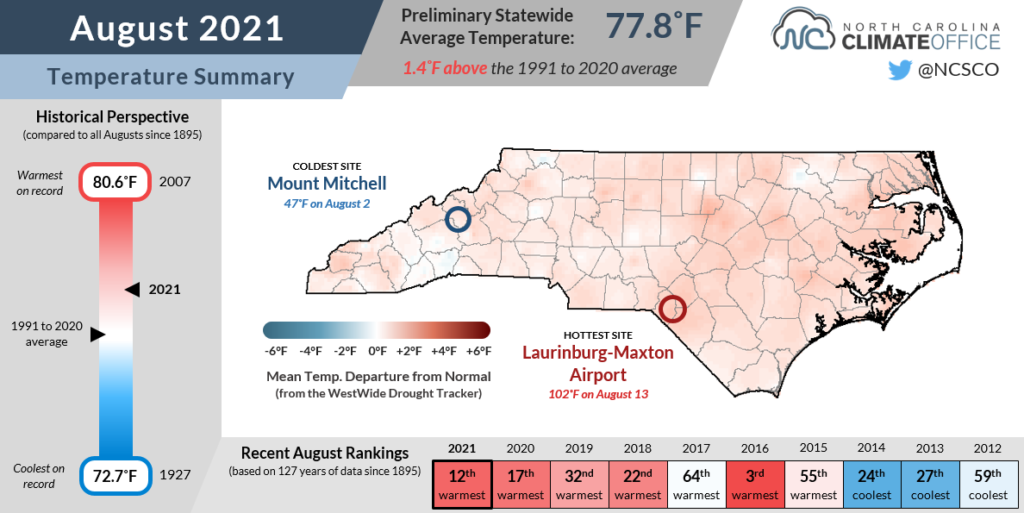 The mercury peaked on August 13 as hundred-degree heat hit North Carolina for the first time this year. Laurinburg was the warmest spot at 102°F, while Raleigh also reached 100°F, with the last such occurrence there coming on October 3, 2019.
With those hot days factored in, the monthly mean temperature in Raleigh of 80.8°F ranked as the 5th-warmest August there since 1887. Elizabeth City tied for its 6th-warmest August on record, and in Charlotte, it was the 13th-warmest August since 1879.
Mountain sites weren't quite as warm, in part because of a stretch of cloudy and rainy days mid-month, but still ranked as tied for the 21st-warmest August in Asheville and tied for the 31st-warmest in Cullowhee dating back more than a century.
Fred Fuels a Wet August
As in June and July, the tropics provided a major contribution to our August rainfall, this time from Tropical Storm Fred. Overall, NCEI reports a preliminary statewide average precipitation of 5.94 inches, or our 38th-wettest August in the past 127 years.
The month started with a week of wet weather at the coast thanks to several stalled frontal boundaries. In the first seven days of August, New Bern had at least an inch of rain on five of those days. Even with a dry final week of the month, it tied for New Bern's 9th-wettest August on record.
The middle of the month saw the remnants of Tropical Storm Fred cross the Mountains. As we previously documented, a wet weekend before Fred made its flooding impacts even worse, and the precipitation reports received since the storm show just how extreme that week was.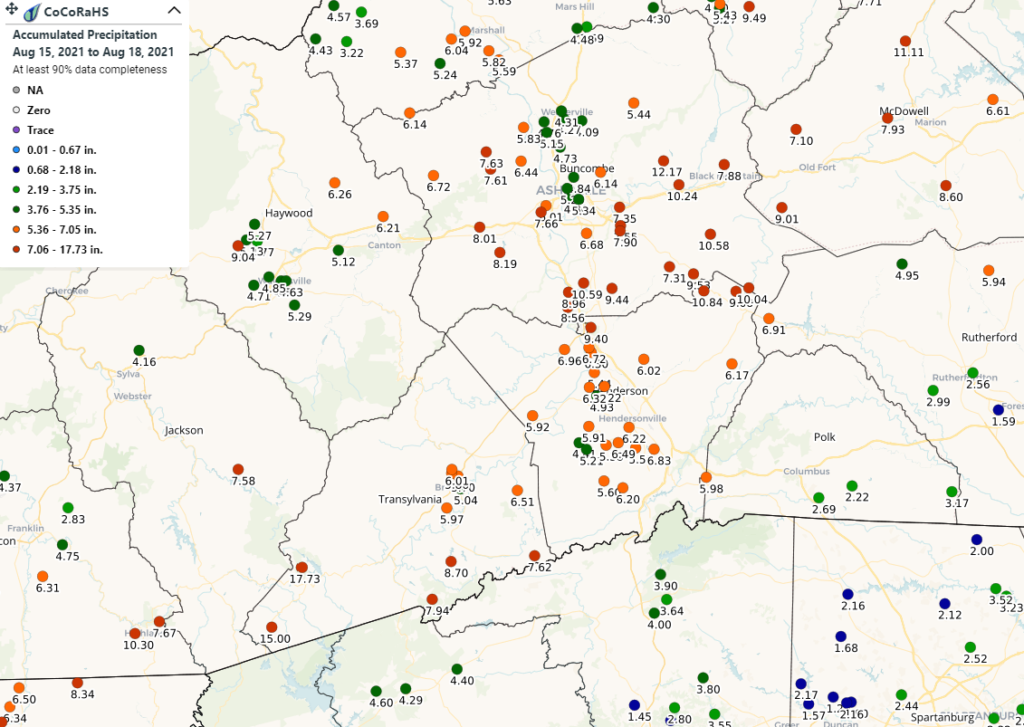 A pair of CoCoRaHS observers in western Transylvania County recorded four-day precipitation totals of 15.00 inches near Sapphire and 17.73 inches near Lake Toxaway. Even in Lake Toxaway — climatologically the wettest site in the state, averaging 96.34 inches of precipitation per year — that event total amounts to more than 18% of the normal annual precipitation, or more than two months' worth of rain falling in just four days!
Fred is blamed for six deaths in North Carolina, all in Haywood County. Damage assessment is ongoing, but is already estimated at more than $20 million to infrastructure alone in western North Carolina.
The month ended on a drier note, and it was particularly notable across the Piedmont and Sandhills. In the final two weeks of the month, Greensboro picked up only 0.26 inches of rain, while both Charlotte and Lumberton had just 0.62 inches in that stretch.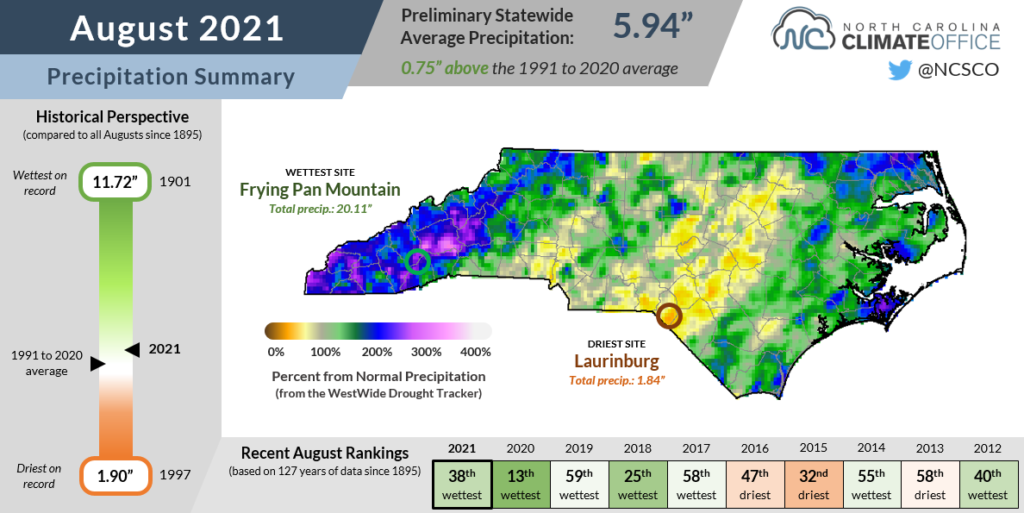 As a result, August was drier than normal at all three sites, including tied for the 50th driest in Charlotte out of the past 143 years, with a monthly deficit of 1.3 inches below normal.
Despite that short-term dryness in recent weeks, we're still drought-free statewide with only a small patch of Abnormally Dry (D0) conditions across the southwestern Piedmont. For that, we can thank an overall wet summer that brought rain — and plenty of it — when and where it was needed.
A Soggy Summer, in Review
In late May as drought was covering more than half the state, we worried that our dry spring pattern might persist through the summer, and we could only fear how severe the drought might get.
But early June instead brought heavy rains, especially across the drought-plagued Coastal Plain. After a pair of tropical storms in Claudette and Elsa moved through, all drought had disappeared by mid-July.
Even with those hot, dry August weeks factored in, the story of this summer may prove to be how wet we were. A big part of that was the active start to the hurricane season, sending three storms through North Carolina in a two-month span.

Statewide, this June through August ranks as our 23rd-wettest summer on record, with a preliminary average precipitation of 17.82 inches finishing 2.75 inches above the 1991-2020 average.
The wettest spots were across the southern and central Coastal Plain. Wilmington (31.18 inches) and New Bern (25.61 inches) each recorded their 5th-wettest summer on record.
The rainfall champion, though, was Greenville, which measured 33.21 inches of rain, easily tallying its wettest summer on record dating back to 1914. It was nearly four inches wetter than the previous record-holder from 1966 (28.22 inches), and more than double the seasonal normal of 16.24 inches.
With a big boost from Fred's rainfall, the southern Mountains also had a particularly wet season. In Asheville, it was the 6th-wettest summer since 1889, with nearly half of its 22.18 inches coming in August (10.95 inches).
The Abnormally Dry region in the western Piedmont was the driest part of the state this summer. Situated between areas affected by the three tropical storms, it was a slightly dry summer for sites like Hickory, which was 0.73 inches below normal and tied for its 34th-driest summer in the past 72 years.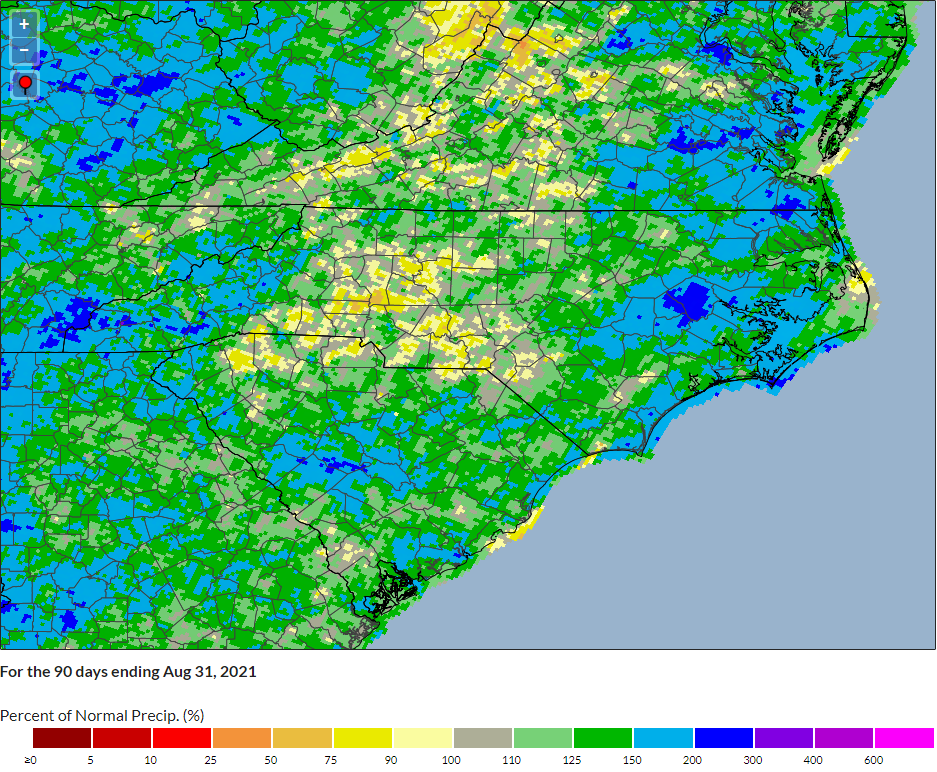 Our cooler temperatures in June and July were balanced by the hotter August weather, so the seasonal average temperature of 76.3°F ranked as our 34th-warmest summer on record.
Locally, increasing ocean heat content continues to make the Outer Banks the fastest-warming part of the state. Hatteras tied for its 5th-warmest summer on record, and eight of the top ten warmest summers there have happened since 2010.
We also felt the warmth in our overnight low temperatures, which is another trend associated with climate change. Statewide, it ranked as our 12th-warmest summer based on the average minimum temperatures. Many sites in the eastern half of the state recorded one of their top-ten warmest summers based on the low temperatures, including the 4th-warmest in Greenville.
All things considered, the summer never saw the prolonged drought we feared or the extended stretches of extreme heat we often dread. However, an active Atlantic still sent in damaging storms like Fred that made this summer an impactful season in parts of North Carolina.