At this time last month, drought had just emerged in North Carolina, and it was expected to expand and intensify even more by the end of May — which it did, encompassing more than half of the state.
But the turn of a page in the calendar also brought a turn of the spigot, especially across eastern North Carolina. After two weeks of heavy rainfall, drought is now on the retreat and folks across the Coastal Plain are dealing with the more familiar frustrations of saturated soils, streams, and flooding, which have been the norm over the past five years.
Rain Has Returned
The large-scale pattern in May saw high pressure parked over the Carolinas, which made for seasonable temperatures but also limited the formation of afternoon showers and acted as a roadblock for any approaching cold fronts.
Early June saw a pattern change as high pressure shifted off the mid-Atlantic coast. With the gates again open, weather systems wasted little time in moving back in. On June 2, a warm front from the south stalled out across the Coastal Plain, bringing a widespread 3 or more inches of rain.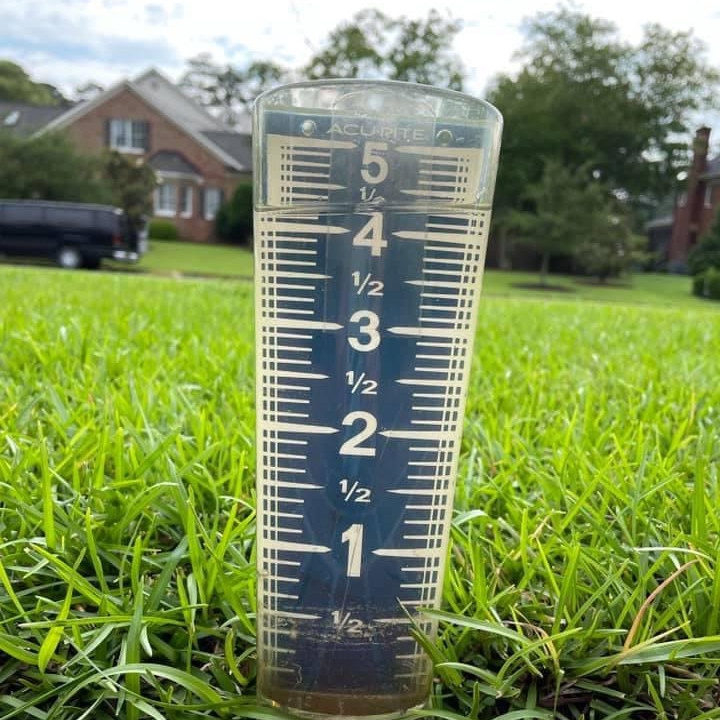 The next round of rainfall on June 9-11 was the result of a classic southern summertime air mass. High humidity and daytime heating helped showers and thunderstorms form each day, and in some cases, these storms were well-organized and long-lived, producing localized flooding where the rains were unrelenting.
After that heavy rainfall, parts of eastern North Carolina are off to a record wet start to June. Through the first 15 days of the month, Greenville has recorded 10.40 inches of rain. That's on pace for its wettest June out of 89 years with observations, and even if they don't see another drop of rain this month, it would still rank as the 5th-wettest June on record there.
Other sites on record wet pace this month include Ocracoke (9.26 inches), Wilmington (8.84 inches), New Bern (8.06 inches), and Elizabeth City (6.36 inches).
At the end of May, each of those sites had three-month precipitation deficits of 3 inches or more. Currently, those sites are all above normal over the past three months, with Wilmington going from a 7.2-inch deficit and Severe Drought (D2) conditions to being clear of any drought or abnormally dry conditions on this week's US Drought Monitor map.

A Rapid Recovery
That rain has helped reservoirs reverse a downward trend that started late in the spring. Falls Lake, located in the upper Neuse River basin and one of the major water supplies for Raleigh, had been slightly below its guide curve at the beginning of June, but it is now back above that target level.
By late May, the NC Forest Service had issued a burn ban for 26 counties, but that was lifted after the first round of rain in June. Fire danger is low at the moment, and North Carolina is set to shift some of its wildfire response crews to the western US as their summer fire season ramps up.
Farmers have also seen the benefits of the rainfall. With corn entering the critical silking period this month, the moisture is rejuvenating those crops that were wilting late last month.
The impact of the June rainfall on soil moisture is obvious in the comparison map below, with some extremely dry spots now near-normal or even on the wet side.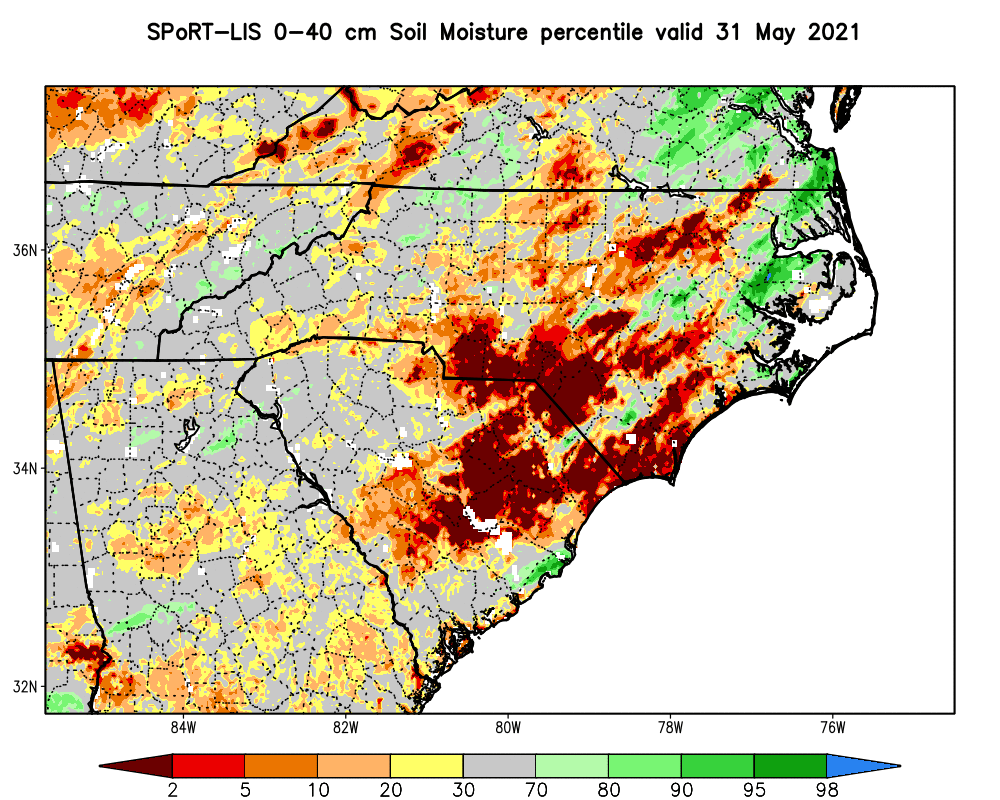 Lingering Dry Spots
While much of eastern North Carolina has seen substantial recovery, some spots have missed out on the heaviest rainfall and remain classified in Moderate Drought (D1).
The far southern Coastal Plain, including parts of Bladen, Brunswick, and Columbus counties, continue to see streamflows running below normal and tallied less than a half-inch of rain over the past week, compared to nearly 4 inches in the Wilmington area.
The Sandhills, which was one of the first areas to dry out in the spring, are still below their normal precipitation over the past three months, so drought persists there as well.
And while it's not yet classified as Abnormally Dry (D0), parts of the southwestern Piedmont and southern Foothills have seen limited rainfall so far in June, and local reports indicate that soils, streams, and crops have begun to dry out.
Is the Drought Over?
Given the ample precipitation so far this month, it's tempting to think we're past the peak of this drought and on the way into another wet summer and fall like last year. However, there are a few reasons to believe that drought could be with us for a bit longer, at least in some areas.
First, the nature of our summertime precipitation — generally falling in scattered showers and storms — tends to mean that some spots miss out and dry out. Last summer, parts of the northern Coastal Plain were Abnormally Dry in late July until Hurricane Isaias moved through.
That dryness emerged during the climatological hottest part of the year, which is still about a month away. Even with regular rainfall, moisture can evaporate quickly on 90-degree afternoons, so the evidence of our wet start to June may be long gone by mid-July.
While the recent rains have zeroed in on drought-affected parts of eastern North Carolina, if that pattern persists, it creates concerns that we could see the driest areas shift westward. That happened in 2019, when the coastal drought ended after Hurricane Dorian in September, but the western half of the state saw drought conditions emerge shortly thereafter.
As in many summers, one major wildcard is how tropical activity might affect us. At the moment, a tropical system is developing in the Gulf of Mexico, perhaps set to become Tropical Storm Claudette, and the 7-day precipitation forecast shows some rain from that system reaching western North Carolina by early next week.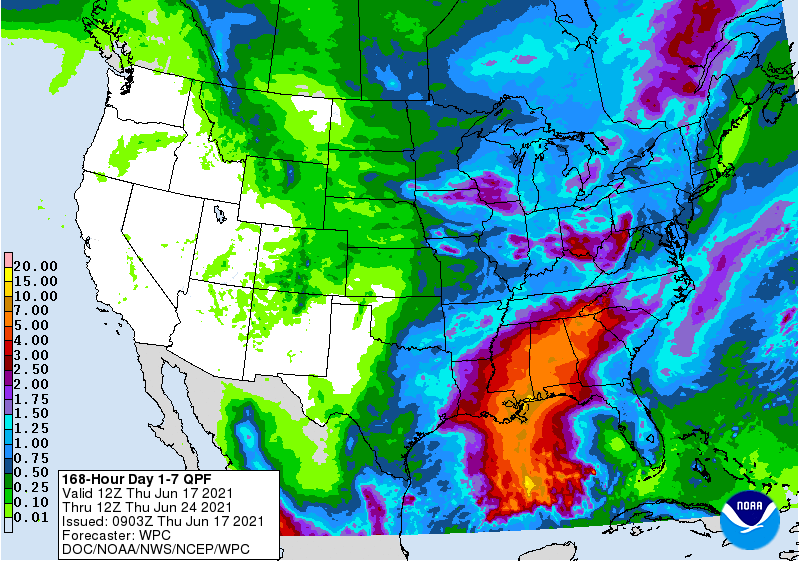 What Can I Do?
The recent rain and recovery has lessened fears of widespread water shortages and crop losses like we saw during the historic 2007 drought. However, it's still never a bad idea to consider some of the water- and energy-saving suggestions we introduced in our blog post last month. Those include using captured rainwater to irrigate your garden or considering how and where vegetation is planted, both to manage watering needs and make your home more fire-resistant.
As our office and the entire NC Drought Management Advisory Council continue to monitor changing conditions each week, local data and condition reports are invaluable tools to help us understand how much rain has (or has not) fallen, and the impacts drought may be having.
The CoCoRaHS program offers volunteer opportunities both to measure and report rainfall in your backyard, and to submit weekly Condition Monitoring reports describing your local landscape, whether it's cracked ground, growth in your garden, or the response to rainfall.
For example, a report this week from Polk County helped alert us to the extent of the emerging dryness in that part of the state:
Soil moisture content has been dropping but plants are not showing stress because of cool temperatures and general cloud cover for most of the day. We have clouds but little rain. Agricultural crops have required supplemental irrigation to prosper.
Whether you're a student home for the summer or a citizen with a watchful eye on the weather, consider joining CoCoRaHS and filing Condition Monitoring reports to help us track any drought development.
Rain so far in June has fortunately been more than just a drop in the bucket, but we still have a full summer ahead, whether rain or shine — or both in the same day!