Over the next two weeks, we'll close out this year and decade with a look back at how the 2010s played out weather-wise in North Carolina.
From statewide snowstorms to memorable hurricanes to drought progression and its impacts, we will highlight the big events and weather storylines that wove through our year-to-year weather and climate.
Each weekday between December 9 and 20, we will highlight a different year in this post and on our Twitter account, @NCSCO. Give us a follow and join us as we journey through the decade!
Year
Average Mean Temp.
Dep. from Normal (1981 to 2010)
Ranking (based on data since 1895)
Avg. Precip.
Dep. from Normal (1981 to 2010)
Ranking (based on data since 1895)
2010
59.0°F
+0.0°F
45th warmest
46.27 in.
-2.42 in.
37th driest
2011
60.4°F
+1.4°F
10th warmest
45.99 in.
-2.70 in.
34th driest
2012
60.7°F
+1.4°F
5th warmest
46.62 in.
-2.07 in.
38th driest
2013
58.6°F
-0.4°F
54th coolest
56.45 in.
+7.76 in.
16th wettest
2014
58.4°F
-0.6°F
43rd coolest
50.08 in.
+1.39 in.
54th wettest
2015
60.5°F
+1.5°F
7th warmest
58.32 in.
+9.63 in.
9th wettest
2016
60.8°F
+1.8°F
3rd warmest
50.61 in.
+1.92 in.
48th wettest
2017
61.0°F
+2.0°F
2nd warmest
47.96 in.
-0.73 in.
52nd driest
2018
60.4°F
+1.4°F
10th warmest
68.36 in.
+19.67 in.
1st wettest
2019
(Jan. to Nov.)
62.6°F
+2.5°F
2nd warmest
46.29 in.
+0.64 in.
53rd wettest
Yearly Statewide Rankings (from NCEI's Climate at a Glance)
2010: Dreaming of a White Christmas… and a Record Hot Summer
Extreme enthusiasts found a lot to love in 2010. We began the decade with a chilly winter that included statewide snow events in January, February, and March. However, the weather quickly warmed up after that.
Our 17th-warmest spring was followed by the state's warmest summer on record. Temperatures hit the hundreds during a pair of heat waves in July, and parts of the Piedmont endured nearly 90 days that year with temperatures above 90°F.
In June, the NC State University COOP site in Raleigh recorded 20 consecutive days with temperatures of 90°F or higher. This made for the third-longest streak in its 128-year-long record. Even the slightly cooler Mountains felt the heat — the COOP site southeast of Boone set a station record (dating back to 1980) with 8 consecutive days above 85°F in July 2010.
By the following winter, though, we were back on the cool side, and December ended with a rare and memorable White Christmas — the first for most areas since the 1980s. Rocky Mount and Tarboro received a foot of snow, while six inches fell in Kinston and Greenville on Christmas Day. Wilmington and the Outer Banks even picked up a dusting from the storm.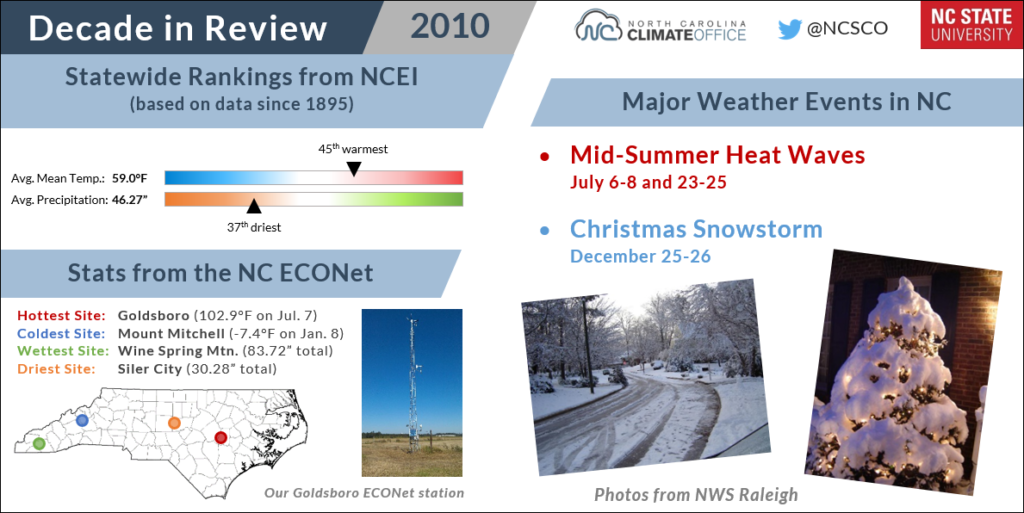 2011: Extreme Events, from Tornadoes to Fires to a Hurricane
Nearly every imaginable environmental hazard hit North Carolina in 2011, beginning with a particularly brutal winter — our 7th-coldest dating back to 1895 — that included a mid-January snow and ice storm.
Spring was notable for the April 16 tornado outbreak in which a state-record 30 tornadoes touched down between the western Piedmont and the Outer Banks. Among them were long-lived EF3-strength tornadoes that tore through Sanford, Raleigh, and Fayetteville. The event was responsible for 24 fatalities and 304 injuries.
By the early summer, Extreme Drought at the coast led to the development of two large wildfires on the Alligator River refuge and Holly Shelter Game Land, each of which burned tens of thousands of acres and sent smoke across parts of the state.
In late August, those fire-affected areas were doused by Hurricane Irene, which made landfall near Cape Lookout as a Category-1. Flooding and high winds from the storm destroyed more than 1,100 homes, and the storm surge breached parts of the Outer Banks.
The fall remained wet across the western Piedmont and at the Outer Banks. Greensboro had its 3rd-wettest fall on record in 2011, while at Cape Hatteras, it was the 4th-wettest fall with 27.23 inches of rain.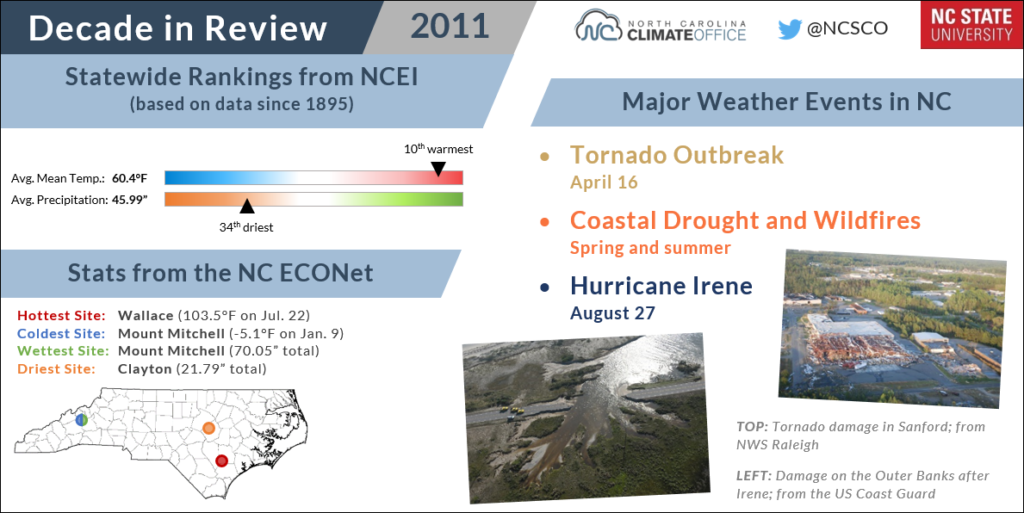 2012: Drought Persists Among Record Spring Warmth
As a contrast to the active year preceding it, 2012 was relatively calm across the state, although it still brought some of our typical weather and climate challenges, especially for agriculture.
A warm, dry winter helped drought redevelop at the coast. For farmers, planting began amid the state's warmest spring on record that included our 2nd-warmest March since 1895. That March included 21 days with highs at or above 70°F in Raleigh and Greenville — the most of any March at both sites — and 8 days reaching at least 80°F.
Despite the early-season warmth, a mid-April freeze event in the western part of the state damaged at least 40% of the apple, blueberry, and blackberry crops.
The remnants of Tropical Storm Beryl helped alleviate the drought in late May, but the rest of the year remained relatively dry — that calendar year wound up being our driest of the decade — and finished with more drought development, this time in the Piedmont.
November in 2012 was our driest since 1931, and the state averaged less than an inch of precipitation that month. It was part of an overall dry fall that missed out on any rain from tropical storms at the peak of the Atlantic hurricane season.
In Charlotte, 2012 included the 39th-driest fall on record and the driest fall in the last decade. In Statesville, it was the 9th-driest fall dating back to 1954.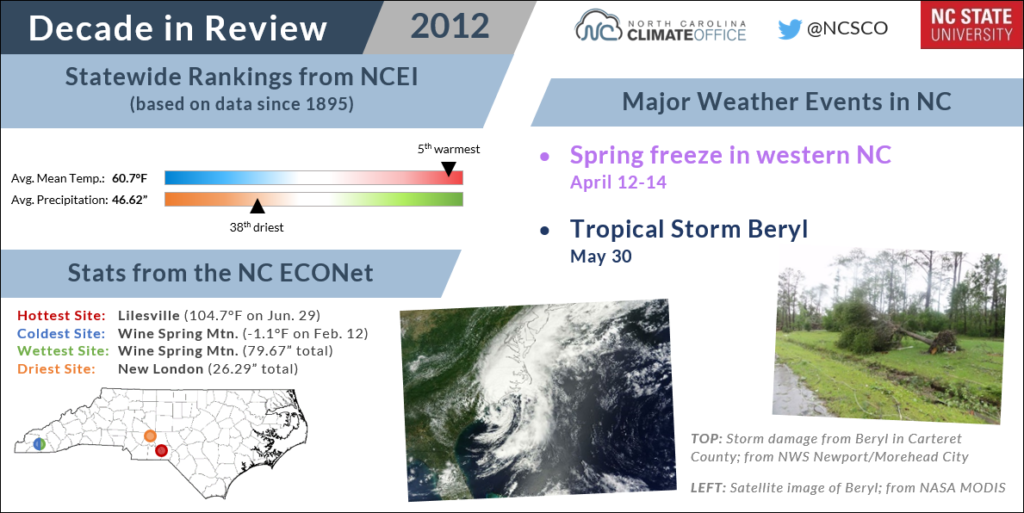 2013: Rain and Floods Wipe Out Drought
By the end of 2012, drought had persisted in one part of the state or another for nearly three years, and we were only four years removed from the exceptional 2007-08 drought that was widely considered the worst on record.
However, 2013 was the year that literally washed away any lingering drought concerns. It began with heavy rain in the Mountains in mid-January that caused landslides in the Great Smoky Mountains.
By the summer, more moisture was on the way. In early June, the remnants of Tropical Storm Andrea crossed the Coastal Plain and brought more than five inches of rain.
And it wasn't just Andrea. Several storm systems hit the state during our 2nd-wettest June on record. Locally, it was the wettest in Concord with 14.48 inches of rain and in Wilson with 13.28 inches.
That wet pattern continued into July, and there were more floods in the western part of the state over Independence Day. Asheville finished the month with 13.69 inches of rain, and Boone had 19.70 inches. It was the wettest July on record at both sites, and at other sites such as Highlands and Jefferson, the wettest since the record-setting floods of July 1916.
Our soggy June and July contributed to our 3rd-wettest summer based on statewide records since 1895, and even though fall was on the drier side, 2013 still became the wettest year on record for a number of mountain stations.
While 2018 eventually took that title at some sites, 2013 remains the high water mark for annual precipitation in places like Brevard (112.14 inches) and Waynesville (69.37 inches).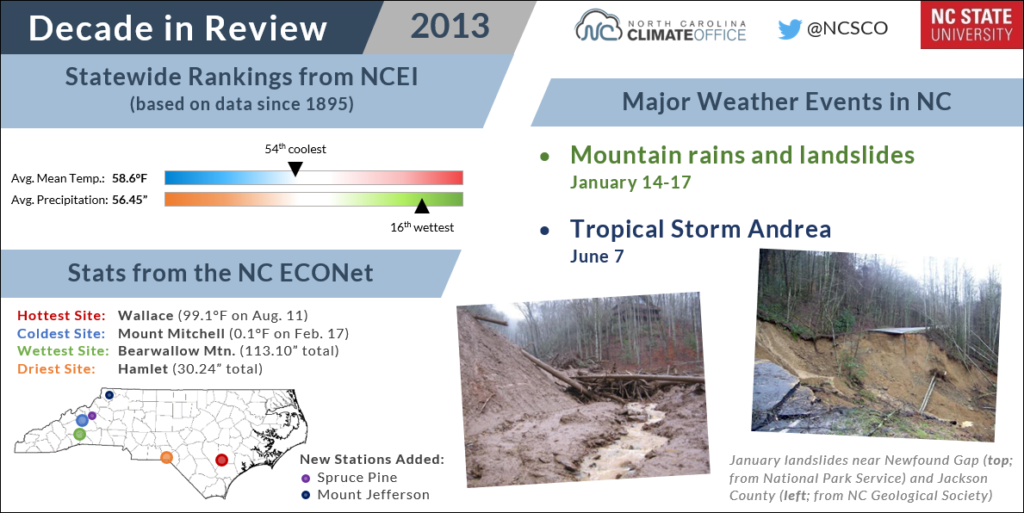 2014: Winter, Spring, and Summer Storms
The first half of 2014 was packed with stormy weather in North Carolina. An early-January cold air outbreak was followed by a winter storm later in the month, plus another in mid-February. In Raleigh, 4 inches of snow plus a freezing rain glaze from that February storm were enough to create a traffic snarl on icy roads.
Accumulations were greater at the coast, and it was a rare white winter there, with seasonal snowfall totals of 10.0 inches in New Bern, 9.5 inches in Elizabeth City, 7.2 inches at Ocracoke, and 5.7 inches at Cape Hatteras.
Snowstorms gave way to severe weather in the spring. On April 25, 11 tornadoes touched down in northeastern North Carolina. The strongest was an EF-3 near Beaufort that damaged 150 to 200 homes along its 21-mile path.
The Independence Day weekend began with fireworks at the coast in the form of Hurricane Arthur, which made landfall as a Category-2 on July 4 — the earliest in the year any hurricane has directly hit North Carolina.
Arthur brought wind gusts as high as 101 mph at Cape Lookout and up to 4.3 inches of rain in Kinston. Thanks in part to that tropical moisture, Kinston had its 4th-wettest July since 1966 and its 2nd-wettest summer after totalling 27.62 inches of rainfall.
After an eventful beginning, Arthur ushered in a calmer end to 2014. The summer finished with a cool August, and thanks to our cold winter, the year overall was on the cool side of normal — the latest time that has happened as of 2019.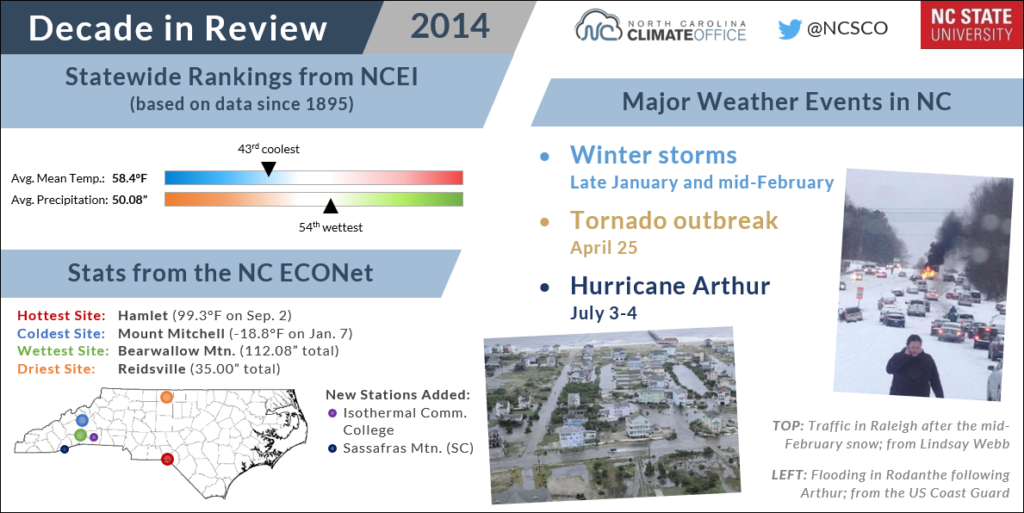 2015: Tropical Moisture Soaks the Fall
An otherwise mild winter in 2015 wrapped up with our 10th-coolest February on record that included a statewide snowstorm toward the end of the month.
In mid-May, the coast saw rainfall from Tropical Storm Ana, but drier conditions farther inland allowed drought to develop beginning in the western Piedmont. Drought's eastward spread accelerated during a hot, dry summer that was the 3rd-warmest on record in Charlotte with 12 July days hitting 95°F or higher.
Those drought concerns vanished by early October as we abruptly switched to a wetter pattern. Beginning in late September, a low-pressure system off the coast provided an ample supply of Atlantic moisture and fueled more than a week of rain across North Carolina.
Fayetteville and Greensboro received precipitation for 12 and 11 consecutive days, respectively, to set new records at those sites. Over a one-week period, Longwood in Brunswick County totalled 18.23 inches. A number of other coastal towns and beaches experienced flooding during the storm.
October ended as the wettest on record for the state and was followed by our 3rd-wettest November and 2nd-wettest December. It was also our warmest December — another indication of the feed of warm, moist air from the tropics that defined our fall in 2015.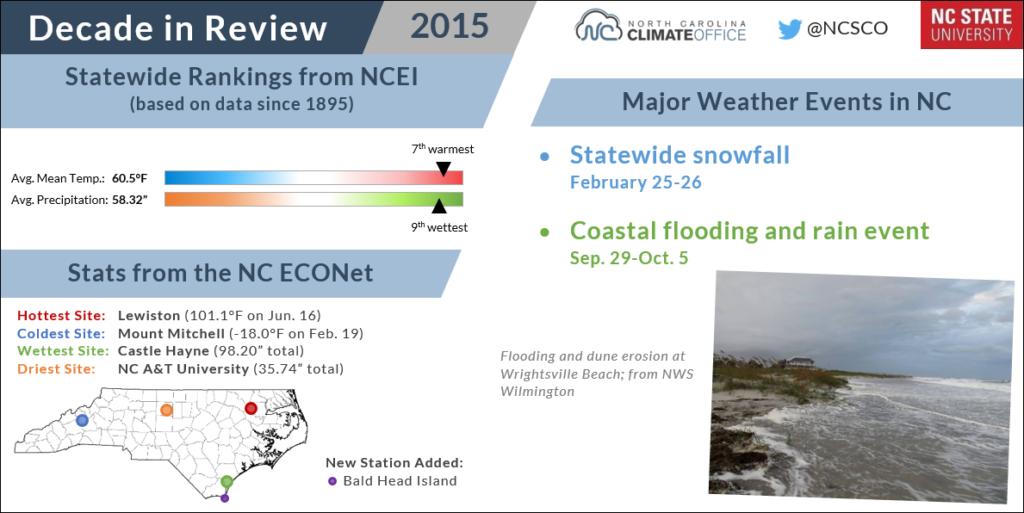 2016: The Mountains Burn While Matthew Floods the Coast
Perhaps best described as a year of contrasts, 2016 saw weather extremes happening simultaneously on either side of the state.
The wet pattern that began the previous fall reversed by the spring, and drought was back in the Mountains by late May. Asheville recorded its 4th-driest spring out of 127 years with observations, and it was the 2nd-driest for Waynesville since 1895.
Our 4th-warmest summer on record accelerated the drying conditions. A persistent ridge in the jet stream over the Southeast US caused unrelenting heat — including the warmest August on record at both Greenville and Hatteras — and increasing rainfall deficits in the Mountains.
In September and October combined, Asheville received barely an inch of rain, and large wildfires were beginning to spread. The Tellico fire in Swain County burned more than 14,000 acres, and the Party Rock fire near Lake Lure forced an evacuation of the town of Chimney Rock.
Meanwhile, eastern North Carolina was dealing with the opposite problem: flooding after a series of slow-moving rain showers in late September and a foot of rain from Hurricane Matthew over the already-saturated ground and rivers.
In the wake of those storms, the Neuse River reached record levels unbroken even by Florence two years later. Flooding was widespread along the I-95 corridor from Lumberton to Fayetteville to Dunn.
Matthew's estimated $4.8 billion in damage to North Carolina make it our second-costliest storm after only Florence, and its 25 fatalities are the sixth-most in the state's recorded history.
With part of the state on fire and another part under water, 2016 represented the worst of both ends of our climate.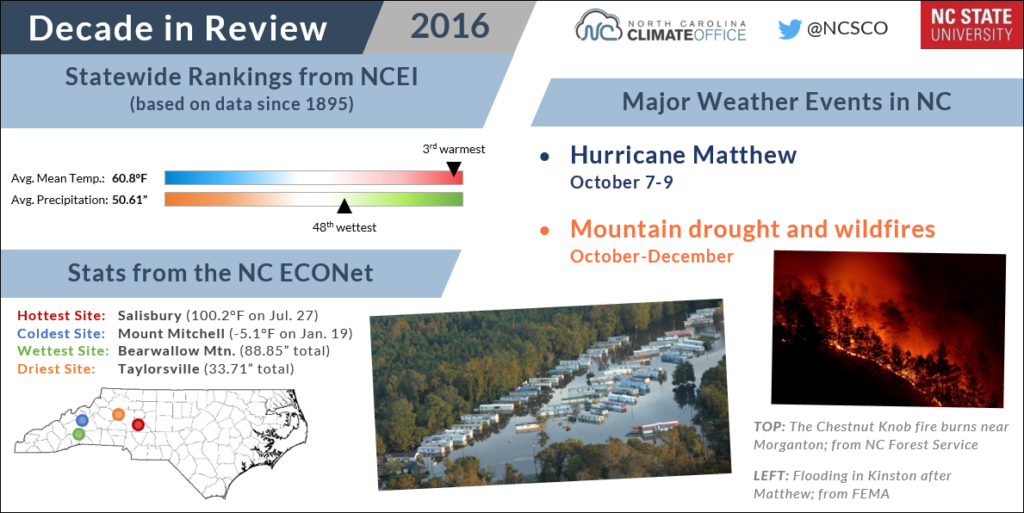 2017: Seasonal Variability and a Solar Show
Fires faded, drought dissipated, and flooding subsided in early 2017, which overall was a year of back-and-forth weather.
The winter started cool and finished warm, but an early-April freeze damaged about 43% of winter wheat crops. However, it still ended up as our warmest April on record as highs reached 90°F for a dozen or more days across the Piedmont by the end of the month.
The spring also saw our dry pattern change to a wet one, with our 2nd-wettest April and 7th-wettest May. Locally, Raleigh recorded its wettest April with 8.86 inches of rain, much of which came during 29 consecutive hours with measurable precipitation reported on the 24th and 25th.
Along with the rain came a severe weather event in the western Piedmont on May 24 that saw three EF2 tornadoes hit Iredell, Davie, Yadkin, and Stokes counties.
The summer saw overall unexceptional temperatures, but the far western part of the state did see an exceptional show on August 21 with the first total solar eclipse visible in North Carolina since 1970.
The year ended with more near-normal temperatures in November and December, but with few cool months all year, 2017 still finished as our 2nd-warmest on record.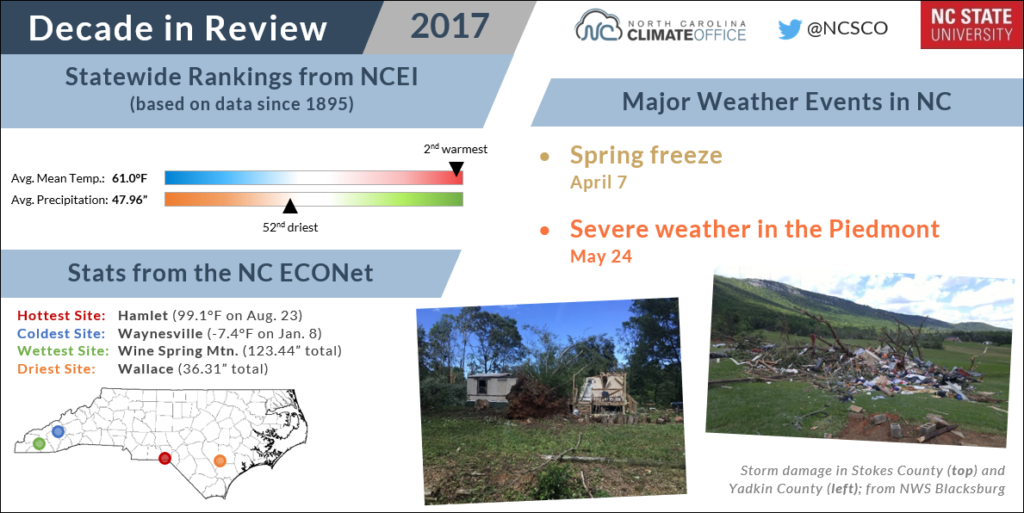 2018: Wet and Stormy, from the Winter to the Tropics
The end of 2017 brought an abrupt change to a colder pattern that persisted through mid-January 2018. Much of the state spent a full week below freezing beginning at the start of the year, including 204 consecutive hours (or 8.5 days) at 32°F or lower in Winston-Salem and 201 in Raleigh.
During that cold streak, the coast and Sandhills had a snow event, and another followed in mid-January that brought up to a foot of snow in Durham and 10 inches in Manteo.
As the year went on, snow gave way to rain, and plenty of it! By the spring, we were firmly entrenched in an active weather pattern with moisture-rich storm systems regularly moving across the state.
The Mountains in particular saw some extreme rainfall totals, including 20.77 inches at Mount Mitchell in May — the wettest on record there — and 13.48 inches in Boone during its 2nd-wettest May since 1980.
But the heaviest rain was yet to come. In early September, a combination of atmospheric ingredients converged on the Carolinas to let Hurricane Florence stall at the coast with little large-scale steering flow to move it inland.
For five days, Florence crept westward and dropped relentless rain over the southern and eastern part of the state. Storm-total precipitation approached three feet in some spots, easily topping the highest reports from our previous wettest storms such as Floyd and Matthew.
With damage estimated at more than $17 billion — three-and-a-half times greater than Matthew — Florence became our state's costliest tropical storm and one of the most catastrophic, as much of the southern Coastal Plain spent days or weeks under record-breaking flooding.
We weren't finished with hurricanes after Florence, either. The remnants of Hurricane Michael crossed the state in mid-October, and the one-time Category 5 storm still packed a punch and caused widespread wind damage in the Piedmont.
As the year ended, our precipitation briefly switched back to a frozen form. An early December snowstorm dropped more than a foot on the northwestern Piedmont, including 13 inches in Mount Airy and 12.8 inches in Greensboro, with both locations exceeding their annual average snowfall in a single storm.
Perhaps it was a fitting end to our state's wettest year on record in which we also saw a new single-station record for annual precipitation — 139.94 inches at Mount Mitchell — and the first year with 100 inches of rain or more in Wilmington.
Certainly the rain from Florence helped add to our totals, but even without that storm, it would have been a year to remember for the heavy rain (and snow) in all four seasons.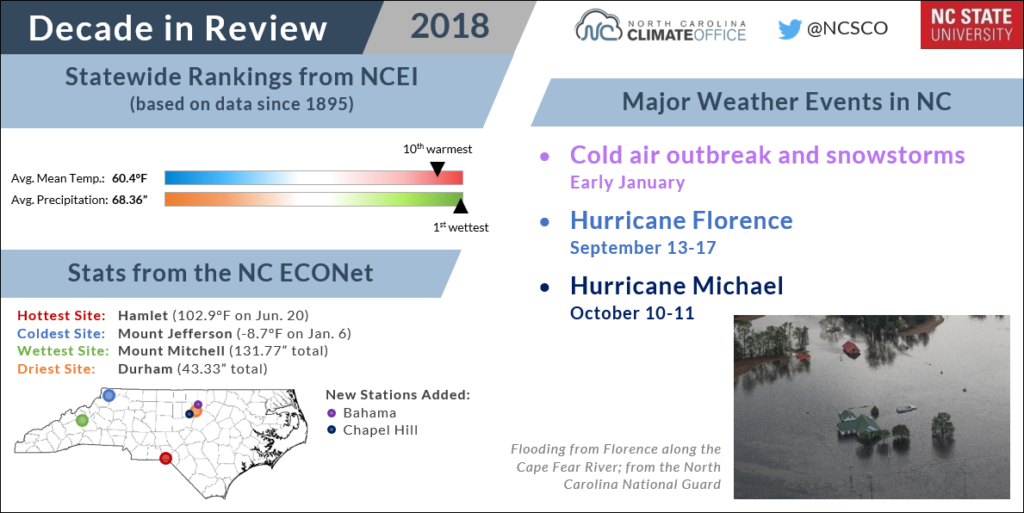 2019: Drought Returns Amid Dorian's Drenching
This year began with a respite from the rainfall that had soaked the eastern part of the state throughout 2018. January and February were wetter than normal statewide, but the southern coast was drier than normal both months.
That was the beginning of a drying trend that stretched into the spring and led to drought development as farmers struggled to meet the moisture demands of their crops. Wilmington received just 0.63 inches of rain during its 3rd-driest May on record.
The summer was a warm one overall — statewide, the 17th-warmest since 1895 — but the heat really cranked up in the early fall. In September, a persistent upper-level ridge over the Southeast US kept our temperatures elevated. The 25 days at or above 90°F in Shelby and 23 such days in Laurinburg set monthly records at both sites.
The peak heat came in early October — the latest occurrence of the hottest day of the year at many stations, including 100°F readings in both Raleigh and Roanoke Rapids.
Along with the warm temperatures, parts of the southern and western Piedmont went more than a month without seeing measurable rainfall, which fueled a "flash drought" that saw lakes and streams dry up, soil moisture evaporate, and crops stop growing in the key months before harvest.
As the western half of the state coped with drought impacts, the coast was bailing out after Hurricane Dorian, which made landfall near Cape Hatteras in early September. Unlike its predecessors Matthew and Florence, Dorian didn't cause widespread inland flooding, but the storm surge did inundate Ocracoke Island and other parts of the Outer Banks.
By mid-October, an atmospheric pattern change saw more regular storm systems bringing rain across western North Carolina, and by Thanksgiving, our brief but severe drought was over.
In some ways, you might consider 2019 to be "2016-lite" for its contrasts across the state. Our major weather events this fall were not quite as extreme as we saw three years ago, with a more damaging hurricane (Matthew) in the east and a more extreme drought in the west.
In other ways, such as our record-breaking October heat, 2019 has stood on its own. When the final statistics are calculated early next year, it will rank among our warmest years ever observed. Through the end of November, 2019 ranked as the 2nd-warmest on record, just 0.1°F cooler than 2017 and 0.3°F warmer than 1990, which is currently the annual record-holder.
Whether or not it breaks that record, 2019 will still be remembered as a warm year that began with relief from rain and soon turned into wishing it would return.