The beginning of November brought a change to a cooler weather pattern and regular rainfall that helped drought conditions dissipate. We also wrapped up the 2019 Atlantic hurricane season, notable for Hurricane Dorian that hit North Carolina.
Falling Temperatures, Fall-Like Weather
After several months of warm weather this fall, November reversed course and left us cooler than normal. The preliminary statewide average temperature of 46.7°F ranks as our 18th-coolest November dating back to 1895.
The month began with a pattern change that helped us leave the heat behind. A cold front moving through on Halloween replaced highs in the 80s with temperatures in the 50s, and our highs largely stayed there — generally 3 to 6 degrees below normal — for much of November.
Our minimum and mean temperatures weren't quite as cool, but they were still below normal for the month on average. A number of stations had one of their top-ten coolest Novembers based on the average mean temperatures, including Statesville (6th-coolest in 106 years) and Mount Airy (6th-coolest out of 117 years).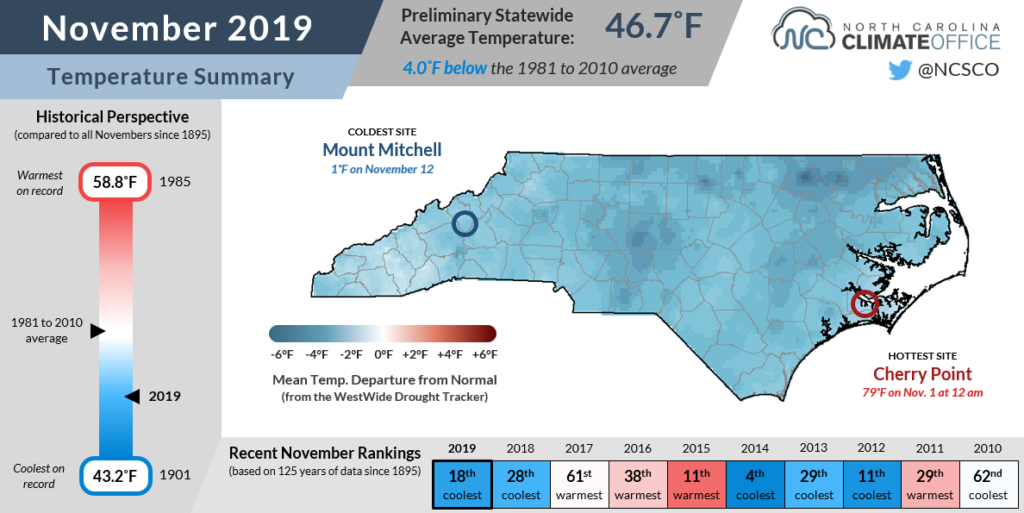 With high pressure consistently to our north or northwest, we saw several cold air damming events in which cooler air funneled down east of the Appalachians and kept much of the state socked in with clouds and drizzle.
One of those events produced a bit of an unusual weather occurrence. On November 27, the warmest spot in the state wasn't at the coast or in the Sandhills, but in Asheville, where afternoon temperatures rose to 76°F at the airport.
While the day started with cloud cover, rain, and temperatures around 50°F, a mid-day wind shift in the Mountains brought in much drier air from the west.
That dropped Asheville's relative humidity from 93% to 16% in just six hours, scoured away the clouds in the valley, and helped temperatures jump into the 70s while the western Piedmont was stuck with another dreary afternoon in the 50s.
It's not often that the Mountains rise above the rest of the state in terms of temperatures, but during cold air damming events that are most common in the fall and winter, we can see some wacky and uniquely North Carolina weather.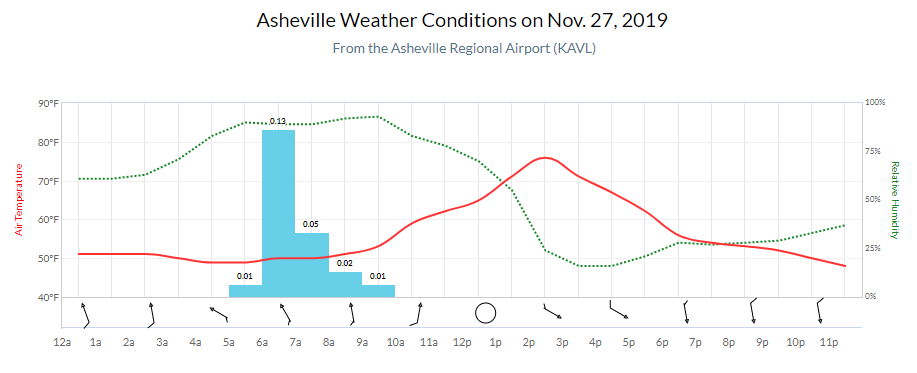 Near-Normal Precipitation and Drought Recovery
Regular cold frontal passages and some drizzly days in between put our preliminary statewide average precipitation of 3.48 inches right on the 30-year average. That ranked as our 47th-wettest November out of the past 125 years.
That relatively high ranking for a near-normal month is a statistical quirk of having more dry Novembers than wet ones historically. However, our wet Novembers tend to be very wet, which skews the average monthly rainfall upward. Last November, for example, was our 7th-wettest and had almost double the precipitation as this year.
Although the statewide precipitation averaged out to around the 1981 to 2010 normal, there were some differences across the state, especially in the Mountains.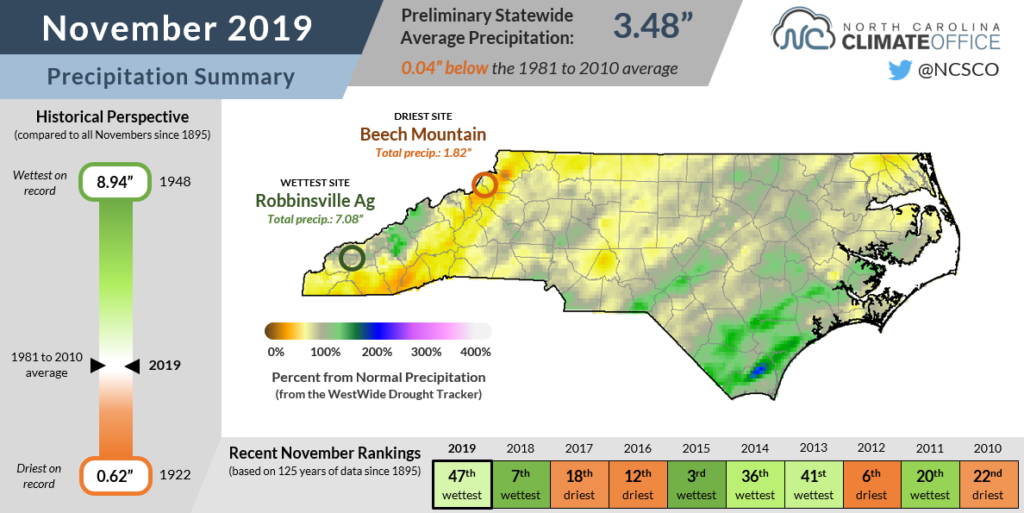 Those cold fronts moving in from the west produced heavy rain on the western slopes along the Tennessee border. Monthly totals in these areas included 7.08 inches in Robbinsville in Graham County.
Downwind of those higher elevations in the so-called rain shadow, the lingering showers had limited moisture and produced less rainfall, so parts of the Mountains finished with slightly below-normal rainfall for the month.
Elsewhere, Piedmont locations were generally right on their normal November precipitation, but the cooler weather and diminishing impacts after the growing season ended led to the removal of Moderate Drought conditions.
A few Abnormally Dry areas remain where three-month precipitation deficits remain around 2 to 4 inches, but with other indicators such as groundwater and streamflow levels improving after last weekend's rainfall, those spots may also be returning to normal conditions on the US Drought Monitor soon.

Putting a Cap on Hurricane Season
The end of November also brought the end of the traditional Atlantic hurricane season. While it ended with a whisper and only one named storm — Tropical Storm Sebastien — forming in the last month, the season overall was aroar with activity.
The 18 named storms this year is tied for the sixth-most in any season since records began in 1851. Of those 18, though, just six reached hurricane strength — the fewest hurricanes in a season since 2015.
NOAA's pre-season forecast called for 9 to 15 named storms. That broad range reflected the uncertainty in environmental factors such as El Niño and its summertime evolution.
As it turned out, El Niño faded by late July, decreasing wind shear across the tropical Atlantic. That brought on a quick sequence of storm formation, with 10 storms forming between mid-August and late September.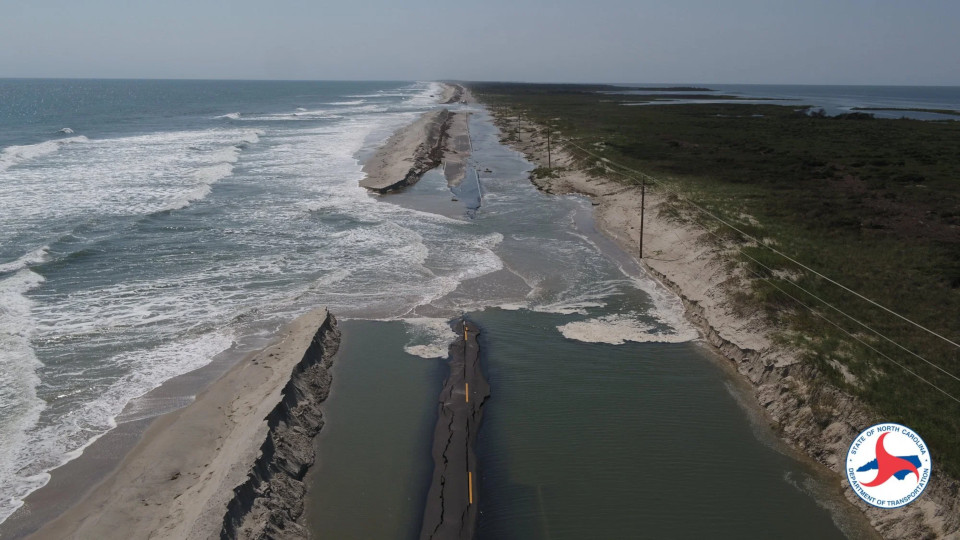 Among this year's storms, just one made landfall in North Carolina. Hurricane Dorian hugged the southern coastline on September 6 before clipping Cape Hatteras on its way out of the state.
Dorian's impacts included up to a foot of rain and hurricane-force wind gusts at Cape Lookout and Cape Hatteras. Storm surge also inundated homes, businesses, and roads on Ocracoke Island, resulting in a 77-day mandatory evacuation for visitors that was only lifted yesterday.
In total, 26 counties were included in major disaster declarations, making them eligible for public assistance through FEMA.
Parts of the state also saw rainfall from the remnants of Hurricane Barry in mid-July and Tropical Storm Nestor in mid-October.
With hurricane season ending, we now turn our attention to the winter and whatever sort of weather awaits us. In case you missed it, we released our annual winter outlook last month, including a global pattern update and our breakdown of this year's forecasts.