Steadily warming temperatures throughout March, as well as a dry and mostly snow-free month, mean spring is upon us. In this post, we also look back at the winter and review our pre-season predictions.
Temperatures Cool But Increasing
The onset of spring slowly became apparent over the past month, although it was still a cooler-than-normal month overall. The preliminary statewide average temperature of 47.6°F ranks as our 37th-coolest March since 1895.
The month began with a brief flirtation with sub-freezing temperatures on March 6 and 7, but after that, we warmed up by mid-month as highs hit the 70s and even the low 80s across parts of the southern Coastal Plain.
Those above-normal highs were the exception instead of the rule, though. Our temperatures generally ran 1 to 3 degrees below normal, as weak troughing in the polar jet stream to our north helped keep cool — but not exceptionally cold — air in place across North Carolina.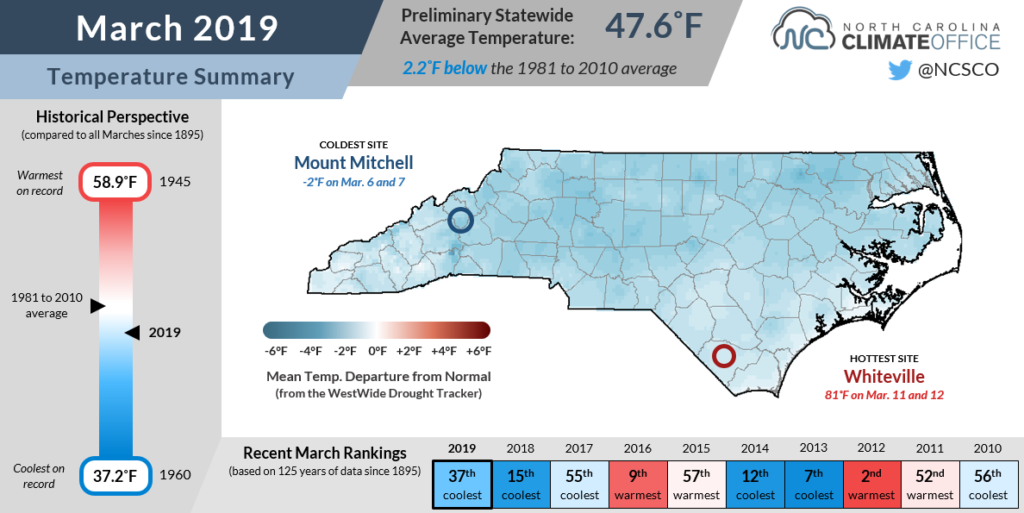 March is typically a quiet month for agriculture as the spring freeze threat is still present through early to mid April, but there was some activity in the fields last month as indicated on the recent USDA Crop Progress Reports.
In the case of winter crops, the weather didn't do them many favors:
"Light rain and cooler temperatures are slowing the growth of fall crops, pastures and hayfields."

Janice Nicholson, Rutherford County Extension
However, the drier weather was generally a good sign as planting is set to begin soon:
"The week of March 17 was a week of sunshine which had not been seen in a while. Producers were able to spread fertilizer and lime and start preparing for the spring seeding of crops."

Julia Houck, Alleghany/Ashe Farm Service Agency
Drier Weather Statewide
March represented something of a rare event in North Carolina's recent weather. It was the first month since last June in which the statewide average precipitation was drier than normal. In this case, that average amount — 3.15 inches — ranked as the 30th-driest March out of the past 125 years.
The regular rainfall that we've seen since last summer backed off in March across most of the state, instead hitting areas to our north and west such as the central Plains with historic flooding.
We were left with drier-than-normal conditions statewide, including in Yadkinville (4th-driest March out of the past 61 years) and New Bern (5th-driest March out of the past 67 years).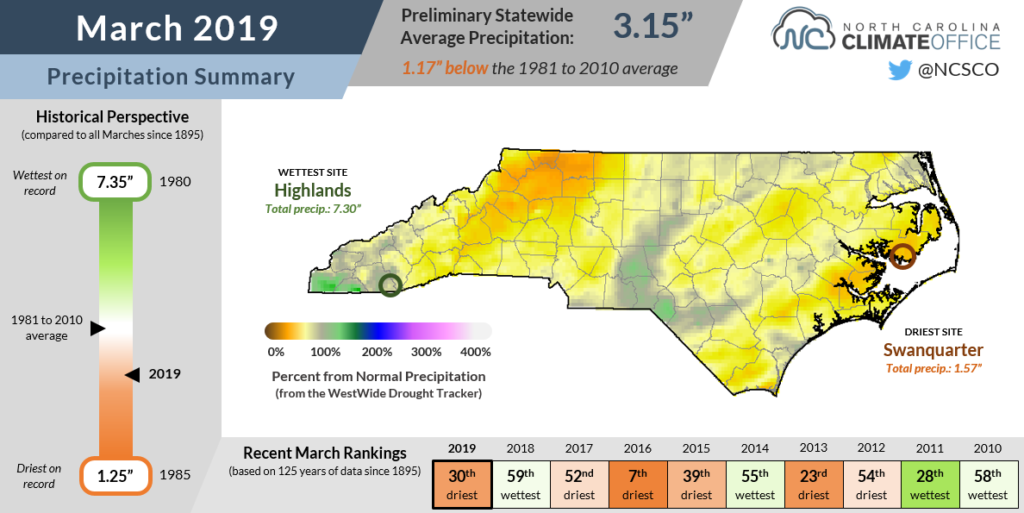 The southern coast has been in a drier pattern for the past two months, and parts of Columbus and Brunswick counties remain classified as Abnormally Dry on the US Drought Monitor.
It has been dry there for sure, but conditions would likely be worse if not for the many wet months preceding it. Although Whiteville is 2.5 inches below normal since February 1, it was 20.7 inches above normal over the previous six months, which include the heavy rains from Hurricane Florence.
That rain and the limited wintertime evaporation have helped keep streamflows and deeper soil moisture levels near or above normal, while the top few inches of the soil have only recently begun to dry up as assessed by the satellite-based NASA SPoRT project.
Another dry month could create some concerns in eastern North Carolina, but for now, the drier weather and less-soggy fields have come as a welcome relief as we prepare to enter the growing season.
Winter Recap
Meteorological winter wrapped up at the end of February, but we can sometimes see wintry weather during the month of March, as was the case last year.
That wasn't the case this March, though. In fact, most of the state has been free from frozen precipitation in 2019.
In many areas, the only snow of the season came on December 8-10. In the northern and western Piedmont, the accumulations from that single event were above their normal wintertime snow totals.
However, most other locations had below-normal seasonal snowfall. Along the coast, the only measurable snow came on the morning of March 5, when up to 3 inches fell in Onslow County.
While the Mountains had several snow events, even atop Mount Mitchell, the total of 71.5 inches was more than 20 inches below their normal wintertime accumulation of 92.3 inches.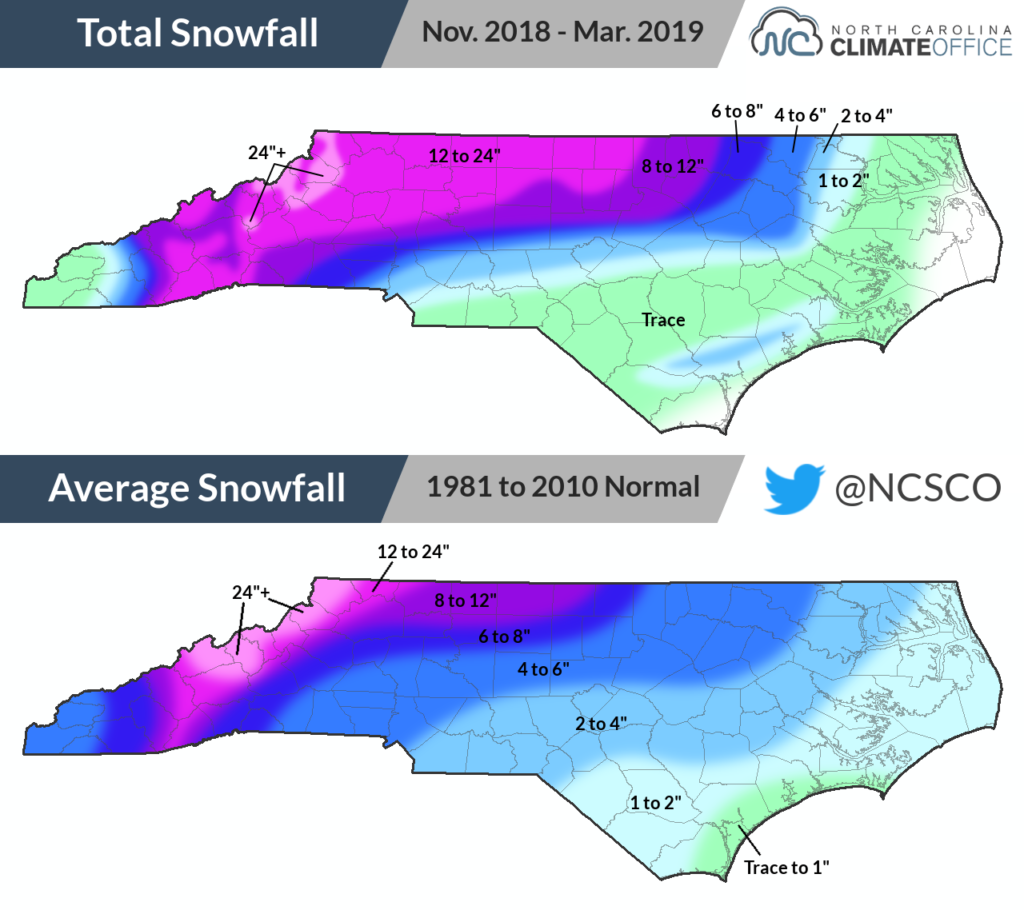 Although we didn't have many snow events to show for it, this was a wet winter overall. With an average statewide precipitation of 17.48 inches in the three-month period from December through February, it was our 3rd-wettest winter on record.
In our Winter Outlook released last November, we had high confidence in seeing wet weather this winter based on the weak to moderate El Niño conditions taking shape.
However, our precipitation pattern may not have been entirely ENSO-driven. The atmospheric impacts of the current El Niño event did not fully emerge until mid-winter, meaning that our late fall and early winter wet weather was due more to a chance configuration of the subtropical jet stream that gave it a similar look as in a typical El Niño winter.
For the moment, El Niño remains in place, and although it didn't bring about the wet March that we might have expected, current forecasts do call for elevated odds of above-normal precipitation over the next one to three months.
This winter was also on the warm side, as the statewide average temperature of 43.9°F ranked as our 23rd-warmest on record. We predicted near-normal temperatures overall with the greatest potential for cold air outbreaks from mid-December through late January. In reality, the only significant and prolonged shot of cold air we saw was in early December.
Indeed, it was a season front-loaded with cold and snow, followed by quieter weather that warmed up and dried out through March. While it was a hit-and-miss outlook for us, that was ultimately the nature of this somewhat unusual winter.