During significant weather events, on-the-ground observations often provide us with the best indications of local conditions and impacts, but we don't just get this information from automated weather stations. In fact, during Hurricane Florence last fall, some of the most meaningful — and most impressive — observations came from the backyards of volunteer observers!
Those volunteers were part of the Community Collaborative Rain, Hail, and Snow Network, better known as CoCoRaHS, which was created in 1997 to coordinate daily precipitation measurements across the country.

It's never a bad time to sign up to be a CoCoRaHS observer, but if you register this month, you could also help North Carolina claim its fifth title in the annual March Madness competition to recruit new observers.
If you'd like to become a CoCoRaHS observer, simply sign up at CoCoRaHS.org, order an official rain gauge (CoCoRaHS recommends purchasing from WeatherYourWay), set it up and view some training materials, and start reporting your totals online every day!
The Benefits of CoCoRaHS
In the past, we've covered how CoCoRaHS reports help inform our office, the National Weather Service, and the statewide drought monitoring process. Without a doubt, CoCoRaHS observers provide important data to meteorologists all over the nation, filling in gaps and providing valuable local insight.
"An additional benefit of the program to the National Weather Service is the ability to receive timely reports of significant weather such as hail, intense rainfall, or localized flooding from CoCoRaHS observers that can assist meteorologists in issuing and verifying warnings for severe thunderstorms," said David Glenn, the CoCoRaHS state co-coordinator and a National Weather Service meteorologist in Morehead City.
That was proven once again during Hurricane Florence last fall. Although Florence weakened to a Category-1 by the time it made landfall, its main impact on North Carolina was not from its wind but from its extreme rainfall and widespread flooding.
CoCoRaHS at Work During Florence
So, how did CoCoRaHS help? The image comparison below show North Carolina's coverage of precipitation observations with and without CoCoRaHS reports. Especially in the heaviest-hit parts of southeastern North Carolina, CoCoRaHS observers provided valuable data in areas otherwise lacking reports.
Use the slider below to compare the two images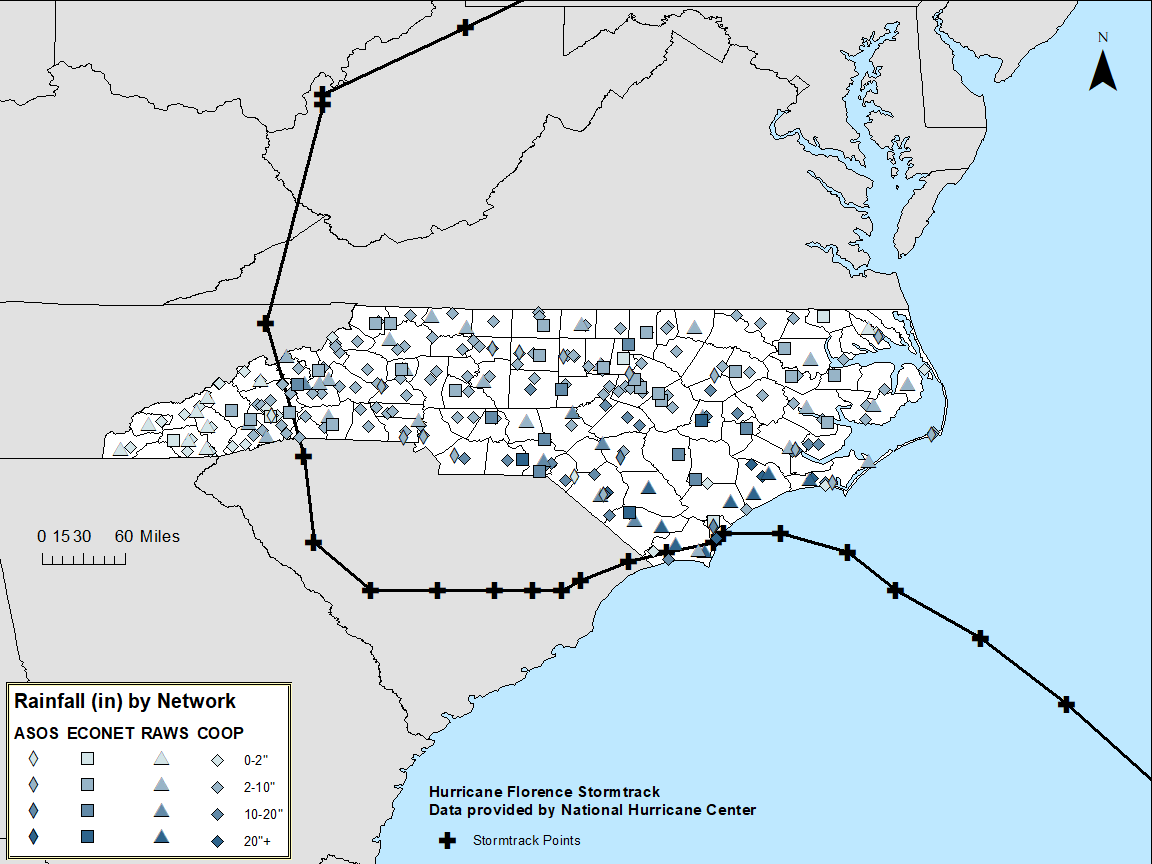 The first map (left) shows rainfall totals across the state recorded by each of the other major networks: Automated Surface Observing Systems (ASOS), which are airport-based sites operated by the National Weather Service; ECONet, the State Climate Office's network; Remote Automated Weather Stations (RAWS), or stations geared toward forest monitoring; and COOP, which provide temperature and precipitation measurements from the NWS's Cooperative Observer Network.
The second map (right) shows how coverage increases when CoCoRaHS observations are added in. The amount of data that these observers amass is huge in comparison to the effort individual observers have to go to. Or as Glenn said, "so long as someone checks their CoCoRaHS rain gauge daily, they will forever become a part of history for extreme precipitation events like Hurricane Florence."
CoCoRaHS stations made a difference in the statistics recorded during Hurricane Florence. In the Piedmont region of North Carolina, CoCoRaHS measurements gave an average rainfall of 6.6 inches, compared to 6 inches without, and in the Coastal Plain, CoCoRaHS measurements produced an average of 11.3 inches, a full inch greater than the average from other networks!
This significant difference, while it does not imply that CoCoRaHS stations are more accurate than automated networks, does help show how much local variation there can be in rainfall amounts. Knowledge of those small variations could help meteorologists and hydrologists determine whether a river might overflow into someone's backyard! It's one more reason why CoCoRaHS volunteers are so important!
Filling in the Gaps
CoCoRaHS observers were reporting during the storm even when a few of our stations were not. Our ECONet station on Bald Head Island lost power during Florence, along with many other electronic systems in southeast NC that the NWS relies on.
Tim Armstrong from NWS Wilmington stated that their office used a rain gauge in their parking lot for guidance during Florence when these electronic systems were down. Without nearby CoCoRaHS stations, we would not have many of the highest rainfall reports from this event, including the 35.93-inch total from near Elizabethtown that, while still being verified by the National Weather Service, could be the new state record for rainfall during a tropical event.
CoCoRaHS data also helped our office during and after Florence. At our station in Castle Hayne, just north of Wilmington, the rain gauge cable was accidentally cut the day before the storm hit. However, we used nearby CoCoRaHS reports to verify the 19.23-inch total from the station's impact sensor, a secondary measure of precipitation at our ECONet sites.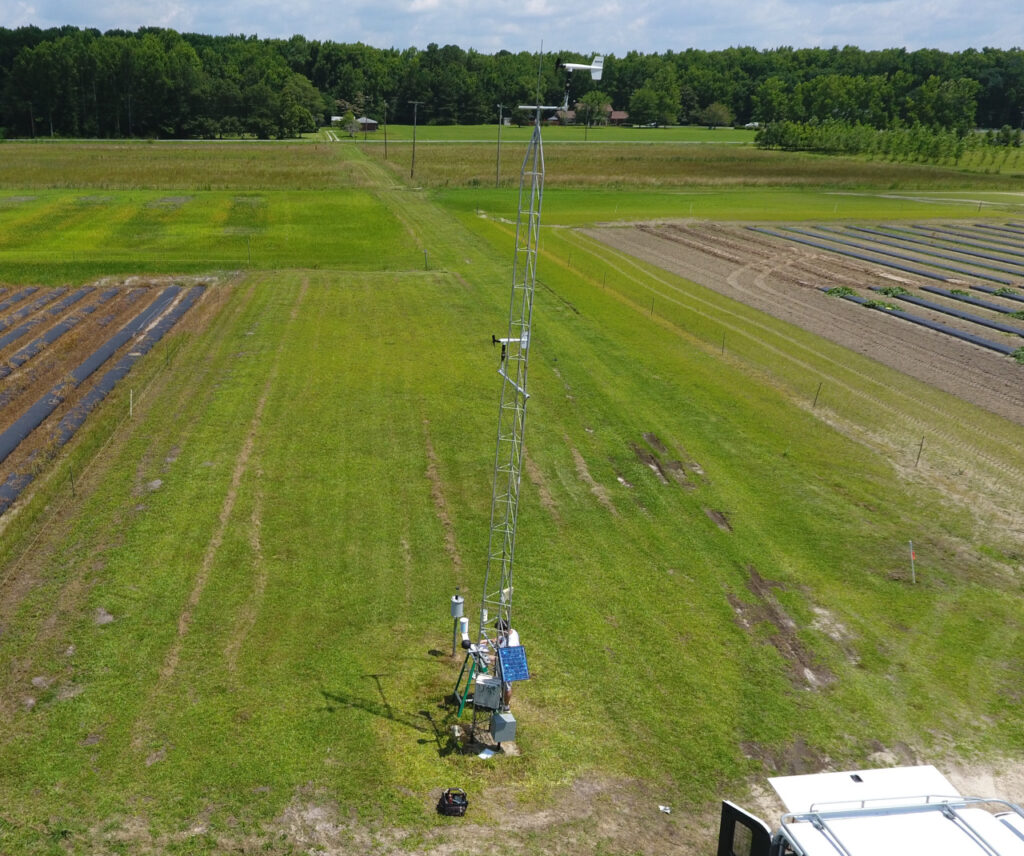 Our Whiteville station was online and reporting throughout the storm, and it reported the highest total in our network of 23.42 inches. We also used nearby CoCoRaHS observations to verify the accuracy of this extreme occurrence.
Some locations received even more rain than that during Florence, including in Swansboro, where a CoCoRaHS observer recorded an incredible 34 inches of precipitation! The Weather Channel interviewed her last year to hear her story of weathering Florence and the nearly three feet of rain it brought.
Even if you don't get the chance to measure that much rain, if you sign up to be a CoCoRaHS observer, you'll still be providing valuable information that will help improve local monitoring and forecasts.