North Carolina had some impactful weather events over the past 12 months, from intense summer storms to powerful tropical systems along the coast to a snowstorm earlier this year. In each of these events, CoCoRaHS observers across the state helped us gain a better perspective about how much precipitation fell than we otherwise might have had, and some of their reports are just as impressive as the events that caused them!
If you're not familiar, CoCoRaHS — the Community Collaborative Rain, Hail, and Snow network — is a national program for volunteer weather observers to report the precipitation totals from their backyards. CoCoRaHS first came to North Carolina in 2007, and since then, 1,850 observers have made at least one report, including 747 in the past month representing all but four counties (Gates, Graham, Tyrrell, and Hertford).

However, we're always looking for additional observers, and there's no better time to join than this month! Each March, CoCoRaHS has its own March Madness competition to see which state can recruit the most new observers. We're a four-time winner of the competition, but last year, those underdogs from Arizona pulled an upset and stole the crown from our state.
If you'd like to become a CoCoRaHS observer, the process is simple:
Fill out the registration form on CoCoRaHS.org
Order an official rain gauge; CoCoRaHS recommends purchasing from WeatherYourWay
Set up your gauge, view some training materials, and start reporting your totals online each morning!
During the past year, observers across the state have provided valuable information about their local precipitation amounts, especially during big events. Here's a look at some of those titanic totals.
A Midsummer Night's Deluge
Last year on July 16, a quiet Saturday afternoon turned into a seemingly endless rainstorm from the Triangle eastward across the central Coastal Plain. A line of showers and storms moved across that region, and thanks to its direction of movement and the alignment of several outflow boundaries, it produced rain, rain that didn't want to go away.
Radar-based estimates of precipitation showed that more than 5 inches of rain fell in some areas, but we relied on CoCoRaHS observers to see just how heavy the local rainfall was. One observer in Cary reported 7.52 inches, while other nearby reports showed between 5.5 and 6.5 inches.
These local observers helped fill in the gaps where we didn't have any automated weather stations, and their reports helped the National Weather Service verify their forecasts and inform local officials of locations with the greatest flooding potential as that water ran off into drains and creeks.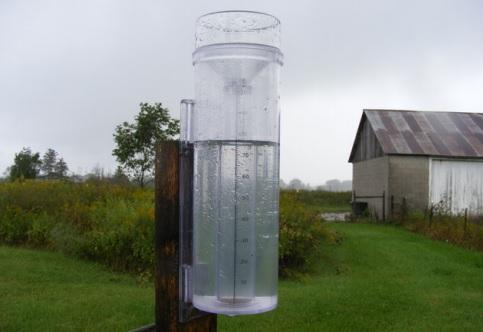 Torrential Tropical Rainfall
Once we entered the heart of hurricane season, a pair of storms less than three weeks apart impacted the North Carolina coast, bringing heavy rainfall among other impacts. First, on September 21, the remnants of Tropical Storm Julia drenched the coast with up to 8.31 inches to northern Currituck County and 7.73 inches in western Chowan County.
For the three-day period from September 20 through 22, that Chowan County observer reported a total precipitation of 14.19 inches — a lot of rain that might have otherwise gone unnoticed, given Julia's status as a remnant tropical system as it passed through.
This storm is one example of why and where observers are still needed: In Bertie County, heavy upstream rainfall caused the flood-prone Cashie River to inundate the town of Windsor. With no active observers in that county during this event, we don't have a good idea of exactly how much rain fell there. Observer reports in this county in particular could tell us a lot about the flood risk in future events.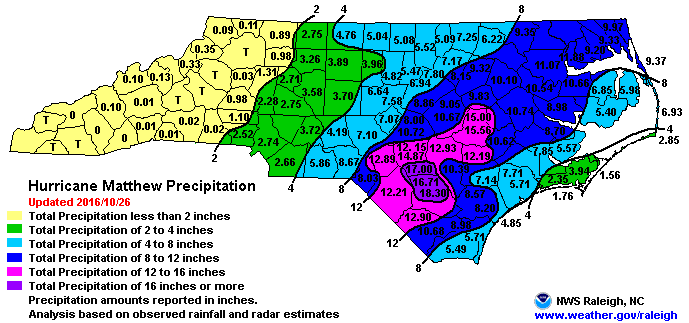 Just 17 days later, intense rainfall from Hurricane Matthew caused devastating flooding across the Coastal Plain. Widespread totals of more than 11 inches in a single day were reported, which is more liquid than a CoCoRaHS gauge can hold! That meant some observers had to check and empty their gauges during the event to make room for more rain.
For the period from October 7 through 9, the greatest total rainfall reported in the state was by a CoCoRaHS observer — 18.30 inches in Elizabethtown. Another observer near Hope Mills in Cumberland County reported 17.00 inches during that period.
These reports are included in an event report by the US Geological Survey (USGS), and since both totals were higher than at any of the USGS's official rain gauges, they provided useful local insight about Hurricane Matthew's actual rainfall amounts and flooding potential.
A Winter Wonderland
Although we had an extremely mild winter in North Carolina, one major winter storm brought some impressive snowfall across the Mountains and northwest Piedmont. And proving that CoCoRaHS observers are more than just rainfall reporters, many observers also submitted their snowfall totals for that event.
Notably, a Davie County observer reported 10 inches of snow on January 7, and while that was a bit higher than other totals within the county, it was consistent with a 10-inch total from the National Weather Service cooperative observer site in nearby Lexington, which showed just how far north and west the band of heaviest snow extended.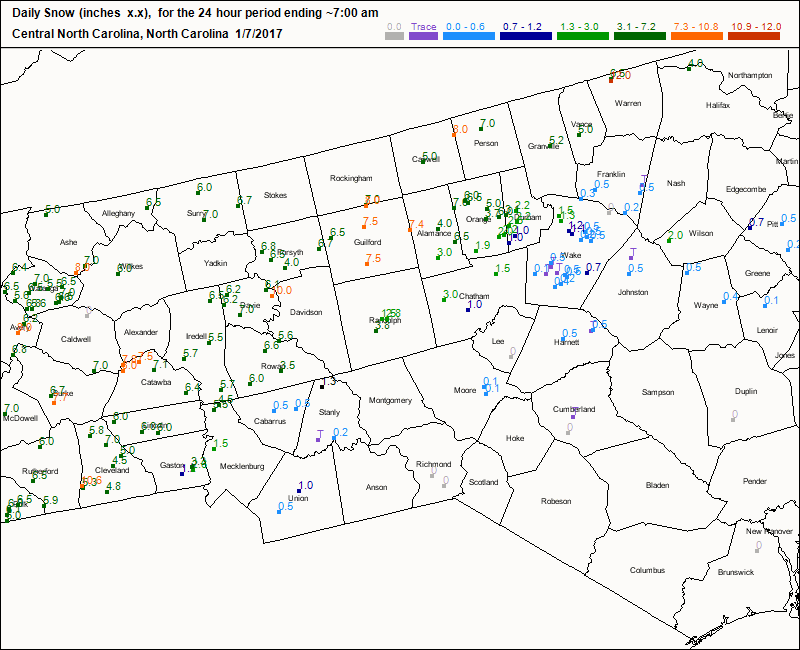 Once again, if you'd like to be part of this network of observers, sign up for CoCoRaHS! While you may not be on the receiving end of one of these extreme precipitation totals, your reports will assist the National Weather Service, US Geological Survey, our office, and other groups who need information on local conditions, and you may just help the state of North Carolina reclaim a March Madness championship!