Our recent trend of warm Februarys continued last month with above-normal temperatures across the state. The western part of the state also saw record-breaking wet and windy weather, while parts of the southern coast dried out.
Un-Winterlike Warmth
February is the final month of meteorological winter, but based on our temperatures last month, you might think that winter ended a month early this year. The preliminary statewide average temperature of 46.9°F ranks as our 13th-warmest February in the past 125 years.
That warmth was evident in our mean, minimum, and maximum temperature rankings, which were generally 3 to 6 degrees above normal. Although we didn't quite surpass the last two Februarys, which ranked as our 2nd-warmest (2018) and 5th-warmest (2017) on record, it was a mild month for sure.
Wilmington had 12 days with highs in the 70s, which was the eighth-most in the past 145 years. Last February had 14 such days, including a mid-month stretch of days in the 80s.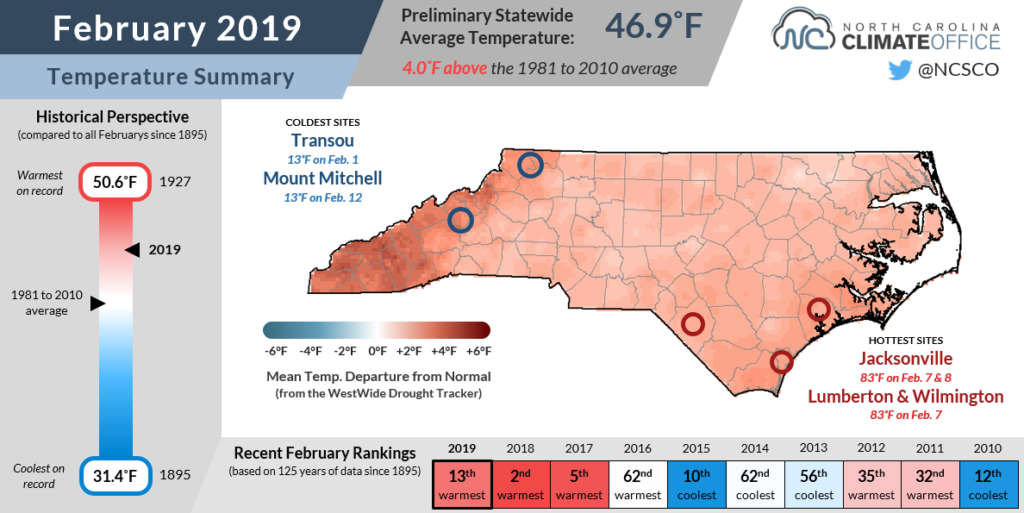 At Cape Hatteras, it was the warmest February on record, and by a fairly wide margin. The average mean temperature of 57.2°F was 1.6 degrees warmer than the previous warmest Februarys in both 2017 and 2018.
At the heart of much of last month's warm weather were a series of high-pressure systems that parked just off our coast, ushering in warmer air from the southwest. Although this "false spring" pattern can make for some pleasant weather, as the name suggests, it can also be misleading for both plants and people.
We still have more than a month until our typical last freeze date, and as we saw last year in a cool and snowy March, the end of meteorological winter doesn't mean the end of its impacts.
Wet in the West, Drier in the Southeast
Along with being a warm month, it was a wet one across much of the state. Last month's statewide average precipitation of 5.73 inches ranks as the 15th-wettest February since 1895 and our second-wettest in the past 20 years, surpassed only by February 2016.
The same large-scale southwesterly flow that raised our temperatures also provided a feed of moisture from the Gulf of Mexico, which fueled a number of rain events in the Mountains and northern Piedmont.
Regular cold frontal passages and low-pressure systems moving up the eastern seaboard put several spots in near-record territory as far as February precipitation was concerned.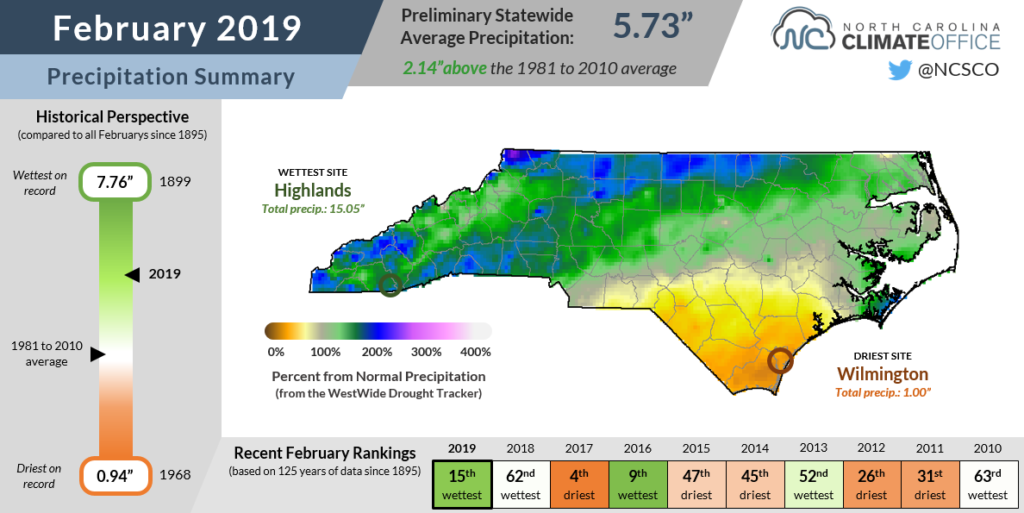 Reidsville recorded 6.56 inches of rain last month, which was its wettest February in the past 56 years. In far western North Carolina, Brevard, Cullowhee, and Waynesville all had their second-wettest February on record, with each site dating back more than 90 years.
Streamflow levels remain much above normal in that region, and the heavy rainfall also caused landslides that shut down parts of Interstate 40 and US Highway 74 near the Tennessee border.
While it was a wet month in the Mountains, it wasn't a very wintry one. Even high atop Mount Mitchell, only 3 inches of snow was reported last month. That was tied for Mount Mitchell's second-lowest February snowfall total since 1980. February 1990 also had 3 inches and February 1994 had just one inch at the state's highest peak, compared to the monthly normal snowfall of 21 inches.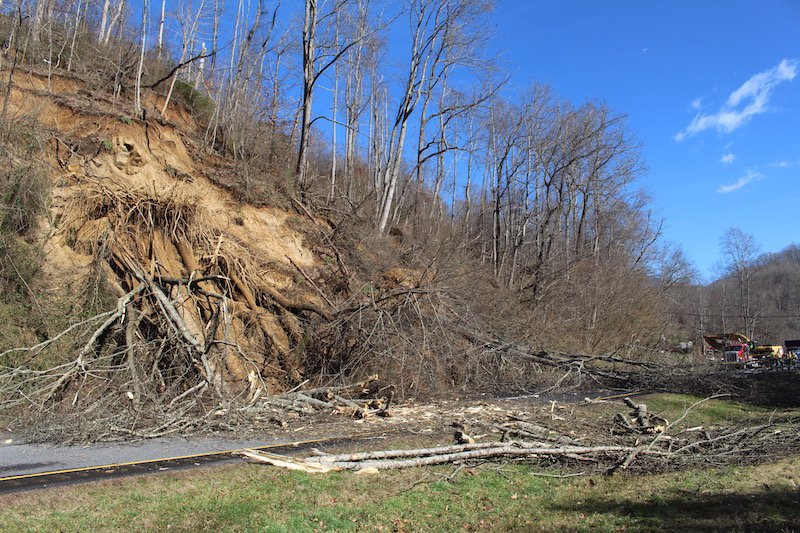 Elsewhere in the state, some areas didn't see such wet conditions. With many of those systems tracking inland instead of just off our coast, eastern parts of the state missed out on much of the moisture and precipitation, leaving them a bit drier than normal over the past month.
With only 1 inch of precipitation compared to the normal value of 3.62 inches, Wilmington had its 7th-driest February on record. Parts of the southern Coastal Plain including Laurinburg, Whiteville, and Longwood all received less than 2 inches of rain in February and finished on the dry side.
As a result, parts of Columbus and Brunswick counties — where streamflows have fallen into the below-normal range — are now classified as Abnormally Dry by the US Drought Monitor. Surrounding parts of the coast are beginning to see near-surface soil moisture levels begin to decrease, but one or two good rain events could easily alleviate this short-term dryness.

Winds Whip Up on Grandfather Mountain
Last month's frontal passages brought more than just rain to some parts of the state. The Mountains in particular saw some high winds, and the weather station at Grandfather Mountain — located on the north end of the Mile High Swinging Bridge — broke its record wind gust that had stood for more than six years.
The instruments at that site were initially installed by Appalachian State University researchers in May 2008. Our office helped them establish communications with the station and maintain a data archive.
Last year, at the request of the folks at Appalachian State, we partnered with the Grandfather Mountain Stewardship Foundation to take over maintenance and data retrieval of the station, which is equipped with one temperature, relative humidity, and pressure probe; one propeller anemometer; and one sonic anemometer.
Prior to last month, the highest wind gust recorded by that propeller anemometer was 118.7 mph on December 21, 2012. Gusts are measured as the average wind speed over a five-second sampling period.
That value was exceeded on February 24 by a gust of 121.95 mph just before midnight. Less than an hour later, the station measured a sustained wind speed of 101.50 mph, which was also a new record. At our weather stations, sustained winds are the average of all 12 five-second gusts within a one-minute period.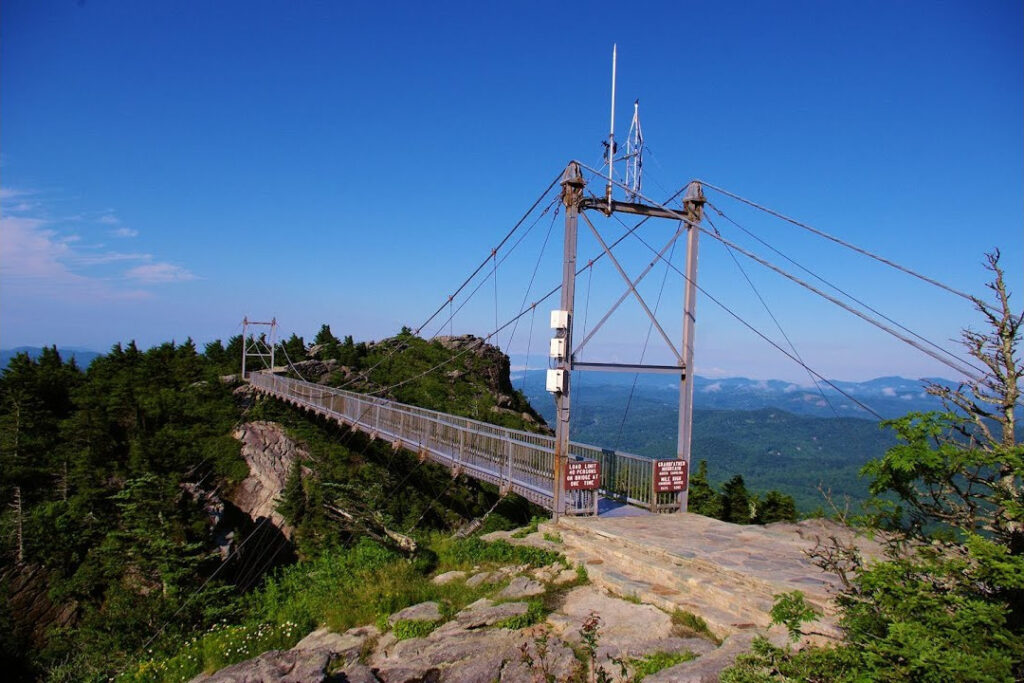 Those extreme winds were the result of a cold front that passed between a strong low pressure system to our north and a strong high pressure system over the deep south. The entire state experienced blustery conditions, including a gust of 78.7 mph at Mount Mitchell. However, a quirk of the local topography helped the winds gust a bit higher at Grandfather.
Northerly winds ahead of the front funneled down the mountain ridge and directly toward the swinging bridge. Just like a car rolling downhill, those winds picked up speed as they descended nearly 600 feet in elevation, producing the new record readings.
That gust doesn't break the state record, which according to our research is either a 138-mph gust at Cape Lookout during the Great Beaufort Hurricane of 1879 or a 135-mph gust at Wilmington during Hurricane Helene in 1958. And it's certainly possible that Grandfather Mountain has seen higher winds in the past before this station was commissioned.
However, it was a particularly strong gust not to be associated with a tropical event, and it showed that despite a lack of snow, winter was still roaring like a lion as February came to an end.