August included mixed precipitation in North Carolina, with dry weather in some of our southern counties and wet conditions in many other areas. In this climate summary, we also look at last month's temperatures across the state.
How Dry It Is
The return of drought conditions wasn't entirely unexpected. Parts of the southern Piedmont that have missed out on precipitation in the past few months were dry again in August, and as a result, much of Union County is now classified in Moderate Drought on this week's US Drought Monitor map.
Monroe made it through August with only about half of its normal rainfall — 2.86 inches vs. a normal of 5.16 — and from June through August, it racked up a deficit of 6.5 inches, ranking as the 5th-driest summer on record there.
That lack of rainfall has caused a significant decline in soil moisture conditions, with parts of Union County now below the 5th percentile in both shallow and deeper levels.

Along with the addition of Moderate Drought in North Carolina for the first time since mid-May, Abnormally Dry conditions were expanded across the southern tier from Gaston County in the west through the Charlotte area and Sandhills out to Pender County in the eastern part of the state.
Those areas also saw below-normal rainfall during the month of August. As recent USDA Crop Progress Reports highlight, while the dry weather helped farmers get into the field to begin their harvest, regular rain is still needed in the remainder of the growing season.
Conditions remain dry and rain would be welcome. Corn harvest continues with good yields. Cotton is beginning to cut out on marginal soils. Soybeans are looking good. Growers are pushing to get tobacco out of the field.

Mac Malloy, Robeson County Extension
Field conditions are dry helping corn harvest move along rapidly. However, soil moisture is dropping and soybeans that are trying to fill pods need rain. Pastures are dry and need rain as well and could lead to a shortfall of hay going into the fall/winter.

Mark Seitz and Tim Matthews, Pender County
How Wet It's Been
While dry weather and drought affects some areas, the majority of North Carolina saw another wet month in August. The statewide average precipitation of 7.21 inches ranked as our 18th-wettest August out of the past 124 years.
The soggiest spots were in the western part of the state. With 10.41 inches of rain, Asheville reported its 3rd-wettest August since 1879, and Murphy had its wettest August on record dating back to 1969.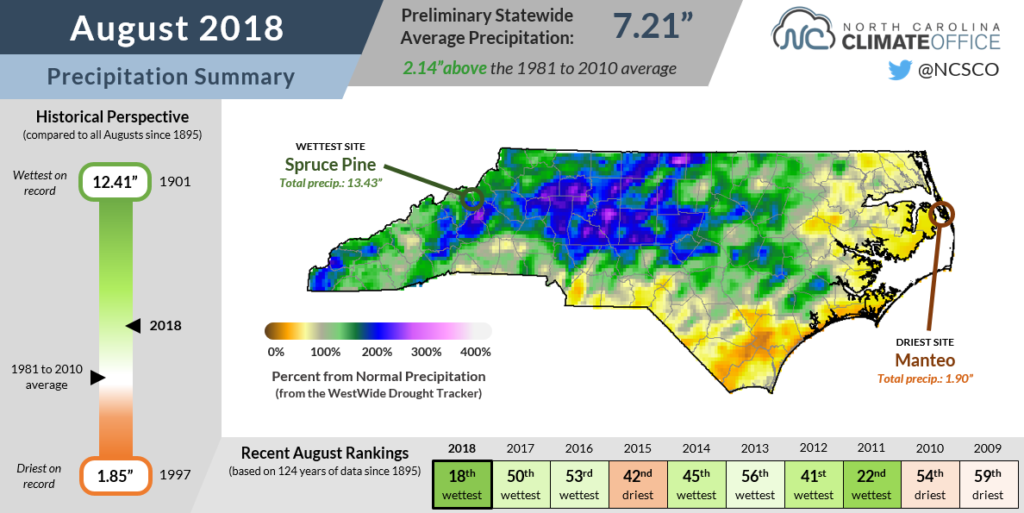 In those rain-soaked areas, growers had to dodge showers and take stock of crops damaged by the wet weather.
Scattered thunderstorms have hampered second cutting of hay. Pumpkin harvest has started. Corn crop looks good, but has places that show damage from excessive rain.

Julia Houck, Ashe-Alleghany County FSA
Because of that wetness across most of the state this summer, as well as the ongoing forecast for an emerging El Niño this fall that favors above-normal precipitation in North Carolina, at this point, we're not too concerned about the current drought conditions becoming too severe or widespread.
Like we saw earlier this year in Robeson County, when several months without much precipitation over a fairly small area led to the introduction of Moderate Drought, a few wet weeks — or even one drought-busting tropical storm — could just as easily bring Union County and other dry areas back to normal.
Let's Talk Temperatures
Our August temperatures were warm, but overall, the dog days of summer didn't have us howling as loudly as we have in some other recent years.
The statewide average temperature of 76.31°F ranked as our 47th-warmest August since 1895. It was less than half a degree warmer than the 1981 to 2010 average, but more than two degrees cooler than in August 2016, which was our third-warmest on record.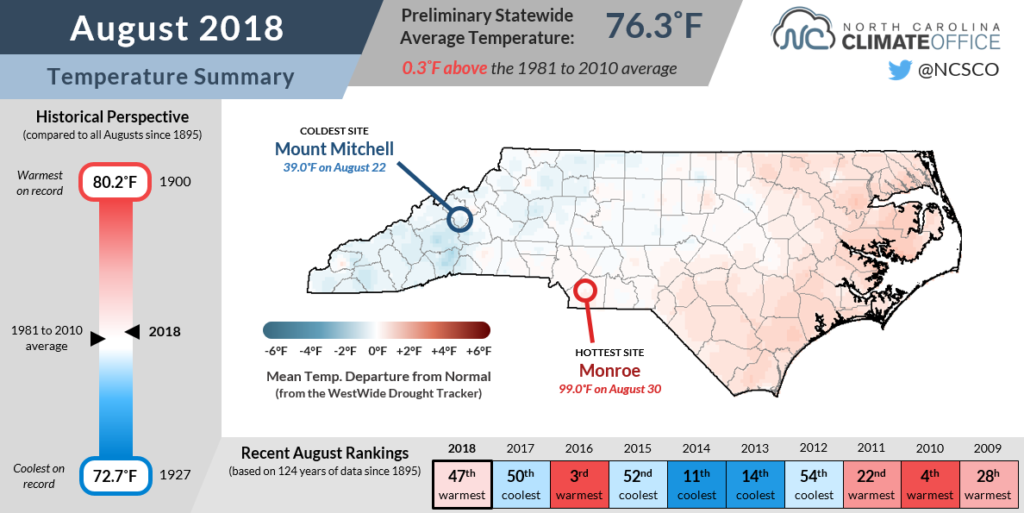 Most of the Piedmont and Coastal Plain had 10 to 15 days with high temperatures reaching at least 90 degrees. Those totals were generally on par with what we experienced last August. The major exception was in Wilmington, which had 20 days at or above 90°F — tied for the 4th-most out of the past 144 years — compared to just 8 such days last August.
We also failed to hit the 100-degree mark anywhere in the state for the second August in a row. The warmest spot last month was Monroe, where the increasingly dry conditions and limited evapotranspiration combined with a stiff southwesterly wind allowed temperatures to climb to 99°F on August 30.
For those ready to be done with this summer's heat and humidity, there is some good news and some bad news.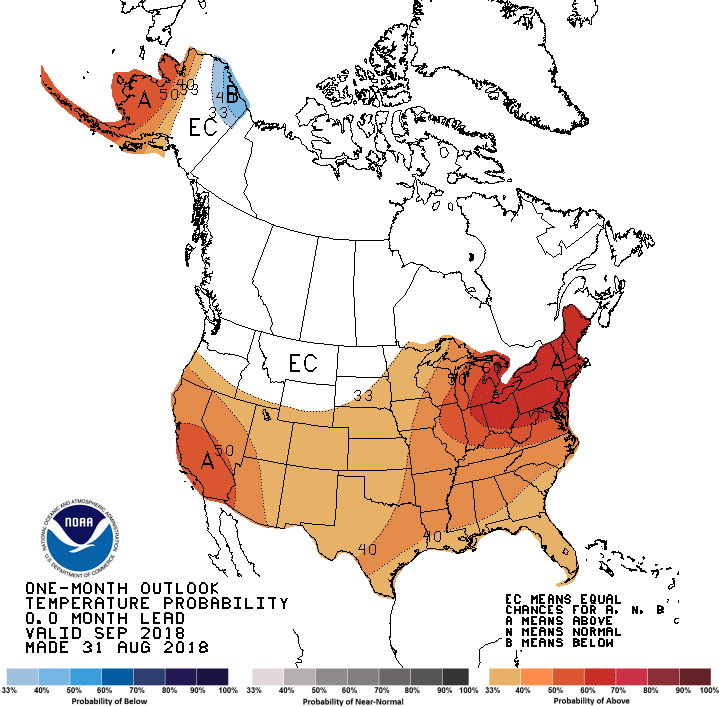 The bad news is that most forecasts show warm weather is likely for most of the US in September due to ongoing ridging in the jet stream.
The good news is that we should only have a few weeks left where temperatures can reach the 90s. For most sites, the average last day with temperatures hitting 90°F comes before September 20.
The heat did last a bit longer last year, including a 90-degree reading in Raleigh on October 10, so a fall foray with the 90s isn't unheard of. But we'd like to hope that by that point this year, we'll be thinking more about changing leaves and crisp nights than summer-like afternoons.