Our April climate summary looks at last month's widespread rainfall and cool temperatures, as well as the severe weather so far this spring.
April Showers from East to West
An active upper-level pattern brought regular frontal passages and rainfall last month, with a preliminary statewide average precipitation of 5.57 inches. That's more than 2 inches above the 1981 to 2010 average, and our 10th-wettest April dating back to 1895.
Other than some patchy areas in the northeastern part of the state and along the fall line between the Piedmont and Coastal Plain, nearly everywhere in the state saw above-normal precipitation. The central Mountains from Boone (9.64 inches) to Morganton (7.91 inches) to Mount Mitchell (11.50 inches) received almost double their normal April precipitation.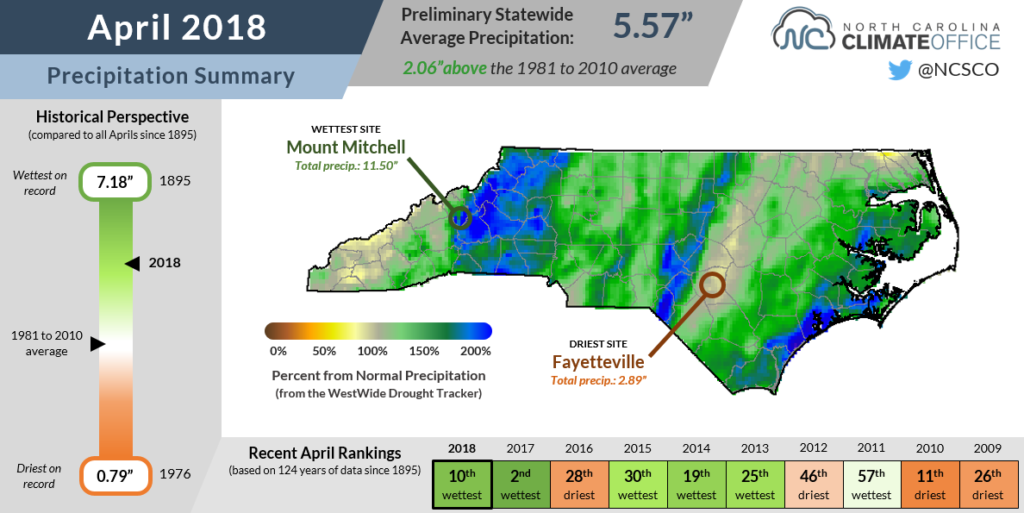 In the Piedmont, Chapel Hill (5.83 inches) recorded its 9th-wettest April out of the past 115 years, and Raleigh (5.35 inches) had its 12th-wettest April dating back to 1887. As a result of that rainfall, most of the Piedmont is now out of Abnormally Dry conditions, effectively washing away the final traces of last year's dry summer and fall.
Rainfall along the coast also helped alleviate some of the ongoing dry conditions, although they're not completely gone yet. While Lumberton did receive 3.5 inches of rain last month — about 0.7 inches more than normal — they're still in a deficit of a little over 2 inches over the past three months. Because of that, Moderate Drought conditions were introduced in early April and remain in parts of Robeson, Columbus, and Bladen counties, with a sliver of Abnormally Dry conditions stretching up the I-95 corridor to the Virginia border.

Below-Normal Temperatures Across the Board
Very few hot days and several chilly nights produced one of our coolest Aprils in recent memory. The preliminary statewide average temperature of 55.1°F was 3.1°F below the recent 30-year average. It ranked as our 11th-coolest out of the past 124 years, and was the coldest since 1997. That's a big change from last April, which was our warmest on record.
Average high temperatures across the state were generally within a degree or two of normal, but the cool conditions were even more noticeable with our average lows, which were 2 to 4 degrees below normal. Those cool nights were due to a combination of factors, including a northerly flow in the wake of cold frontal passages and evaporative cooling after our numerous precipitation events.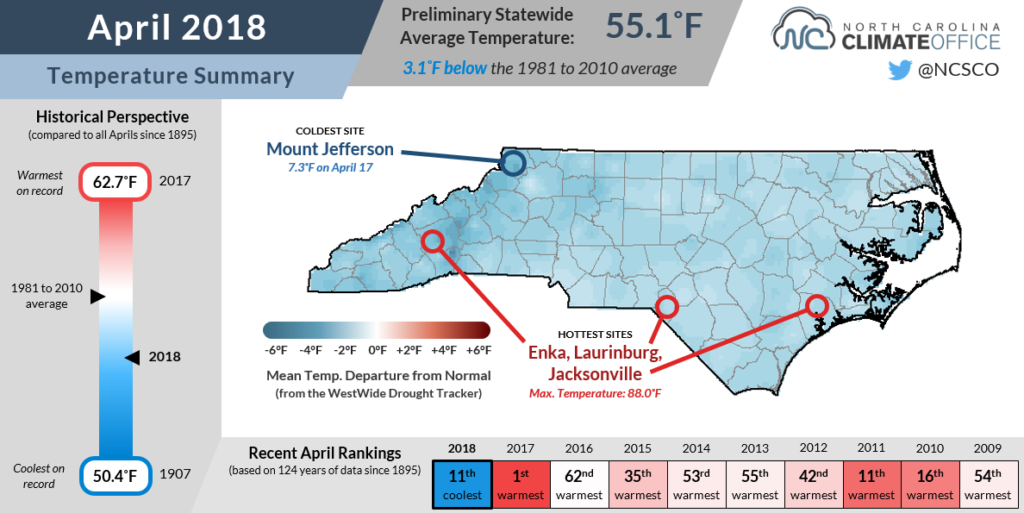 Whatever the cause, it produced some downright cold temperatures. Mount Jefferson and Mount Mitchell both recorded single-digit temperatures during the month. At Mitchell, it was the first April occurrence of temperatures that cold since 2007. More broadly, as late as April 20, the western third of the state saw temperatures drop below freezing with patchy frost across the Piedmont.
We also didn't see the warm high temperatures last month that we've come to know in recent Aprils. It was the first time since 2012 that we didn't hit 90 degrees by May 1 anywhere in the state.
Severe Storms Spawn Spring Tornadoes
While April is climatologically one of our peak months for severe weather, without many warm afternoons this spring to ramp up atmospheric instability, we haven't had much severe activity so far this year. However, that doesn't mean there hasn't been any.
On March 17, a pair of short-lived EF0 tornadoes spawned in Cherokee and Clay counties in the far western part of the state. Four weeks later on April 15, a second pair of tornadoes hit parts of the Piedmont as part of a Sunday evening severe weather event.
The first touched down just north of I-40 in Greensboro and damaged several buildings at Hampton Elementary School. With wind speeds estimated at 135 mph, that put it at EF2 strength. That tornado continued moving to the northeast into Rockingham County, with a combined path length in both counties of 33.6 miles. A total of 10 injuries were attributed to the tornado.
Later that night, an EF1 tornado carved a ¾-mile path in eastern Wake County near Wendell. Several homes were damaged, but no injuries or fatalities were reported.
As we continue through the spring, make sure you're prepared for whatever severe season brings — from tornadoes to hail to lightning and flooding — by checking out this informative guide from the National Weather Service in Raleigh.