This is the third part of our 2014 climate review. After looking at statewide extremes and coastal variability, today we look at conditions in the Piedmont.
Annual Overview
Across the 34 Piedmont counties, the average temperature in 2014 was 57.97°F, which ranks as the 19th-coolest year since 1895. The average precipitation of 43.87 inches ranks as the 48th-driest year on record.
Mild high temperatures helped drive the Piedmont's cool year. Raleigh had just 31 days with highs of at least 90 degrees, with Charlotte and Greensboro seeing 25 and 21 such days, respectively. While those numbers couldn't match our cool summer of 2013, when many western Piedmont sites had 5 or fewer 90 degree days, they were below normal.
Winter Weather
The winter of 2014 was one of the most active for the Piedmont in several years. A cold air outbreak on January 7th saw low temperatures plunge into the single digits. That was followed by light snow accumulations on January 21st-22nd and 28th-29th.
The greatest snow event came on February 12th and 13th. Six to ten inches of snow fell across much of the region, with up to a quarter inch of freezing rain on top of that in some spots. Cool air and ground temperatures were in place ahead of time, so when snow started falling by mid-morning on the 12th, it began to stick almost immediately. The rush of cars hitting the roads meant traffic accidents, gridlock, and abandoned vehicles were common sights across the region.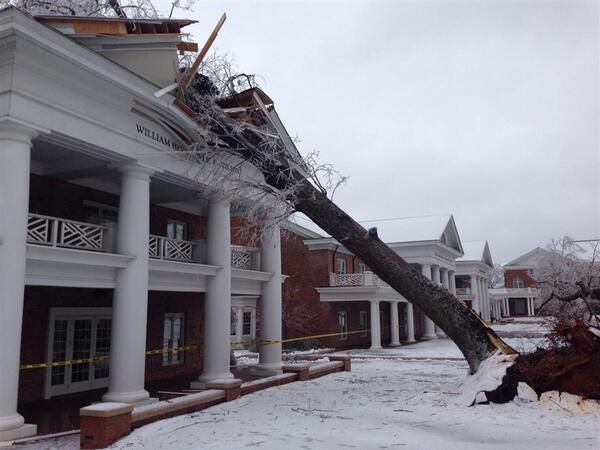 Early March also saw a mix of precipitation, with six inches of snow in parts of Rockingham, Caswell, and northern Guilford counties, and a half inch of ice in the central Piedmont. That ice storm — the worst in that region since December 2002 — resulted in more than 350,000 power outages and an estimated $26.9 million in recovery and cleanup costs.
Most Piedmont locales received near or above-normal snowfall for the winter. Both Charlotte (9.3 inches) and Greensboro (15.3 inches) received more than double their normal annual snowfall.
Severe Weather
The spring brought a relatively inactive severe weather season across the Piedmont. There were just four confirmed tornadoes on two days. On March 29th, a pair of EF0 tornadoes touched down in southern Wake County near Angier and Garner. On May 15th, a strong cold front pushed through the state, producing an EF0 tornado south of Charlotte and an EF1 in Durham.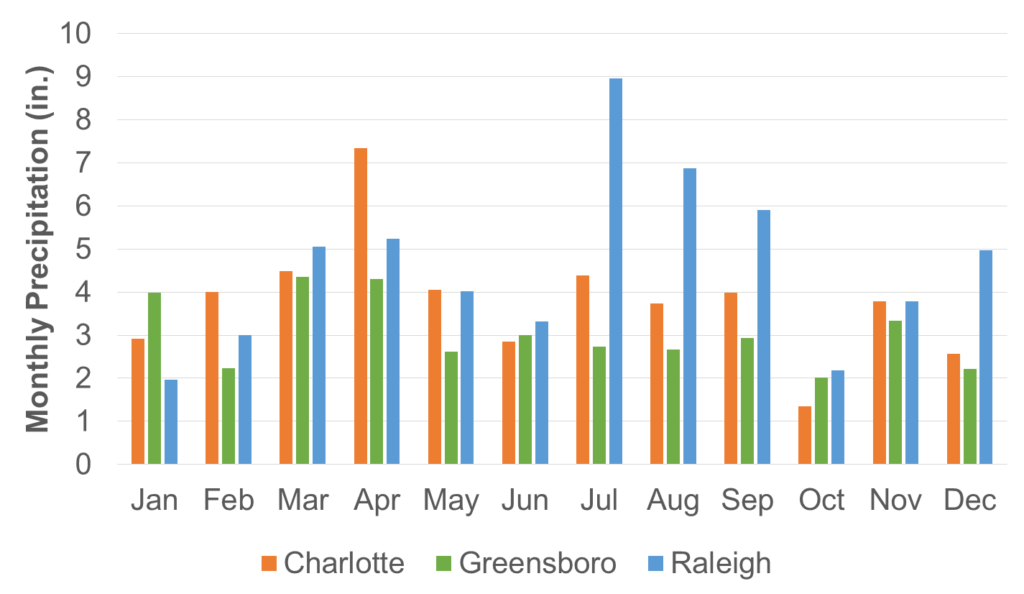 Precipitation
Precipitation was quite variable across the Piedmont in 2014. The northeastern corner of the region and southern border counties all finished the year with above-normal precipitation thanks to regular rainfall in the spring and summer. Raleigh was 11.9 inches above normal, Henderson was 15.2 inches above normal, and Charlotte was 3.8 inches above normal.
During the summer and fall, the rest of the region saw persistent dryness and finished the year 4 to 8 inches below normal. The Triad slipped into Abnormally Dry conditions in mid-July and remained there for the rest of the year. However, no drought was officially reported in North Carolina by the U.S. Drought Monitor during 2014.
As the chart above shows, Charlotte had a fairly wet spring and Raleigh had ample summertime precipitation. However, Greensboro only saw more than three inches of rain in one month (November) during the second half of the year.