If you've been in North Carolina for the last few years, you would be forgiven for thinking this summer felt almost out of place. The heat and drought of recent years was nowhere to be found, replaced by cooler and wetter weather across the state and throughout much of the Southeast.
Officially, the summer was the 39th coolest out of a 119-year period of record. This ranking is based on mean temperatures, which were boosted by above-normal lows caused by ample overnight cloud cover and humidity.
The more telling stat about this summer's temperatures, and the one that stands out to most folks, is how cool the afternoon high temperatures were. Most weather stations in North Carolina had one of their top 10 coolest summers on record based on maximum temperatures. As the map below shows, much of the state saw highs that were two to four degrees below normal, on average. The Piedmont, which saw the worst of the heat last summer, got the most relief this year.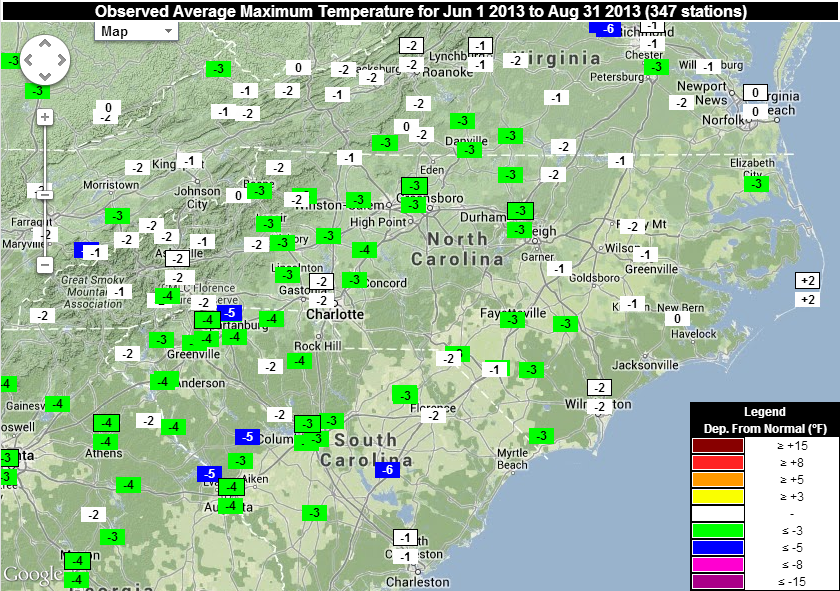 Last summer, even some parts of the mountains made it to the 100 degree mark, and Raleigh saw a record-setting eight days at or above 100°F. By comparison, there was just one 100°+ day this summer at official National Weather Service stations around the state. That came in Lumberton on June 13, which was during the warmest part of an otherwise mild summer. During that week, an upper-level high pressure system over the midwest helped funnel warm, dry air into North Carolina.
If that sounds familiar, it's because a similar pattern played out during much of the last two summers. However, this year, we generally saw a persistent upper-level trough, or low pressure system, in the jet stream over the eastern US. This ushered in cooler air from the north and more frequent cold fronts that brought plenty of rain. All told, this summer ranked as the third wettest statewide.

The Mountains and western Piedmont saw the most precipitation, receiving up to three times as much rain as they do in a normal summer. The frequent rain has meant a disappearance of drought conditions in North Carolina, as well as a break from the wildfires that we've seen in recent years, especially in the eastern half of the state.
In that region, much of the summertime rainfall came in June from Tropical Storm Andrea, as we noted in our June climate summary. Andrea was the first storm in what has otherwise been a very calm hurricane season. In fact, when Humberto reached hurricane strength on September 10, it was the furthest we'd gone in a season without a hurricane since 2002. It appears that tropical development has been inhibited by airborne dust from the Sahara Desert, which dries out the mid-levels of the atmosphere, along with storm-shredding wind shear in the eastern Atlantic Ocean and the northern Caribbean Sea.
As we move into the fall, should we expect more of the same cool, wet conditions from the summer? Currently, at least two global forecast models — the American GFS model and Canadian GEM model — continue to show an active jet pattern with troughs regularly moving over the eastern US through the rest of September. This would likely continue to bring us cooler temperatures and regular precipitation.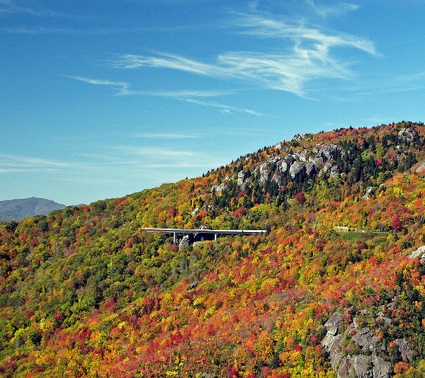 Beyond that, we have little guidance as to what our weather might be like in October and November. The El Nino/Southern Oscillation (ENSO) phase sometimes gives us a clue about how our weather might play out, but since last spring, we've been in a neutral phase, which means ENSO is not having much effect on our weather. If the large-scale patterns keep a trough parked over the east coast, like we saw this summer, the fall is likely to be cooler and wetter. If not, we're likely to see a mix of both warmer and cooler periods.
For fall leaf lovers, be on the lookout for sunny days and cool nights, as these conditions help to break down chlorophyll and give leaves their vibrant colors. Because we have had plenty of rain this summer, we shouldn't have to worry about leaves being too dry and falling from the trees before they change color, as they have done in some recent years. According to this map from Appalachian State University researchers, fall color typically reaches its peak in the mountains within the first two weeks of October. So far, it looks to be a promising fall for leaf color, so be sure to step outside and admire the view!