This is the second part of our 2014 climate review. Last time, we looked at some statewide stats and extremes. Today, we begin a region-by-region recap of the past year.
Annual Overview
On average, it was a cool, wet year for the 41 counties in the Coastal Plain. The average temperature of 60.94°F across the region ranks as the 43rd-coolest year since 1895, and the average precipitation of 57.03 inches ranks as the 14th-wettest year out of the past 120 years.
Maximum temperatures one to three degrees below normal were primarily responsible for the cool year for eastern NC. Tarboro, Edenton, and Kinston each had average maximum temperatures ranking among the top 10 coolest years on record.
High temperatures did reach 100°F on two occasions — on July 9th in Fayetteville and September 2nd in Wilson — but overall, there were a below-normal number of days at or above 90 degrees.
As the map to the left shows, much of the coast was wetter than normal in 2014, with dry spots in the northeast and southwest notwithstanding. Wilmington and New Bern each finished 2.2 inches above normal and Cape Hatteras was 3.8 inches above normal.
Thanks in part to a day-long rain event in early September, Roanoke Rapids finished with 59.36 inches of precipitation, which was 13.7 inches above normal — the greatest such departure in North Carolina during 2014.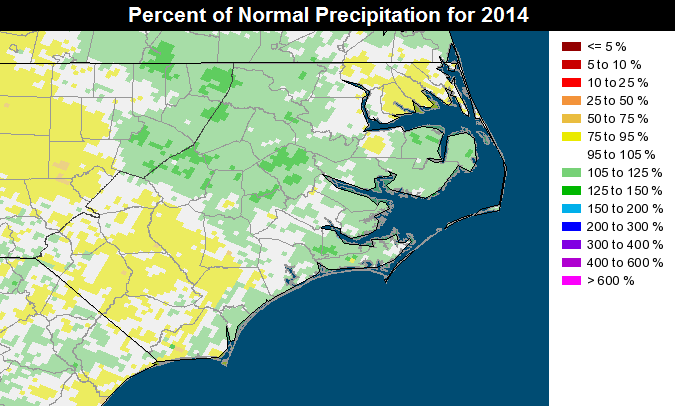 Winter Weather
Last winter, the Coastal Plain saw a quick succession of wintry events. On January 7th, an Arctic air mass brought temperatures in the teens. Two weeks later on January 21st, light snow fell across the northern and central coast. The next day, a rare lake effect snow event resulted in an extra inch or two for some downwind locales.
A stalled front off the coast brought a widespread 4+ inches of snow on January 28th and 29th, with higher totals in the northeastern counties. On the morning of the 30th, the snow on the ground, clear skies, and calm winds meant some outlying areas saw lows in the negative single digits: Lewiston and Buckland hit -2°F, and Jackson in Northampton County reported a temperature of -6°F.
The most significant wintry event for the coast came on February 11th through 13th. An upper-level disturbance moving through meant a snowy afternoon on the 11th, with up to 10 inches of snow falling across the central coast. The next day, an offshore low brought more precipitation: primarily snow in the north and freezing rain across the southern coast.
For the winter as a whole, most coastal sites received above-normal snowfall. Some notable totals include 14 inches in New Bern, 13 inches in Scotland Neck, and 5.7 inches at Cape Hatteras.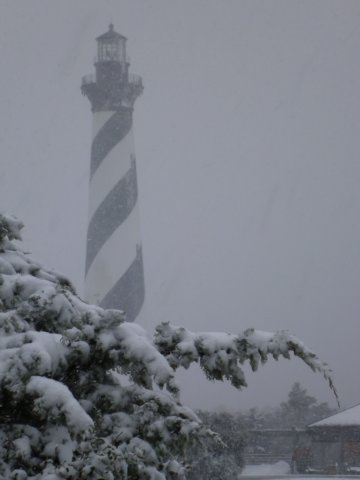 Severe Weather
Of North Carolina's 30 confirmed tornadoes last year, 25 occurred in the Coastal Plain. On April 7th, a strong supercell spawned an EF2 tornado near Pantego in Beaufort County. On April 25th, a more widespread event produced nine tornadoes across the state, with the strongest being an EF3 also in Beaufort County that resulted in 16 injuries. The northeastern counties were hit by four tornadoes during that event.
Additional severe weather events on April 29th, July 3rd, and September 8th each produced tornadoes across the coast. The year closed with a rare December tornado — an EF1 on Christmas Eve near Castle Hayne in New Hanover County — which resulted in one injury.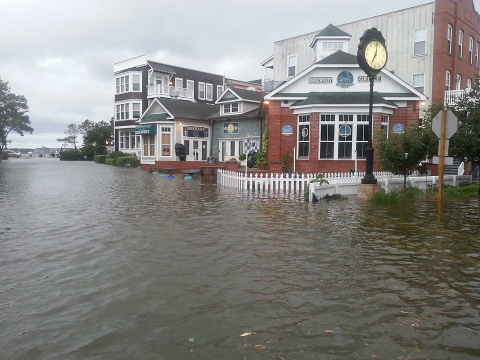 Hurricane Arthur
The 2014 Atlantic hurricane season was relatively inactive, and most of the season's storms stayed out to sea. However, the season began with bang in early July when Hurricane Arthur formed off the southeast coast and made landfall near Cape Lookout at category-two strength.
The storm brought hurricane-force wind gusts along the immediate coast, soundside flooding up the Outer Banks, and up to four inches of rain across the Coastal Plain. It also disrupted some travel plans to start the Independence Day weekend, although many beaches were reopened by the following day with plenty of sunshine.
During a year in which coastal North Carolina saw almost everything, would you expect anything less?