This is the final part of our 2014 climate review. We wrap up our regional look around the state with the Mountains.
Annual Overview
Much like the Piedmont, the Mountains were on the cool and dry side in 2014. Specifically, the region had its 33rd-coolest and 31st-driest year since 1895.
A few stations were particularly cool: Jefferson had its 5th-coolest year in the past 79 years, Marshall had its 4th-coolest year out of the past 103, and Morganton had its 4th-coolest year in the past 114 years. Several high-elevation sites with less than 50 years of observations, including Boone and Mount Mitchell, also had one of their top 10 coolest years on record.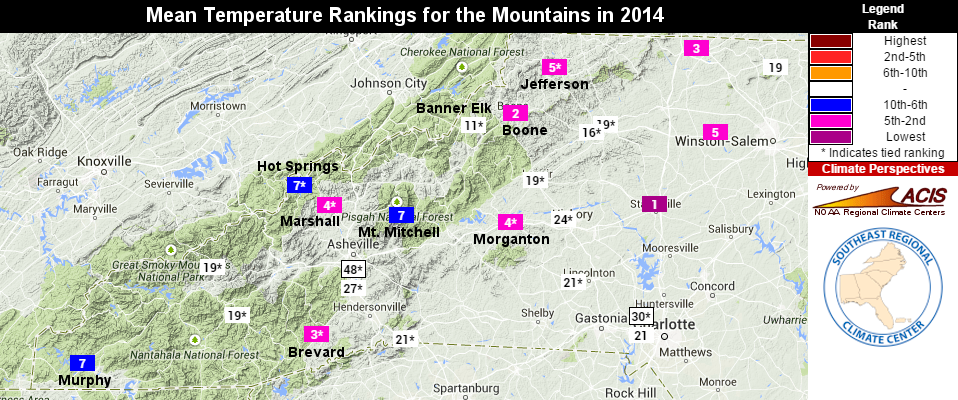 Winter Weather
The Mountains saw the worst of the cold in the early January cold air outbreak. Temperatures dropped below zero throughout the region, bottoming out at -24°F at Mount Mitchell. A few weeks later, some spots picked up six or more inches of snow on January 21st and 22nd.
The season's biggest snow for the foothills came in mid-February. After receiving more than eight inches of snow on the 12th, an intense band of heavy snow moved through on the 13th and brought additional accumulations. Some spots in Surry County near Mount Airy finished the event with more than 20 inches of snow.
In early March, while the central Piedmont battled a major ice storm, the Mountains saw additional snow. Up to 15 inches fell at Mount Mitchell as part of its total annual accumulation of 149 inches — the most there since 2010. Other regional totals for 2014 included 96.7 inches at Beech Mountain, 40.6 inches at Boone, and 9.6 inches at Asheville.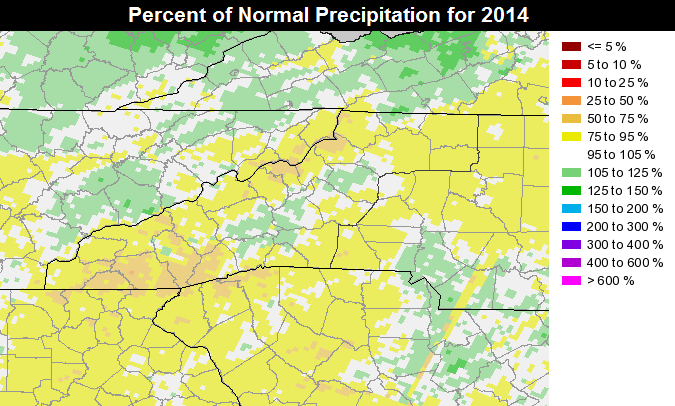 Precipitation and Severe Weather
Overall, the Mountains were drier than normal in 2014. The driest spots were in the southern counties, including Murphy, which was 9.3 inches below normal, and Brevard, which was 5.1 inches below normal. Several stations near the Tennessee border, including Marshall, Hot Springs, and Banner Elk, were also five or more inches below normal.
The eastern part of the region wasn't quite as dry thanks in part to the precipitation received during several strong cold frontal passages. One of those happened on June 18th through 20th, when a front brought heavy rain, along with hail and high winds, to the foothills. Later in the fall, another particularly strong cold front on October 14th and 15th brought several inches of rain and even spawned an EF0 tornado in a remote part of McDowell County.
New Weather Stations
Our environmental monitoring in the Mountains took a couple steps forward in 2014 as we added two new ECONet weather stations in the region. In August, we installed a station in Spindale in Rutherford County on the campus of Isothermal Community College. We documented that installation in a blog post over the summer.
In December, we installed a station on Sassafras Mountain, the highest point in South Carolina. That site is in Pickens County, SC, just a few feet south of the border with Transylvania County, NC.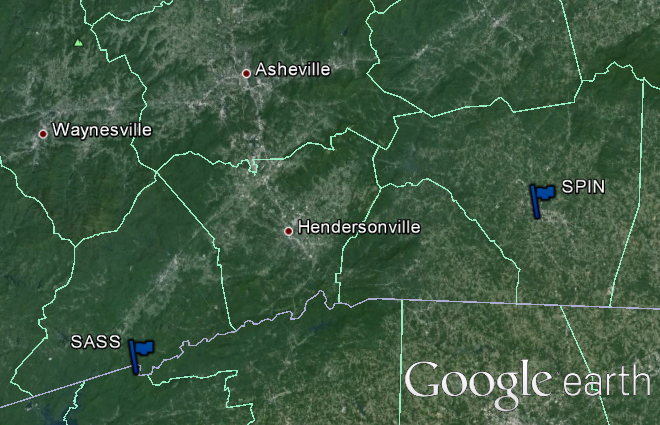 Both of these sites can provide useful information about conditions at different elevations in the Mountains. We saw the value of that data late last year, when extremely low relative humidity values at several high-elevation sites were found to be accurate based on an interesting temperature and moisture profile in the lower levels of the atmosphere.